With its great sound quality and comfort, the JBL Live 300 TWS is one of the most popular wireless earbuds on the market. Nevertheless, some users have reported that either the left or right earbuds are not working correctly. In most cases, it can be fixed quickly and easily if you run into this issue. This article will guide you through a few troubleshooting steps to help solve the problem.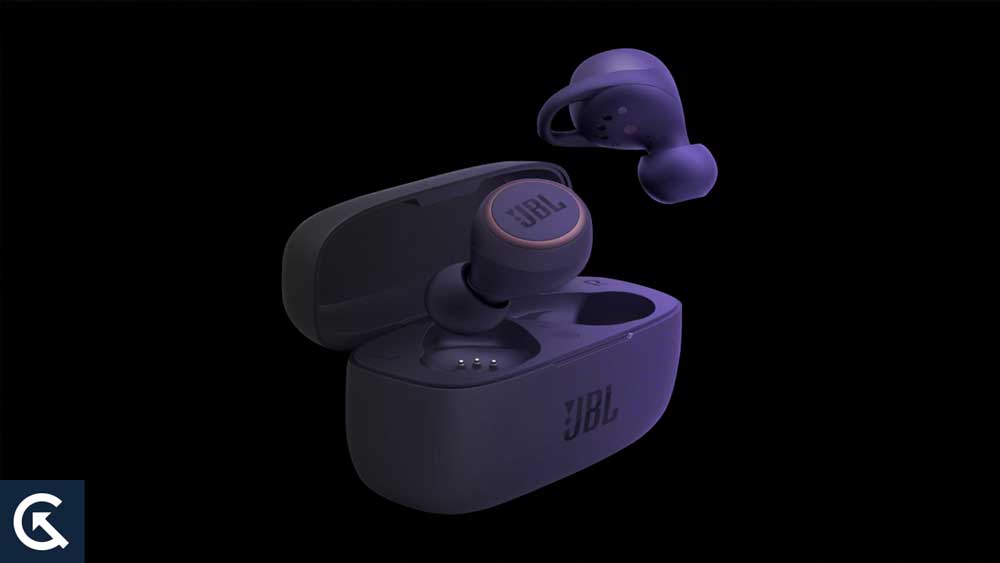 Why is the JBL Live 300 TWS Left or Right Earbud Not Working?
You may find that your JBL Live 300 TWS left or right earbuds are not working due to a variety of reasons, including:
It may be impossible for an earbud to function properly or stop working altogether if the battery is low.

There could be issues with one earbud not working if the earbuds are not connected properly to the device or the connection is weak.

The earbuds can have sound quality and connectivity issues if the firmware has become outdated.

One earbud may not work if it is damaged physically, such as cracked or damaged by water.

Earbuds accumulated with dirt or debris can cause sound quality and connection problems.

It is possible that one of the earbuds will not work due to software glitches. If this problem persists, you may need to reset the earbuds.
To determine and resolve the problem's root, it is important to troubleshoot and eliminate these potential causes.
How to Fix JBL Live 300 TWS Left or Right Earbud Not Working
Those who value convenience and sound quality are likely to favor JBL Live 300 TWS earbuds. However, some users may encounter a problem where one or both of the earbuds does not work correctly. Despite the fact that this can be an irritating issue, it is usually easily fixable if you follow a few simple troubleshooting steps.
Fix 1: Check the battery life
To begin, check the earbuds' battery life. In addition to having a battery life of up to 6 hours, the JBL Live 300 TWS earbuds can also be charged in the case. You should make sure that one of the earbuds is fully charged if it is not working. Let it charge again until it reaches 100% if it is not already charged.
Fix 2: Check the connection
Your device should be connected to the earbuds. If the earbuds are fully charged, then check their connection. Your earbuds should be paired with your device correctly and their connection should be strong. You can either re-pair your earbuds by deleting them from your device's Bluetooth settings and re-pairing them if the connection is weak. If the connection is weak, move your earbuds closer to the device or reset the connection by moving them closer to the device.
Fix 3: Check for firmware updates
There is also the possibility that outdated firmware is causing the earbuds to not work properly. If you have JBL Live 300 TWS earbuds, make sure that the latest firmware is installed. If you are looking for firmware updates, you can download them from the JBL website or the JBL app.
Fix 4: Check for damage
Your earbuds may be damaged if you have checked their battery life, connection, and firmware updates, but they still don't work. See if there are any visible signs of damage, such as cracks or water damage. It may be necessary to replace the earbuds if they are damaged.
Fix 5: Clean the earbuds
There is a possibility that dirt and debris can accumulate inside the earbuds, which may affect their sound quality and connection. If the earbuds have dirt or debris, wipe them down with a soft cloth to clean them. It is important not to use any harsh chemicals on the earbuds as they can damage them.
Fix 6: Repair the earbuds
One earbud may stop working due to connectivity issues when the JBL Live 300 TWS earbuds are repaired. To repair your earbuds, follow these steps:
Ensure that both earbuds are placed in the charging case and that the lid is closed.

Remove both earbuds from the case by opening the lid.

Once the LED light starts flashing, hold the buttons on both earbuds for 5-7 seconds.

Make sure that Bluetooth is turned off on your device and that it is turned back on.

To connect to the JBL LIVE 300TWS, go to your Bluetooth settings and select it.

You'll be prompted to enter a pairing code, usually 0000 or 1234.

You should be able to use the earbuds normally once they have been connected.
Try the next step in the troubleshooting procedure if re-pairing the earbuds doesn't resolve the issue.
Fix 7: Reset the earbuds
It is possible that you will need to reset your earbuds if you have tried all the above steps, and they are still not working. The steps below will guide you through the process of resetting the JBL Live 300 TWS earbuds:
Ensure that the charging case is removed from the earbuds

Ensure both earbuds have LED lights flashing rapidly by pressing and holding their touch controls.

Reconnect the earbuds to the charging case and release the touch controls

Please wait for the earbuds to power on after removing them from the case.

Repair the earbuds with your device.
Fix 8: Contact customer support.
You may need to reach out to JBL customer support if the left or right earbuds of the JBL Live 300 TWS are still not working after trying the above fixes. If you need customer support from JBL, here is how to reach them:
Browse JBL's website for "Support" or "Contact Us": Visit JBL's official website and click "Support" or "Contact Us."

Submit a support request: Describe your issue and the model and serial number on a support request form.

You can contact JBL's customer service line with the same information you would enter in the support form.

You can email customer support with the details of your issue and the product information by emailing JBL's customer support email address.

You may be able to chat directly with a customer support representative on some JBL websites through live chat support.
For JBL to diagnose and resolve your issue quickly, you should have your product information available, including the model and serial number.
Conclusion
Despite their great sound quality and comfort, JBL Live 300 TWS earbuds sometimes fail to work as expected. In most cases, this issue can be resolved quickly and easily by simply performing the above fixes. So, if you are facing the issue that JBL Live 300 TWS left or right earbuds are not working issue, then now you know how to resolve this problem.