Did you want to control your Kid's phone remotely? If so, then the CleverGuard KidsGuard Pro is the best choice for you. This is an ultimate monitoring application that you can use to keep an eye on the activity of your loved ones on their smartphone. The best part about this application is, you can literally access your Kid's smartphone from anywhere around the world using the KidsGuard Pro.
In addition, 30+ files such as Text messages, Instagram, Facebook, Browser History, and other mobile activity can be monitored remotely. Sounds great? If so, then make sure to read this article till the end as here we have reviewed the application, and you will get every single piece of information about this app. So, let's get started with it.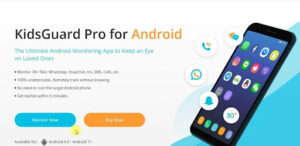 KidsGuard Pro for Android: Is It Worth?
Currently, we all are suffering from the Covid-19 Pandemic, and right we don't know when this thing gets vanish from our life. However, in this pandemic, almost every organization and business are running from home, including our Kid's school and colleges. Well, for this, we have to give access to smartphones or smart devices to our kids, but there's doubt always remains in our mind about whether our child is doing wrong things with the smart device. So, using KidsGuard Pro, you do not need to worry and just kick back and relax.
This is because this product will give you the information that your kids are doing with the android smartphone without even knowing them.
Yes, you heard it right. There are no relics remaining on your Kid's smartphone using which they get a hint that you are inspecting them while using the smartphone. Henceforth, if this sounds great, let's get started with the more features that the KidsGuard Pro for android offers you. So, let's see them:
Features of KidsGuard Pro For Android:

There are many features that the KidGuard Pro for Android has that you can use to remotely track the activity of your loved ones. So, let's take a look at some of the great features that the KidGuard has:
#1. Time Data Syncing
Using the KidsGuard, you are allowed real-time data syncing with the help of your WiFi network or the 3G/4G network. This means you will get all the information for the tracking device in real-time without any delay.
#2. Easy Installation
There isn't a ticket science to use and install this application on the device. Well, the most interesting part of this application is, you won't need to root your device. Yes, it takes around less than 5 minutes for installation.
#3. 100% Undetectable
Isn't it an amazing feature that you spy on someone, and he/she doesn't even know that? Well, yeah! This is a great feature when you download and install the KidsGuard Pro on the device; the application icon gets hidden and doesn't leave any relics anywhere so that your loved one gets to know if someone spied on them.
#4. Privacy & Data Protection
Many users ask me whether using this application is safe or not. Well, it is one hundred percent safe to use the KidsGuard Pro as it is 100% virus-free, and the user data is also end-to-end encrypted.
#5. Competitive Price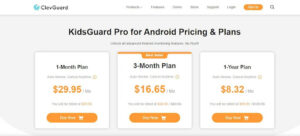 Now, seeing many features, you might be thinking that this gonna be crazily priced. But, my friend, that's not the truth as it will charge you about $0.27/day. Therefore, every penny that you invest on it is worth spending. So, you can buy the KidsGuard Pro from their official website.
#6. Multiple Languages Support
No matter from which part of the world you are, there will be no issue with the language as this application supports multiple languages such as English, German, French, etc.
#7. Timely Customer Support
You have a problem while using this application, don't worry they are always available to hear your voice because of 24/7 customer support team is always there to help.
#8. Regular Updates
In order to add new features and increase security, developers regularly roll out some improvement updates. But, you do not need to worry as the other person didn't get any clue.
So, now you have seen all the features that the KidsGuard Pro for Android offers you; therefore, it's time to check out some of the common questions that users generally ask us.
What Are The doubts That Users Have Regarding The KidsGuard Pro?
Well, there are many doubts in their mind, but here we will discuss some of the genuine questions that are really important to know for anyone who is about to use this application. So, let's take a look at them:
Is It Safe And Legit To Use?
Well, as we have already mentioned that it has featured end-to-end encryption, so there is no compromisation with your data privacy.
Is It Possible To Install The KidsGuard Pro on Android Device Remotely?
No, you cannot just install the application remotely; you had to have the phone for at least 5 minutes in order to install and set up the application.
How Many Devices Are You Allow To Monitor At a Time?
If you have taken a subscription for only one device, then my friend, you are not allowed to spy on multiple devices. To do so, you need to buy the subscription for other devices separately.
Where Do You Get This Application?
You do not need to go anywhere to get this application. Yes, you can simply hover to the KidsGuard Pro for Android official website and get it from there. Also, using this leading parental control tool, you will get a 30-days buy-back guarantee (in case you won't like it).
How To Use The KidsGuard Pro For Android?
Using the KidGuards Pro is very simple; you just need to follow the instruction mentioned below in order to do so.
First of all, go to the KidsGuard Pro official website.

Then, use your credentials, Sign up for that website.

Now, get a plan as per your need and install the application on your targeted device.

That's it. Now, start monitoring the device activity using the KidsGuard Pro dashboard.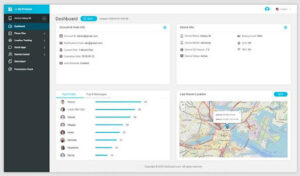 Conclusion
So, that's all we have for you on the KidsGuard Pro review for Android devices. We hope that you now understand whether you need this application or not. Now, for further questions, comment below.