The Last of Us Part I, a 2022 action-adventure game, is a remake of the 2013 classic developed by Naughty Dog and published by Sony Interactive Entertainment. Boasting improved gameplay, the game offers refined combat, more expansive exploration, and a broader range of accessibility options. It has been made available to PC gamers after its immense success on the PS4 and PS5 platforms. Although the game's compatibility with Steam remains unverified, many users have successfully played Last of Us Part 1 on Steam Deck with the appropriate settings. However, some players have experienced issues with the game crashing on Steam Deck during launch.
Many Steam Deck users have started installing the Last of Us Part 1 game and tried playing it. But the performance of the Last of Us Part 1 game or the smooth gaming experience was missing on Steam Deck. At the same time, some Steam Deck users face the startup crashing issue with the Last of Us Part 1 game. Luckily, the Mesa update for SteamOS may have fixed the performance issue for a bunch of games.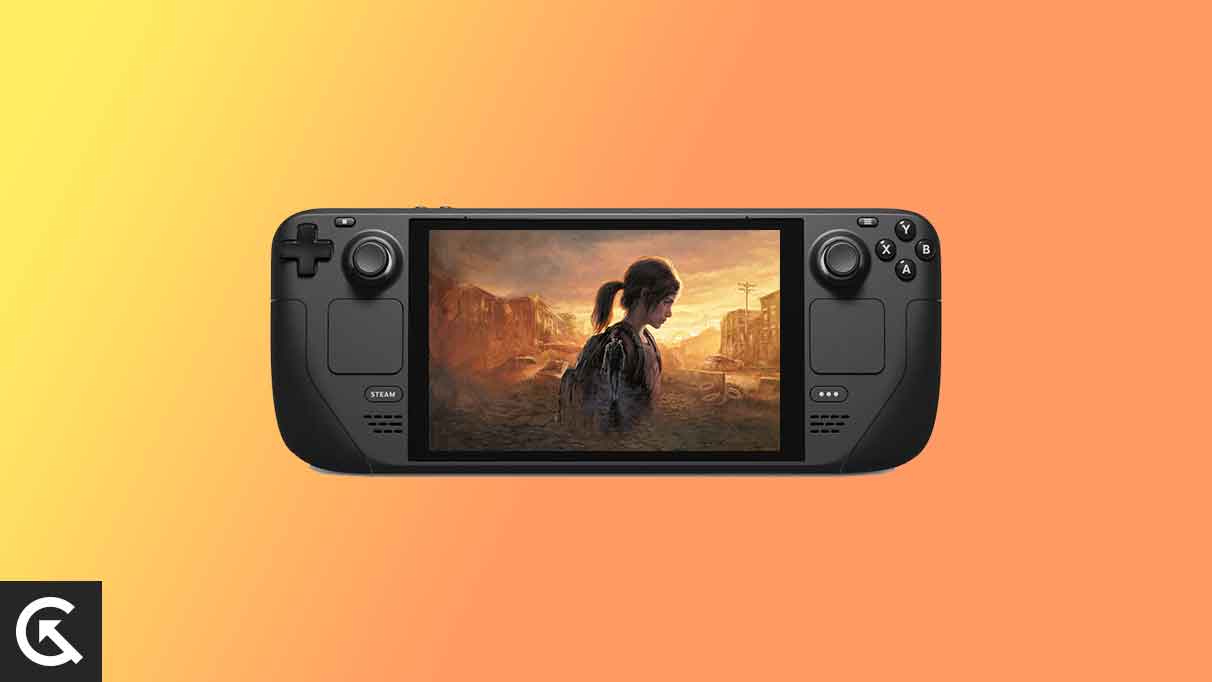 Last of Us Part 1 Steam Deck Graphic Settings:
Use the following settings guide to resolve the crashing issue on Steam Deck when playing Last of Us Part 1:
General Settings

Display: 1
Display Mode: Fullscreen
Display Ratio: Auto
Display Resolution: 1280×720
Ultrawide Pillarboxes: Off
V-Sync: Off
Framerate Cap: Unlocked

Resolution Scaling

Scaling Mode: AMD FSR 2
Render Scale: Locked
Quality: Performance
Sharpening: Between 30 and 40

Effects

Field of View: User's preference
Camera Shake: User's preference
Motion Blur: User's preference
Chromatic Aberration Intensity: User's preference
Film Grain Intensity: User's preference
Gore: User's preference.

Graphics

Graphics Preset: Custom
Animation Quality: Medium

Geometry Settings

Draw Distance: Low
Dynamic Object LOD: Medium
Character LOD: Medium
Environment LOD: Low

Texture Settings

Dynamic Object Texture: Locked
Character Texture: Locked
Environment Texture: Locked
Visual Effects Texture: Locked
Texture Filtering: Anisotropic 2x
Texture Sampling: Medium

Lighting Settings

Ambient Shadow: Quarter Res
Directional Shadow Res: Low
Directional Shadow Dist: Low
Image Based Lighting: Off
Spotlight Shadow Res: Low
Point Lights Shadow Res: Low
Bounced Lighting: Off
Screen Space Shadows: Low
Dynamic SSS: Off
Contact Shadow: Medium
SSAO: Off
AO Denoise: Low
SSDO: Off
Screen Space Cone Tracing: Off

Reflections Settings

SSR: Off
SSR Accuracy: Locked
SSR Distance: Locked
Glossy Reflections: Locked
Real-time Reflections: Low
Real-time Cloud Shadow Refl: Off

Shading Settings

SSSS: Low
Refraction: Half Res

Post-Effects Settings

DOF: User's preference
DOF Quality: User's preference
Motion Blur Quality: User's preference
Motion Blur Res: User's preference
Bloom Res: User's preference
With these settings, Last of Us Part 1 typically runs at around 45fps, increasing to 50-60fps in more confined interior spaces. However, be aware that in one particular chapter featuring intense weather effects and numerous enemies, you may still experience occasional drops below 30fps.
Fix: Last of Us Part 1 Keep Crashing on Steam Deck
If you're still encountering the startup crashing or the game not launching issue on Steam Deck, follow this troubleshooting guide to resolve it. Here we've shared a couple of possible workarounds for you that should come in handy. So, without wasting any more time, let's get into it.
1. Reboot Steam Deck
First, you should restart your Steam Deck via the Software Updates section to ensure there is no temporary system glitch. Sometimes a temporary system glitch or cache data issue can trouble you. To do so:
Press the Steam button on Steam Deck.
Select Power > Choose Restart.
Wait for the device to reboot and check for the issue again.
2. Force Reboot Steam Deck
If you're still facing the same issue, then make sure to force restart the Steam Deck by following the steps below to clear out any potential glitches or system-related conflicts. Sometimes you may need to use the force reboot method if your Steam Deck is powered on but unresponsive or stutters a lot. To do this:
Press and hold the Power button for at least 3 seconds. If it remains unresponsive, try long-pressing the Power button for around 10 seconds to reboot the system again forcefully.
3. Check for SteamOS Updates
An outdated SteamOS version can trouble you greatly regarding bugs, stability issues, security issues, etc. It's better to check for SteamOS updates on Steam Deck manually by following the steps below.
Press the Steam button on the left side of the Steam Deck.
Go to Settings > Head over to the System tab.
Select Check for Updates on the right side > If an update is available, tap on Apply.
Now, wait for the software update, and tap on Restart to apply changes.
4. Check for Last of Us Part 1 Updates
It can also be possible that the outdated game version is conflicting with the system to run properly due to some bugs. You should check for the game update by following the steps below.
Open your Steam Library > Under the Last of Us Part 1 library page, select Manage.
Choose Properties > Select the Updates tab.
Make sure to select Automatic updates > Reboot the Steam Deck.
It'll automatically install whenever a new update is available for Last of Us Part 1.
5. Check Onboard Storage Space
You should also check for the available data storage space on your Steam Deck because low disk space can cause several issues with the Last of Us Part 1 launching and performance. Just press the Steam button on Steam Deck > Go to Settings > Choose Storage. If the available storage space becomes low, delete or uninstall unnecessary apps/games from the console to free up some space.
6. Reinsert the MicroSD Card
Sometimes a corrupted MicroSD card on the Steam Deck console can also cause multiple issues with the Last of Us Part 1 game crashing while startup. It's worth mentioning that you should fully format the MicroSD card before start using it with your Steam Deck. To format a microSD card:
Ensure to properly insert the MicroSD card into the memory slot on the bottom.
Press the Steam button on Steam Deck > Go to Settings.
Choose System > Select Format SD Card.
It may take a couple of minutes to complete the format.
Note: Any UHS-I (class 3 or better) microSD card is supported. Steam Deck does not support UHS-II. If your MicroSD card is older enough or gets corrupted often, it's time to get a new One.
7. Enable Steam Cloud Synchronization
If you have somehow disabled the Cloud Synchronization feature earlier on your Steam Deck, then you should enable it to properly cloud sync the game with servers.
Press the Steam button > Select the Steam menu at the top-left corner.
Go to Settings from the list > Navigate to the Cloud tab.
Checkmark the Enable Steam Cloud Synchronization box.
Select OK to save the changes.
Once done, restart the Steam Deck to apply changes.
8. Force Change Proton Version on Steam Deck
It's also highly recommended to forcefully change the Proton version on the Steam Deck by following the steps below because it can greatly impact the game's launching or performance.
Select Last of Us Part 1 from the Library.
Go to Settings of the game > Go to Properties.
Choose the Compatibility option in the left sidebar.
Make sure to tick mark the checkbox > Select Proton Experimental.
You can now select the version you want to test out.
9. Ensure Last of Us Part 1 is Verified on Steam Deck
Check whether your Deck is verified or not for the Last of Us Part 1 game to play seamlessly without further modifications. The Steam 'Deck Verified' system has four categories to indicate how well games will work on it. If a game is Playable or Unsupported, you can see what requirements of Verified are not currently met by referring to the Steam Deck Compatibility section on the game's Steam Store page.
Verified: The game works great on Steam Deck by default. No additional modification is necessary.
Playable: The game works, but the user may require manual configuration. This could include adjusting controller configurations or using a mouse or touchscreen to navigate a launcher.
Unsupported: The game is currently not considered playable on Steam Deck.
Unknown: We haven't tested this game for compatibility yet. Feel free to try it, but we don't know how it works.
10. Reinstall Last of Us Part 1
It's better to uninstall and reinstall the Last of Us Part 1 game on your Steam Deck by following the steps below. The chances are high that reinstalling the game might fix several conflicts or issues with launching for sure.
Press the Steam button on Steam Deck to open Settings.
Scroll down in the sidebar and select Storage.
Select the Last of Us Part 1 game that you want to uninstall.
Now, press the X key to Uninstall the game.
Wait for the game to be deleted completely.
Once done, reinstall the Last of Us Part 1 game via the Steam Store again.
11. Factory Reset Steam Deck
You should also perform the factory reset method on Steam Deck to delete all the data and settings to the default state. It can also help you to fix crashing issues with the game. To do so:
Press the Steam button on Steam Deck to open Settings.
Under the System menu, scroll to the bottom and select Factory Reset.
If prompted, make sure to confirm & proceed.
The process may take some time to complete.
Once done, go through the initial setup process for the first time.
12. Contact Steam Deck
If none of the methods worked well enough, contact Steam Support to create a support ticket. The chances are high that Steam support will assist you further on it.
That's it, guys. We hope this guide was helpful to you. For further queries, you can comment below.