Lenovo IdeaPads are cheap, feature packed, and value for money Notebook series for productive people. Most students prefer IdeaPad laptops as Lenovo offers various different useful features in a much lower price range. There are several different models of this IdeaPad series which come at different price points and different features. However, even after all these, users are reporting the issue of Lenovo IdeaPad Showing black screen.
There are various reasons which can cause the issue, and some of them are very easy to fix. In this article, we will be going through various reasons behind the issue, as well as their solutions. Follow the steps carefully and you will be able to fix the issue very easily. So, without any further ado, let's start with the possible reasons first.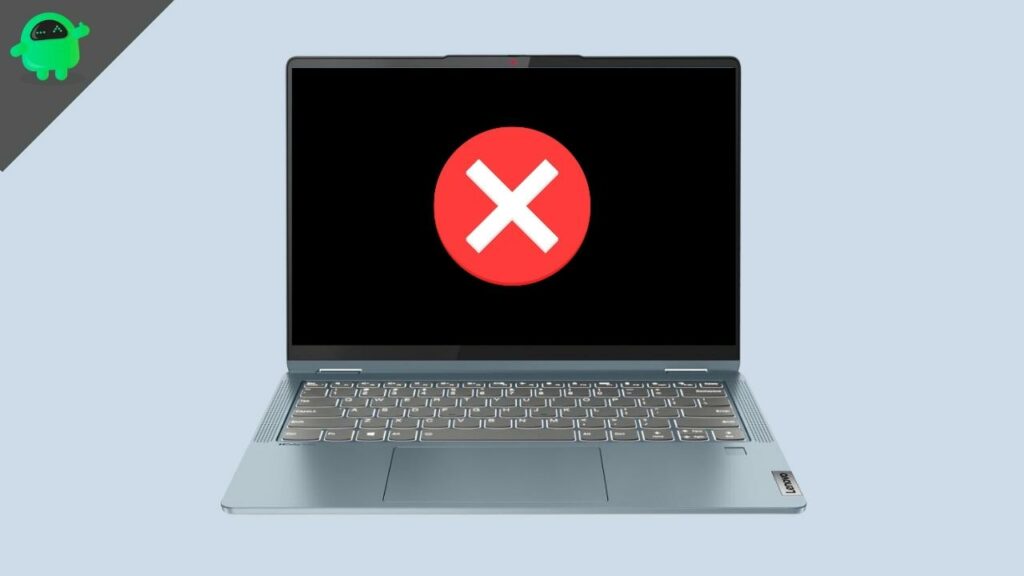 Lenovo IdeaPad Showing Black Screen: Possible Reasons
A laptop, generically a computer consists of different parts that make it work successfully. A computer has a processor, motherboard, memory, storage, and an operating system which works combinedly and provides a great performance. So, there are several parts of a computer that can go wrong and cause several issues.
Here are some of the different reasons that can cause the Lenovo IdeaPad black screen issue:
Issues with the hardware components.
Issues with the laptop display itself.
Issues with the operating system.
Issues with the power delivery system.
How To Fix Lenovo IdeaPad Showing Black Screen?
Fix 1: Restart Your Laptop
The most common and easy fix for issues like this is to restart your laptop. Restarting resets various different memory blocks of the laptop, including the boot manager, which helps to remove any unwanted bugs, cache files, etc. As these things interfere in the common processing of a computer, restarting helps a lot by removing them.
However, as you can't see anything on your screen, you can't just simply restart your laptop as you normally do. To overcome this, long press the power button and wait for the laptop to get turned off. Once the laptop is turned off, press the power button again and wait for your laptop to start.
If this fixes the issue and your display is fixed just like before, you are good to go. Else, you have to follow the next steps.
Fix 2: Reset The Display Mode
As the laptop displays are not detachable, we can not just simply restart the display by powering it off. However, Lenovo has a clever trick to do so with the help of some key combinations which resets the display mode. Once you reset the display mode, the chances of the issue getting fixed are quite high as it resets the display, as well as the graphics driver connection for the same.
Simply press the Windows + Ctrl + Shift + B keys together, which will reset the display mode. Once done, there is a possibility that the display will work again.
Fix 3: Remove All The External Devices
Every day we connect several external devices like a hard disk, mouse, keyboard, pen drive, etc. to our laptops to perform several different tasks. However, sometimes corrupted devices can interfere with the general working of the laptop which eventually can cause issues like the black screen. So, if you have any of the devices connected, disconnect them and see if you can see anything on the display or not.
Fix 4: Connect An External Monitor
Detecting a faulty display can be quite tough for laptops and hence external displays come to save us. There is no way you can detect a faulty display on a laptop as there might be various different aspects that might be causing the black screen issue. So, now only an external display can help as they work directly via HDMI from the GPU, hence there is no point in a broken connection between them.
Once you have connected an external monitor or a TV with HDMI to your laptop, see if something is visible on the external display or not. If the external display is working fine, you can follow the next steps to update drivers. But, if nothing is shown, the only way out now is to visit the service centre and get the laptop fixed.
Fix 5: Reinstall Graphics Driver
Just like normal computer systems, Laptops also come with an inbuilt GPU which handles most of the graphic intensive tasks. Most of the current generation laptops, including the Lenovo IdeaPad laptops come with two different GPUs. One is the integrated GPU with the processor and another one with better graphics processing power.
To get things working, the best thing to do is to reinstall graphics drivers. Sometimes an issue with the graphics driver might cause the laptop's display to not work accordingly.
We have listed the links for all three types of graphics drivers below. Make sure to download whichever is applicable for you and follow the on-screen instructions to install the same.
Download Intel UHD Graphics Driver
Download NVIDIA Graphics Driver
Once you have installed the drivers, make sure to select the applicable graphics device to make sure you are using the correct device for output.
Fix 6: Reinstall Windows OS
Even though installing the graphics driver and selecting the proper driver should fix the issue, there are still chances that there is some issue with the Windows OS itself. There is a possibility that it is unable to communicate with the devices and drivers, hence failing to provide output to the display. So, the best way out is to reinstall the Windows OS.
Even though it is an easy task, still, we have provided the steps below to properly install Windows on your laptop. Here's how you do it:
Note: Before you start installing, you need to get your pen drive or any external device ready with the Windows Media Creation. Please look into this link, create a new Windows Installation Media, and follow the steps below.
Shut down your laptop and once turned off, press the power button again and insert the Windows setup pen drive.
Now press F12 (or Fn + F12) when your screen turns on.
Select the Windows Installation Media from the Boot Device Menu.
Once a new Window appears, click on Install Now.
Now Accept the Terms and Conditions and click Next.
Now click on Custom on the next screen and your disk drives will show up.
Select all the existing partitions one by one and click on Delete.
Once you are left with the Unallocated Space, select it and click Next.
Your Windows installation will now start. Wait for the process to complete and follow the on-screen guides.
Conclusion
In this article, we have gone through various reasons, with their solutions that might be causing the issue of Lenovo IdeaPad showing black screen. Even though the solutions are meant to successfully fix your laptop, a bare minimum chance of some other damage is still there. So, if nothing could fix your laptop's screen, visit your nearest service centre and get your laptop checked. Also, if your laptop is under warranty, the best way to fix it is by going to the company's official service centre itself.