Hulu is one of the best places for on-demand video streaming platforms. In 2007, News Corporation and NBCUniversal co-founded Hulu, now owned by Disney. However, in the beginning, the service focused on cord-cutting with its over-the-top on-demand streaming service to compete with Netflix, which first became popular with its DVD-by-mail service.
With Hulu's live TV streaming option, viewers get live broadcasts from channels previously only available through cable subscriptions. Hulu also offers on-demand streaming. But unfortunately, for some LG users, the Hulu app is not working. However, the good news is the officials know that on LG TV Hulu app is not working. But, again, no fix is given by them. That's the reason why we are here. In this article, we will tell you how you can resolve if on LG TV Hulu app is not working.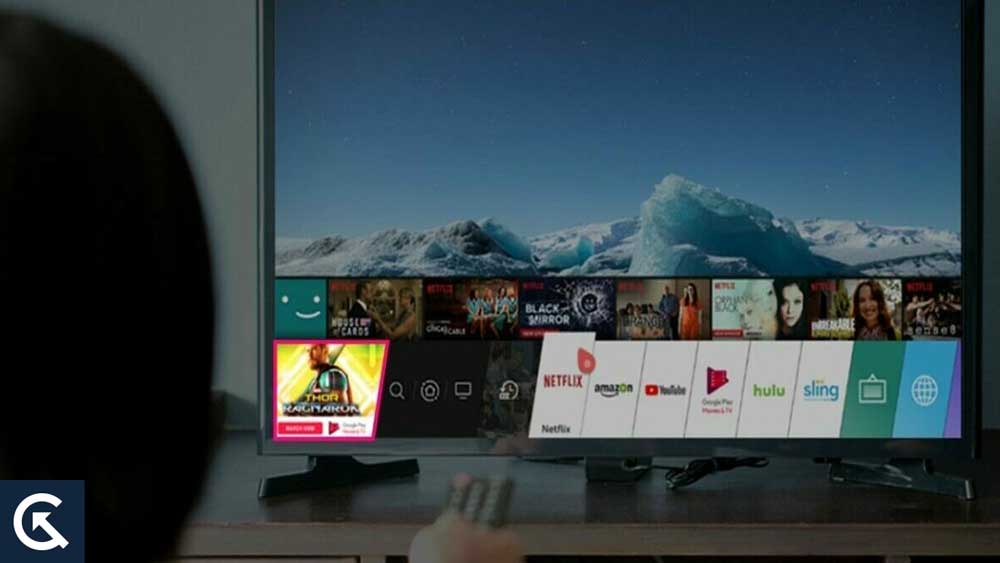 How To Fix LG TV Hulu Not Working, Buffering or Freezing
So, here are some fixes that will help you resolve the LG TV Hulu not working, buffering, or freezing issue. Thus, make sure to apply these fixes if you are facing this problem:
Fix 1: Check if Your LG TV is Compatible
There are some LG smart TVs that do not support the Hulu app. It is important to verify that your smart TV is actually compatible with Hulu before you do anything else. With webOS 3.5 or higher, all LG TVs with the Hulu app preinstalled, select webOS 3.0 TVs (excluding the B6, UH6350, UH6330 models, or the UH77, UH76, and UH61 series) and Roku TVs with the Hulu app preinstalled.
It is possible to access Hulu through older LG models that are running WebOS 3.0. It is possible to access the stream, Premium Add-ons, and live TV without access to some features. You might not be able to access Hulu directly from your LG smart TV if it runs webOS 2.0.
Fix 2: Check Network Connection & Update DNS
You may not be able to access Hulu on your LG TV due to a slow or unstable internet connection.
Your first step should be to restart your router. Wait 30 seconds before reconnecting your router, then unplug it. If you are still having trouble accessing Hulu, reconnect your LG smart TV to your router and try again.
To fix any potential network problem, you can do a couple of things, which are listed below:
Using an Ethernet cable instead of a hardwired connection

If you are using a wired connection, check your ethernet cables.

You can check your network speed from other channels or devices.

Make sure your router uses the 5.0GHz band by switching to a dual-band router.

Update DNS to Google DNS
Fix 3: Update Hulu App
It is also common to have an older version of the Hulu app installed on an LG smart TV when it stops working. You may experience a black screen or sudden crashes on your LG smart TV when using Hulu.
To resolve the Hulu not working issue, you need to check if Hulu is installed on your TV, and if not, install the most recent version of the service. To do that, follow these steps:
On the remote control of your LG smart TV, press the Home button.

You can access LG's content store by clicking on the LG icon.

To access LG Apps, go to the LG content store.

Open the Hulu app.

You will see an 'Update' button if an update is available; click it to update the Hulu app on LG TV; otherwise, you will see a button to launch it.
Fix 4: Update LG Smart TV Software
When it comes to Hulu or other apps, if your LG web OS software is outdated, you might see a black screen or that they crash. Below are the instructions for checking for and installing software updates (if any):
On your device, press the Home button.

At the bottom right corner, click on the All Settings icon after clicking on the Settings icon in the top right corner.

Click on About This TV under the General tab, then scroll down to the section.

Click Check for Updates (or allow automatic updates) to see the current software version of your TV.

Install any updates that are available by downloading them and letting them complete the installation.

You should be able to reboot your TV once it has been installed.

Start the app now, and it should work.
Fix 5: Update Region & Time Settings
There may be a problem with the region settings or the time of your LG TV if your Hulu app does not work. To determine whether the region setting is set correctly, you need to check it. Due to streaming rights, some apps may not be available in your region because the location has been set incorrectly.
Here are the steps you need to take to check your region:
LG TV remotes have a Home/Start button that can be pressed to display the launcher bar.

At the top right corner, click the Settings icon.

From the bottom right corner, select All Settings.

Click on General.

Choose a location.

You will receive an automatic update of your location information as soon as you enter your zip code.
Also, you can set Time & Date manually or change it to 'Auto' from the General menu option.
On top of that, Hulu subscriptions are intended for use by a single household in the United States. If you wish to sign up, you must provide a U.S.-issued form of payment.
Fix 6: Power Cycle Your LG TV
When your smart TV is experiencing streaming issues, power cycling can help. If you are experiencing unresponsiveness, black screen crashes, and lag while streaming, this can help. Streaming apps such as Hulu may also fail to work on smart TVs if corrupt cache files are present.
You can also call a power cycle a 'soft reset.' It will not affect any of your settings, installed channels, or apps.
You can power cycle your LG TV and fix this problem with the Hulu app not loading by following these steps:
Initially, take your TV out of the power outlet and unplug it.

Then, wait 60 seconds before plugging it back in

For 30 seconds, press the power button on your TV (if there is no power button on your TV, skip this step).

It should now work normally after being plugged back into the power outlet.
Fix 7: Re-install Hulu App
It is also possible for app files to be corrupted on smart TVs resulting in apps like Hulu not working. Most of the time, reinstalling the apps will fix the problem.
The first thing you need to do is remove Hulu from your phone. Here's how:
To edit, scroll all the way to the right on the Home panel until you see the pencil icon (edit button). By doing this, you will be able to edit the app panel.

To uninstall an app, navigate to its 'X' icon and click it. Then click it.

Click on 'OK' to remove the app when you receive the prompt asking if you want to delete it.
Fix 8: Turn Off IPv6
A version of the Internet Protocol (IP) used for communicating and routing traffic over the internet, IPv6, is the latest version. While this protocol is generally compatible with most apps and networks, some apps and networks are not compatible with it.
Select All Settings > Network from the Settings menu.

You can then use your advanced Wi-Fi settings by selecting 'Wi-Fi connection' and 'Advanced Wi-Fi settings

Toggle off IPv6.
Fix 9: Check If Hulu Server Is Down
Before we look at other possible causes of the issue on your LG smart TV, we should consider the possibility that Hulu is to blame.
In spite of the fact that it is not common, Hulu's streaming server may go down from time to time in 2022. Sometimes, the LG smart TV is not affected by the issue, which is a general one from their servers.
If this happens, your LG TV may display a black screen, the Hulu app may crash suddenly, you may find yourself logged out of your account without any warning, or the app may freeze up out of nowhere.
So, that's how to fix LG TV Hulu not working, buffering, or freezing issue. We hope that this guide has helped you. Furthermore, in case you need more info, comment below and let us know.