There is no doubt that WiFi is one of the most important technologies of all those we rely on each day. While MacOS 14 Sonoma has some improvements, some issues can negatively impact user experience. That's so disappointing when you're eagerly anticipating new features but aren't allowed to use them. But you do not need to worry about it, as we have some solutions for you if the macOS 14 Sonoma WiFi is not working on your Mac. So, if you are facing this problem, check out the methods mentioned in this article.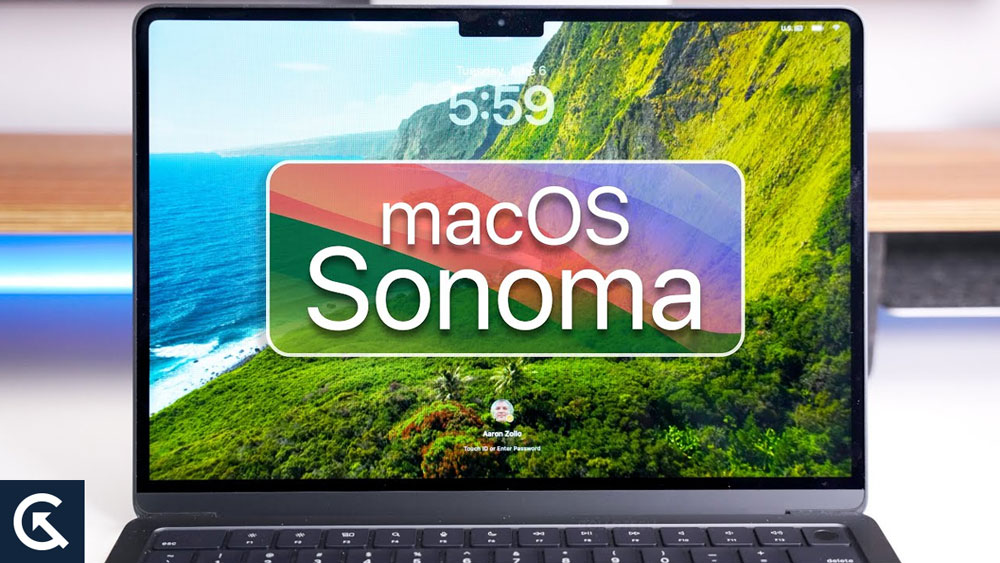 How to Fix macOS 14 Sonoma WiFi Not Working Issue
Here are some ways that you can use in order to resolve the macOS 14 Sonoma WiFi not working issue:
Fix 1: Restart Your Mac
When you have problems with your MacBook, such as WiFi not working after installing macOS Sonoma, you can use this method to solve them quickly and safely. To begin with, make sure the file or document you are working on is saved. Here are the instructions to follow afterward:
In the top left corner of your Mac, click the Apple icon.
When the drop-down list appears, select Restart.
To turn off Mac, press the Restart button again in the pop-up window.
Once it has been turned off, wait a few seconds for it to turn back on.
Fix 2: Power Off/On Your Router
If you still cannot access your internet after enabling WiFi, try turning your router off and on again. To do this, turn the on/off switch on the router's back. Also, be sure to connect all the cables correctly as well. If you reconnect within two minutes of turning on the router again, wait at least another two minutes.
Fix 3: Turn Off the Firewall
Sometimes your Mac's firewall can interfere with your WiFi. Following are the steps that you can follow to turn off the firewall in order to fix the macOS 14 Sonoma WiFi not working issue.
Go to the System Settings on your Mac and click Network.
Tap the Firewall option in the Network section.
Switch off your Mac's firewall by toggling the switch.
Fix 4: Try Safe Mode
You will not be able to use this method if you need to reinstall macOS on your laptop. You can use safe mode as a diagnostic method for macOS without being infected with malware or third-party apps. There is no risk in using this method to fix many software-based OS problems.
Using the ShutDown option on the MacBook or pressing the power button will shut it down.
To turn it on, press the power button again.
You should now see the logo and the option to select a startup disk on your MacBook.
Eventually, you will see a login window after pressing and holding the Shift keys.
If you wish to log in, it will ask you for the password you use to unlock this Mac. It may ask these two lines.
In safe mode, you are now using your MacBook. You will find the WiFi indicator on the menu bar at the top. Once you've found it, connect to it and finish the setup.
Fix 5: Use an Ethernet Adapter
There is usually no direct connection to the Ethernet port on MacBooks. In case the WiFi menu isn't available on your MacBook, you can connect it to the internet with an adapter. In order to connect the Ethernet end to a laptop, you must first connect the Ethernet end (female end) to a USB-C port on the laptop (make end). Your Mac will connect to the internet directly from the router without needing to connect to WiFi, but you won't get back the WiFi menu.
Make sure macOS is reinstalled and the setup is completed. It should take a few seconds, but then the WiFi drivers should be back to normal, and the WiFi menu should appear.
Fix 6: Disable Bluetooth
It might sometimes happen that WiFi connectivity on your Mac is disrupted by Bluetooth. When you don't need Bluetooth for anything, it's a good idea to turn it off. In order to disable it, follow these steps:
Fix 7: Disconnect All External Devices
If you connect a device to your MacBook, make sure the shield is in place. You might experience problems with your WiFi or internet if they don't. Ensure that every device connected to your Mac, including the mouse, keyboard, and hard drive, has been disconnected. Once you are disconnected from all other devices, try connecting to your WiFi again. You may be able able to get online now if one of your devices is causing a problem.
Identify which device is causing trouble by connecting your devices back one by one to resolve this. Getting it repaired or replacing it if you find the one causing the problem is the best course of action.
Fix 8: Move Close to Router
It is typical for Macs to have trouble connecting to the network or WiFi when they are in a long distance from the router. It might be necessary to strengthen the signal even if it shows connected to get a good internet connection. You can see how strong your WiFi signal is by looking at the bars in the WiFi symbol on your Mac's menu bar. Ensure that your Mac is placed so that at least three signal bars can be seen. In this way, the WiFi connection will become stronger.
Fix 9: Erase Macbook
It is impossible to recover your data after this complete reset if you don't have a backup using an external drive, iCloud, or Time Machine.
To use the recovery assistant, click the recovery assistant icon in the top left corner.
From the drop-down menu, you will see an Erase Mac option.
During restart, the logo may flash more than once, and it should take a few seconds. Depending on the amount of data on the Mac, this process can take considerable time.
You can check if the WiFi menu has reappeared in the top-right corner once the computer reboots into the recovery screen.
Make sure you are connected to your WiFi network or hotspot, and then reinstall Mac OS X.
Afterward, you can set up macOS normally.
Fix 10: Disable and Enable WiFi
Occasionally, turning the WiFi on and off can resolve all basic issues with your MacBook when you can't connect to the internet. To do it quickly, follow these instructions:
Locate the menu bar at the top of your Mac screen by moving the cursor there.
To disable WiFi connectivity, tap the WiFi icon and toggle the switch next to it.
Once again, toggle the same switch to restore connectivity and check if the connection has been restored.
Fix 11: Run Wireless Diagnose
It is now time to discuss a quick yet effective way to diagnose the problem with your Mac's network. To do this, you can use a wireless diagnosis tool. Fortunately, it is an automatic process, so no action is necessary on your part. If you are experiencing WiFi problems after updating to macOS Sonoma, please follow these steps:
On the MacBook toolbar, locate the WiFi icon.
Once that's done, hold down the Option key and click on the WiFi icon.
Afterward, you will be able to see the details regarding your WiFi network.
Once you have selected the Open Wireless Diagnostic option, press the Continue button. The diagnostics process will begin.
Also Read: How to Backup iPhone or iPad on macOS Ventura
So, that's all we have for you on how to fix the macOS 14 Sonoma WiFi that is not working on your Mac. We hope that this guide has helped. In case you faces issue while fixing this issue, make sure to comment below and let us know.