Are you getting the "Unable to send a message – Message Blocking is active" error message whenever you try sending a text message to someone on your iPhone? Well, that's some kind of unexpected issue you might encounter at any time, which prevents you from sending a text message. So, if you're also encountering the same issue, check out this troubleshooting guide to resolve it. This specific issue might trouble iPhone users and there is nothing to worry about.
As per multiple reports, this error mostly appears when the specific recipient has blocked you or maybe you've blocked the recipient. Though there are a few times when this issue occurs due to several possible reasons like iMessage conflicts or Date & Time settings regarding problems on the iPhone, it becomes quite common these days for iPhone users to have this. Here we've shared with you possible reasons and the workarounds that should be useful for you.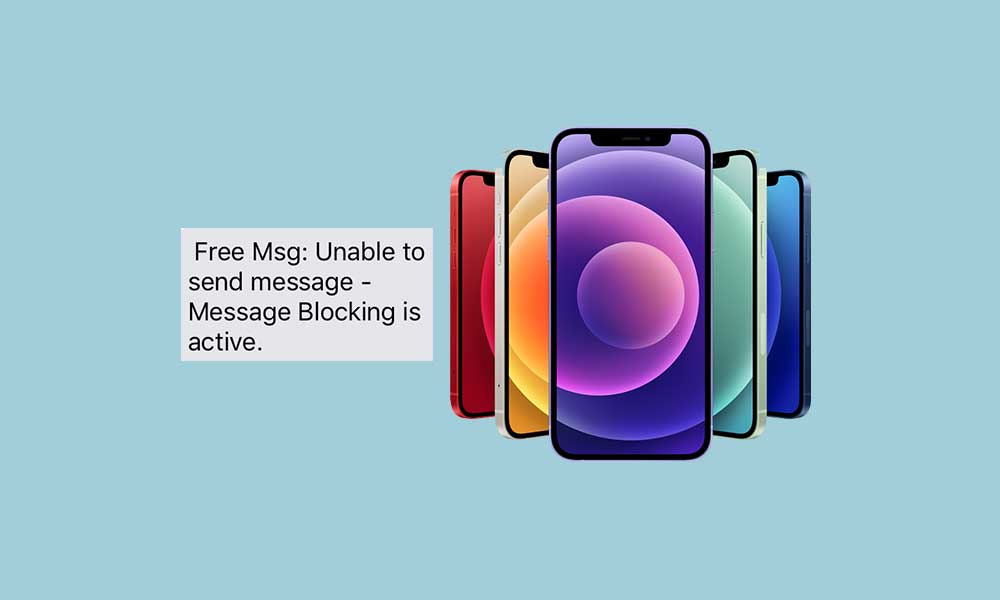 What is 'Message Blocking Active' on iPhone and How to Fix it?
When you get the 'Message Blocking Active' error on your iPhone, you'll find out that you can't send a text message to the particular recipient no matter how many times you try. As we've already mentioned above, the chances are high that somehow your recipient has blocked you on iMessage or somehow you have blocked the recipient which mostly occurs such an issue. However, there are some other factors present that might trouble you a lot.
Talking about the other possible reasons, includes an incorrectly installed SIM card on the iPhone, an inactive mobile plan (zero SMS packs), blocked phone numbers, and more. So, it can be very frustrating for someone to experience such an issue and can eventually trouble you if you're in an emergency or you're trying to reach a person. Fortunately, we've mentioned a couple of troubleshooting methods below that should help in fixing the issue for you.
1. Force Restart Your iPhone
You should force reboot your iPhone manually so that any temporary system glitch or cache data issue can be fixed easily. In some cases, the normal reboot process might not work.
Press and quickly release the Volume Up button and quickly press then release the Volume Down button too.
Hold the Side button (Power) for a few seconds until the Apple logo appears on the screen.
Once the Apple boot logo appears, release the Side button.
Wait for the device to reboot into the system automatically.
2. Enable Airplane Mode and Disabling it again
If in case, your iOS 16-running iPhone is unable to load any online application or the app itself fails to connect to the network that means there is still a connectivity glitch. It's also worth recommending to turn on the Airplane Mode on your iPhone and then turn it off by following the steps below to refresh the connectivity glitch of iOS 16. Sometimes installing the latest software update can initially trouble you a lot due to the cache data or glitches.
Additionally, issues with Bluetooth or NFC connectivity can also occur a lot after installing the latest software update on the iPhone. So, turning on and then off Airplane Mode can come in handy. Several affected users did find this trick helpful.
Open the Settings app > Tap on Airplane Mode.
Make sure to Turn On the toggle and wait for a few seconds.
Then Turn Off the toggle again and check for the issue.
3. Check the Cellular Service Coverage
You should also check out the cellular service or the network on your iPhone to ensure there is no issue with the networking glitch or connectivity signal whatsoever. If there are some drops in the network signal then make sure to reboot the iPhone and wait for some time.
4. Try Reinserting the SIM Card
You should also try to remove the SIM card and reinsert it again to ensure there is no issue with the SIM card placement whatsoever. To do so:
Use a SIM ejector tool or paper clip to remove the SIM card first.
Then Power Off the iPhone.
Wait for a couple of seconds and then reinsert the SIM card to check for the issue.
5. Change the Carrier Plan
You can also try changing the carrier plan from whatever you're using right now to cross-check if the text message-sending issue has been fixed or not. The chances are high that your current carrier plan doesn't have any active SMS pack.
6. Unblock the Number
Another thing you can do is simply unblock the phone number which is having issues with sending messages on your iPhone. You can follow the steps below to do that.
Open the Settings menu on your iPhone.
Scroll down a bit and tap on Phone.
Tap on Call Blocking & Identification to view your blocked contacts.
Then choose Edit in the top-right corner.
Now, tap on the minus (-) sign on the left side of the phone number.
Select Unblock next to the phone number.
Next, tap on Done in the top-right corner.
Once done, make sure to open Messages to send the text message again.
7. Boot Your iPhone in Safe Mode
You can also try booting your iPhone in Safe Mode by following the steps below to check if any third-party application is conflicting or not.
Power Off your iPhone and then long-press the Power button until the Apple logo appears.
Then press and hold the Power + Volume Down button until the boot logo appears on iPhone.
Now, release the Volume key once the boot logo appears.
Then wait for the iPhone to boot in Safe Mode.
Finally, check if you're still getting the same issue.
If you find out any third-party app to be problematic then make sure to uninstall that application to fix the issue.
8. Disable iMessage on iPhone
Sometimes disabling the iMessage on your iPhone might also come in handy to check if the problem has been fixed or not.
Open the Settings app on your iPhone.
Go to Messages > Turn Off the iMessage option.
Next, you should reboot the iPhone, and check if the 'Message Blocking Active' on iPhone issue has been fixed or not.
9. Set the Correct Date and Time on iPhone
Sometimes incorrect time & date settings on your iPhone can cause multiple issues with the networking or cellular connectivity. It's always better to set the date & time precisely according to the region and timezone. Also, set the automatic time & date option so that you won't need to configure it every time. You can follow the steps below to do so:
Open the Settings app > Tap on General.
Tap on Date and Time > Set the correct TimeZone.
Turn on Set Automatically > Restart your iPhone.
10. Check for Software Updates on iPhone
Sometimes you should also cross-check the available software updates on your iPhone. Though the iPhone does come with the latest iOS version out of the box, Apple continuously pushes frequent software updates via OTA to provide improvements and bug fixes. However, Apple consistently pushes software updates to its eligible devices. So, if you haven't updated your iPhone then make sure to follow the steps below:
Go to the Settings app > Tap on General.
Tap on Software Update > Select Automatic Updates to On.
Now, your system will also check for the available update.
If available, tap on Download and Install. [Enter the device passcode]
Wait for the update installation process and then the iPhone will reboot automatically.
It may take some time so have some patience.
Note: If in case, there is no update available, the iOS is up to date notification will appear on the screen.
11. Try Updating Cellular Settings
It's also recommended to update the carrier or cellular settings by contacting carrier support. You can check the last method to contact carrier support. Ask them to update the cellular settings for your mobile device or send the cellular settings via message.
12. Reset Network Settings
Networking glitches or temporary cache data issues on the iPhone might also occur in multiple conflicts with cellular connectivity in some cases. So, it's recommended to reset the networking settings on your iPhone manually to clear out temporary networking glitches. You can follow the steps below to do the same:
Tap on Settings > Tap on General.
Select Transfer or Reset iPhone > Tap on Reset.
Choose Reset Network Settings.
If prompted, enter the lock screen passcode to confirm it.
Wait for the process to get completed > Now, force reboot the iPhone to apply changes.
Note: This will reset configured Wi-Fi networks and passwords, cellular settings, VPN, and APN settings on the iPhone.
13. Contact Your Carrier Support
If none of the methods worked for you then make sure to contact your Carrier Support for further technical assistance on it. Whatever cellular service you're using depends on the region, either you can directly visit their outlets nearby your place or contact them via call/chat that you can get on their official website to elaborate on the issue. It's expected to get a quicker resolution because it's quite a common issue.
That's it, guys. We assume this guide was helpful to you. For further queries, you can comment below.