Minecraft has launched a new game package called Minecraft Dungeons. The pack is basically the unite to fight for a survival pack, where you will have to explore new action-adventure dungeons alone or with a team. You have to defeat various creatures in the dungeons with melee swings, hang back ranged attack. You have to personalize your character, unlock new items, weapons, skills, and attacks. Moreover, you will get epic treasures after epic quests, and you can save the villagers from the evil Arch-Illager. However, people are facing issues with the new package; an error shows up preventing users from opening the game. The error displays Minecraft Dungeons Game Ownership Not Established.
Minecraft is a trendy game since 2011, developed by Mojang, and the game has robust features. Most people recognize the game by its 3D pixilated graphics. You can do almost anything in the game, and you can craft, collect, discover, and extract material, you can build huge structures depending on the mode. The game offers survival, creative, hardcore, adventure, and spectator mode, including Multiplayer mode. Moreover, Minecraft allows you to customize and make modifications to texture packs, items, maps, and much more. You can also share it with others. The game is maintained very well for several years, the bugs are fixed, and new frequent updates are added every year.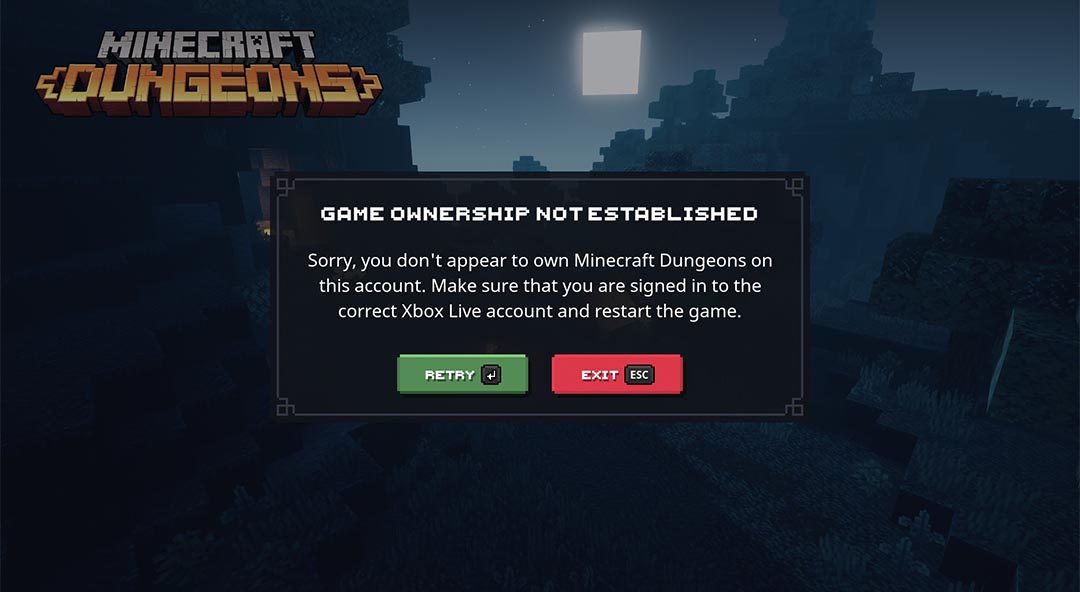 Minecraft Dungeons Game Ownership Not Established
The error Game Ownership Not Established can show up if your Xbox account or Microsoft accounts are not linked or connected properly to the Minecraft. Therefore you will have to sign to the correct account properly and restart the game again. After the error shows up, firstly restart the Xbox or whatever platform you are in, open the game again. If the error still shows up, then check your Xbox Live Account double-check it to make sure it is the exact account that you have used to buy the package.
After that, try to run the game again if the error is not resolved then completely log out from your Xbox live account or Microsoft Account. Log back again and force a refresh, then verify if you are the correct account. After this, the issue should stop if not log out again and log in again. The servers are jamming due to massive players online. Therefore, the error can show up if servers are temporarily crashed.
If you are facing issues with the Game Ownership Not Established error, then you have to check the Xbox account and Microsoft account. Check if the account that is linked is the account that you have used to buy the new package. If everything is fine and still the issue is not resolved, then sign out and log back in, or restart the device and run the game again, do these steps simultaneously, and eventually, the error will stop. However, if its a server problem, then you will have to wait for the fix.