Netflix has now become one of the basic necessities of the modern world where you might want to watch your favorite shows beyond your geographical boundaries. VPN services such as ExpressVPN and SurfShark VPN help us achieve just that. However, many users do face small issues from time to time. And one common issue users frequently face is Netflix not working with ExpressVPN and SurfShark VPN. In this post, we intend to discuss some of these problems and possible solutions for the same.
VPN stands for Virtual Private Network, and it can help you to unlock some features in Netflix in terms of watching shows or movies outside your current geographical region. Usually, Netflix only allows you to watch shows/movies from your area. For eg, if you're in the UK, you cannot access shows that are exclusive to the US or Europe region. But with ExpressVPN and ShurfShark, you can access all region media content easily.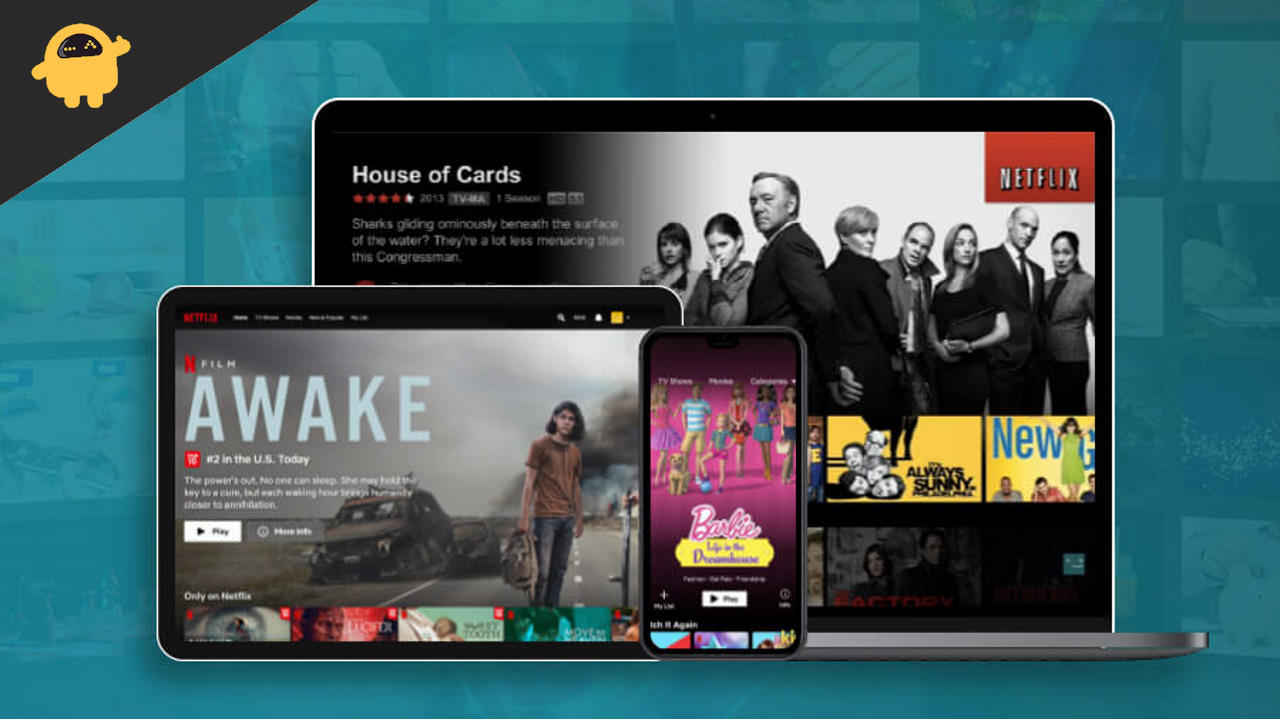 Netflix Not Working with ExpressVPN and SurfShark, How to Fix?
The reason behind Netflix not working are many, and below are some troubleshooting methods that will help you to identify and fix them one by one. Before following the below troubleshooting methods, make sure you crosscheck whether your Netflix & VPN subscription is active. If it's not, please do the necessary from your end.
Method 1: Restart VPN & Netflix
In most cases, due to technical glitches, Netlfix or the VPN services might not work properly. To fix this, it is ideal to restart both Netflix and VPN services to see if it helps. We also recommend you to restart your device (whether Android, iPhone, or PC) as well.
Method 2: Change VPN server
Every VPN service including ExpressVPN and Surfshark VPN gives the option to change VPN service from one region to another. They usually have multiple servers per region. So if one server is slow or not working, users can switch to other servers for an uninterrupted Netflix experience.
Depending on which VPN service you use, go to settings and region settings.
Here choose another region and confirm the setting. VPN may take a minute or two to reconnect to the new server.
Method 3: Change VPN Protocol
Each VPN service comes with different protocols which can be later configured according to one's needs and requirements. Usually VPN and choose automatically which protocol is best for you, but you may also change it if the protocol is not working or is considerably slow.
You might find the protocol section inside VPN settings. Here the default settings as Automatic, but you can choose Lightway connection for better streaming speeds.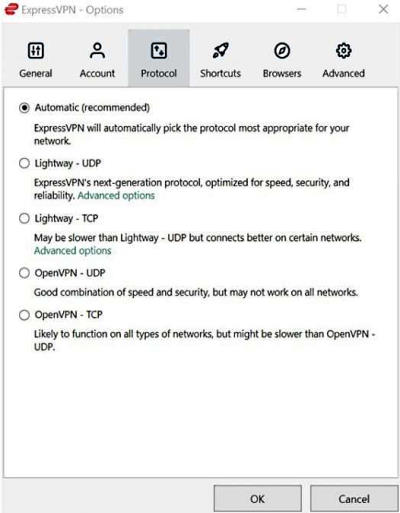 We recommend you to use Lightway (UDP) protocol as they are more reliable for Netflix and other streaming platforms.
Method 4: Disable WebRTC
WebRTC or also known as Web Real-Time Communication is an algorithm that browsers use to communicate with other browsing sessions. This is especially helpful when you have logged in to multiple browsers for your Netflix account. However, this may create issues as not all the browsers instances might be on the same VPN connection. So you may disable the feature as follows:
Download and install the Easy WebRTC block extension.
Once installed, enable the extension on yoru browser.
This extension will also work with Edge, Firefox, and other Chromium-based browsers.
Method 5: Clear Cookies & Cache
Cookies & Cache right be the issue on why Netflix is not working. Netflix often uses an old cache to make sure the website runs faster on your end. However, when you frequently switch between VPN services, the cache might get corrupt. You can fix the problem by following the steps below:
Go to browser settings > History > clear all browsing data option.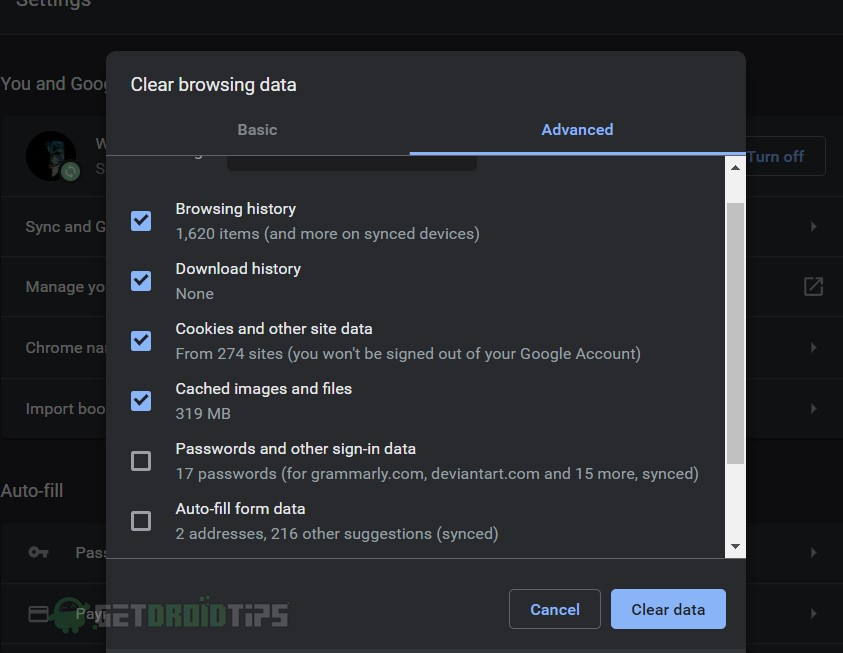 Select the period of time. You can also check the other options like Download History, Cookies, Browsing History, etc.
Click on the Clea data button to confirm. This will delete all the cookies & cache files.
Once done, restart the browser to see if the issue is fixed.
Method 6: Use Incognito Mode
Sometimes going on Incognito mode will also help to fix the problem. Please log in to your VPN and open an incognito window by pressing CTRL + CHIFT + N keys together. Now log in to your Netflix account and see if the issue is fixed.
Method 7: Remove Chrome Extensions
If the issue is fixed by using incognito mode, that means the issue is caused by an unwanted Chrome extension. It is advisable to remove all extensions which might be causing the issue. Usually, these extensions come by the name of Dark mode and promise to provide a good streaming experience.
Method 8: Get Dedicated IP address
Each VPN has a premium service where that offers a dedicated IP address to its users which helps them with their work or entertainment-related activities. Since Netflix actively block random VPN IP address, having a dedicated IP address will help to fix the Netflix not working with ExpressVPN and SurfShark problem. You will find the feature in your respective VPN settings panel.
Method 9: Change DNS Service
DNS stands for Domain Name Service and it helps to run Netflix and other internet-related services. However, if DNS is not working or slow, then Netflix might not work on yoru device. So you may change DNS service the following way:
The steps to change DNS is almost the same on every device. Go to Settings > Network & Settings > DNS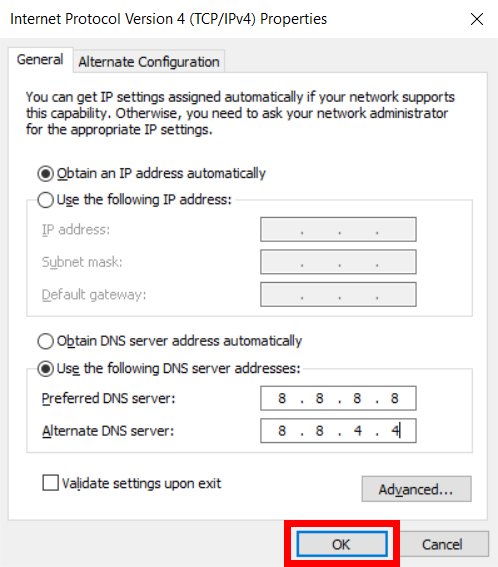 Here change the DNS server. You may choose Google DNS, Open VNP DNS, or any customer DNS service that your VPN provides.
Method 10: Contact Support
If none of the above methods works, then it's time to connect to customer support for each VPN service. Since Netflix has an anti-VPN policy and they actively track and block VPN IP addresses. So once you request that your Netflix is not running properly, VPN support service might be able to give you a new IP address and it shall solve the issue.
Conclusion
This brings us to the end of this guide for fixing Netflix not working with ExpressVPN and SurfShark VPN. Please note that the above methods shall help you to fix the issue in most cases. But many times the issue can be out of hand when either VPN services are down or the Netflix server is down. In such cases, it is usually best to wait, until the services are back online.