Are you frustrated by the heat generated by your Google Pixel 8? There have been several reports of users experiencing overheating issues with the Google Pixel 8 and Pixel 8 Pro on different social media platforms. For better temperature management, Google Pixel 8 and Pixel 8 Pro use Google Tensor G3 chips.
Users dealing with overheating problems on Pixel 8 and 8 Pro are still using social media, editing photos with AI, transferring data between older Pixels and the new Pixels 8 and 8 Pro, watching videos on the Google Photos app, and multitasking. Nevertheless, you don't have to worry about overheating since we have some important fixes that will solve it. Therefore, let's get started with the guide.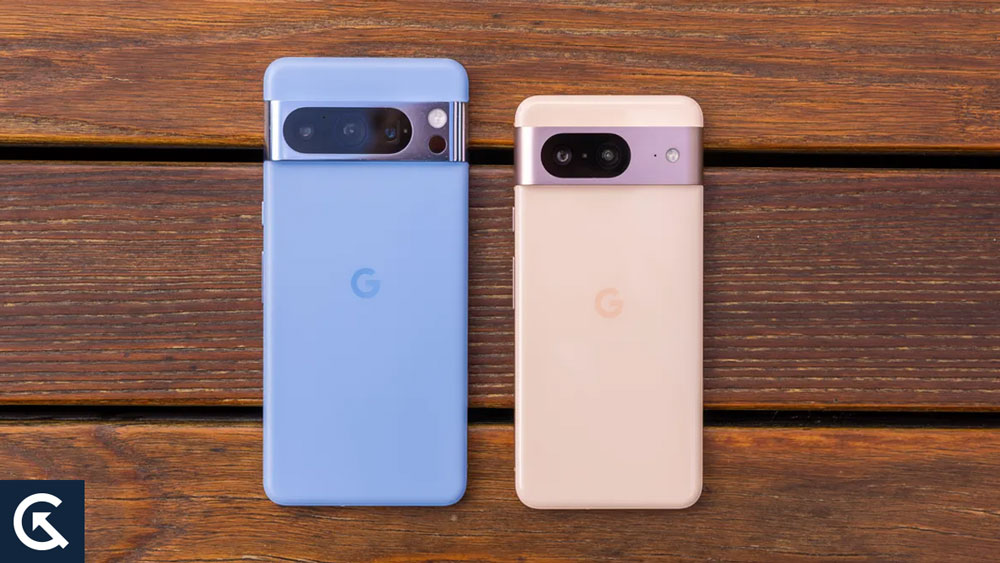 Why Does Your Google Pixel 8 And 8 Pro Overheat?
There are a lot of processes running on your smartphone when you are using apps and features. It is normal for your device to generate heat during resource-demanding tasks like gaming, watching videos, and transferring data. There are, however, also external factors that can contribute:
Environmental Heat: It is possible to overheat when it is sunny, enclosed, or in a hot vehicle.
App Issues: Your phone's resources might be overworked due to misbehaving apps or software bugs.
Software Glitches: Errors in the software lead to unreliable operations and overheating.
Hardware Impact: Overheating can also be caused by damaged or malfunctioning cooling components or systems on your phone.
How to Fix Pixel 8 and 8 Pro Overheating issue
Here are some fixes that will surely help you resolve the Pixel 8 and 8 Pro overheating issue:
Fix 1: Restart Your Device
Whenever everything else fails, try this age-old formula. It is possible to get rid of some random software bugs by restarting your device. Follow these steps to restart your Pixel 8 and 8 Pro:
Initially, press and hold the Power Button for 20 to 30 seconds.
Click on Restart.
Fix 2: Reduce Brightness
A high-brightness phone is also a reason why you are experiencing overheating issues if you are a user that often uses their phone with high brightness. Users are still using their phones in high brightness inside, even when it is dark outside.
In order to make your smartphone more visible indoors, please dim it. Also, don't use auto brightness. Overheating your phone does not only drain the battery but also causes it to overheat.
It is, therefore, important that you use your phone at an optimal brightness level and increase its brightness when the door is open. It can fix the heating issue with the Google Pixel 8 and 8 Pro.
Fix 3: Turn off Adaptive Charging
With your Pixel device, you have access to a feature called Adaptive Charging. Once your phone reaches 80% in the evening, this feature stops the charging and keeps it at that percentage all night. Your phone will be fully charged by the time you wake up since the remainder of the charging will be completed before you wake up.
It might be confusing for you to comprehend how your phone knows when to wake you up. It is your smartphone that helps you in this matter since you have set alarms. It is still early days for the Adaptive Charging feature, although it might seem useful in theory. There have been reports of users' devices being stuck at 80% even after being charged all night, and they have to charge their phones again.
Overcharging the phone repeatedly has caused the device to overheat repeatedly. To resolve your overheating issues, disable the adaptive charging feature on your Pixel 8. Here are the steps you need to follow:
Navigate to the Settings menu.
Select the Battery option.
Click on the Adaptive Preferences option.
Select Adaptive Charging and turn it off.
If your phone is overheating after turning off Adaptive Charging, check to see if the issue has been resolved.
Fix 4: Change Battery Usage for Apps
Several background or foreground apps can consume additional power, which eventually causes your phone to overheat. The best way to prevent this from happening is to restrict the use of certain apps that consume a lot of battery power. Here are the steps you need to follow:
Navigate to the Settings menu.
Choose the Battery option.
To see a list of apps, open the Battery Usage section.
On the first app, select the Optimised option.
Repeat this process for all the apps consuming more power.
Your Pixel 8s temperature can be significantly reduced by lowering power consumption in this way.
Fix 5: Turn off Fitness Apps Activity
In most fitness apps and smartwatches, background activities, such as counting steps, are kept running in the background. It might not seem like a problem at first, but if you keep using your device, you may find that it overheats. You should stop granting your phone permission to track your physical activity and monitor it on your smartwatch instead. Here are the steps for disabling physical activity permissions:
Initially, navigate to the Settings menu and select Apps.
Select the See All Apps option.
Click on the Health App.
Select Physical Activity under Permissions.
Make sure Don't Allow is selected.
Fix 6: Battery Issue
You will occasionally encounter malfunctioning issues with your phone as it loses its durability over time. In this case, the phone is probably overheating because its battery is no longer providing enough power. To ensure your Pixel 8 battery has been properly evaluated, take it to your nearest store. In order for your phone to work properly, you would need to replace a faulty battery.
Fix 7: Stop Background Use of Apps
In some cases, unused apps keep running in the background, causing the device to overwork and overheat. It is simple to pause unwanted apps unless they are being used or if they are causing your phone to overheat. Here are the steps you need to follow:
Navigate to the Settings menu.
Select Apps from the menu.
Select the See All Apps option.
Click on the app you wish to close.
If you are not using the app, you can toggle "Pause app activity if not being used" on.
Wait and see if the device doesn't overheat again after you change the settings for all the desired apps.
Fix 8: Remove Buggy Apps
You may experience a temperature spike when your Pixel device heats up after installing a random third-party app because of bugs or viruses it contains. To avoid constant overheating, it is best to uninstall such apps.
Open the Google Play Store app.
At the top right corner, click on the Profile icon.
Click on Manage Apps and Devices.
Select the app you want to uninstall from the list and click Uninstall.
By doing so, you will be able to remove all the apps that you think are causing the problem.
Fix 9: Pending Software Update
Companies regularly release new software updates to introduce new features, make changes, and eliminate unwanted bugs. Your Pixel 8 might become overheated suddenly due to a pending update. Make sure you are up to date and install any updates that have been released. Here are the steps you need to follow:
Navigate to the Settings menu.
Select the System option.
Click on System Update.
Whenever there are software updates available, download them and install them. After the phone finishes updating, it will restart. Hopefully, your device is no longer heating up now.
So, that's all we have for you on Pixel 8 and 8 Pro overheating issue. Thank you for reading this guide. We hope it was helpful. If you would like more information, please comment below.