Roblox has made a major contribution to the industry since it is the only reliable platform that serves gamers to earn as well as play games created by others. The popularity of the Roblox platform has made it such that people select any game even with their eyes closed due to its dominance as a game-developing platform. The fact that Roblox tries to cater to every type of gamer is also impressive.
Selecting a game from Roblox's library has always been challenging. But there is one game that never brings you down. You guess right, I am talking about "Rainbow Friends". In the Year 2021, Roy & Charcle (formerly Fragment Games) developed the game. Being an authentic horror game, it recorded 1 billion visits but since the game goes on the update, people want to know more about it. So here we will explain Rainbow Friends.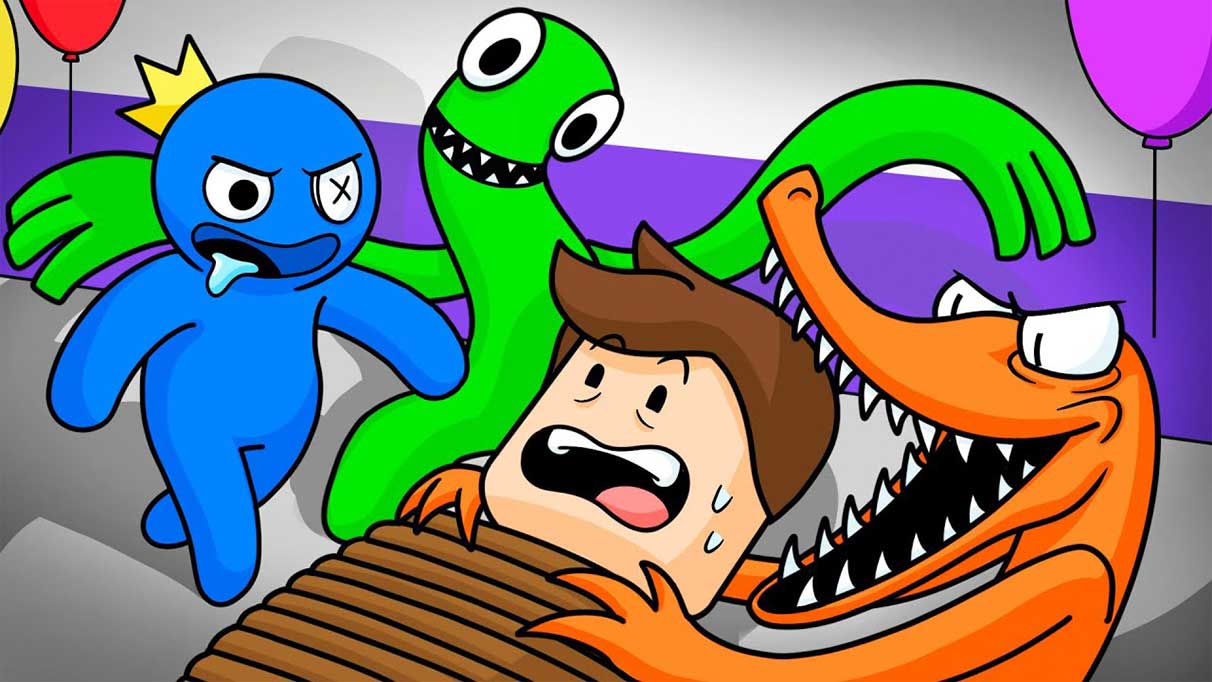 Rainbow Friends Wiki: How to Play, Characters, Jumpscares, and Morefbd
As we already told you, Rainbow Friends is a horror game. However, it starts when you are an unnamed child who has been kidnapped during a school trip. The child was kidnapped in an amusement park named "The Odd World". To be specific, as you are a lost child you need to spend five nights at that place where no one is yours except Rainbow friends.
I am sure you can connect this theme with FNAF titles and similar horror games. And if you know this, then you know you can do small quests inside of the map corresponding to Nightmare Fuel characters. There are almost five Rainbow Friends and a few jumpscares with teeming developers who maintain a thrill in the game. So, first, we discuss all Rainbow Friends (or characters).
Blue Friend
The first monster we get in chapter 1 of the game is the blue one. It takes the form of a huge blue plushy-like humanoid. It wears a yellow crown with a button eye. Here tweak is this blue monster figure out players across the map via Stuckling. As a player, your job is to complete the quest without harming your friends. For this, you should note that being hidden in a locker can help you to save from a blue friend.
Green Friend
The second monster to be derived in Rainbow Friend is this. As per appearance, the Green character seems huge lanky limbed humanoid with Googly eyes. Although, Green Friend is blind, so seems difficult for it to chase the player. but Green can drop their arm at any time. Only for this thing, you need to be aware of Green. Apart from that, it is slower than the Walking speed of the player.
Orange Friend
Till now the above characters are much slower than players walking speed. But this fourth Orange monster seems faster than even a player's walking speed. However, when Orange came out of the cove a siren plays through the game along with huge footprints. Meanwhile Orange is the most privileged character in this game. As a pro tip, do consider being hidden in a locker whenever orange came out.
Purple Friend
Well, this is the fourth character in Rainbow Friends but a reality check is it is a complimentary character to Orange. it is developed on the same night when Orange came out. As usually there is no specific appearance for the Purple monster but its teeth and hands caught visible. You need to complete the quest without getting caught by Purple. For this, all you can do is don't cross the water or any vent. Since Purple is always visible nearby it.
Red Friend
The Red Friend is one of the giant and fragile appearing characters in Rainbow Friends. As it wears a long curb coat with giant eyes. Here it makes the reason why Red Friend is hostile to players. As a suggestive tip you can do is prepare yourself for the given quest and be ready to save from horror sounds throughout the game. Here you should be aware of this monster with such an appearance and hide in a locker when you see it.
Furthermore, As we said The Rainbow Friends has characters along with Jumpscares. Because Jumpscares can give such a horror effect making the game from an ordinary horror parameter scale to the best one. For this thing, developers usually update and try innovative ways to add the thrill. But as a standard reference, you can take a look at these Jumpscares below.
Green Jumpscare
Jumpscare is associated with the Green character that tries to make the horror-appearing character with additional effect. As We observe the Green Jumpscare seems a beep sound and a footprint noise came out during the game. And this will come whenever you are stuck with the Green Friend. So, follow up the strategy to treat a Green friend and be alert from this Jumpscare.
Orange Jumpscare
Similar to Green Jumpscare, this Jumpscare works specifically with orange characters where they try to treat the player with the utmost horror feel. The problem here is Orange is already a drastic monster and with such hilarious sound and effect, Orange Jumpscare helps the gamers to be thrilled a lot. Meanwhile, Orange Jumpscare is a great emphasis over thrill in the game.
Blue Jumpscare
The Jumpscare that corresponds to the blue monster is where the player interacts with this monster. Here players get a unique appearance with different effects that help players to get the utmost thrill. Thanks to Fragment Games, who have made such adjustments that we can chase Orange Friend with a horror feel and similar things.
Apart from that, there are a few more Jumpscares that developers update in the game regularly. Some of the highlighted ones are the blue vent cycle, scrapped blue final sequence, and more. But as a basic standard above Jumpscare is always available. Now after knowing that all, it's time to play it. For this, simply head to Roblox's Rainbow Friends Page >> hit the play button >> complete the quest and level up in the game.
To sum up, Rainbow Friends is not an ordinary game since here the major task is to survive without harming in-game monsters. But I think now you know the attributes of every monster or character. so that you can manage your gameplay by finding the loopholes to complete the quest. Additionally, you can take support of In-game coins to revive yourself in case of any urgency. So these are the things if still, anyuser have queried the ask them below.