Realme C11 2021 has been launched a couple of months ago that came with Android 11 on top of Realme Go UI, coupled with Unisoc SC9863A SoC out of the box. Now, it's possible that you're using the Realme C11 (2021) device and you've done a factory reset to wipe out all user data & configuration. But after booting the device, it shows FRP locked status. If so, check this guide to Fix Realme C11 2021 RMX3231 FRP Bypass or Reset Google Account.
Now, you may ask what is the FRP Lock or Google Account Authentication? Well, FRP stands for 'Factory Reset Protection' on your device system. It basically activates the Google account authentication feature on the latest Android devices once the user signed into their Google account. So, after resetting the device and booting it up, the chances are high that the device system will ask you to enter your existing Google account credentials.
If you're unable to provide the previously used Google account log-in details or somehow you forgot the login details then you won't be able to unlock this FRP lock from your handset. Luckily, you can easily bypass the FRP lock or remove the Google account protection from your Android device with a specific method. Here if you're using Realme C11 (2021) RMX3231 and want to bypass FRP then follow this full guide completely.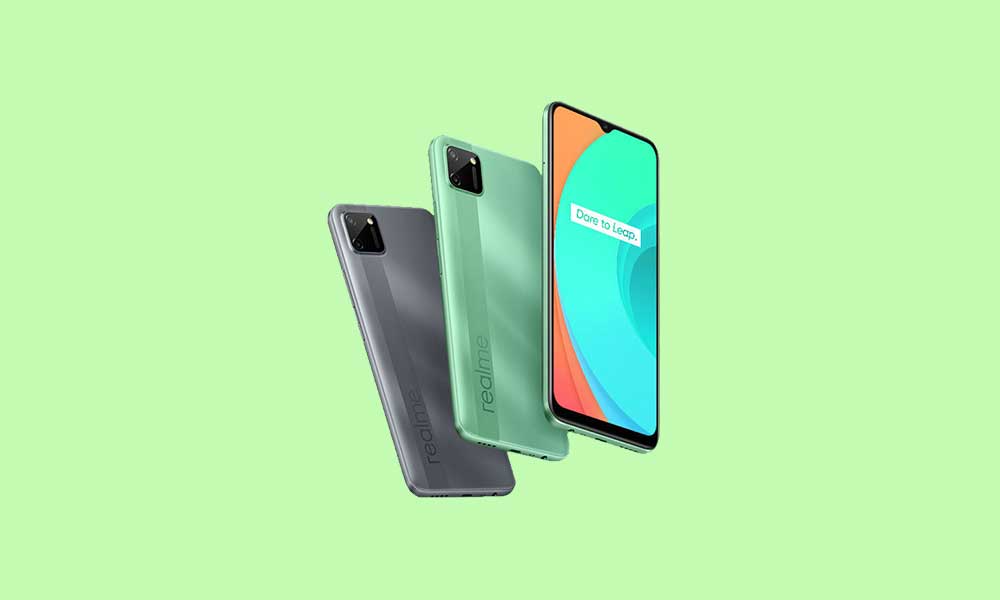 Why FRP Lock is required?
Well, Google has implemented this feature on its Android devices for a couple of years and it usually offers you additional security or protection to your device system as well as your data so that no one can easily factory reset your handset and then start using it freely or collects your personal data whatsoever. It basically verifies the device owner by asking for the previously used Google account details so that only the real owner can use it.
But if in case, you're the real owner of your device and you've done a factory reset your device to start using it from the factory state & you're unable to enter the existing Google account credentials because it either lost or you forgot, then what you will do? Here bypassing FRP lock or removing the Google account authentication process comes in handy to most users.
Fix Realme C11 2021 RMX3231 FRP Bypass | Reset Google Account
Now, if you've already performed the factory reset of your Realme C11 (2021) device and the device boots into the system then it should ask you to complete the initial setup process such as choosing a language, choosing a region, adding network (Wi-Fi), agree to the terms and conditions, inserting SIM cards, etc. Once done with all of these, the device system will now ask you to input the Google account credentials to unlock the screen lock.
First of all, you'll have to connect to a Wi-Fi network from the initial setup process. So, just select 'Connect to network' and add a Wi-Fi network on your device by simply entering the Wi-Fi password to join.
Once you're connected to the internet, you'll be able to perform the rest of the steps.
Now, it'll ask you to copy apps & data > Just tap on Next.
Tap on Don't copy from the next screen > As mentioned before, it'll ask you to enter the previously used lock screen password/pattern/pin or the 'Use my Google account instead' option.
Just select the 'Use my Google account instead' option > Now, go back to the first setup screen, and insert a SIM card that has saved contacts in it.
Next, tap on Emergency Call > Double-tap on EMERGENCY INFORMATION.
Then tap once again to open the EMERGENCY INFORMATION edit page.
Now, tap on Edit (pencil icon) > Tap on Add contact.
Here you can choose any of your contacts from the list > Now, tap on the contact name.
Then tap on Text (message icon) > Tap on the text message field.
Type www.youtube.com and send it > Now, tap on the YouTube link to open YouTube app.
Tap on the Profile (Account) icon from the top right corner > Go to Settings.
Go to History & privacy > Tap on YouTube Terms of Service.
It'll open the Google Chrome browser on your device > Tap on Accept & continue.
Tap on Next > Tap on No Thanks > Now, tap on the URL address bar.
Type frpfile.com/bypass and hit Enter to open this website.
Here you'll need to download any of those apps (APK file) > Tap on OK to download.
Once downloaded, tap on Open > Go to Settings from Chrome popup.
Tap to enable Allow from this source > Now, go back once and tap on INSTALL to install the APK file.
Tap on YouTube Terms of Service again > Tap on the top right corner icon (up arrow with red color).
Now, tap on Downloads > Tap on settings (gear icon) from the Downloads page.
Then tap on the question icon from the top right corner to open the support page.
Tap on the search bar and type delete > The search bar will offer you previews of searched keywords.
Tap on Delete or disable apps on Android > Select 'Tap to go to Application Settings'.
Scroll the application settings page and tap on Settings from the list.
Tap on Open > Scroll down the page and tap on Accessibility.
Scroll down and tap on Accessibility Menu > Tap on Accessibility Menu Shortcut to turn on the toggle.
If prompted, tap on Allow > Tap on Got it > Tap on Accessibility (human icon) from the bottom right corner of the navigation bar.
Tap on Google Assistant > Tap on GET STARTED.
Now, go back to the settings menu again > Go to Apps & notifications.
Tap on SEE ALL 37 APPS > Tap on Google Play Services.
Tap on Disable and select Disable App > Now, press & hold the Power button.
Select Restart > Once the device rebooted, tap on START.
Go back once and tap on Set up offline > Tap on Continue.
Select Next > Tap on Accessibility icon > Select Assistant. [You can now remove the SIM card to use Wi-Fi if you don't have mobile data]
So, go back to the Wi-Fi network page and connect to the internet.
Tap on Accessibility and Assistant again to retry > Select Get Started.
Now, you'll get a popup notice that 'Google Play Services not available'.
Tap on it to open App Info of Google Play Services.
Tap on Enable > Go back to the initial setup screen and select Next.
Select More > More > Accept > The screen lock option will appear.
Tap on Skip > Skip anyway > Wait for the device system to go to the home screen.
You're done. Enjoy!
Finally, you've successfully bypassed the FRP lock or removed the Google account authentication from your handset without using any tools or computer whatsoever.
That's it, guys. We hope this guide was useful to you. For further queries, you can comment below.