Back in 2018, when Realme launched their first smartphone model, Realme 1, since then, they never look back. Over the years, they proved to be a budget-friendly smartphone maker brand. Recently, they have launched Realme C21 and C21Y that becoming the chartbuster smartphone of the year 2021. Realme launched both smartphones just to target the budget range market with some decent specifications.
In this guide, we will show you the real image of the UFS ISP pinout and test point for the Realme C21 and C21Y (RMX3201 / RMX3261). By using the ISP PinOUT, you can easily restore the stock ROM, bypass FRP lock, or reset user data on your device via Z3X EasyJTag Box Tool or UFI toolbox.
What is ISP PinOUT?
ISP or In-system programming also known as in-circuit serial programming (ICSP) for hardware that has a cross-reference of pins or contacts. By shorting the pins together, you can power or signal the logic board (motherboard) of an electronic device such as a mobile, computer. You will find the IS Pinout connection on the logic board of your device. Therefore, you will need to remove the back panel of the handset and follow the below image to locate the pinout.
Realme C21 and C21Y (RMX3201 / RMX3261) UFS ISP Pinout Image: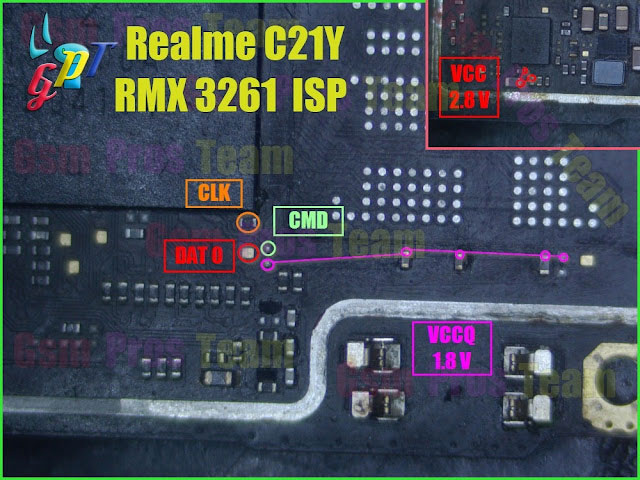 I hope this guide was helpful to find the Realme C21 and C21Y RMX3201 / RMX3261 UFS ISP Pinout Testpoint.