It is evident that your Xiaomi Redmi Note 11, 11S, and 11 Pro will not perform as well as it once did if you have been using it for a considerable time. Several users have complained about the Xiaomi Redmi Note 11, 11S, and 11Pro battery draining quickly. As a result, the workflow is hampered, and other problems occur. Well, that's the reason why we are here. In this article, we have mentioned some of the basic fixes that will help you resolve the Redmi Note 11, 11S, and 11 Pro battery draining issue. So, let's get started with the guide.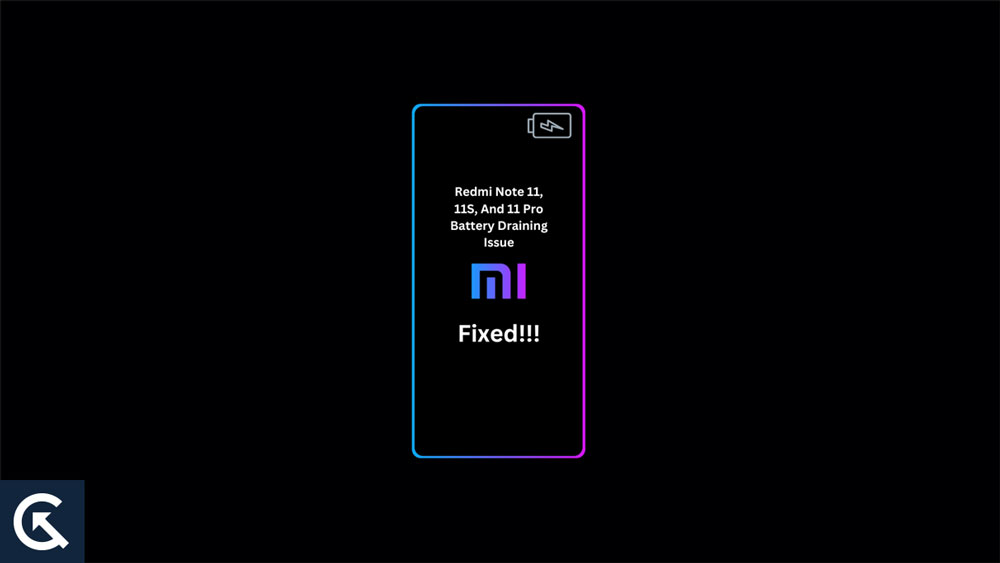 Fix: Redmi Note 11, 11S, And 11 Pro Battery Draining Issue
So, these are some of the best fixes that you can try to fix the Redmi Note 11, 11S, and 11 Pro battery draining issue:
Fix 1: Restart The Phone
The only thing you should do is restart your phone once, no matter how big or small the problem is. It is also recommended that you restart your phone whenever it is draining its battery too much. You can see how the battery drains considerably less after restarting your phone and waiting for a few seconds.
Your phone gets refreshed when you restart it because all the background processes are refreshed. When you restart your phone, all background processes will terminate, giving your phone some much-needed cooling time.
Fix 2: Do Not Continuously Use The Phone
When you overuse your Redmi Note 11, 11S, and 11 Pro, your battery suffers. It will start giving you negative results if you extend anything beyond its potential. It is very likely that your battery will be damaged very quickly if you use your smartphone very often. Therefore, refrain from using your phone excessively.
Fix 3: Use Dark Mode
On your Redmi Note 11, 11S, and 11 Pro, you can use dark mode in order to save more battery and get more backup. In today's world, every smartphone comes with a dark mode. Aside from saving battery life, dark mode will protect your phone from overheating and will protect your eyes as well. Dark mode will feel strange for some time after you start using it. However, once you begin using dark mode, you won't be able to change back. If you use dark mode regularly, you will become addicted to it.
Fix 4: Try Disabling Location Service
There are many apps on our Redmi Note 11, 11S, and 11 Pro that require location service to perform a task, and some of them require it when we install an application. There are many apps available these days, including food delivery apps, UPI apps, matrimonial apps, taxi apps, and Google Maps as well.
We forget to turn off the location when we are done using them, so it keeps running in the background after we have finished using them. There is also a search for a better network. This means that the battery is constantly in use, which drains it too quickly. In this case, it would be helpful if the location was turned off after use. In addition, it will resolve the issue of battery draining on the Redmi Note 11.
Fix 5: Turn Off Unnecessary Notification
Our Redmi Note 11, 11S, and 11 Pro receive a lot of notifications throughout the day. There are notifications like updates to the app, sales of brands, matrimonial notifications, and others. It is also important to know that these notifications are also draining your battery because processing and activity are part of this notification. In this case, you can simply disable all notifications. Using the following steps, you can disable app notifications:
On your phone, open the settings app.
To access the Notifications & Status bar, scroll down and tap on it.
Select Manage Notifications from that page.
To turn off notifications, select the app.
To turn it off, toggle the bar.
Fix 6: Reduce Display Screen Timeout Time
It is also important to consider screen timeout time when it comes to battery life. You should reduce your phone's screen timeout if you want to get more battery life. The timeout time is typically between 10 and 30 minutes when users set it longer than recommended. In addition, some users disable the screen timeout to an infinite amount of time.
It never turns off, so it never needs to be powered off. Moreover, if you accidentally leave your screen on, it consumes the battery more quickly. In addition to that, the AMOLED screen consumes more battery than other screens. Hence, you should set the timer to 15 seconds to one minute, and hardly to two minutes. By doing so, you will save battery power.
Fix 7: Decrease Phone's Brightness and Screen Timeout
With high brightness, Redmi Note 11, 11S, and 11 Pro consume much more power than usual. When the brightness is at its highest, the battery drains constantly, reducing the time a phone can be used. In addition, you should reduce the screen timeout. In order to reduce the screen timeout, follow these steps:
Navigate to the settings.
Select the Display option.
Choose a screen timeout.
You can set the timeout to 15 seconds.
Fix 8: Decrease the Screen Refresh Rate
In spite of the smoother user experience, a higher screen refresh rate consumes significantly more battery energy than a 60Hz refresh rate. You can improve battery life by lowering the refresh rate on your Xiaomi Redmi Note 11, 11S, and 11 Pro to the standard 60hz.
Fix 9: Disable or Uninstall Unused Apps
Xiaomi Redmi Note 11, 11S, and 11 Pro smartphones can consume battery power when there are unused apps installed. depending on the app, it may run background processes, send notifications, or connect to the Internet, all of which can drain the battery. Disabling these apps or uninstalling them can reduce their battery usage impact. Using Xiaomi Redmi 11, 11S, and 11 Pro, you can disable an app as follows:
Open the Settings app on your phone.
Click on the Apps or Applications.
To disable an app, find it and tap on it.
On the app's information page, you will find a Disable or Turn off option. To disable an app, tap on it.
In addition to stopping the app from running in the background, disabling it will also stop it from sending your notifications. In case you need to re-enable it later, you can always do so. In order to uninstall an app, follow these steps:
Open the Settings app on your phone.
Go to the Apps or Applications section.
Tap on the app you wish to uninstall.
If you go to the app's info page, you will find an Uninstall option. To remove the app, tap on it.
Once it is uninstalled, your Xiaomi Redmi Note 11, 11S, and 11 Pro will be free of any apps that are running in the background, along with any storage space that was used by the app.
Fix 10: Update Apps
You can even see the battery draining issue that occurs if you have an old version of an app on your phone in addition to a lot of other issues. Apps that are older than the new version of Android can not sync with the new version of UI and can behave negatively. Therefore, you just have to update your all apps, and you can do that by following these steps:
Install Google Play Store on your Redmi Note 11, 11S, and 11 Pro.
In the upper right corner, tap on the profile icon.
Select Manage apps and devices.
Click on the Update Available option on that page.
Next, select the app you want to update.
Then, update the apps.
Fix 11: Reset Your Phone
Once you have followed all of the steps and applied all of the methods discussed above, but still the issue persists, you have one more option. There is another option, which is a factory data reset. It is possible to fix this problem in your phone by performing a factory data reset. Nevertheless, before you reset your device, you must ensure that all your important data, files, and documents are backed up. It is a good idea to back up your data first if you haven't already.
Fix 12: Check The Charging Cable And Adapter
There are times when this problem occurs because of a charging cable or an adapter. It may be due to a broken charging cable or adaptor if you are using a local charger instead of your original charging cable. In this case, you should purchase a new cable or charger rather than using the one you already have.
Fix 13: Contact Support Team
Well, suppose in the worst scenario, if you have tried all the needy fixes that we have mentioned above, but nothing has changed for you, then the possibility is there that you may face this problem due to any kind of hardware problem. Therefore, in that case, we advise you to try contacting Redmi officials and ask them for help.
So, that's all we have for you on how to fix the Redmi Note 11, 11S, and 11 Pro battery draining issue. It's our hope that this guide has helped you. For more info, comment down.