Here we will guide you on how to restore the OnePlus 6 back to stock and relock the bootloader.
OnePlus 6 users are open to any kind of customization, you can unlock the bootloader or install root or any custom firmware without worrying about the warranty. Unfortunately, unlocking the bootloader and using root to modify the firmware on your OnePlus 6 makes it hard to update to a new firmware with the latest security patch to save you from vulnerabilities and malware. If you try to revert back to OxygenOS stock ROM, you will get the stock ROM OTA regularly with a security patch. Reverting your OnePlus 6 to stock in order to update it to the latest OxygenOS version can end up bricking your phone if done incorrectly. Here we have given proper instructions on how to restore the OnePlus 6 back to stock rom and relock the bootloader easily.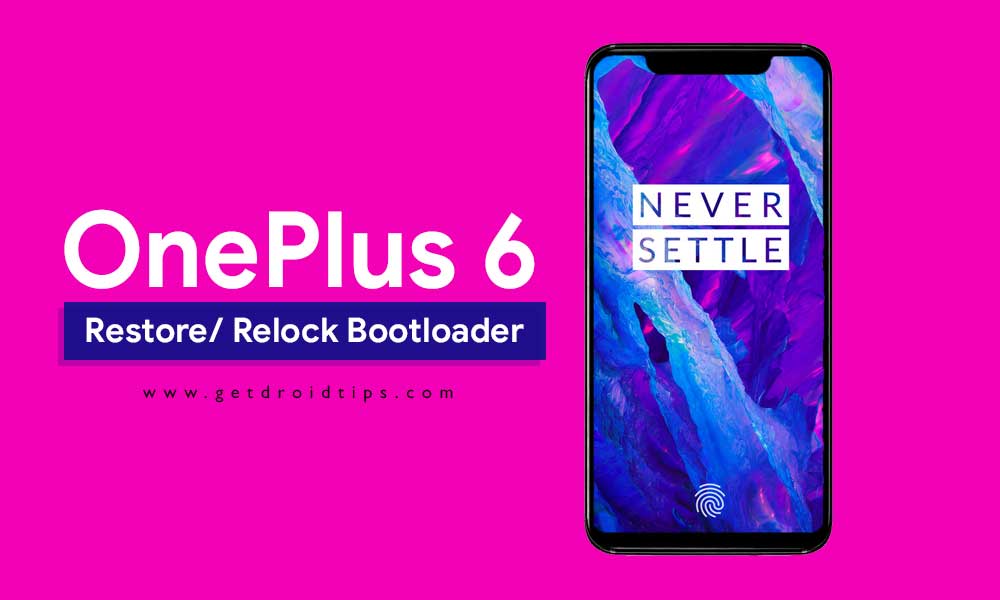 One of the best things about this device is its developer-friendly OEM as compare to other devices. Well, the fact is OnePlus has paid special attention to this. There are many tasks or customization that can only be performed with an unlocked bootloader. Although it can easily be done, the fact is it makes the device warranty gone. You might have no idea but it is possible to restore OnePlus 6 to Stock and Relock Bootloader without doing much.
There are a very large number of users of this device all over the world who are already enjoying a custom ROM on it. If you are one among them and have bored from the same, it is possible for you to simply reverse the action and i.e. switching again to stock ROM. Of course, this makes it possible for you to install the updates once again. So here is what you need to do
Pre-requisites
Take a complete Nandroid backup on OnePlus 6.
Make sure your device is at least 70% charge.
Download the latest OnePlus 6 USB Driver
Make sure to have ADB and Fastboot Tool installed on your PC.
GetDroidtips.com cannot be held responsible for anything that goes wrong
Downloads
Not yet released!!
Instructions to Restore OnePlus 6 to Stock and Relock Bootloader
Now, you should have already followed all the required steps mentioned in the Prerequisites. Note that each and every step mentioned in the Prerequisites section is required to be followed in order to continue this process.
After this, you will have to download both the OxygenOS ROM as well as the OnePlus 6 recovery which has been attached in the Downloads section above.
Once the files are downloaded, move this files to your OnePlus 6
After this, go to your phone's settings and tap on About from the list of settings. In About, tap on build number 7 times and you will see a message which reads 'you are now a developer' which means that the Developer options have been enabled on your phone.
After this, go to Settings>Developer options and enable advanced reboot option.
Now, long press the Power button and you will see the option to reboot, click on it and select the recovery option so that your phone will reboot to recovery.
In recovery, wipe all the data and files on your internal storage from TWRP->Wipe.
Now, click on Install from TWRP and select the Stock ROM zip and flash this ROM by swiping inside TWRP.
After this, repeat the same procedure for the OnePlus 6 Stock Recovery zip file.
Now, reboot to bootloader from TWRP.
Once in bootloader mode, connect your OnePlus 6 and open the ADB and Fastboot folder on your PC.
Open command prompt inside the fastboot folder and type the following command:
fastboot devices
Now, you should see a code displayed on the CMD screen which means that your phone is properly connected to the PC.
To relock the bootloader on your smartphone, type the following command in the command prompt
fastboot oem lock
Now, you will have to use the volume keys on your phone to highlight yes and press power button to confirm
After this, your OnePlus 6 will reboot to Stock ROM as well as Stock Recovery and your bootloader will be locked once again.
So this is all about how to Restore OnePlus 6 to Stock and Relock Bootloader. Make sure you follow each and every step properly and have paid attention to the points that are important.