Our smartphones contain most of the important data. Probably it is the most important device that we carry around in our daily life. This means that it stores a good amount of personal data. Even thinking about losing our data or on second thought, the entire smartphone feels pretty scary. And if you are scared by the mere thought of losing your data and are looking for ways to protect your data then, you are at the right place. Because in this post, we will give you a guide on how to ring, lock or erase your lost or stolen Android device. Although there are several apps that claim to protect your data, we will be going ahead with Google Find My Device.
With the help of this guide, you will be able to ring your phone, or even erase the entire data on your device and keep your data away from prying eyes in case your phone is lost. You just have to make sure that you have an accessible Google account logged in your device which by the way is essential for every Android smartphone for setting up. I am pretty sure that you have got yourself covered in this step. For further steps, simply follow the guide below. So, without any delay, let us get straight into the article itself: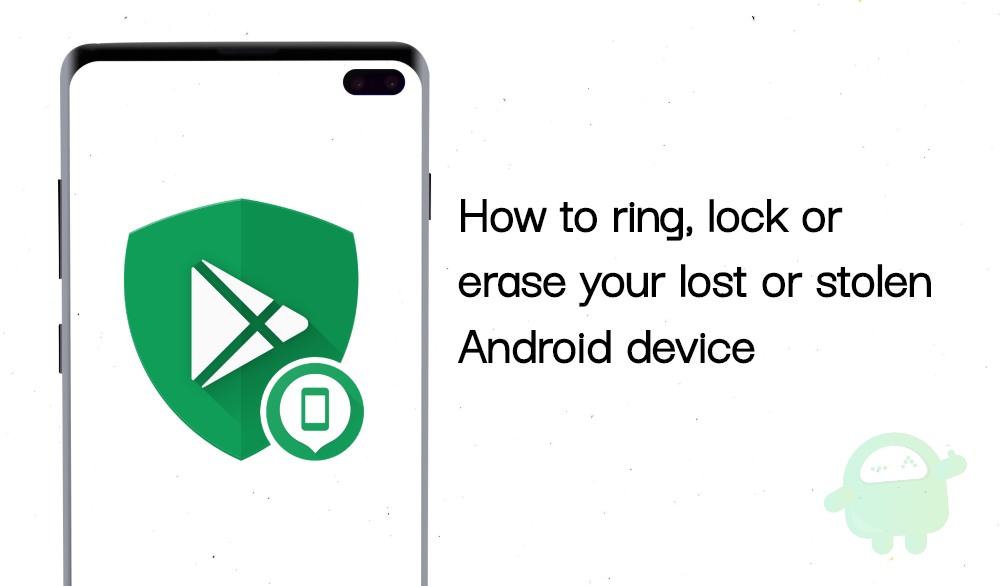 How to ring, lock or erase your lost or stolen Android device
Before you go ahead and try the below-mentioned methods to lock, ring or erase the data on your Android device, there are some pre-requisites that you need to take care of.
Pre-requisites
To find, lock, or erase an Android phone, your phone must:
Be turned ON
Should be signed in to a Google Account
Be connected to mobile data or Wi-Fi
Visible on Google Play
Have Location turned ON
Finally, have Find My Device turned on
Steps to ring, lock or erase your lost or stolen Android device
There are 3 methods by which you can track, erase or lock your lost Android device, i.e.:
Remotely find, lock or erase
Find via an App
Find with your Wear OS watch
Let us take a look at each of the above-mentioned methods, one by one:
Remotely find, lock or erase
Head over to android.com/find.
Log in with the same Google account as on your smartphone.
Moreover, if you have more than one Google profile, sign in with a Google Account that's on the main profile. And also if you have more than one Android device then, select the device from the top of the screen.
Once you log in with your Google account, your lost phone will get notified.
Then, on the map, you will get the info about the location of your phone. However, note that:
– The location is approximate and might not be accurate.
– If your phone is cannot be located then it will show you the last known location.
Now, you will be presented with several options for instance play sound, lock, and erase. These options will perform the task as they are named. You simply need to click on the option that you want to perform.
That's it!
Find via an App
You can also locate, erase or lock your device via an app called Find My Device, which you can download from the button below:
[googleplay url="https://play.google.com/store/apps/details?id=com.google.android.apps.adm&hl=en_IN"]
Take another Android phone and install the above app.

Then open the app and sign in with your Google account.
Note that if you are searching for your own device then you need to log in with your same account. However, if you are helping out your friend then, Sign in as a guest and let your friend sign in using his/her Google account.
Then you need to follow the steps as mentioned above. (from Step 4)
That's it!
Find with your Wear OS watch
If you have a Wear OS smartwatch connected to your lost Android phone then you can also track your device.
Wake up your watch and tap on Find My Phone app.
Your phone will ring even if it is kept in silent mode.
That's it!
So, there you have it from my side in this post. I hope you guys liked this post and were able to search, lock and erase your smartphone using any of the above-mentioned steps. Let us know in the comments below if you guys liked the post. Also do let us know if you come across any issues while following any of the steps mentioned above. Until the next post…Cheers!