The Samsung Galaxy A54 and A34, powered by Exynos chipsets, may occasionally experience certain software issues. A frequent problem that many Samsung users encounter is the "display stuck on logo" scenario. Imagine this – you switch off your phone, and when you attempt to switch it back on, all you can see is the Samsung logo, with no progression past that point.
This kind of issue is not something one expects from a brand-new smartphone, yet, it is an error prevalent amongst various Samsung devices. If you're experiencing this particular issue with your Samsung Galaxy A54 or A34, the steps outlined below will help you troubleshoot the problem. Rest assured; the following solutions should help rectify your issue. Now, without further delay, let's dive into the details.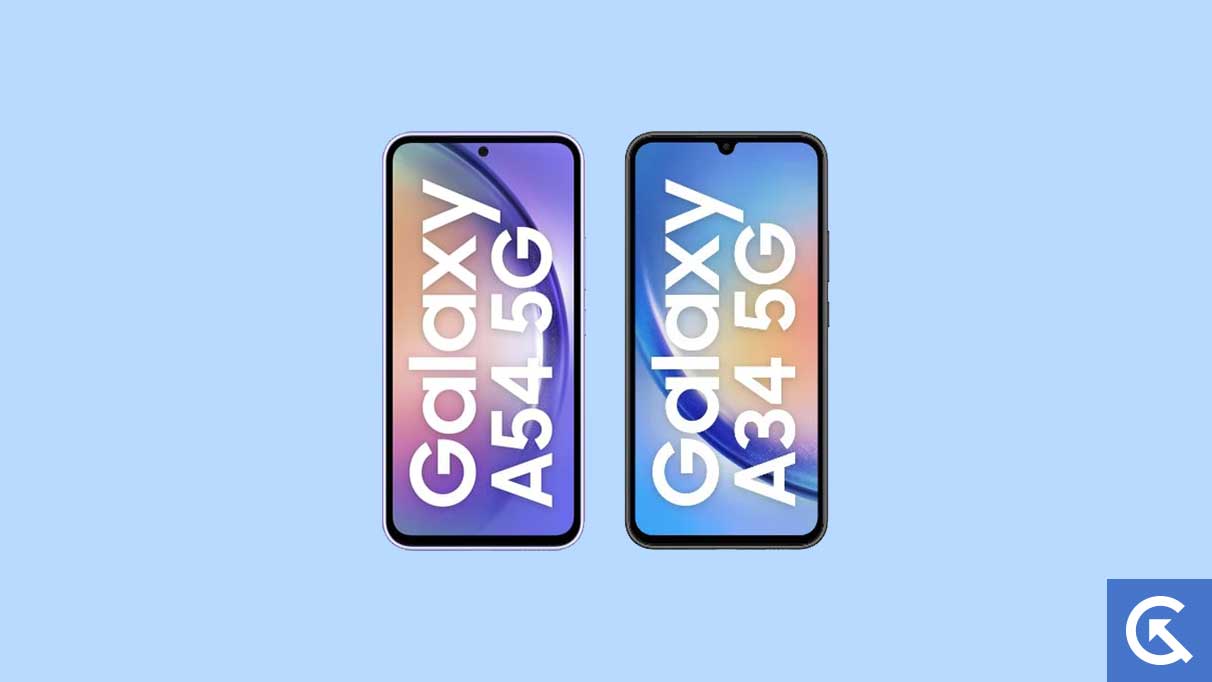 Steps to Fix Galaxy A54 and A34 Stuck On Logo And Won't Boot Up:
If you are witnessing this error, you should know that software corruption is the primary cause of this error. If you tried installing something fishy recently, that is the reason behind this firmware's irregularity. So let's see how one can fix this firmware issue on the new Samsung Galaxy A54 and A34.
Force Restart your device:
You have tried restarting your phone several times using the power button, but it did not work. In that case, you should try forcefully restarting your device. If you are lucky, that will fix this issue on your new phone.
To force restart the Samsung Galaxy A54 and A34, hold power and volume down buttons for 10 seconds. You will notice your phone restarting and the Samsung logo showing up. As soon as the Samsung logo appears on the screen, let go of both the buttons. Now your phone should restart normally without any issues with the logo screen.
Hard reset your device:
If the previous force restart did not work out for you, then the hard reset option is the only option left to try. But hard resetting the device will also clean up every bit of data, including the files, messages, contacts, and everything else stored in the internal storage. As the device is not turning on, there is no way you can back up your data. So try this method only if you are willing to lose your data.
To hard reset the Samsung Galaxy A54 and A34, press and hold power and volume down buttons for a few seconds. As soon as the screen turns off and the logo disappears, let go of the volume down button and press and hold the volume up button while holding on to the power button. You will now see a black screen with a few yellow lines. Now your phone is in recovery mode. Using the volume keys move around the list of options and get to the "wipe data/factory reset" option. Then using the power key, select the option. After that, it will ask for confirmation. Using the volume buttons, highlight the yes option, and press the power button to select it.
After the reset is complete, the smartphone will restart. If the Samsung Galaxy A54 and A34 do not automatically turn on, press the power button to turn it on.
So that is all about fixing Samsung Galaxy A54, and A34 stuck on Logo and won't boot up problem. If you have any questions or queries about this guide, comment below, and we will get back to you. Also, check out our other articles on iPhone tips and tricks, Android tips and tricks, PC tips and tricks, and much more for more useful information.