Samsung Frame TV is a completely new innovation that adds to the beauty of our homes. This photo-frame-type TV features a QLED 4K Screen producing great results for the users. Its aesthetic look and brilliant set of features have already caught the attention of a lot of customers. However, the one thing that has been troubling the users lately is the Bluetooth connectivity with this TV. Like most of Samsung's Smart TVs, the Frame TV also allows you to connect Bluetooth devices to skyrocket the experience. But recently, several users have made comments saying the Bluetooth is not working as expected with this TV.
The Bluetooth connectivity feature allows you to connect to any Bluetooth device such as headsets, speakers, game controllers, etc. And encountering such a problem might be one of the most frustrating things to ever happen. Well, worry no more as we are here with some help. In this article, we will basically have a look at all the possible fixes that will help you solve the Bluetooth Not working issue with your Samsung Frame TV.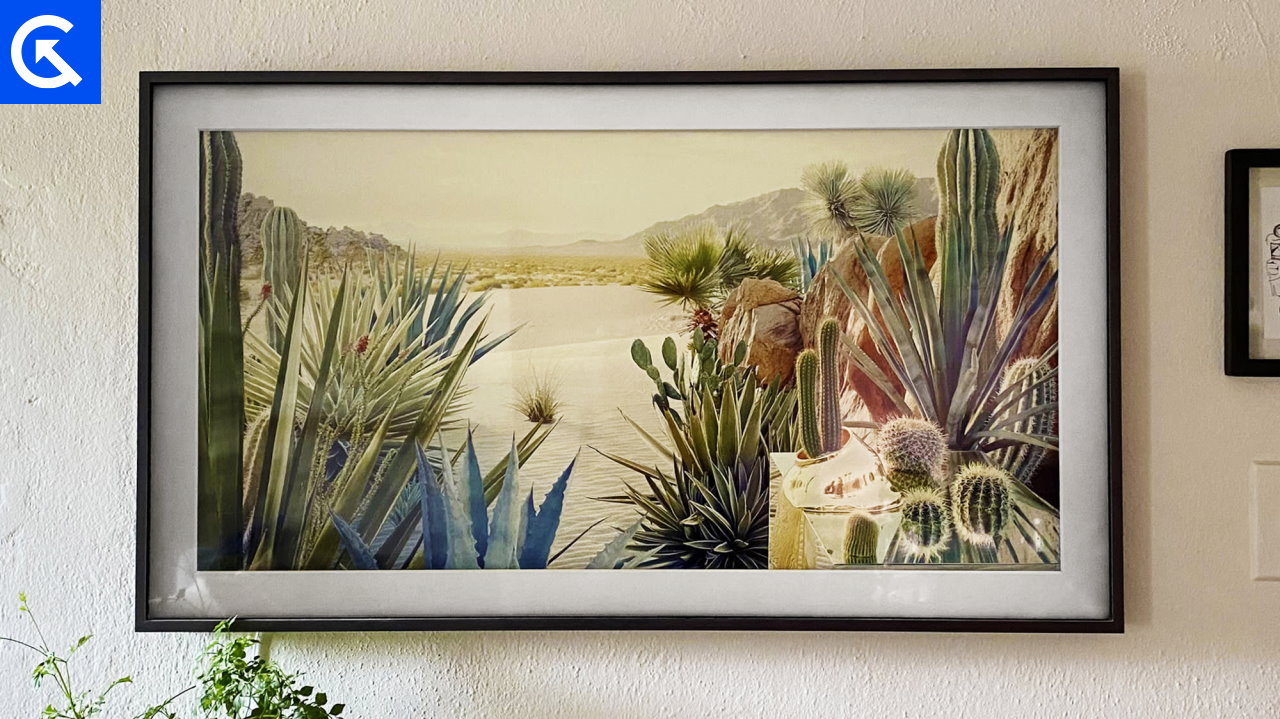 Fix: Samsung Frame TV Bluetooth Not Working
Bluetooth issues with your Samsung Frame TV might completely interrupt your experience as you won't be able to connect any Bluetooth devices. Fortunately, such problems are very common with smart devices and they could happen due to a variety of reasons.
There may be a problem with your TV's firmware, the Bluetooth device, or some issues with the Settings itself. Well, whatever the reason might be, today we will discuss some of the most common reasons why Bluetooth is not working on your Samsung TV and how exactly you can fix them.
1. Enable Bluetooth on TV
The Bluetooth feature needs to be manually turned on in any Samsung Smart TV. So, if you are having trouble connecting to a Bluetooth device, you must first check if your Bluetooth is enabled or not. In order to check that, go to your TV Settings, look for Bluetooth, and enable the option to use the feature efficiently.
2. Check Bluetooth Connection Range
In case your Bluetooth is turned on and still you are having trouble connecting to the device, your next intent should be to check for your Bluetooth range. If the Bluetooth device you are trying to connect to is kept far enough, it won't connect to your TV. Therefore, bring it close to your Samsung Frame TV, restart the Bluetooth device, and try connecting again.
3. Restart the TV
Restarting any smart TV kills most of the problems caused due to some temporary glitch. And the same applies to your Samsung Smart TV as well. However, restarting your Samsung TV is not like pressing the power button once and turning it off and on again.
Instead, to actually restart your Samsung Frame TV, you need to press and hold the Power button for around 5 seconds. Once your TV restarts, check the Bluetooth settings and try connecting to the device.
4. Try Connecting to another Bluetooth Device
Sometimes it might be an issue with your Bluetooth device itself. In that case, even if you consistently keep trying to connect to it, you won't have any success. So, in order to cross-check it, simply try to connect to some other Bluetooth device. If it readily connects to that device, it is an indication that your Bluetooth device is the one having some problem.
5. Update TV Firmware
Another reason why your Bluetooth is not working might be due to outdated firmware. Firmware is periodically updated in order to fix existing bugs and integrate new features. However, if you are using outdated firmware, it might be the bugs in your system that are creating this hindrance while trying to connect to Bluetooth.
Therefore, check if you have any firmware updates available for your TV and update it to the latest version to get the best experience. Looking for software updates on Samsung TV is extremely easy. All you need to do is follow the steps below:
Go to Settings.
Click on Support and select Software Update.
Check for the latest updates and click on Update Now.
Updation requires internet, so make sure to connect your Samsung Frame TV to the internet before updating your firmware. Once you update it to the latest firmware version, simply restart the TV and check if the Bluetooth is working as expected or not.
6. Factory Reset Samsung Frame TV
Last but not least, if none of the methods so far creates any difference, a factory reset should be your last resort in that case. Performing a factory reset will set all your settings to default. And we have observed that certain changes in Settings might also create such troubles sometimes. So, a factory reset can prove to be a useful option at times.
Hence, open the TV menu and look for the factory reset option to delete all types of changes made by the users. After resetting to the default settings, restart the TV and try connecting to your Bluetooth device again. Remember you can always make better changes to your device to make it further usable and confident in the field.
Conclusion
So, these are some of the most common causes and their resolve to fix Bluetooth not working on Samsung Frame TV. Although such issues happen rarely due to some minor causes, their resolves are also quite simple. The above-mentioned methods have successfully fixed the same issue for many users now and probably will help you out as well. Just make sure to start with the first trick and follow the rest accordingly. Finally, let us know which solution really did the trick for you and how did you like this article.