Both Samsung Galaxy S23 and S23+ models are almost identical in overall appearance with some minor changes in features and a difference in price tag. The standard Galaxy S23 model offers a 6.1-inch display, while S23 Plus does come with a slightly bigger 6.6-inch screen. Both feature 1080×2340 pixels resolution, Dynamic AMOLED 2X, 120Hz, HDR10+ panel that supports Gorilla Glass Victus 2 and AOD. However, recently, several users have had the Samsung Galaxy S23 and S23 Plus Display Flickering Issue.
Another primary USP in the Samsung Galaxy S23 lineup is that all three models come with a 1200 nits brightness level, which can go up to 1750 nits (peak) for better visibility even in extreme sunlight conditions outside. Well, if you're one of the proud owners of a Samsung Galaxy S23 or S23 Plus then you might have encountered a screen flickering issue out of nowhere. This can be so much frustrating and problematic at the same time if you're using it as a primary device daily.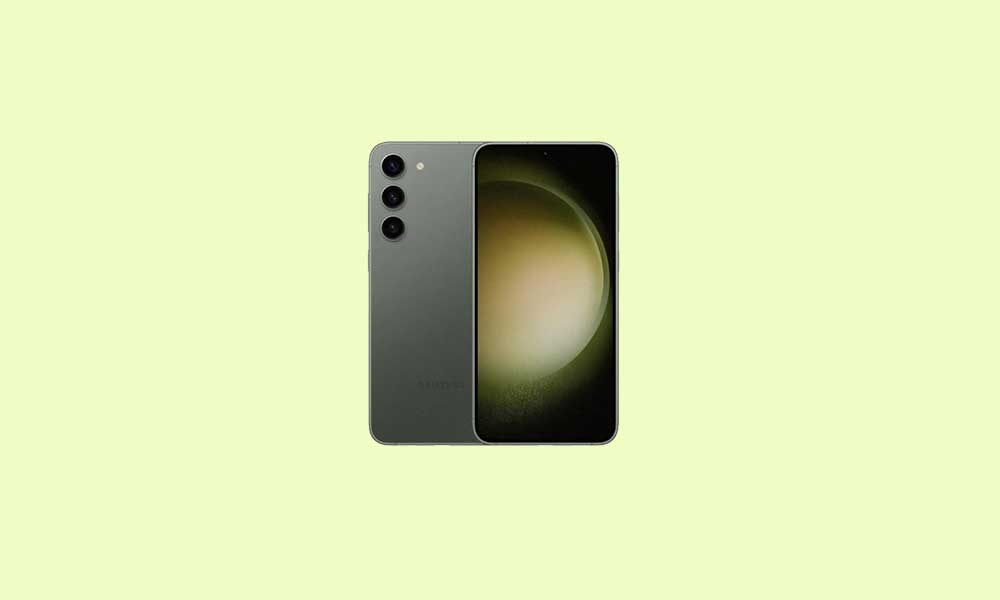 What are the Reasons behind Screen Flickering on the Samsung Galaxy S23 Lineup?
To be precise, there can be several reasons behind the screen flickering issue on your Samsung Galaxy S23 or S23+ model, depending on various scenarios. Such as any physical damage to the display panel from inside or outside, too much external force on the display panel, overheating of the device or battery to the extreme level, a software bug, an outdated system software version, any third-party application recently installed, too much of system cache stored, etc.
Sometimes factory manufacturing defective units can also cause such an issue to the user within a short period of time after purchase. In terms of the hardware level issue, there is no doubt that you'll need to get it repaired or replaced (if under warranty). However, you'll need to keep in mind that dropping the phone or water damage won't fall under the replacement criteria. Thankfully, there are some ways to try fixing this issue at your end manually.
Fix: Samsung Galaxy S23 and S23 Plus Display Flickering Issue
Here we've shared with you possible workarounds that might come in handy. Make sure to follow all methods individually until the problem gets fixed. So, without wasting any more time, let's jump into it.
1. Force Restart the Device
If your Galaxy S23 model becomes unresponsive or the display flickers so often then make sure to force restart the device by following the steps below to refresh temporary glitches of the system.
Press and hold the Power+Volume Down buttons until the 'Power off' prompt appears then release.
Tap on Restart > Select Restart to confirm again.
Then allow up to 30 seconds for the device to reboot completely.
2. Disable Adaptive Brightness
Whenever your screen flickers, try adjusting the brightness settings on your handset by turning off the adaptive brightness feature. To do so:
Open the Settings app > Tap on Display.
Tap on the Adaptive Brightness toggle to disable it.
If you notice that screen brightness is low and flickering occurs a lot, set the brightness level to medium or high.
3. Reduce the Screen Refresh Rate
You'll need to reduce the screen refresh rate manually to the adaptive or standard mode on your Samsung Galaxy S23 or S23+ model to ensure there is no display lag and stutter. Display refresh rate conflicts with the scrolling speed and causes touch lags and response issues. To adjust the screen refresh rate:
Open the Settings app > Go to Display.
Tap on Motion smoothness > Select Adaptive or Standard.
Next, hit Apply and restart the device.
Note: Adaptive refresh rate offers up to 120Hz smoothness while Standard refresh rate offers a consistent 60Hz smoothness.
4. Check the Physical Display Damage
You should also check for potential display damage on the device to ensure there is no screen panel issue or crack visible. If there is any damage from inside, it's better to get it checked and repaired by a technician. If the specific display flickering occurs after dropping the phone or water splashes, the chances are high that the display panel or motherboard has some issues.
5. Disable HW Overlays
Sometimes, a screen flickering issue occurs whenever the device hardware keeps switching between CPU and GPU. It mostly happens to display any content on the screen. But it might cause some issues with the screen flickering and other tinting issues. You should turn off the hardware overlays feature from Developer Options manually to check for the issue.
Open the Settings app > Go to System.
Tap on the Build number 7 times continuously to activate Developer Options.
Now, a popup message appears: 'You are now a developer'.
Then, you can turn on the Developer Options feature from the settings menu by searching it.
Enter into the Developer Options menu > Turn On the Disable HW Overlays toggle.
6. Turn Off Developer Options
After disabling hardware overlays, you should disable Developer Options from the Settings menu by following the steps below. Developer Options allows the user to modify the advanced features which might not be useful as a normal user. Android OS or application developers find this feature helpful in testing some elements. However, most users prefer to use several developer options on their devices. But it's recommended to turn it off if turned on previously.
Open the Settings app > Search for Developer Options.
Tap on it to open the menu > Turn Off the toggle.
7. Check for Software Updates
Software updates are useful for adding features and improving performance with bug fixes. It's recommended to always check for the software update by following the steps below to ensure there is no issue with the outdated system version.
Open the Settings menu on your handset.
Tap on Software Update > Tap on Download and Install.
Your device will check for available updates.
If an update is available, you'll need to download and install it.
Wait for the updating process to complete and then reboot the device.
If your device displays 'Your software is up to date' that means there is no software update pending.
8. Boot in Safe Mode
Booting your device in Safe Mode will allow the system to diagnose potential issues with third-party applications. Safe Mode only runs core system applications to check if the device works fine or not. If the device works fine in Safe Mode and the respective issue doesn't appear then you'll need to uninstall third-party apps manually from the device to fix the issue. To boot in safe mode:
Press and hold the Power button until the Power menu appears.
Now, tap and hold the Power Off icon until the Safe Mode option appears.
Tap on Safe Mode and wait for the device to boot into it.
Then check for the display flickering issue by opening other apps and performing other tasks.
Once the problem is recognized, just restart the device once again to exit safe mode.
9. Uninstall Third-Party Apps
Try uninstalling your device's recently installed or unused third-party applications to ensure there is no conflict with the 3rd-party apps. You can check the following steps below to do so:
Tap and hold the specific app icon to open the pop-up menu.
Now, tap on Uninstall. [You can also go to App Info and select Uninstall]
Once uninstalled completely, do the same steps for another app to remove.
10. Wipe Cache Partition
The system cache partition is used for the Android OS cache data storing place. Sometimes it may get corrupted or damaged and can cause several issues with the device performance or screen flickering, etc. To do so:
Press and hold the Power button to open the Power menu.
Tap on Power Off to turn off your phone.
Now, connect your phone to a PC via a USB cable.
Once connected, press and hold the Power + Volume Up button simultaneously until the Samsung logo appears.
After the phone boots in Recovery mode, press the Volume Down button to highlight the Wipe cache partition option.
Then press the Power button to select it.
Press the Volume Down button to select Yes > Press the Power button to confirm the same.
Finally, return to the recovery menu > Select Reboot System Now and confirm using the Power button.
11. Perform a Factory Reset
If the above methods don't work for you, perform a factory reset on the device by following the steps below. Factory reset will ensure no issue with the device software, settings, applications, stored files, etc. Make sure to take a complete backup of the important data before resetting.
Open the Settings app on the device > Go to General Management.
Head over to Reset > Tap on Factory data reset.
Hit the Reset button and then follow the on-screen prompts to complete the reset.
Finally, your handset will automatically reboot the system.
Ensure to go through the initial setup process to enter the home screen.
12. Contact Samsung Service Center
As a last resort, you'll need to visit the Samsung Service Center at your nearest location to get further assistance. Additionally, you can contact Samsung Support to get in touch with the support staff regarding your issue. If your device is under the manufacturer's warranty, you should expect repair or replacement. But any damage from your side or water damage won't count under warranty status. Sometimes you may need to pay some charges for repair or replacement.
That's it, guys. We assume this guide was helpful to you. For additional queries, you can comment below.