As usual, Samsung is releasing new smartphones in the budget segment with their usual confusing line of A, F, and M series. In that way, we are getting two new smartphones this year namely the Samsung Galaxy M23 5G and Samsung Galaxy M33 5G. Both smartphones are targeting the 15K and 20K markets respectively. Well, they do feature impressive specs for the price that could deceive someone into buying them.
But one question we always dare to ask, is whether these phones are waterproof?. Well in this article we gave got answers for the question – Are Samsung Galaxy M23 5G and M33 5G Waterproof Smartphones? Read along but you will not like the answer if you were really hoping for them to be waterproof.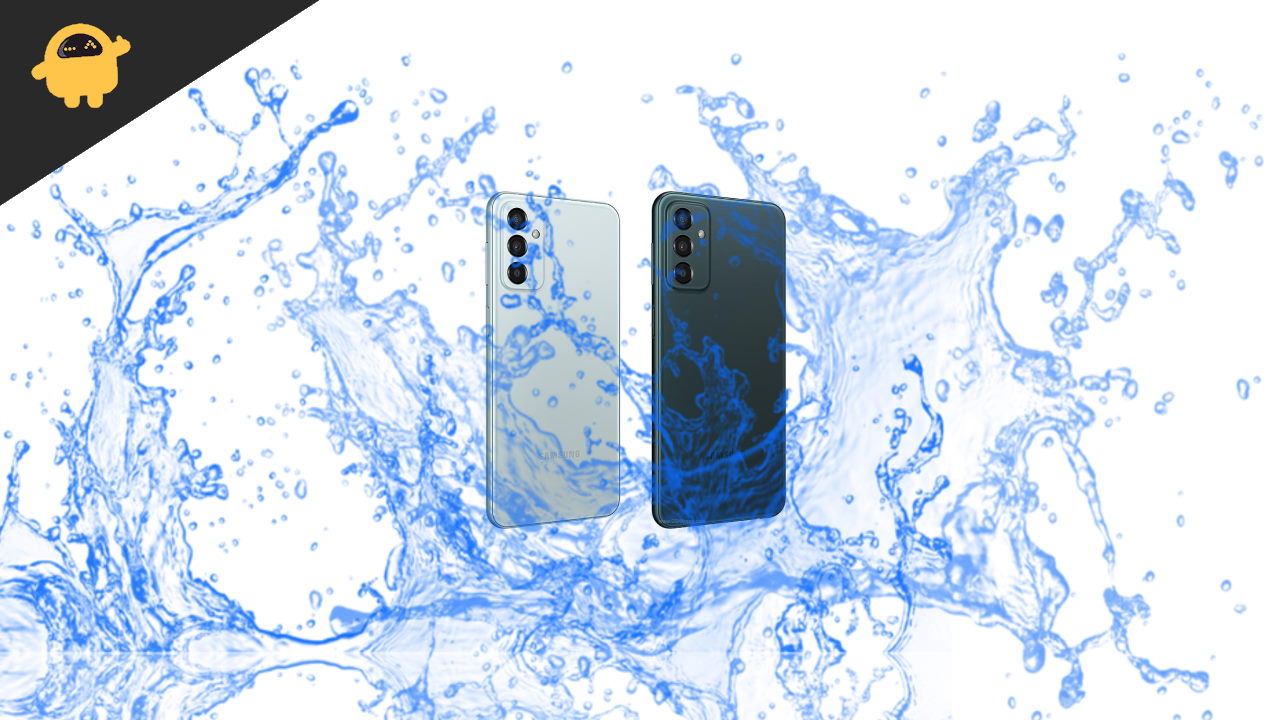 Is Samsung Galaxy M23 5G and M33 5G Waterproof Smartphone?
Waterproof smartphones have now become a necessity instead of a mere luxury. That is because these new flagship devices are quite expensive, and users don't want to risk their smartphones being subject to water damage. So today, let's check for Samsung Galaxy M23 5G and M33 5G waterproofing measures.
Samsung Galaxy M23 5G Device Specifications
The Samsung Galaxy M23 is a 5G smartphone released in March 2022. The smartphone features a 120Hz 1080p display. But sadly it is not an AMOLED display. Although it might be okay for an IPS display especially when considering the price bracket. But it does come with a Snapdragon 750G processor along with 4 or 6GB of RAM.
Additionally, the phone features a 5000mah battery which can help you to get through your day with still plenty of charge left. For the camera, we have a triple camera setup at the rear with a 50MP main camera, an 8MP Ultra-wide camera, and a 2MP Macro camera.
Samsung Galaxy M23 5G IP ratings
Well, to say a phone is waterproof, you will need at least an IPX6 or IPX7 rating. The second digit in the IP rating denotes the level of protection against water, the higher the better. In the case of the Galaxy M23 5G smartphone, we do not have any official IP address. So it is safe to conclude that the phone is not waterproof. It is safe to avoid contact with water as much as possible.
Although you should be able to get at least a basic Splash-proof phone. Because most modern phones have a design to resist water splashes. That being said, you might get away with a working phone after a small water accident. Even if you drop your phone into the water and pick it up quickly. Considering the price segment of the phone, it is understandable that Samsung did not include any IP ratings for the level of protection that the phone has.
Samsung Galaxy M33 5G Device Specifications
The Samsung Galaxy M33 is a 5G smartphone that comes with an Exynos 1280 processor and supports up to 12 5G bands. The phone comes with 6 or 8 GB of RAM along with 128GB of internal storage. For your additional storage needs, it features a dedicated SD card slot. The phone only comes with an FHD IPS display instead of an AMOLED display.
For the camera, the phone packs a Quad camera setup in the rear. The phone is deceiving with the number of cameras, featuring a 50MP primary shooter, 5MP Ultra-wide, a 2MP macro, and a 2MP depth camera. On the front, you are getting an 8MP single camera for your selfie and video calling needs.
Samsung Galaxy M33 IP ratings
As we have already mentioned, the phone should have an IPX6 rating in the least to call itself a waterproof unit. But in the case of the Samsung Galaxy M33 5G device, we do not have any official IP ratings from Samsung. That is the case with most smartphones in the budget segment.
You will not be getting any water or dust-resistant features in this segment. Although as we mentioned earlier, you might get a basic water splash-proof device. But there seems to be no official confirmation from Samsung, so take this with a grain of salt.
Conclusion
So to conclude, both the Samsung Galaxy M32 and Samsung Galaxy M33 5G devices are not water-proof phones in any regard. There aren't any official claims nor any unofficial tests conducted in any way to prove this theory. So we would defiantly recommend you to keep your phone far away from the water. Although you might get away with a normal day-to-day water splash, there isn't any guarantee for that as well. Best of luck with your water adventures with these smartphones.