The Galaxy Note 10 Lite has no signal, or network-related issue isn't common, though, since there's no hardware detected right from the factory. Instead, it could be as simple as a minor software bug or issue or something's wrong with the network settings.
Of course, there's still a possibility that a hardware component is to be blamed for the network problem. So, here's everything you need to know about fixing the Galaxy Note 10 Lite network problem using the troubleshooting strategies mentioned below.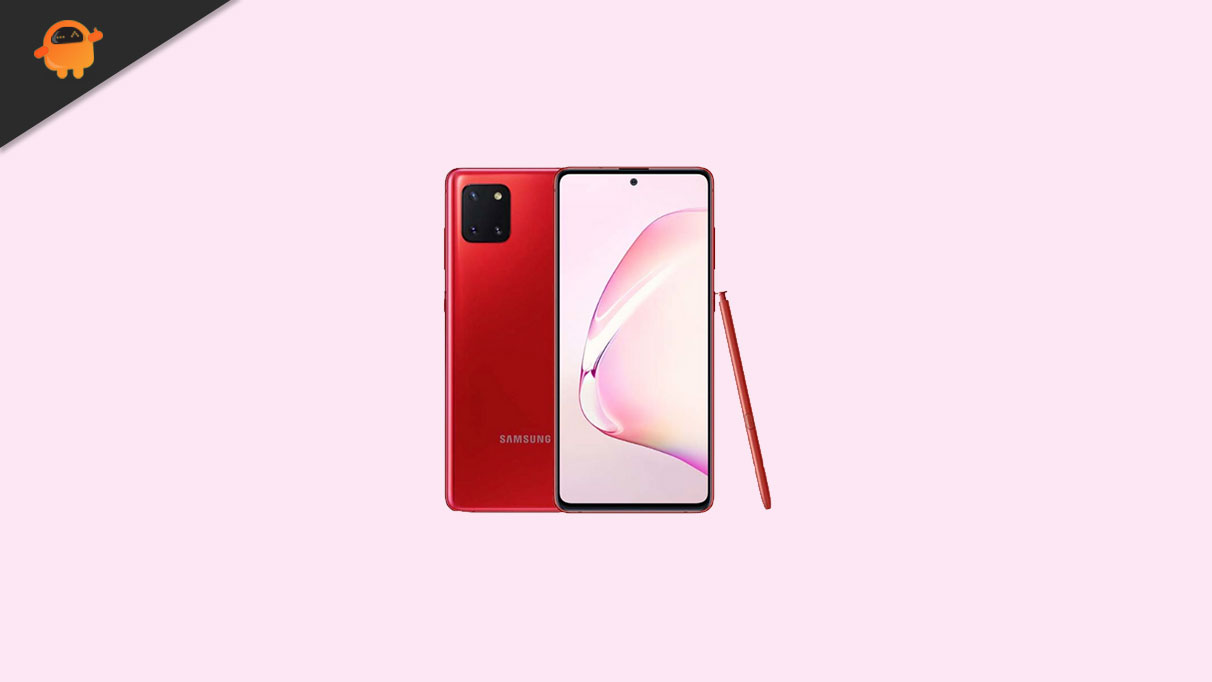 Samsung Galaxy Note 10 Lite Device Overview:
Samsung Galaxy Note 10 Lite gets an edge-to-edge display with a center hole punch camera cut out. More specifically, it sports a 6.7-inch FHD+ Super AMOLED Infinity-O display. The device sports a resolution of 2400×1080 pixels and a pixel density of 394 PPI. The phone has an in-display fingerprint scanner, and since it's a Note series device, it comes with a built-in S Pen stylus. The stylus supports Bluetooth Low-Energy (BLE standard) and offers the usual features such as multimedia control, clicking a picture, and Air Commands.
The Galaxy Note 10 Lite draws its power from a chipset built on the 10nm process and has an octa-core CPU. This is none other than Samsung's in-house Exynos 9810 chipset. As we said above, the same chipset which powers the Samsung Galaxy S9 and Samsung Galaxy Note 9. This chipset pairs 6 GB and 8 GB of RAM and 128 GB of internal storage. This is further expandable up to 1TB via a micro SD card.
The Samsung Galaxy Note 10 Lite sports a triple rear camera setup, including a 12MP primary camera sensor with Dual Pixel autofocus and an f/1.7 aperture value and OIS. This primary sensor is coupled with a secondary 12MP ultra wide-angle sensor with an f/2.2 aperture value and a 12MP telephoto lens with OIS and an f/2.4 aperture value. To the front, there is a 32MP sensor with an f/2.2 aperture value, which sits inside the punch-hole.
How To Fix Samsung Galaxy Note 10 Lite No Signal Issue?
Let's see how you can diagnose the root cause and try to fix the network problem using the various troubleshooting strategies mentioned below.
Verify network/signal strength
Network strength or signal depends on the carrier you are connected to and the cell towers in the vicinity. If you are in a metro city, I doubt you will be far from a cell tower. However, things change when you are in tier 2 or tier 3 city, town, or village. Due to fewer cell towers, signal strength will deteriorate gradually as you draw farther than the nearest cell tower.
This should be enough to confirm that you need to check if there's a cell tower nearby. If yes, the network strength should be excellent or good if something obstructs the radio waves from the cell tower to your phone's receiver.
Check the network strength on your phone and verify the same on another device using the same carrier. If the strength is somehow weaker on your end, your phone could be wrong. On the contrary, if the problem is the same on other devices, the carrier is facing outages or the area you are in doesn't have enough cell towers for a better signal.
Check for outages
Your carrier handles tens of thousands of devices in any given region, so it needs to keep the systems running at all times. If the network deteriorates suddenly and completely goes off, the cell tower(s) around you may have become off the grid.
You can check out the outages on the carrier's Twitter handle or website or if it has a dedicated outage portal where you can check out real-time info. Of course, this can worry from carrier to carrier so you will have to make some efforts to find relevant information.
Turn ON the Airplane Mode
This particular method will attempt to fix the Galaxy Note 10 Lite network problems on your end. When you turn on airplane mode, it essentially cuts you off the cellular network temporarily. However, it acts as a bug fix in case the network problem on your phone is because of any temporary network or software-related glitch. Simply toggling the airplane mode a few times should be enough to restore the network on your phone. If it doesn't work, try another method.
Reboot the phone
Rebooting the device is quintessential as it tends to solve more problems than you can think of. Network issues are far more common on smartphones and could be because of corrupted cache, outdated apps, software glitches, and on. Turns out rebooting the phone can help here as well. You just have to turn off the phone, keep it idle for a few minutes and turn it back ON. The phone should be able to register to the available network right away.
Verify Preferred Network Type
Your carrier offers 2G, 3G, 4G services. Every phone has a SIM card slot with downward capabilities such as a 4G-enabled slot that will support 2G, 3G, and 4G. However, if your SIM card slot is 3G supported, you won't be able to use a 4G SIM card with the phone. Check whether your SIM card and the slot are compatible.
Another reason why you will face issues with the network is if you have selected to incorrect preferred network type. I have a 4G SIM and my phone supports three network types i.e. 2G/3G/4G (Auto), 2G/3G (Auto), and 2G Only. If I choose the first type, the SIM card will register to 4G network and allow me cellular access. However, if there's no 4G network available, it can switch to 3G and 2G as a backup. If you select the second type and try accessing 4G, it won't do.
Thus, make sure you select the right preferred network. Here's how you can do it.
Open Settings.
Go to Connections >> Mobile Networks.
Proceed to "Network Mode" and select "4G/3G/2G (auto connect)".
Check if the network has been restored or not.
You can give your phone a quick reboot as well.
Change your carrier
If the carrier (network provider) is itself the problem as you don't get good signal strength irrespective of where you use your phone, it's better to switch to another carrier for a change. You can use the same number and use the porting option to change the carrier and even get exciting offers from the new provider. Ensure that the new carrier has a sound network infrastructure in your region for better network reception.
Use Roaming Services
If you are out of your network circle, you might have to enable roaming services so that you can connect to the cellular network. Go to Settings >> Connections and search for "Roaming Services". Turn it ON. This should restore roaming-related network issues.
Check whether the SIM card is damaged
Do you often remove your SIM card? Was there any liquid damage to the phone that involves the SIM Card slot? Well, it turns out if the SIM card or the SIM slot is damaged, you may partially or entirely lose cellular access as the system won't be able to read if there's a SIM card inserted or not. A quick diagnosis involves taking a SIM card ejector tool. Remove the SIM card and inspect it.
In case if the SIM card is damaged, you can order to get it replaced from the same carrier in a couple of hours. If the SIM Card slot is damaged somehow, you can get help from a technician at a service center to repair or replace it.
Wipe cache partition
Cache files do speed up retrieval of apps and websites; however, it is easy to corrupt, ending you in trouble with constant glitch, freezing issues, and so on. Check out if wiping cache partition helps you fix the issue with the network problem or not.
Turn off your Samsung Galaxy Note 10 Lite.
Press two buttons simultaneously – Volume Up + Power Key for a few seconds until the phone doesn't vibrate.
Go to "Wipe cache partition" from the given options using volume up keys and select it using the power button.
You will be asked to confirm deleting the cache partition so select "Yes".
Finally, select "Reboot System Now" from the options and it is done.
Reset Network Settings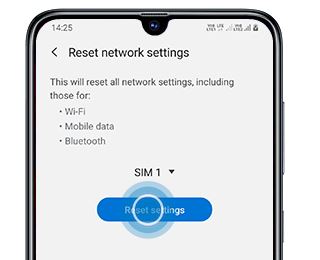 You can reset network settings and check whether this will restore the cellular network on your device. Apparently, this is what you do when there's an issue with the network settings.
You can go to Settings >> General Management.
Proceed to Reset >> Reset Network Settings.
Next up, select the SIM Card SIM 1 or SIM 2 >> go to Reset Settings >> Reset and you should be able to reset network settings right there.
Report to the Samsung service center.
It's the last resort for sure. Without proper cellular reception, your phone is nothing but a piece of junk unless you stick with using the phone on WiFi all the time. It could be a hardware-related issue that will require reporting the issue to a service center. Of course, you have two options i.e., going to an authorized Samsung service center or a local service center that operates for multi-brands. Either way, don't do it yourself unless you know to fix it yourself.
Conclusion
There you have it. All the possible troubleshooting methods to use to fix the Samsung Galaxy Note 10 Lite no signal or network problem. Do let us know which method made the fix for your network problems.