Samsung has finally responded to numerous years of criticism by addressing one of the major issues plaguing its Galaxy phones. However, the newly launched Samsung S23, S23 Plus, and S23 Ultra still face issues like screen rotation not working. This is a common issue with Samsung phones and tablets where the screen does not rotate with the device's rotation. There are a lot of queries from Samsung users asking us for a solution. That's the reason why we are here. In this article, we will help you resolve the Samsung S23, S23 Plus, and S23 Ultra screen auto rotation not working issue.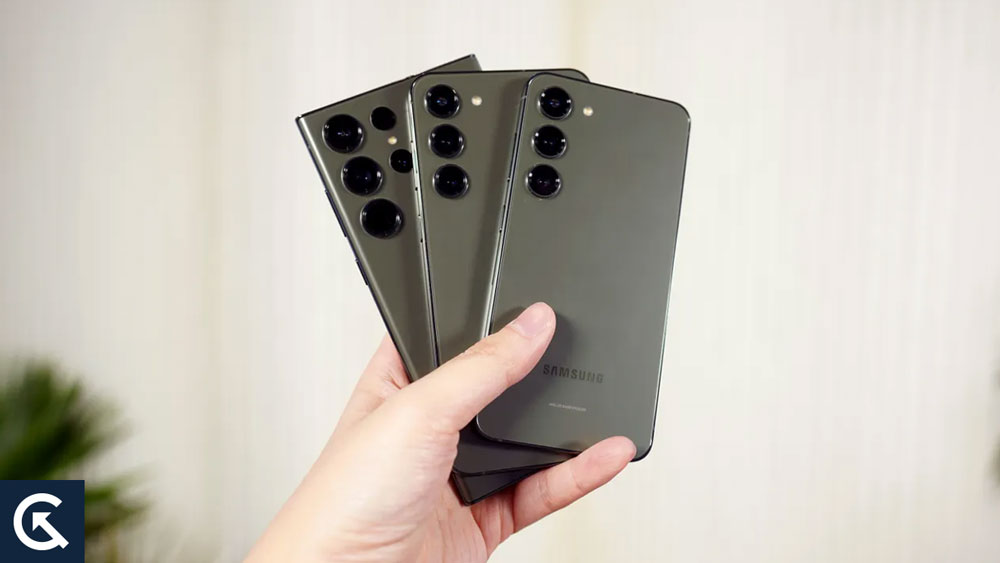 How to Fix Samsung S23, S23 Plus, And S23 Ultra Auto Rotation Not Working Issue
So, here are some fixes that have the potential fixes that will surely help you resolve the Samsung S23, S23 Plus, and S23 Ultra auto rotation not working issue:
Fix 1: Restart The Device
Resetting a device is the most common solution whenever a device has an issue. It may be necessary to restart your device if your phone's screen isn't rotating along with the device's rotation, even if you have auto-rotate enabled. Follow these steps:
Initially, press and hold the Power button for a few seconds, and you'll see the options Power or Restart your computer.
Once you select the Restart option, the device will be restarted.
To check if auto-rotate is enabled, go to Quick Settings. You can then rotate your phone to see if the problem is resolved.
Fix 2: Close Any Background Apps
Occasionally, your phone may become stuck in landscape mode after playing a game or watching a movie. If you want the auto-rotate feature to work, close any apps running in the background. The first step to doing this is to go to your home screen. Then, swipe up from the bottom of the screen to access your apps. Tap the Close All or Clear All button to close all background apps.
Fix 3: Turn on/off Auto Rotation
You cannot rotate or tilt your device's screen if you do not have the auto-rotate option turned off. However, if the auto-rotate option is enabled, but the screen doesn't rotate, you should turn it off once and then turn it back on. By doing this, you can refresh the device's auto rotation settings, enabling your device's screen to work properly once again. Here is how to turn off/on auto-rotate:
On your device, click Quick Settings.
In the top-right corner, you will find a phone icon with a rotation arrow and an auto-rotate label. Click on that to turn it off. In the case where it is already on, tap once to turn it off and then again to turn it on.
You can open the Settings app if auto-rotate is not present in the Quick Settings or not working.
Select Display, and you will find the auto-rotate option there, which can be turned on and off as needed.
Fix 4: Check The In-App Screen Rotation Option
You may be able to improve the situation by turning on screen rotation in the settings for the app. If screen rotation is disabled in the app, switching it on should resolve the problem. Nonetheless, if it is already turned on, it is possible that the app does not support screen rotation or has a bug. If this is the case, it is best to update the app on the Google PlayStore. So, follow these steps to update apps:
Go to the Google PlayStore.
Type the app name into the search bar.
From the search results, select the app.
Click on Update.
Fix 5: Update Software
It is important to update your Samsung Galaxy S23 series software to the most recent version to address and resolve any bugs, issues, or glitches. So, in case you don't know, here are the steps for updating the software:
Open the Settings.
Click on Software Update.
Then, click on Download and Install.
To determine if third-party apps are causing the issue with auto-rotation after the update, boot your Samsung Galaxy S23 series into safe mode.
Fix 6: Boot Into Safe Mode
The only way to fix the Samsung Galaxy S23, S23 Plus, and S23 Ultra auto rotation issue is to boot your device into safe mode. To put your device into safe mode, you can perform these steps:
Hold down the power button until the power menu appears. After that, tap and hold the power off button until the safe mode button appears.
After that, to reboot your device into safe mode, tap on it.
In the bottom left corner of the screen, you will see the words Safe Mode once your device is in safe mode. Now, you should verify that the auto-rotation issue gets resolved. Once the safe mode has been exited (restart your device normally), you will need to uninstall the apps one by one until you identify the culprit. It should work if you remove the app from your device once you've identified it.
Fix 7: Reset The Sensors
If your phone's sensors are not functioning properly, they will not detect your motion correctly. There is no reason for the screen rotation to be triggered, naturally. It is the accelerometer and the G-sensor that are most useful in screen rotation.
If you want to restart them again with default settings, reset them to their default settings. it only takes a couple of moves of your phone in a figure-eight pattern. Afterward, enable auto-rotation and verify if the auto rotation is not working. The issue gets resolved or not.
Fix 8: Perform A Factory Reset
You might have changed some settings in your Samsung phone or Samsung Tab A that are causing the screen rotation not to work. There could be an issue with the screen rotation due to changes made to the Settings.
A factory reset is required to return all the settings to their defaults if nothing works for you. You will lose all the apps and data installed on your phone. If you perform a factory reset on your phone, you can use it like a new one. Here are the steps you need to take:
Make a backup of all your files and data. Go to the Settings app.
Select System Settings. Select Backup and Reset from the menu.
On the screen, select Reset Phone and follow the instructions. Once the factory reset has been completed and the phone has restarted, ensure the screen rotation works properly.
So, that's how to fix Samsung Galaxy S23, S23 Plus, and S23 Ultra auto rotation not working issues. We hope that this guide has helped you. In the meantime, if you have any further queries, comment below and let our team know.