Once a big name in the smartphone industry, Sony has been facing quite a tough time at the box office. Though Sony came up with a bunch of phones in 2020 and included all the high-end camera technology the company can port from its successful cameras, it could not stir the market as it would have hoped for. On the software update side as well, the company likes to keep things under the rug and does not share many details about its future update plans, etc.
Though some of Sony Xperia devices have never skipped a single month of the updates, a bit more clarity would help further. As Android 11 is already live and other OEMs are making their efforts to push the latest OS for their devices, there are brands like Sony, that are keeping mum on this matter at the moment. In this post, we will give you a dedicated Sony Android 11 update tracker along with a list of eligible list of devices that is speculated to pick up the Android 11 update. With that being said, let us get straight into the article itself: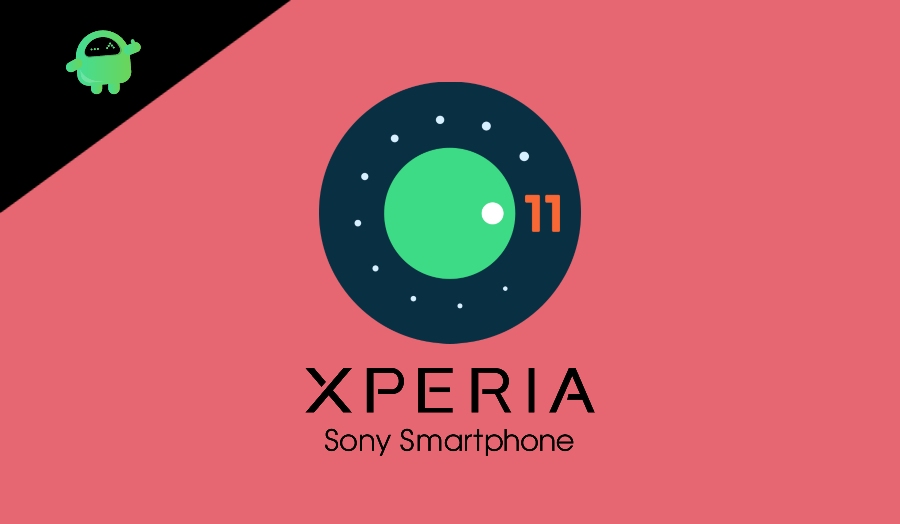 What's on Android 11?
Time and time again we have coined that Android 11 is a mature OS. Meaning that in the coming versions of the operating system from Google, you won't see many aesthetic changes or a complete overhaul in the OS. Besides, it would be those minor tweaks and certain features that went under the radar in the previous versions that will come to the OS. Gone are the days, when we used to have a complete visual overhaul, as you are seeing what OnePlus did with OxygenOS 11. However, Google has brought in plenty of new features for users with Android 11. They are listed below:
Scheduled Dark Theme: You can now schedule the dark mode on the basis of time. Meaning that you can schedule the dark mode to turn on after the clock hits a certain time.
'Conversations' Section in Notification Shade: The notification panel will now sort out all the conversations from different messaging apps into its own dedicated section. This would prioritize the conversations and app notifications according to importance.
Built-in Screen Recorder: As seen in Android 10, Android 11 is finally bringing the in-built screen recording feature for the phones. Notably, you can now record your screen, show touches to create explainers, etc. just from the quick settings toggle in the notification panel.
Pin Apps in the Share Menu: You can now pin your favorite apps to the share menu easily. This means that all your favorite apps or the most used apps would be at your disposal in the sharing menu.
Send Images in Notification Replies: Apart from just the texts, you can now share images in the notification replies or quick replies as popularly known. This means no need to open the app, just paste the image and get on with your day.
New APIs for 5G: Android 11 is built for the future of 5G and it brings new APIS for 5G support.
Use Bluetooth Headphones in Airplane Mode: In the previous versions of Android, once you enable the Airplane Mode, all your wireless connections, including Bluetooth used to get turned off. But not anymore. Because with Android 11, users can keep listening to their songs on the Bluetooth headset even after the Airplane Mode is turned on.
Scrolling screenshots: Scrolling screenshots allows the users to take a long screenshot of any webpage or article they found interesting, negating the need to take multiple short screenshots.
Bubble Notifications on by Default: This feature has been there for the Facebook Messenger app. But now all the messaging apps will show up as a bubble icon on the home screen. This means that you don't need to open the app and you can continue to chat using the Bubble.
Show Refresh Rate: If your phone supports a high refresh rate, then you can now flaunt the high refresh rate by enabling the Show Refresh Rate option which would give your phone a cool look just like those high-end PCs.
Power Menu Toggles: After a long time, power menu toggles are getting revamped. The visual change will include Emergency, Restart, and Power On/Off option being shifted over to the upper side, the middle screen will now contain buttons for Google Pay or another preferred online payments app. All your connected smart home devices will now also show up in the Power menu.
New Permissions Options: Security options are taken to another level, because now in Android 11 users will be able to grant or deny permissions to any app, only one time. After this, the app would no longer ask you for permission.
Background Location Access Must Be Granted Manually: Location is one thing that is of much importance to the user. And now with Android 11, you can set whether you wish to share your location with any app or not. You can choose the option to manually grant location access instead of the app choosing it automatically when you open the app.
Music Player in Quick Settings: The music player when playing will show up on the upper half of the quick toggle menu, giving you easier access to the player interface and will also not interfere with the incoming message notifications.
Supported Devices List
Although there is no confirmed piece of information regarding the list of Android 11 supported devices by Sony as of now, as it is still very early days of Android 11, here is a tentative list that you can go through:
Sony Xperia 10 III
Sony launched the Xperia 10 III on April 14, 2021, alongside Xperia 1 III and Xperia 5 III. The device has a 6-inch OLED panel with 60Hz refresh rate and HDR10 compliant. The device has a 12MP triple camera setup at the back and it is IP65/68 certified IP rating. The device runs on Snapdragon 690 5G chipset with 128GB+6GB configuration and it comes with Android 11 out-of-the-box.
Sony Xperia 1 III
Sony Xperia 1 III uses a triple camera setup and it uses ZEISS lenses with T coating on top of it. The device has a 8MP selfie shooter as well. The device has a giant 6.5-inch 4K OLED panel with 21:9 cinematic aspect ratio with 120Hz refresh rate. It has a Snapdragon 888 SoC under the hood paired with 12GB RAM and 256GB or 512GB of storage configurations. The device has a giant 4,500 mAh battery under the hood and runs on the latest Android 11 out-of-the-box.
Sony Xperia 5 III
The Sony Xperia 5 III uses a 6.5-inch OLED 4K panel and runs on-board Snapdragon 888 SoC. There's a quad-camera setup at the back mounted with ZEISS optics and with T lens coating. The device runs on Android 11 out-of-the-box as the case with Sony Xperia 1 III and 10 III launched with the Xperia 5 III as well.
Sony Xperia 5 II
Update: Sony Xperia 5 II has since received Android 11 stable update in the UK including networks O2, EE, among others. Other regions include France, Portugal, Russia, Saint Lucia, EEA, Romania, Slovakia, South East Asia, Hong Kong, Taiwan, Spain, Poland, China, the U.S., Japan among other regions.
Sony Xperia 10 II
Update: As per the latest update, the Android 11 has reached units sold by Docomo in Japan at the latest. Xperia 10 II has since received an Android 11 upgrade in Germany, South East Asia region, the United States among other regions. The update has been seen on the Orange network in France, Spain, Poland, Slovakia, and Romania as well as on Vodafone (not-locked) units in Saint Lucia.
Sony Xperia Pro
Update: The Sony Xperia PRO has since received Android 11 stable update in the EU, the UK, Japan, and the US among others. Note that these updates may not be rolled out to all Pro units yet and thus, some wait is required.
Sony Xperia 1 II
Update as of November 3: Based on the latest intel coming from itHome, the Sony Xperia 1 II has officially entered the 3 major Android OS updates club. It means that the Xperia 1 II will get Android 11, 12, and Android 13 to be released in 2020, 2021, and 2022 respectively.
Update as of December 1: Sony has finally released the official Android 11 update timeline. According to the timeline, the Xperia 1 II will be bumped to Android 11 starting December 2020. Note that we don't have an exact date or ETA so you need to stick to this page to find more information about it soon.
Update as of December 26: Based on the latest update, the Sony Xperia 1 II variants in Sweden and Netherlands are now getting the much-anticipated Android 11 update. There's no official report from Sony yet but according to various users, the update is releasing in both countries. No doubt it is an airborne update so if you happen to have any of these variants, you will have to wait for a couple of days or weeks to get your hands on the update. [Source 2]
Update as of January 7: Apparently, the Android 11 build released on Xperia 1 II is only available in Taiwan. Apparently, the update hasn't been released on other markets probably because of the ongoing issue with the Always-ON Display it. Reports have emerged where users have reported that the Android 11 build on Xperia 1 II is having issues displaying correct time on AOD while some are facing issues with the app notification icons as it isn't showing on the notification tray. The issue is yet to be resolved and thus, it would still take some time for the users to get relief from it. [Source 1, 2]
Update as of January 18: If you are a AU Sony Xperia 1 II user with KDDI in Japan, you are in for a treat as the telecom giant will now commence rolling out Android 11 on the device starting tomorrow i.e. January 19. The update brings a bucket load of features including Android's Nearby Share which is an AirDrop's equivalent. One of the major updates that Xperia 1 II users will intercept is the addition of 120fps 4K HDR recording in Cinema Pro mode on the device. There's a MR button on Photo Pro mode that remembers all your settings for future reference. The update weighs around 0.98GB and it is rolling out via OTA starting Update as of January 18:00 hours on January 19. [Source]
Update as of March 03: As per the latest information, the Sony Xperia 1 II is now getting upgraded to Android 11 update in Peru with version number 58.1.A.3.87 as per fresh user reports on Reddit. [Source]
Sony Xperia 1
Update: The Android 11 on Sony Xperia 5 has since been released on units in Sweden, the U.S., the U.K., Japan, and Hungary. The update was also spotted on Xperia 1 Dual in Hong Kong according to the CheckFirm database. Other countries will follow suit soon.
Sony Xperia 10
Sony Xperia 10 was launched alongside Xperia 1 with mid-range specifications and Android 9.0 Pie out-of-the-box. It is also expected to be bumped up with the Android 11 upgrade and again, since there's no official timeline or roadmap available, we aren't sure exactly when it could get the update.
Android 11 R Status: It is likely to get Android 11
Sony Xperia 10 Plus
Xperia 10 Plus is a bit enhanced version of Xperia 10. With Snapdragon 636 SoC, the device was launched back in February 2019 running on Android 9.0 Pie. It is one of the handful of devices from Sony Xperia that are likely to get Android 11 R although we aren't aware of the Android 11 roadmap yet.
Android 11 R Status: Eligible
Sony Xperia 5
Update: To summarize, the Sony Xperia 5 has already received Android 1 upgrade in Japan on Docomo and au networks among others. It has since seen upgrades in Portugal, South East Asia, the United Kingdom, Russia, Ireland among other regions.
Update as of June 21: According to the latest update coming from Sony Japan, the Xperia 5 with model number J9260 is getting a stable Android 11 upgrade in the country with version number 55.2.A.4.119 at the time of writing this. [Read more here]
Sony Xperia XZ3
Sony Xperia XZ3 launched in October 2018 with Android 9.0 Pie out-of-the-box. The device is currently on Android 10 which is its first upgrade and citing the fact that it is a flagship phone (of 2018), it is likely to get an Android 11 R upgrade although the timeline is available.
Android 11 R Status: It is likely to get Android 11
Sony Xperia XZ2
Xperia XZ2 was released with Android 8.0 Oreo and now it is running on Android 10. The thing is, this device has already received two major updates so what are the chances it will receive a third upgrade? Well, apparently, Xperia XZ2 is speculated to receive Android 11 so until it is not confirmed, there's a possibility that it might receive an update.
Android 11 R Status: It may or may not get Android 11
Sony Xperia XZ2 Compact
Debuted with Android 8.0 Oreo, the phone is currently running on Android 10 and has already finished two years of its support. It is currently speculated to get Android 11 so let's say it is likely to get the update. We need to wait until the official report by Sony is published regarding the Android 11 update.
Android 11 R Status: It may or may not get Android 11
Sony Xperia XZ2 Premium
Sony launched Xperia XZ2 Premium back in July 2018. It arrived with Android 8.0 Oreo and is currently running on Android 10 Q. It is speculated to be upgraded to Android 11 as well but that needs to be confirmed so we will need to wait for the official timeline to arrive.
Android 11 R Status: It may or may not get Android 11
Sony Xperia L4
The device is yet to be released and once it does, it will be running on Android 9.0 Pie out-of-the-box, that is if it doesn't get canceled. It may or may not see Android 11 R in its lifetime as we are not clear on it yet.
Android 11 R Status: It may or may not get Android 11
Release Date
As of now, there is no information related to the Android 11 update release date but, it is expected to be soon shared by the OEM once the Android 11 firmware update is available for the OEMs. We will keep you posted once the information surfaces the internet.