If you are an avid gamer, you probably know about the Thrustmaster. Thrustmaster is a drive system that enhances your driving experience. However, with the Thrustmaster, you will get an adjustable drive system that lets you feel every detail of your game while driving, making you feel like you are driving a real car. The Thrustmaster T300RS also features a rotation angle of 270 degrees to 1080 degrees that you can adjust accordingly.
However, although this device is awesome, sometimes it may stop working randomly. Yes, recently, many GT7 users have complained that the Thrustmaster T300RS brake pedals are not working with their game. Well, this looks to be an error occurs from your game's end, but still, if you have any doubt about your device, you may try out these fixes: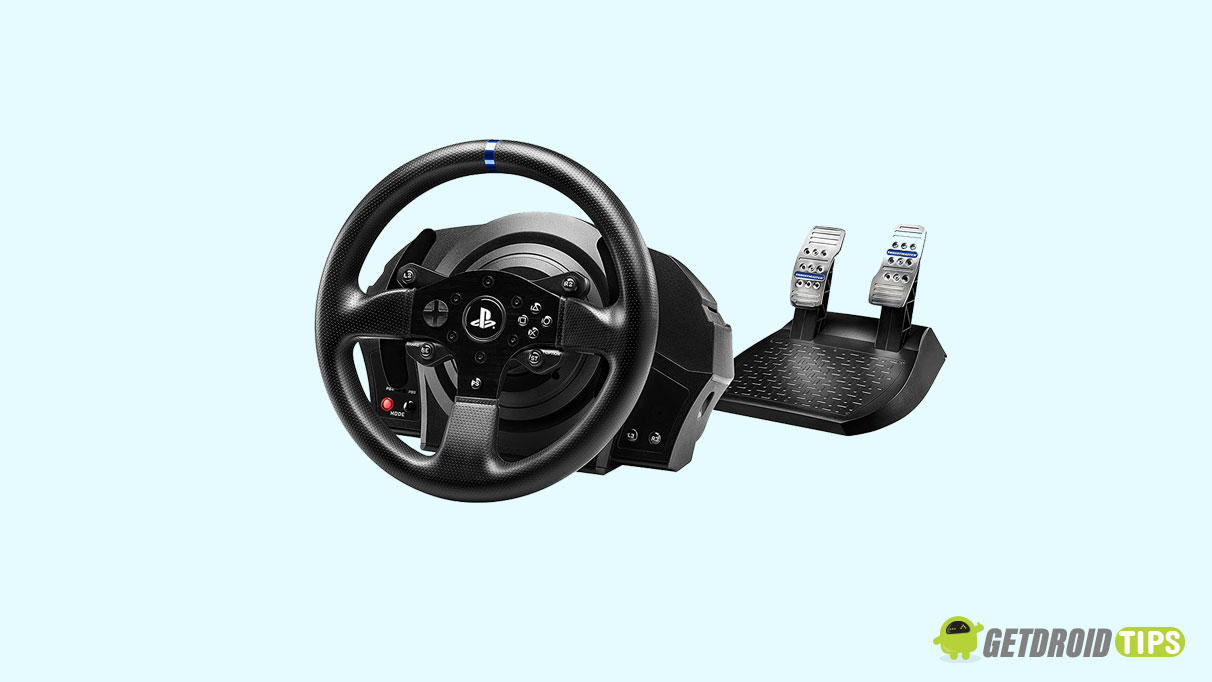 How to Fix Thrustmaster T300RS Brake Pedals Not Working
If you are seeing such fixes that help you resolve the Thrustmaster T300RS pedals not working issue, follow the fixes mentioned below. So, let's have a look at them:
Fix 1: Cleaning the Potentiometers
The potentiometers in your Thrustmasters pedals should be cleaned if debris buildup is the cause of their malfunction. To remove the pedal assembly and potentiometers, simply open the pedal housing. After the potentiometer has been cleaned, soak it for 24 hours in isopropyl alcohol or a contact cleaner.
The potentiometers can then be used for a longer period, but they will need replacing later on. So, you must try this out and check if it helps you fix the Thrustmaster T300RS pedals not working issue.
But, in case you find that even after cleaning the pedals, the issue won't get resolved, don't panic because we have more options available.
Fix 2: Restart Your Device
Your system's memory will be cleared when you restart your PC, PS4, and PS5. Additionally, it doesn't allow the background processes to run and consume memory. Therefore, you should always reboot your device to ensure it operates at its best.
The Thrustmaster T300RS Pedals have been reported to start working on some devices just after rebooting. Therefore, please test out this method and let us know if it works for you.
Fix 3: Try the Bootloader Shortcut Method
To begin, you can either switch to a PS4 or a PS5. Then, when you plug in your Thrustmaster T150, you must boot it into bootloader mode by pressing the L3 and R3 buttons simultaneously as you plug it into your Windows PC.
Next, switch it back to PS3 and then disconnect it immediately. You're done. Then, follow these steps to see if the wheel is detected by simply connecting it, as usual:
To begin with, hover your mouse over the

Start

menu. Choose

Thrustmaster

from the list of options.

Select the

FFB Racing Wheel

on the next screen, then the

Control Panel

. Then, simply check if the issue gets resolved or not.
Fix 4: Update The Thrustmaster T300RS Driver (Only PC)
Thrustmaster T300RS drivers have a chance of being updated pending, causing your PC to have compatibility issues with the Thrustmaster T150 Pedals. Accordingly, you need to update it by following the steps listed below:
The first step is to open the

official Thrustmaster

website in your browser and hover over to the

Support

tab.

Afterward, click the

Download

button from the list that appears.

Select the

Thrustmaster T150

on the

Racing Wheels

tab.

You can now download the

T150 drivers

and firmware updates by selecting the

Drivers option

. Once you've downloaded and installed the updates, check if the issue has been resolved.
Fix 5: Disable The Antivirus (Only PC)
Possibilities are there that your system's firewall may be blocking the Thrustmaster T300RS to not functioning properly as it may consider it a third-party threat. So, you need to disable your antivirus temporarily to check if the issue is occurring due to your antivirus or not:
Click

Start

and search for

Windows Security

.

Then, go to

Virus & Threat Protection

in the Windows Security app.

Then, select

Manage Settings

.

You're done.

Turn off Real-time protection

by toggling the button.
Fix 6: Power Cycle The Thrustmaster T300RS
Nothing's working? Well, there are chances that your PC, PS4, and PS5 might not support the Thrustmaster T300RS Pedals due to some random bugs or glitches. Therefore, we recommend that you power cycle your Thrustmaster T300RS first and then check again if the problem was resolved.
Simply unplug the Thrustmaster T300RS wires after turning off the power button.

After waiting a few minutes, connect everything.

You're done. Now, wait and see if your device's pedals start working or not.
Fix 7: Check If Your System Firmware Is Updated
Possibilities are also there that your device's firmware may not be updated, due to which your Thrustmaster T300RS Pedals is not working properly. Regardless of which device you are using, make sure to check for a firmware update:
For PS4:
Go to the

Notifications

, then using the

options

button delete all existing updates (if any).

Finally, click on the

delete

button and open the

Settings

window.

Next, click on the

System Software Update

button.
For PS5:
Navigate to

Settings > System

.

Next, select

Update System Software

.

Click

Update System Software

to complete the process.
For PC:
To begin, click on the

Settings

option in the Start menu.

On the next page, click

Update & Security

, and then

check for updates

.
Fix 8: Replacing Pedal Potentiometers
Thrustmaster T300RS pedals' efficiency will decrease as the potentiometers near the end of their lifecycle. It's not required to replace your whole racing wheel and pedal. Only the potentiometers need to be replaced. As a prerequisite, you will need to learn how to disassemble the pedal and solder. So, if you don't know, follow these steps:
First-time potentiometer replacements can be tricky due to the pedal unit's proximity to the foot pedal.

Remove the pedal unit's underside base plate by unscrewing it.

Afterward, gently lift the pedals so that the potentiometers can be seen and removed.

If you need to change a potentiometer on a Thrustmaster T300RS pedal, you should discard the washers and nuts. Y

Then, use a soldering iron to reconnect new potentiometers to avoid detaching.

After that, make sure that the connectors on the pot can be cut off. This makes it easy to attach the wiring when assembling the pedal unit again.
Fix 9: Contact To Support Team
However, if nothing works, then you have no other options but to reach out to the official support team, who is the only one who can help you with the Thrustmaster T300RS pedals that do not work. So, you must have to contact the Thrustmaster official and ask them about this issue; they will certainly assist you in fixing the situation.
Wrap Up
With Thrustmaster T300RS pedals, you won't be disappointed. Yet, they sometimes fail for various reasons. Sim racers may think mechanical defects are the only reason for malfunctioning, but this is not true. Thrustmaster T300RS pedals can malfunction when configured improperly, connected poorly, and even mounted on a sliding surface.
So, here we have already mentioned some of the best fixes that will help you to fix the Thrustmaster T300RS pedals not working issue. Hopefully, this article was helpful for you. Let us know if you still have any doubts by commenting below.