If you're into car racing games, getting a Thrustmaster wheel is an excellent choice, especially the Thrustmaster T150 and T150 Pro. Launch the game, show off your driving skills and reach the top of the leaderboards. Unfortunately, various glitches and issues affect many car racing games, especially Steam.
You may have difficulty controlling your car if you own a Thrustmaster steering wheel. Thrustmaster peripherals may sometimes fail to work properly on a PC. For example, many users started reporting that they face the Thrustmaster T150 and T150 Pro not calibrating issues.
That's why we are here with this guide. In this guide, we have mentioned some fixes to resolve the Thrustmaster T150 and 150 Pro not calibrating issue. So, let's get started with the guide.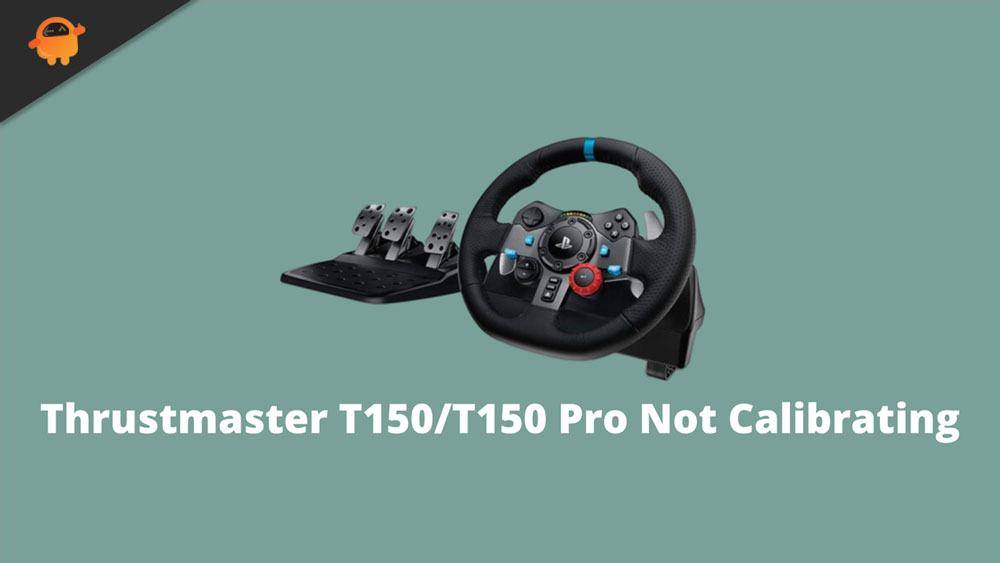 Fix: Thrustmaster T150 And T150 Pro Not Calibrating Issue
To fix the Thrustmaster T150 And T150 Pro not calibrating issue, you have to perform the fixes we have mentioned below. So, if you have this problem, make sure to check out these fixes:
Fix 1: Update your Thrustmaster Driver
You must update the Thrustmaster wheel driver to the latest version. Thrustmaster releases new driver versions whenever a new game is released, adding useful improvements and fixing various wheel-related problems. Here are two methods using which you can easily download or update the latest Thrustmaster driver for your PC:
Method 1: Download the Latest Wheel Drivers On Windows
Did you check if your drivers are updated or not? Possibilities are there that you are getting the Thrustmaster T150 and T150 Pro not calibrating issue just because the drivers are not updated on your Windows PC. So, to do so, follow these steps:
Download the latest updates from Thrustmaster's support page.

Click on the Racing Wheels tab.

Select the Thrustmaster wheel model you want.

Then click on Drivers and select Download.
Method 2: Update the Thrustmaster Wheel Driver Using the Device Manager
Open the Device Manager.

In the USB Human Interface Device category, expand the USB Human Interface Device category.

By right-clicking your wheel driver and selecting Update Driver, you can update it.
Fix 2: Use a different Port
You should unplug your wheel after updating your drivers and restart your computer afterward. Connect your wheel again once your machine has booted and checked the results.
Make sure the USB port is working properly by switching to another USB port. This will surely help you fix the Thrustmaster T150 and T150 Pro, not calibrating issues.
Fix 3: Use the Control Panel to Update Wheel Firmware
The wheel may need to be updated with the Control Panel even if you have installed the latest Thrustmaster driver updates. You can do so through your Control Panel if you need to update your firmware.
To find Thrustmaster, press the Windows button and open the Control Panel.

Now you should be able to see the

Thrustmaster folder

.

Navigate to the

Control Panel

.

Navigate to the

Game controllers

menu.

At the top of the screen, you will find the firmware version for your device.

Ensure you are running the most recent firmware version by exiting

Control Panel

if you are not.

You can then search for

firmware updates

by pressing the Windows key.

To update the firmware of your Thrustmaster, click on the

Update Firmware

button.

To install the latest firmware version, follow the on-screen instructions.
Fix 4: Turn off Steam Input
Steam Input should be disabled if your Thrustmaster wheel does not detect or recognize Steam. You can turn off Steam Input by going to Steam Properties, selecting your controller, and selecting Off. You should now be able to see your wheel in Steam.
Hopefully, this will fix the Thrustmaster T150 and T150 Pro not calibrating issues. According to some users, the problem may also be fixed by turning off generic controller settings in Big Picture Mode.
Fix 5: Enable Game Mode
PC gamers can optimize Windows for PC gaming with its built-in Game Mode. However, many users reported that the Thrustmaster T150 and T150 Pro not calibrating issue gets fixed just by enabling the game mode. So, you must enable this feature using these steps:
Navigate to

Settings.

Choose

Gaming

.

On the left, click

Game Mode

.

Then, toggle the

Game Mode

option.
The Game Mode increases your CPU and memory usage when you're playing a game. Using this option will also prevent updates from installing and closing power-hungry background apps. Additionally, ensure that any software interfering with the wheel is disabled or uninstalled.
Fix 6: Contact Thrustmaster Support
Please contact Thrustmaster's technical support if your Thrustmaster T150 or T150 wheel is still not calibrating and you are still having problems using your Thrustmaster wheel on a PC. The wheel may have a problem, and you'll need to buy a new one.
So, that's all we have for you on how to fix Thrustmaster T150 and T150 Pro not calibrating issue. We hope that this guide has helped you. But, in case you want to ask anything regarding this topic, comment below and let us know.