There are many sim racing wheels, but the Thrustmaster T150 Pro is one of the best in the gaming industry. The reason it's so popular isn't just that Thrustmaster makes it but also because it provides a lot of amazing features at a reasonably low price.
It is sometimes difficult to pair the Thrustmaster T150 Pro with a PC as it is not turning on or has no power, despite its widespread popularity. Your PC may not recognize the Thrustmaster T150 Pro, and if this is the case, you're in good company since numerous solutions are discussed here. So, make sure to perform the fixes we have mentioned below to resolve if the Thrustmaster T150 Pro is not turning on or if there is no power issue.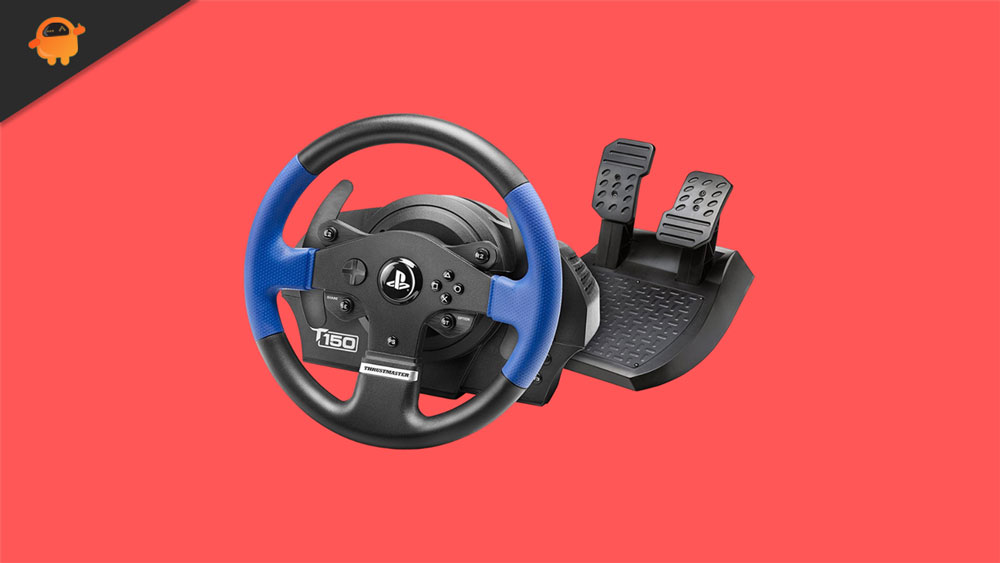 How To Fix Thrustmaster T150 Pro Not Turning On or No Power
Here are some fixes that will help you resolve the Thrustmaster T150 Pro not turning on or having no power issue. So, if you are facing this, make sure to perform these fixes and check if you are able to resolve this after performing these fixes:
Fix 1: Restart Your Device
Possibilities are there that your device may have some cache or bug files due to which your Thrustmaster T150 Pro is not turning on. So, you must try restarting your Thrustmaster and check if it helps.
Fix 2: Set the Wheel to the Proper Mode
If you are using the Thrustmaster T150 Pro for the first time and it won't work with your PC, it may not be set up correctly. You should know the problem goes to your Thrustmaster T150 Pro is set in the right mode before assuming the problem is beyond your abilities. Alternatively, you can slide the USB switch to the PS3 position to make sure it's connected.
Fix 3: Update Thrustmaster T150 Pro Drivers
In the same manner as other manufacturers of sim racing wheels, Thrustmaster updates all its drivers and firmware on a regular basis. You should update your drivers if your PC hasn't detected your Thrustmaster T150r PC after you tried the trick above.
Updates can be found and installed directly from the company's website. To download the latest drivers and firmware for the Thrustmaster T150 Pro, simply follow these steps:
You can contact Thrustmaster's support team by hovering your mouse over the

Support

tab on the official website.

Select

Download

from the drop-down menu.

On the left side, click

Racing Wheels.

From the list of options, select

Thrustmaster T150 Pro.

You can download drivers and firmware for Thrustmaster T150 pro by clicking

Drivers.

To install the updates, click the

download

button.
A driver update usually features performance enhancements and security tweaks that enable your racing wheel to communicate better with your PC. If not, try the hack discussed next. Updating drivers and firmware should fix the problem.
Fix 4: Try the Bootloader Shortcut Method
You will need to switch to PS4 in order to use this method. Then, plug your Thrustmaster T150 Pro racing wheel into your PC while simultaneously pressing the L3 and R3 buttons. Make sure you switch to PS3 once again, then disconnect it again.
The wheel should have been detected once you connected it the way you usually do. The next step is to go to Start > All Programs > Thrustmaster>FFB Racing Wheel> Control Panel and check if the wheel has been detected. Instead of the usual Thrustmaster FFB Racing wheel, the wheel appears as the Thrustmaster T150 Pro.
You can also try out the whole Thrustmaster Bootloader method, as explained; if this doesn't work, then try the other methods mentioned below.
Fix 5: Update The Thrustmaster T150 Pro Driver
There is a possibility that your Thrustmaster T150 Pro driver may have a new update pending, resulting in compatibility issues on your PC. As a result, you will need to update it by following these steps:
To get started, open

Thrustmaster's official website

and click the

SUPPORT

tab in the top right corner.

From the drop-down list that appears, click

Download

.

After that, select

Thrustmaster T150

from the Racing Wheels tab.

You can now download the latest drivers and firmware for your Thrustmaster T150 by selecting the

Drivers

option. Once the updates have been installed, you can check if the issue has been resolved.
Fix 6: Disable The Antivirus
There is a possibility that your antivirus software will block the installation of its driver if you are trying to connect it to your PC. For this reason, we advise you to temporarily disable your antivirus software while connecting the wheel to your PC in order to ensure that the drivers are successfully installed. Here's how you can disable the Windows antivirus:
Use the search bar to find

Windows Security

under

Start

.

Once that is done, navigate to

Virus & Threat Protection

within the

Windows Security

app.

Under Virus & Threat Protection, click

Manage Settings

.

You're done. The Real-time protection can now be

turned off

by toggling the button.
Fix 7: Check If Your System Firmware Is Updated
This type of issue may also be caused by older system software. Therefore, it is crucial that you keep your software and firmware current. In order to accomplish this, follow these steps:
For PC:
Click on

Settings

from the Start menu.

Afterward, click

Update & Security

, and on the next screen, click

Check For Updates

.
For PS4:
Firstly, navigate to the

Notifications

page and delete all the existing update files (if any).

After that, launch the

Settings

window by clicking on the

delete

button.

Last but not least, click on

System Software Update

.
For PS5:
To begin, go to

Settings > System

.

Now update the system software by selecting

System Software

and

System Software Update

.

After that, click on the

Update System Software

button.
Fix 8: Reach To Support Team
The only option that is left that you have is to reach out to the official support team if nothing resolves the issue except calling them. They are the only people who are capable of fixing the Thrustmaster T150 PRO is not turning on or has no power issue on your PC, PS4, or PS5.
So, that's how to fix Thrustmast T150 not turning on or no power issue. We hope that this guide has helped you. Meanwhile, for more info, comment below and let us know.