Thrustmaster is basically an American-french gaming equipment designer who develops and manufactures game controllers, steering wheels, joysticks, etc., for video gaming consoles and PCs. Talking about their wheelbase, then they have loads of options for their users. But, it is not like these wheelbases are one hundred percent free from flaws. So, yes, users often complain about various issues.
For example, talking about the recent case, then Thrustmaster's T300 stops or does not work on PS4 and PS5. Well, although the reason behind this kind of issue with the wheelbase isn't new; therefore, some fixes are already there that you can use to resolve the not working issue with your Thrustmaster T300.
But, I think not many users know this thing that why we are here with this guide. In this guide, you will learn about how to fix the Thrustmaster T300 not working issue on PS4 and PS5. So, make sure to read and apply all the fixes as we have mentioned below: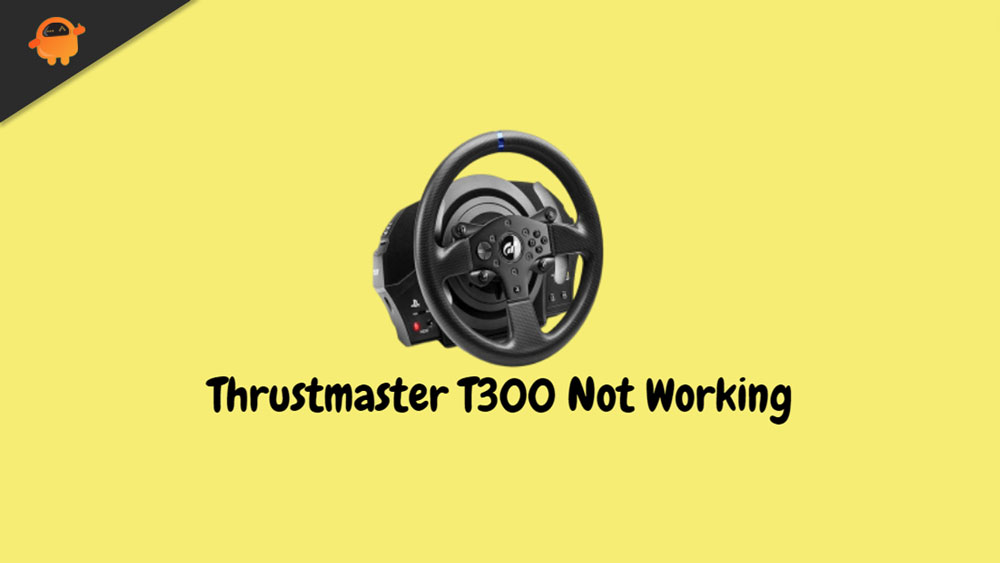 How To Fix Thrustmaster T300 Not Working on PS4 and PS5
Here we have mentioned some great fixes that will surely help you resolve the Thrustmaster T300 not working issue on your PS4 and PS5; therefore, if you are suffering from this kind of issue, make sure you perform the following fixes:
Fix 1: Restart Your PS4/PS5
The first fix you require to try is to restart your PS4/PS5 console, as there are changes due to some bugs stored on your device that prevent your console from functioning properly with your wheelbase. However, many users there reported that after restarting their console, the Thrustmaster T300 again started working with their PS4 and PS5. It is therefore imperative that you try it out yourself and determine whether it is helpful.
Fix 2: Power Cycle Your Wheel
If just by performing a simple reboot, your wheel is still not working with your console, then you must try power cycling your Thrustmaster T300 as this will be the right option as it has huge potential to resolve this kind of problem error. So, to power cycle your Thrustmaster T300, you must follow these steps:
Initially, shut down your wheel and switch off the power button.

Then, remove all the wires or cables attached to it.

Now, wait for 1-2minutes and plug in the cables.

After that, simply try to boot it up and check if the issue gets resolved or not.
Fix 3: Setup The Wheel Correctly
It is very important to set up the wheel correctly because an improper configuration will sometimes cause a severe issue that might also damage your wheel. You need to set up your wheel correctly on your console to use it. As an example, if it's set to PS4, it won't work on a PS5. Therefore, you must switch it to PS3 in order to use it on your PS5.
Even though you need to perform the same actions for the PlayStation 4 and PlayStation 5 to make the T300 functional again, if it does not work with your device for some reason, don't get discouraged. We do have alternative options for you. Let's explore them.
Fix 4: Inspect the Wires
It is also feasible that the Cable of the Thrustmaster has been cut or damaged so that it can't connect properly. Therefore, the Thrustmaster T300 cables must be thoroughly examined to determine whether they are worn or not. If this is the case, you have no other option than to purchase new cables.
This generally happens when we do not take care of this thing while playing the games using wheelbase. But, now nothing is going to change, therefore, go and buy some new cables for your Thrustmaster.
Fix 5: Check The Power Supply
The port to which you are connecting the Thrustmaster T300 has a huge chance of having a fault or damage, which is the reason why you are experiencing this issue. Thus, if you are getting the same issue even with a good power supply, try changing the port.
A good power supply is a very needy thing in order to run your Thrustmaster T300 gaming wheel as it totally depends upon a good power supply. Therefore, do it and check if the issue gets resolved or not.
Fix 6: Check The Connections
Did you check the connection between your PS4 or PS5 and Thrustmaster T300? Well, there are chances that the connection between these devices isn't good, which cannot work properly. Therefore, you must have to make sure that all the wires connected to both devices are attached properly.
For extra surety, you must try to plug out and plug in all the cables and check again if the Thrustmaster T300 is not working issue on PS4 or PS5 issue get resolved or not.
Fix 7: Disconnect Other Devices
Do you use other gaming devices on your device? Then you will need to disconnect them and restart your system. To begin, connect your Thrustmaster first before connecting to any other device. Therefore, you will see that the Thrustmaster T300 not working issue gets resolved automatically.
Perhaps you are wondering what the purpose of disconnecting the other devices and connecting your wheel is? Well, it will ensure a proper connection, which is impossible when many devices are connected.
Fix 8: Contact To Support Team
Every brand has a dedicated team in order to provide customer service. Therefore, if you are still not able to get rid of this particular error, then we suggest you to, without getting late, directly contact to the Thrustmaster support team and ask them for help.
However, they will offer you some more fixes depending on the situation. But, if even after applying those fixes, this issue won't get fixed even after applying those fixes, then visit the nearest service center to make your T300 workable again.
Also Read: Thrustmaster T300 Not Turning On, How To Fix?
So, that's all on how to fix the Thrustmaster T300 not working on the PS4 or PS5 issue. We hope that the troubleshooting guidelines mentioned earlier in this guide have helped you. Meanwhile, it is possible that you have any doubts or queries in your mind; if so, comment below and let us know.