If you are a casual music listener, you might end up listening to the music via your default music player or switch to Spotify, Amazon Prime Music, or Saavn, etc. However, the Google Play Store offers a humongous range of music player apps that you can use to enhance your music listening experience like no other. These apps might include songs saved on your device locally or might allow you to listen to songs over the cloud but overall, it offers a wide range of settings such as via equalizer, visualizer, and a bunch of other settings.
Here's a list of the best music player apps for Android that you can download each with a contrasting list of features than others. Some will let you use the basic form of a music player which some are equipped with high-end digital tools to tweak music to cherish if you are an audiophile. So here's the list arranged in a not-so-usual ranking list so you can literally go through each one of them to find the one that suits you the best.
Top 10 Best Music Player Apps for Android
PowerAmp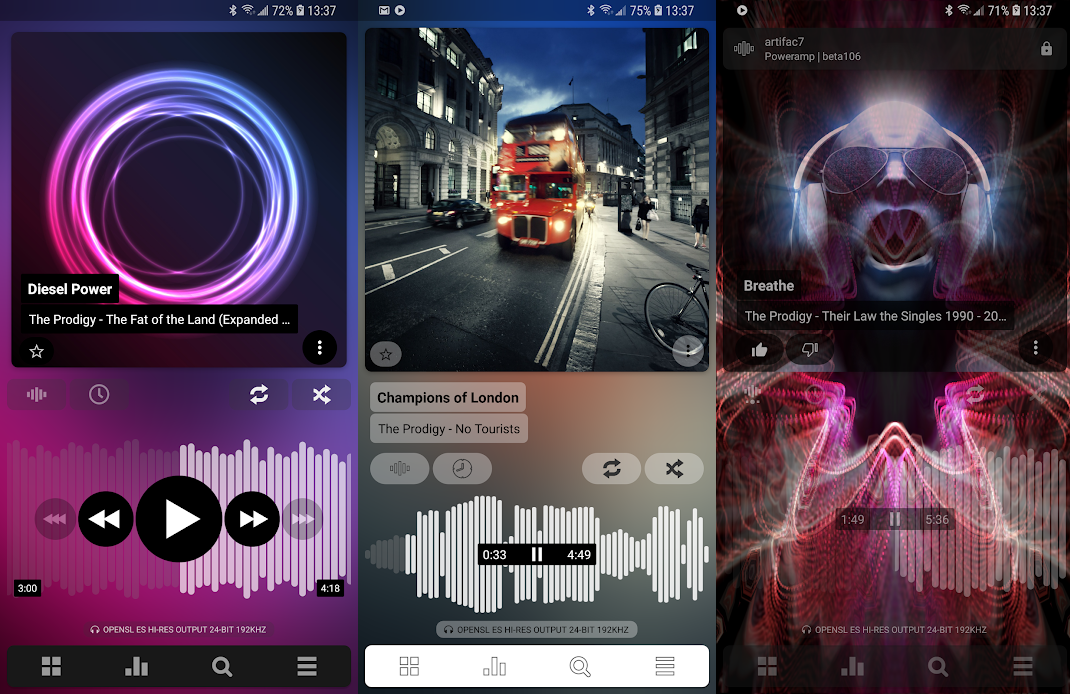 With a 15-days free trial, PowerAmp is a high-caliber music player that you must try. It supports a string of file formats so you can load any music file of a format and probably it will play all. Further, the app has lyrics support as well as 10-band graphics equalizer, an efficient searching and management scheme as well as tag editor among other features that you can enjoy. There's a lockscreen widget that you can hail when the screen is locked and a bunch of visual settings that will make you get its premium version for sure.
[googleplay url="https://play.google.com/store/apps/details?id=com.maxmpz.audioplayer&hl=en"]
Tidal Music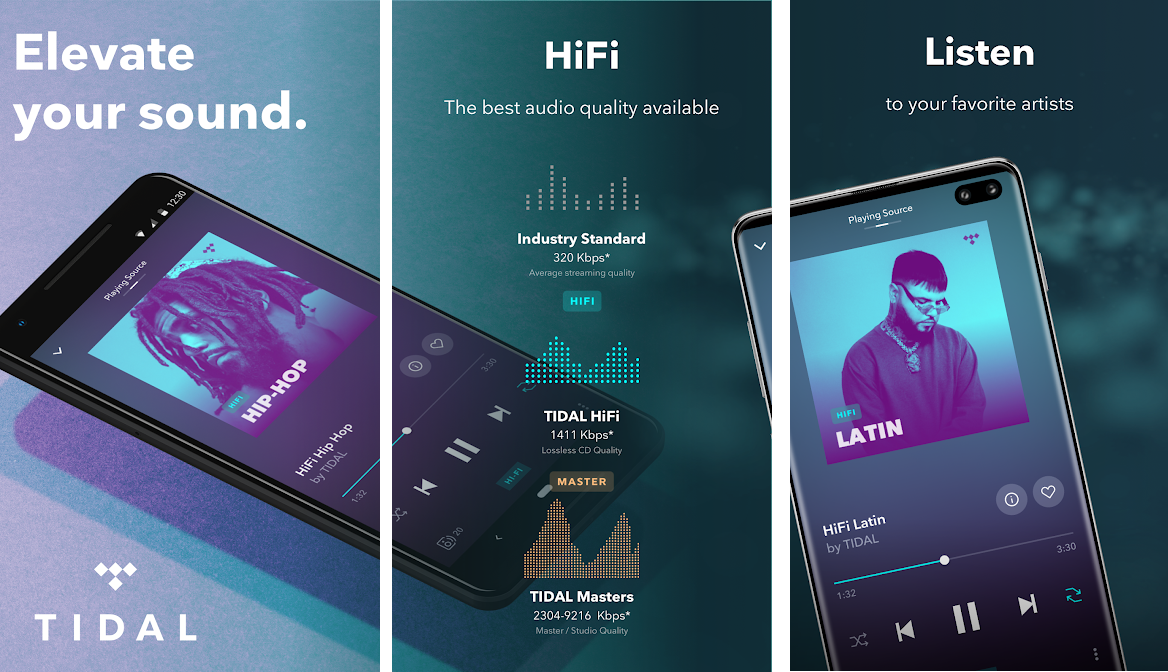 Apparently, you might not get high-quality music on any music streaming app but Tidal is different. The app offers high-quality music at 320Kbps lossless FLAC audio or AAC audio that will improve the music experience thanks to two to three times clearer audio. The app is especially for those who love and enjoy rich music. It includes a bunch of genres of music right from Latin to pop to hip-hop and more. You can also subscribe to its premium app to unlock more features. The app is currently running a 30-days trial period so grab it now.
[googleplay url="https://play.google.com/store/apps/details?id=com.aspiro.tidal&hl=en_IN"]
Pulsar
If you are looking for a portable offline audio player, do check out Pulsar, the one-on-all app that brings a clean and gorgeous-looking user interface along with no injected advertisements on-board. This music player makes it easy to manage songs and find them segregated by folder, artists, albums, etc. The app automatically syncs with missing artist images and album images and offers crossfade support, gain volume normalization, lyrics, and music visualizer rendering among others. It supports formats such as wav, ogg, aac, mp3 among others and gets updated frequently.
[googleplay url="https://play.google.com/store/apps/details?id=com.rhmsoft.pulsar&hl=en"]
AIMP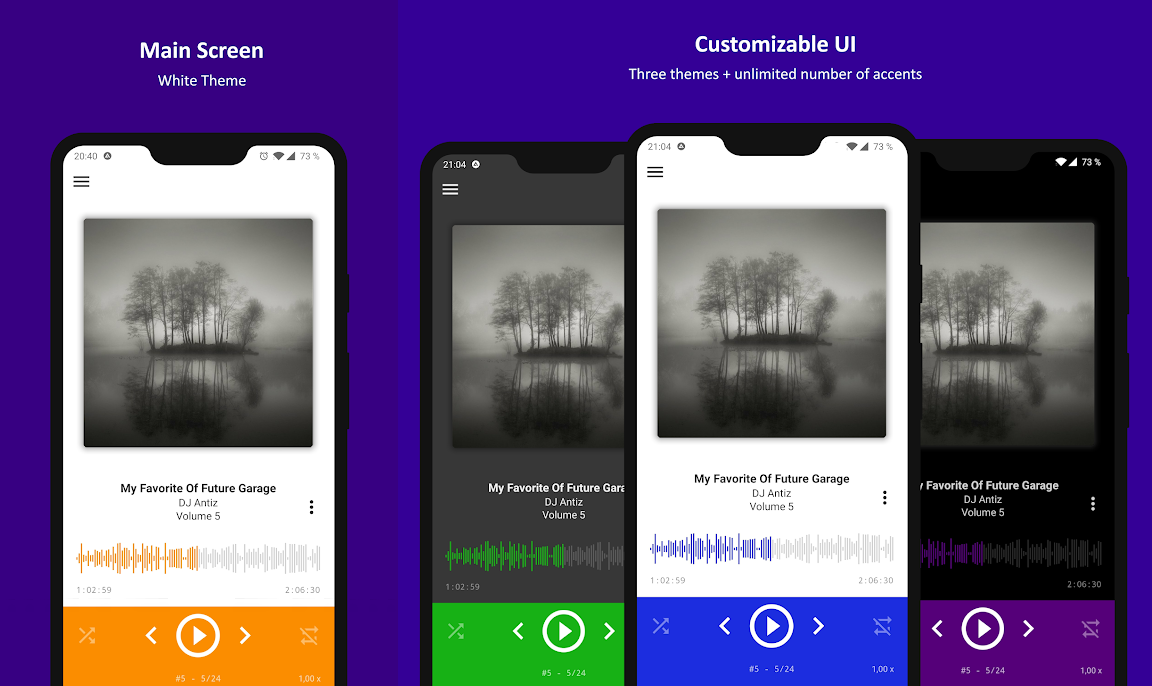 Go retro with AIMP, one of the best and free music players that you can download now. The music player lacks a music library so you are stuck with an old-school playlist but once you get the hang of it, you wouldn't care about any other music player. AIMP can act as your daily driver if you are into music a lot. The user interface is lightweight and makes you feel excited about its color schemes. You can customize quite a lot of the app's settings and can use speed control equalizer, sleep timer, or go to Advanced Options to better control the app and its output.
[googleplay url="https://play.google.com/store/apps/details?id=com.aimp.player&hl=en"]
Pi Music Player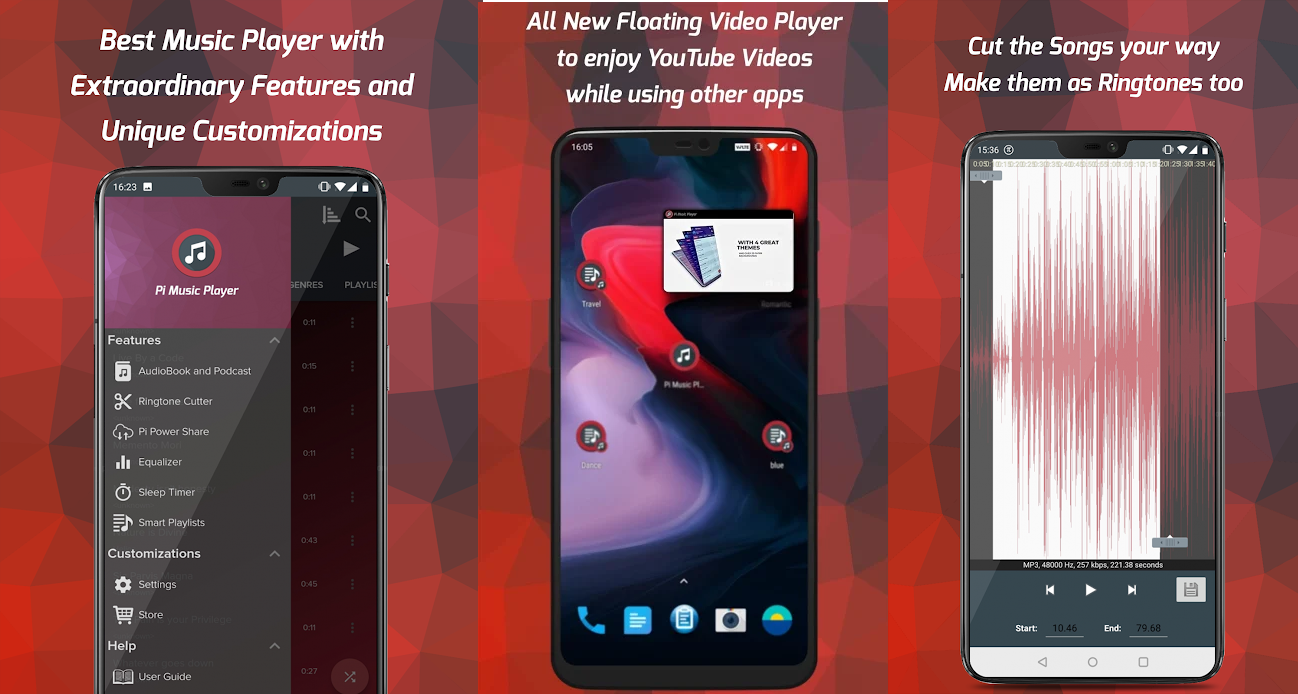 Pi Music Player is basically an all-in-one music player that you would love to use. The app offers a built-in Equalizer that if you know how to use could add great value to the music listening experience. The user interface is light-weight yet powerful with clean layouts. It's enhanced Folder View will grab all the music files you have on your device locally so that you can play it. There are tonnes of features like Pi Power Share, Sleep Timer, audiobooks and podcasts, themes and backgrounds, lock screen widget and more.
[googleplay url="https://play.google.com/store/apps/details?id=com.Project100Pi.themusicplayer"]
PlayerPro Music Player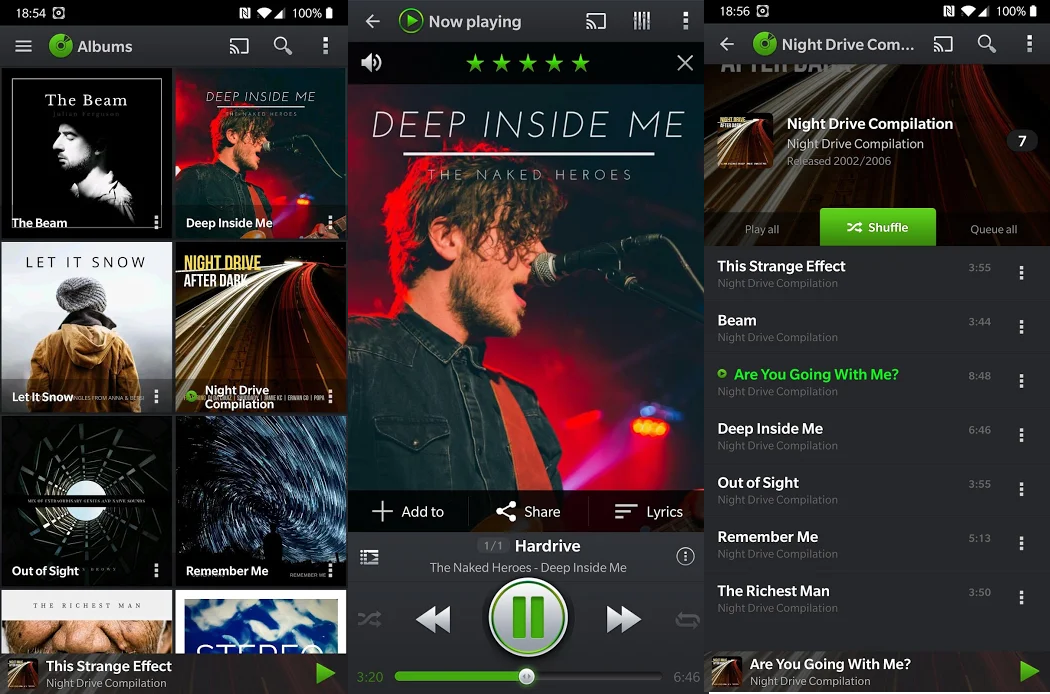 PlayerPro Music Player is a free to use music player app with a dash of ads that you'll have to see in order to keep it running although the ads start after 10 days of usage and can be eliminated with a premium version. The app offers a clean and precise user interface with DSP Pack and a bunch of other free plugins that make it a worth try. The app allows you can browse music stored on your device by different ways or folders and you can connect it via Android Auto and Chromecast Audio as well if you want. Other features include tag editor, built-in 5-band equalizer and more. The premium subscription will get you access to gapless playback, 10-band equalizer and a whole new string of features.
[googleplay url="https://play.google.com/store/apps/details?id=com.tbig.playerprotrial"]
Neutron Player
If you are looking forward to going all out when it comes to audio or music, Neutron Music Player is here. It has a unique 32/64-bit audio engine that uplifts the quality of the sound to its Hi-Fi grade. The audio player can produce output to the internal DAC and does have a rich set of tools that you can under DSP that enables you to get the most of the audio player. Apart from that, the app offers bit-perfect playback, supports a number of DSD formats, DSD to PCM decoding as well as multi-channel native DSD, and supports a huge string of music formats to listen to.
[googleplay url="https://play.google.com/store/apps/details?id=com.neutroncode.mpeval&hl=en"]
Musicolet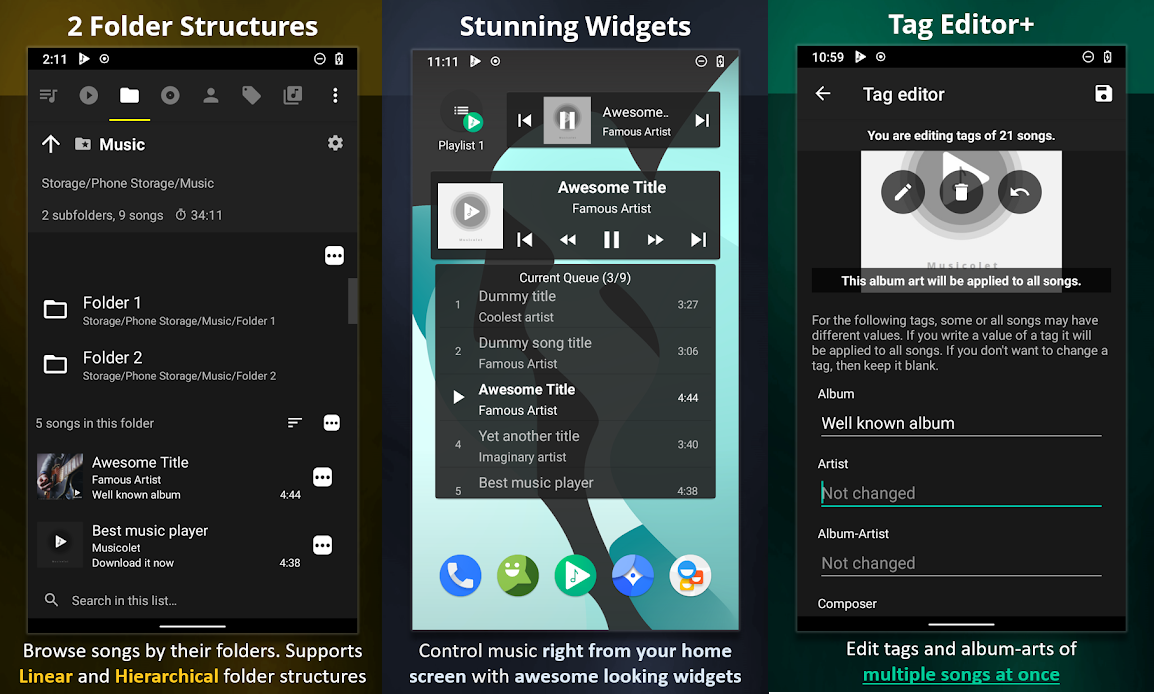 Musicolet is an app that lets you listen to your favorite music without getting too heavy with its user interface. It doesn't need an internet connection and forgoes synching with the Cloud and uses all the locally saved files so that you can play it truly offline. The music player supports a number of music formats so no matter what format of music you have, it will play it without any hassle. There's nothing much you can do to tweak it visually and its audio which although it is a bit of a letdown, it isn't that heavy so you are left with purely a music player with no bells and whistles and yes, no ads.
[googleplay url="https://play.google.com/store/apps/details?id=in.krosbits.musicolet&hl=en"]
Google Play Music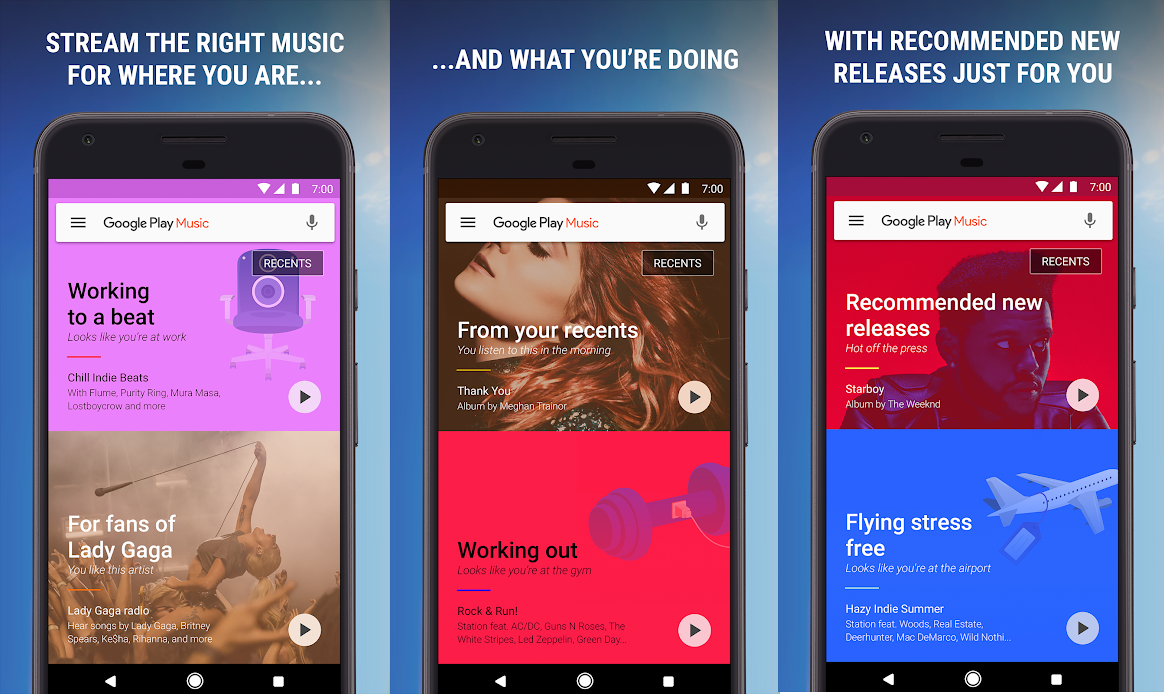 This is the most obvious listing here as it arrives as a default pre-installed app on all Android smartphones. Google Play Music lets you add over 50,000 songs over its upload manager and from any other app like iTunes so that makes it a one-place-to-hear-it-all app. Google Play Music doubles as a music player that plays music stored on your phone's storage so if you have a song, it will play it offline.
If you have internet access, you can listen to more than 40 million songs available on the cloud and there's more. You can actually buy songs or albums of your choice. Overall, the app does have the caliber to beat almost all music player apps available today and since it is Google-owned, it is well-organized, cleared of any bugs, and optimized to work on any Android phone and even iOS devices.
[googleplay url="https://play.google.com/store/apps/details?id=com.google.android.music&hl=en"]
jetAudio HD
jetAudio HD comes preloaded as one of the best media players. It can play a series of music files from across different file-formats including .flac, .m4a, .tta, .wv, .wav, .mp3, .ogg, and others. The app comes with 32 equalizers presets and improves music experience like no other. You can either music which is either stored on your device or get music via Wi-Fi on a local home network. Its premium version will unlock a series of features including tag editor, lock-screen widget, pitch shifter, theme, grid mode, 20-bands graphic equalizer, and others.
[googleplay url="https://play.google.com/store/apps/details?id=com.jetappfactory.jetaudio&hl=en"]