Note-taking has been the best way of remembering and jotting down important points in every aspect of our lives. From pen and paper to smartphones and styluses, the experience, while may have changed significantly, the principle remains the same. Writing down something doesn't only help to remember what you wrote, but it also boosts your productivity skills to the maximum. In such a case, one would be very fond of finding the best note-taking applications out there. If you guessed Google Keep, then we wouldn't argue with you!
Google Keep has been around for ages, and it is quite a cult classic. Not only does it have prominent updates from its vendor, Google, but thanks to its web version and availability on various platforms, Google Keep is undoubtedly one of the most widely used note-taking apps out there. It is available for Android, iOS, Windows, Chrome Web Store, and many more. However, if that's not what you're looking for, we have a complete list discussing a few of the best Google Keep Alternatives!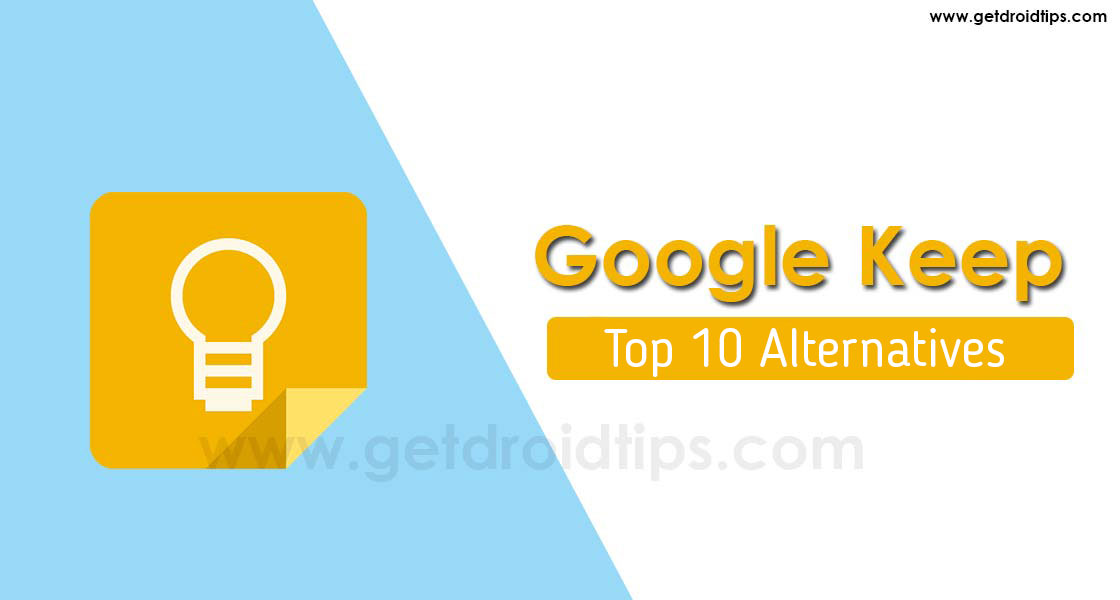 Top 15 Google Keep Alternatives
Most of the apps we'll be mentioning here are available for a wide spectrum of devices, working on different ecosystems. All the apps here have been tried and tested by yours truly, and we will be mentioning why we think each of the apps deserves its place on the list as we dive deeper into the article. Enjoy our list!
1. Evernote
Another application that's been a classic for ages is Evernote. It was unveiled all the way back in 2008 as a web-only service but was soon used by millions of people in the coming years. The application available for Android and iOS itself is beautifully designed, with a green accent color for a soothing appearance. Evernote is a very powerful note-taking app and is meant to ease work by collaborating with other coworkers if you have any. You can do the usual things like jot down a note, make a checklist, but what sets Evernote apart is its powerful editor. You can add images, videos, GIFs, and much more to make your notes more and more personalized by the day. The service also has Web Clippers to easily link and share any articles you may have found online. You can make customized notes by using one out of the many templates available as well. If you happen to own an iPad, you can even dare to jot down notes using the Pencil for a truly unique experience. It doesn't stop there, Evernote has a powerful PDF Scanner and a share feature that even scans your handwriting and converts it into text readable by all!
If you want the best experience with the most features, then we couldn't recommend Evernote any further. It is a freemium service, but you should be able to get away with the most features on the free plan as well. You can download Evernote by heading to their website, or grab the Android app from below :
Download Evernote
2. Todoist
Next up, and which has personally been my favorite, Todoist aims to separate itself from the stereotype that all note-takers should have only the required features. It does this by bringing to the table a much advanced list-making experience, adding things like a karma counter to motivate you to do your tasks even better. Like Evernote and Google Keep, Todoist is available on a bunch of devices, which includes Android, iOS, web extensions, a dedicated Windows client, and even a barebones adaptable client to work on operating systems like Linux and Ubuntu. Todoist has a vibrant design with big and easy-to-understand elements to work with. You can add simple tasks, or create projects and add tasks to segregate them from your other ones. You can also take notes, as usual, add reminders, calendar updates, and much more to this experience.
In our opinion, thanks to the design and UI of this app, Todoist might as well replace Google Keep for you. Even if it might not, you should definitely give it a try. You can grab Todoist by heading to their website, or download the Android app from below :
Download Todoist
3. Google Tasks
Up next is a new addition to the array of note-taking apps, and this one is built by Google itself. Google Tasks was released about a year and a half ago, with the aim of supplementing Google Keep with a separate task-specific app. It did work out in their favor, since the app soon came to be downloaded by the masses, including me. What I really love about Google Tasks is the sheer minimalism in design. The entire interface is materialized with a white backdrop and blue accents everywhere. Just like the other note-taking apps, you can create different projects in Google Tasks, one for your school, one for your work, and so on and so forth. The task editor isn't even half as feature-rich as the others we've mentioned in this list, but it does what it does with utmost emphasis on quality and the experience. You can indeed add calendar reminders to individual tasks, and arrange them in any order you'd like.
Overall, if you were looking for only a task manager application, then Google Tasks might do your job just fine. It's minimalistic and only has the options you would need. It's available for Windows, Chrome, Android, and iOS. You can download Google Tasks on Android by following the link below :
Download Google Tasks
4. Microsoft OneNote
Coming by the king of document managing apps themselves, Microsoft OneNote is everything you would expect a fully-featured note-taking app to be. While OneNote does include itself in the Microsoft Suite of apps, you can use it standalone on Windows, Android, or even iOS. It follows the same boxy design as other Microsoft apps but has features like none other. You can beautifully color code your tasks to recognize them easily, use your creativity to draw and write in your notes yourself, and even share your notes with your loved ones. Just like Evernote, Microsoft's OneNote also features a rich editor, allowing you to clip videos, images, and GIFs while sharing your notes with others.
Microsoft OneNote is good as both a tasks manager as well as a note-taking app. You can download it from the official Microsoft website, or grab the Android app from the link below :
Download Microsoft OneNote
5. Standard Notes
Next on our list, we have Standard Notes. While nothing about the name of this service might appeal to you, but to those who care about privacy, the end-to-end encryption of this service might as well bring you to using this. While encryption is the sole emphasis of Standard Notes, it still doesn't shy away from the other features. Unlike any other apps on this list, Standard Notes gives access to external extensions, and since it is open-source, the possibilities are quite endless. You can jot down notes in the same old boring Calibri font, or even go berserk and write your tasks down in a colorful customized template – it's up to you! The mobile app is just as powerful as the web extension, allowing its users to completely stylize it with any theme of their choice.
Standard Notes is available on all platforms, and you may visit their website for more information. For Android users, you can grab the app from the Play Store below :
Download Standard Notes
6. NoteLedge
NoteLedge is yet another great alternative to Google Keep. It is best suited for creative minds, who love having a personal touch to all their notes and reminders. NoteLedge has a very rich text editor, and support for images, videos, links, and even doodles so you can sketch out literally anything you want. Moreover, you can directly record audio and video to your notes to make them even more lively. There are a dozen of drawing and handwriting tools that allow you to create some great doodles or scriptures in your own handwriting, smoothly. For a more enriched experience, you can take notes as well as record the audio at the same time. This is a great feature for university students who want to make the most out of their time while attending lectures. Even in specific notes, you can add annotations to images or documents as bookmarks which will allow you to have a better grasp of all of your notes. There are over 12 different classic paper styles that you can choose from to start writing your notes!
There are also various fonts, colors, and sizes available for your text for a more personalized and unique typing experience. When it comes to organization, you can group all your notes according to different subjects and even create covers for your notes for easy search later on. You can use the advanced sharing and sync features of this app to ensure all of your notes are backed up to the cloud as well. There is a premium version indeed which unlocks up to 1 TB of cloud storage and more editing tools, however, the free version would suffice for many. You can grab the latest version of NoteLedge for your Android device on the Google Play Store by following the link given below :
Download NoteLedge
7. Trello
If you have been an Android user for quite some time now, then you already must have heard about Trello. At first glance, it may seem like a very gimmicky note-taking app, but it is far greater in potential than just that. Trello is meant for those individuals who want to get their lives on the track by hook or by crook. It is also best suited for working environments where there is a lot of teamwork required. Thus, many small, as well as bigger agencies, use Trello's premium subscription to make sure their teams are working as they should, with top-notch effectiveness. However, even as an individual user, Trello offers a great set of features to hone your daily life and get your tasks done. Before we even talk about the features it has, the user interface is an absolute joy to use, with colorful and big elements everywhere.
Coming to the features, Trello offers customizability where the sky is the limit. You can have your dashboard laid out in any way you want, one which suits you the best. Trello makes use of the card and board layout to display all of your tasks on the homepage. Creating new tasks is simple, and within them, you can create checklists, labels and even add reminders for due dates. You can easily drag all of your cards to organize them just the way you want. While there is a lot to talk about Trello, we believe using it once would have anyone addicted to its features and design. You can grab the latest version of Trello for your Android device on the Google Play Store by following the link given below :
Download Trello
8. Simplenote
Next up on our list is Simplenote, which is a great way to store notes and access them later. This note-taking app is built by Automattic Inc. which also happens to be the organization that built and runs WordPress. This gave us a strong feeling of comfort knowing that their note-taking app will obviously have a very pleasant experience while using it. And sure enough, we were right. The moment you open the app you are greeted with a very minimal layout. There are no complicated menus, no cards, or even options visible at first glance. So one could say that Automattic's Simplenote really holds true to its name. Appearance-wise, it looks almost like a Microsoft-inspired app, although it does have a few trails of Material Design in it. In the settings, you can also choose between a dark and a light theme. Since the app is mostly just a single color, we feel the dark mode will be a true eye saver for most.
Coming to the very few features it has, you can easily access the hamburger menu by swiping in from the left. Here, you can have a glance at all your tags which you can edit. While creating a new note, you can add a checklist and images and that's about it. There are no fancy and gimmicky features. Probably the best feature of this app is the seamless sync that takes place in the web and mobile clients. So if you already use WordPress quite heavily, having the web version of this app also eases things out for you by quite a bit. You can grab the latest version of Simplenote for your Android device on the Google Play Store by following the link given below :
Download Simplenote
9. Dropbox Paper
Dropbox Paper is also a very compelling alternative to the likes of Google Keep. We have it on our list only because of the simplicity in design and yet the powerful set of features that it offers. So if you are an already existing Dropbox user, we feel this app will tie in very well with your ecosystem. The design and user interface of this app are very clean, with a dual-tone color space. The menus are well spaced out, and the icons are big. So even to first-time users, Dropbox Paper is a very welcoming note-taking app. It also excels in team management and work-related tasks, just like Trello. You can add users to your notes for collaborations and even keep track of everyone's progress thanks to the comment section and mentions. You can effortlessly sync all of your notes between the desktop and mobile clients and have all of your data securely backed up to the Dropbox cloud. You can grab the latest version of Dropbox Paper for your Android device on the Google Play Store by following the link given below :
Download Dropbox Paper
10. Zenkit
Up next on our list is a wonderful app called Zenkit. It has way more features than Google Keep or its other alternatives and it offers some very useful tools. Think of Zenkit as an all-around productivity app that keeps you and your team with their tasks in check. The app features all sorts of different views to catch a glimpse of all of your tasks organize and plan them accordingly. The app's UI seems to be inspired by an iOS-like design language but that's fine since everything is responsive and works flawlessly.
You can create different tasks, label them, and set individual reminders. The Kanban board, mindmap, and calendar views allow you to organize all of your tasks for the week or the month even more efficiently. If you have a team working with you on a project, you can add them all and assign them different tasks under the same project. You can also view all of your team members in a hierarchical structure. Zenkit is definitely a power-user to-do list app and is meant for people who want to manage complicated projects and lead a team.
We wouldn't recommend it for people who want a simple and minimalistic app that just allows you to add tasks for the day and check them off later. In any case, Zenkit is one of a kind and is suitable for smaller organizations. You can grab the latest version of Zenkit for your Android device on the Google Play Store by following the link given below :
Download Zenkit
11. PotatoNotes
The next alternative to Google Keep on our list is PotatoNotes and it actually is brought by a developer of a custom ROM named the Potato Open Sauce Project (POSP). The ROM as well as the app both follow a very material UI-inspired theme and are highly responsive with long and eye-catchy animations. At first glance, PotatoNotes almost seems like a carbon copy of Google Keep Notes with the way all of your notes are laid out in sticky posts on the dashboard. However, the app offers many other features that Keep Notes just doesn't have.
You can lock specific notes to keep them away from prying eyes. The app supports a dark mode and you can also set it to trigger automatically based either on the time of the day or the device theme. You can also choose your own accent color and this makes the app feel personalized and very different from others. The app also features online backup and sync so you don't have to worry about losing any of your notes while migrating phones.
The advanced search box also lets you look for notes with specific tags and labels which makes sorting them easier. There are many other features that PotatoNotes has to offer and is in our opinion the best alternative to Google Keep thanks to its streamlined user interface and ease of use. You can grab the latest version of PotatoNotes for your Android device on the Google Play Store by following the link given below :
Download PotatoNotes
12. Samsung Notes
Next on our list is Samsung Notes. A good percentage of Android users have a Samsung-based device, and if you do too, you already should have an app called Samsung Notes installed on your device. While it might seem like bloatware, it actually has a lot of cool and powerful features to create notes. For instance, you can use your S-Pen if you own a Galaxy Note device to effortlessly write just like you would on a piece of paper. There are a plethora of different editing options such as font, color, and text size to choose from while making your own notes. You can also securely lock all of your notes with a password, so only you have access to them. Even if you aren't a Samsung user, we feel trying this out would be a good idea. Just like a few of the other note-taking apps on this list, you can add images, audio, or video to your notes for a more personalized touch. There are various brush settings to emulate a real drawing experience, such as being able to choose the brush size and mixing colors. You can grab the latest version of Samsung Notes for your Android device on the Google Play Store by following the link given below :
Download Samsung Notes
13. BlackNote Notepad Notes
Up next is a minimal note-taking app that all dark-mode fanatics will enjoy the most. BlackNote is a very simple alternative to Google Keep and its primary focus is to relieve eye strain by using simple elements and a black background as opposed to most note-taking apps that usually use fancy colors or a bright white theme.
Besides the ability to lock your notes and change the font size, there isn't much to talk about this app in particular. All in all, if you're into a minimal note-taking experience, BlackNote is an app you need to check out!
Download BlackNote
14. ClearNote Notepad Notes
Coming from the same developer, ClearNote is the opposite of BlackNote and makes use of fancy colors to keep your notes organized and color-coded for ease of use. It essentially has the exact same user interface, just without the black background and with color options to customize your notes. Still, ClearNote is a very simple note-taking app that just works.
Download ClearNote
15. OnePlus Notes
If you have a OnePlus device, then you don't really need to install a third-party notes app since there's one that comes pre-installed. While it lacks a few features, it is more than enough for basic note-taking and for making to-do lists. The app has a clean UI that follows the guidelines set by other OxygenOS apps.
You can customize your notes, add images, text, create lists, and to-do items as well. The app lets you pin any important notes so you don't accidentally lose them in the clutter. You can also easily share your notes with others using the share shortcut. Overall, if you can't be bothered to install a third-party app, the OnePlus Notes app might just work out well!
Download OnePlus Notes
That's been our coverage on a few of the best Google Keep Alternatives! If you enjoyed our list, then make sure you stick around for more such articles.