In this post, we will share the top 7 list of Free Calling Apps for Android devices. You can download it and enjoy unlimited free calling to anywhere without spending any bills.
Ever since mobile technology was introduced decades ago, call connectivity services have skyrocketed like crazy. Every year brings more and more demand for audio and video calls, and with great advancements in technologies like the recently announced 5G networks, it's great future humanity is headed to in terms of technology. However, this has also sprouted birth to an ever-increasing toll charge for audio and video calls, some even billing the user by tens and hundreds of dollars every month.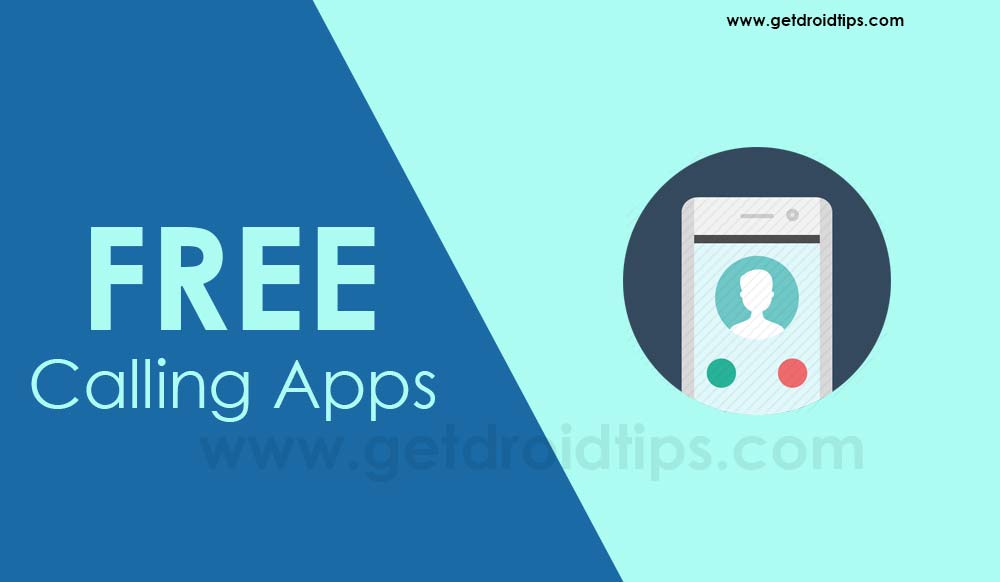 What's the Solution?
In our opinion, when everyone around is already paying for the internet at home and the mobile data in our carriers, it makes little to no sense to still stick to the traditional voice calling methods over cellular networks. Now that everyone is connected to the internet at all times, the inception of WiFi-based calls has favored us only for the better. But which are the best apps you should consider for such a task? Clearly, there is a lot that depends on you trusting a service with your audio and video calls.
Well, a good thing for you. since we have your backs covered. Down below is our article going over what we feel are the top 5 applications available for Android (and numerous other platforms) which allow free calls over the air. All the apps have been tried and tested by yours truly, and we have summarized in brief everything we like about each of the apps we've picked and why you might find it intriguing. Without any further delay, let's hop into our top 5 list for the Best Free Calling Apps for Android devices!
Top 8 Free Calling Apps for Android devices
All the apps mentioned below are available at least for Android and iOS, so if you have any loved ones with an iPhone, this list shouldn't let you down. Another thing to take note of is while these apps do not consume any of your cellular data, these will add up to your monthly internet access bill. However in most places, the users have already paid for unlimited bandwidth, in which case, everything about these apps is going to save you money.
1. WhatsApp
Coming in at first, we have WhatsApp – an app that probably needs no introduction to. It's been available on numerous platforms for ages and has refined itself over the years. WhatsApp started off as a chatting application, and it went on without any audio calling features until recently. Although new, the WhatsApp audio and video call functionalities work really well and are definitely more than just reliable. You'll need a WhatsApp account registered on your current mobile number for this to work, but the entire application is a big ecosystem that all your friends are probably already signed up for. Other merits of choosing WhatsApp as your default audio calling app is useful features like being able to take the calls up in the background without any latency, and being able to conference call a group of friends or family members.
Overall, if you're already using WhatsApp for its chatting services, it's high time you try it ours as your default calling service. WhatsApp is an end to end encrypted too, so privacy is something you shouldn't be worried about at all. You can download WhatsApp for your Android device by following the link below :
2. Hangouts
Google Hangouts is the successor to the known-for its reminiscence Google Talk, and everything about the new reincarnation is great. First of all, it's made by Google, for Android which means zero to none bugs or connection drops, but secondly, you receive timely updates with exciting features added every few months. Not only can you use Hangouts to audio call your best pals, but it supports over 10 people in a single video call, which is absolutely amazing. Hangouts is also obviously a chatting service before it is a calling one, but all aspects of Google Hangouts are great and work flawlessly. All audio calls are crisp clear, even better than WhatsApp in our opinion, which tends to reduce the quality to favor connection. You can ping your contacts before you call them, and even if they're offline, Hangouts will notify them afterward so they can get back to you as soon as possible.
If you're tied in with the Google ecosystem, then you must definitely try our Hangouts. It supports cross-platform calling as well. You can download it on Android by following the link below :
3. Messenger
Facebook Messenger is quite a wonderful application to use as a standard means of communication. Despite the recent backlash on Facebook for intruding on user's privacy, Messenger is a service of its own. What we love the most about Messenger is its unique and gorgeous UI. All the buttons and toggles are big, bold, and very colorful. Messenger has strong audio and video call functionalities too, all while maintaining a great connection throughout your talk time. When you're not using Messenger to call somebody, chatting with it is another leisure. Users can enjoy the custom emojis, stickers, GIFs, and much more that's built right into Facebook's Messenger. Recently, Messenger unveiled a feature where you can easily send money to your contacts using PayPal or directly using your Debit Card. All these features tie in nice when you have a great design to stare at, and with great touch responsiveness to top it all off.
If you're considering trying out Messenger, you may grab the Android version of the app which is ever-updating, down below :
4. Line
This app is much more popular in the Asian regions than it is anywhere else in the world. The application does have quite a boring design, but its calling services are truly exceptional. In my time using Line, I experienced the best quality I ever did over a WiFI based call. You can also make multiple conference calls, all without even spending a single penny. The line is also a great chatting application, with thousands of sticker packs to choose from, and instantly being able to share media like photos and videos to your loved ones. The app has over half a billion downloads on the Play Store, making it a crowd's favorite.
You can choose to install Line on your Android device by following the link below :
5. Skype
Next up on our list for the Best Free Calling Apps, we have the OG service of choice – Skype. Even though many people believe the glory days of Skype are now finished and taken over by services like WhatsApp, it still remains to be the most used video calling application on many ecosystems, including Android. While all the other apps on this list are already well-known as chatting clients, Skype originated with the idea of bringing loved ones together through audio and video calls the first. Even to this day, Skype has excellent servers, and with a design so familiar and nostalgic, it's really hard to beat Skype to find a better video calling application. Over the years, Skype has also had developments in its chatting services as well. Users can share exciting jokes and news at the tap of a button and select a dark theme to soothe the eyes in the dark.
Skype is available on a host of devices, including Android, iOS, macOS, Windows, and Ubuntu. If you're interested in giving Skype a try, you may download it for your Android device using the following link :
6. Dingtone
Coming in the 6th place, we have yet another great service that will let you connect with your loved ones free of cost. Just like any other messaging platform, Dingtone also requires you as well as your contact to be using the app to make or make free calls over WiFi or mobile data. However in case, the contact at the receiving end does not have Dingtone installed, you can always go through with a real phone call, although this will cost you money. The app deals with this in a credit system of its own, and usually it is quite cheap. But if you and your contact both have Dingtone installed, you can enjoy high quality calls free of cost. The user interface of this app is quite lovely, and modern too, thus making it a joy to use. First-time users will not be confused since the app does not house any unnecessary gimmicky features, and only provides the ones that you will find helpful. In case you do not feel like taking a call, you can also use this app to chat with your friends or family members instantly. With Dingtone, you also get a free US number, and this can be used to place international calls at a much cheaper rate than your own local network provider would charge you.
Overall, Dingtone is a great way to take or make calls to your friends or family free of cost if they have the app installed as well. You can download the latest version of this app for your Android device by following the Google Play Store link given below :
7. Google Duo
Coming up next, we have Google Duo. While Duo is more oriented towards video calling, we find this will satisfy the needs of many users out there whose first priority was video calling itself. It is not a surprise that Google has had a bad track record when it comes to instant messaging and calling apps, but it seems like Google Duo is here to stay, unlike its brother – Allo. With Google Duo in hand, making video calls is really fast and easy, and above all – completely free. The only requirement is a good enough internet connection to work with, and having Google Duo installed on both the caller's devices. The app is extremely minimal in the user interface as it adopts Google's Material Design v2, and is also highly to the point. You won't notice any rubbish gimmicky features like many other video calling apps tend to showcase. All you get is a contact list where you can quickly video call anyone you want to. When it comes to calling quality, people all over the world have regarded Google Duo as one of the best video calling experiences on a smartphone. Really the only downside we could find with this app is that you can only place video calls and nothing else.
However, if your first priority was to take or place video calls to your loved ones for an even better and real to life experience, then Google Duo is just the right application for you. You can download the latest version of this app for your Android device by following the Google Play Store link given below :
8. Discord
Ending our list of some of the best free calling apps for Android phones, we have Discord. While Discord is not primarily made just for calling people, it sure can handle just that one task very well. Discord, for those of you who are unaware, is a massive social platform that connects people of different interests together. Most of the Discord's use comes in the form of group messaging and group calling. Discord is particularly popular among gamers, who like being in a call with the friends they are playing with. However, if you can your friend both have a Discord account and the app installed on your phone, you will be able to voice or video call each other for free! The call connection is spot on and the app is very well designed for phones. You can also text chat with your friends, send them stickers, GIFs and even explore the wonderful world of Discord bots and find out everything they can do.
We wouldn't recommend Discord to someone who just wants a simple app that calls someone for free, although it can do that very well. Overall, as a voice and video calling service, Discord doesn't disappoint one bit. You can download the latest version of this app for your Android device by following the Google Play Store link given below :
That just about concludes our top picks for some of the best Free Calling Apps for Android devices out there. Which one do you use, and do you think our list is justified? Do let us know down below, we'd be delighted to hear your opinions!