The narrator is one of the accessibility features on Vizio Smart TVs. It's a very much helpful feature for individuals with visual impairments or reading difficulties. By listening to the text appearing on the TV screen, they can easily navigate the interface. However, not everyone is a great fan of the narrator feature. I also don't want my Vizio TV to read aloud the text showing up on the screen. Thankfully, turning off the narrator on Vizio Smart TV is a quick and easy process.
In this guide, I will tell you how to turn off the narrator on Vizio Smart TV in a step-by-step manner.
To turn off the narrator on your Vizio Smart TV, access the "main menu" and select the "System" option. Then, go to the "Accessibility" options, find the "TalkBack" option, and turn it off. Select "Exit" to confirm the settings changes.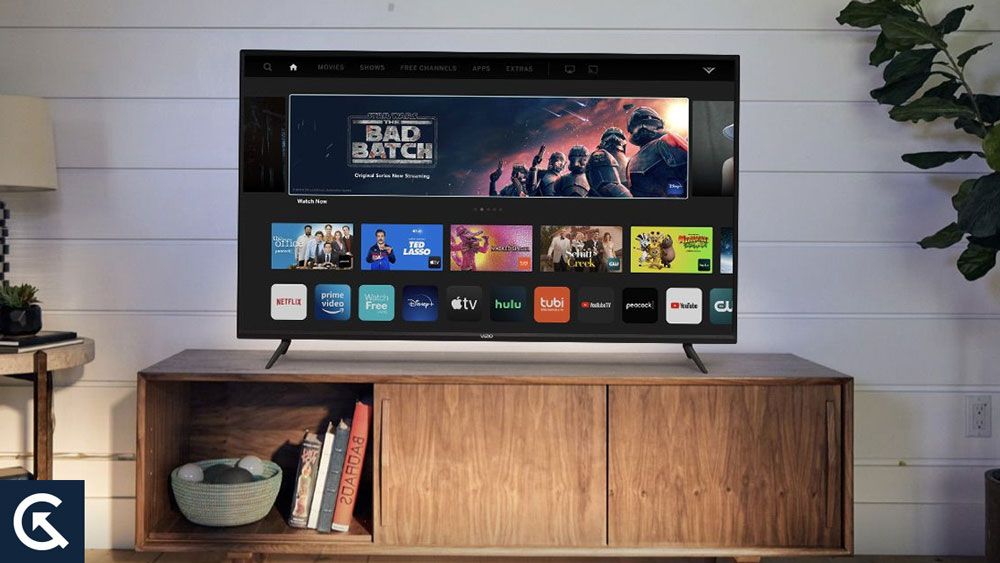 Why Does My Vizio TV Keep Reading the Screen?
If your Vizio Smart TV reads all the text you see on your screen, someone has accidentally or deliberately turned on the TalkBack feature. It's an excellent accessibility feature for people with visual or hearing impairments.
TalkBack is a built-in feature on Vizio Smart TVs. Not just Vizio, other TV manufacturers such as Sony, Samsung, and TCL also have this feature.
If you don't want the narrator (or TalkBack) on your TV, follow the steps in the next section to disable it within a minute.
Vizio introduced TalkBack back in 2017, along with a couple of more accessibility features. It allows easy navigation for visually impaired persons. However, the TalkBack feature on Vizio does not work with satellite boxes and streaming apps like Prime Video, Netflix, etc.
How to Turn Off Narrator on Vizio Smart TV
Disabling the narrator (or TalkBack) feature on Vizio Smart TVs is an easy and straightforward process. Here are all the steps you need to follow:
Power on your Vizio Smart TV.
Press the MENU button on your TV remote.
Use the arrow buttons to highlight the System option and hit the OK button.
Scroll down to Accessibility from the available options and press the OK button on your remote.
Find the TalkBack option and toggle it off.
Press EXIT to save the changes.
That's it. Now, your Vizio TV should not read anything displayed on your TV screen. On some older Vizio models, you may not find the "TalkBack" option. If so, look for the "Narration" or "Voice Guidance" option and disable it.
Even after turning off the TalkBack option, if your TV keeps on reading the screen, there are a few solutions you can try. We've included them in the next section.
Vizio TV Narrator Not Turning Off? Try These Fixes
Sometimes you follow the right steps but things do not go in your favor. If you have carefully followed the steps mentioned in the previous section but still hearing the annoying audio description, there are a couple of solutions to try.
First of all, make sure that you've actually disabled the TalkBack feature. You must choose EXIT (as mentioned in step 6) for the changes to take place. Otherwise, the narration won't stop.
Go to the accessibility options and make sure TalkBack is disabled. If the problem persists, probably it's being triggered by a software glitch. Power cycling your Vizio TV should do the trick.
To power cycle your Vizio TV, unplug the power cable for a minute and then plug it in again.
If everything else failed, try performing a factory reset as the last resort. It will sort out all software problems on your TV. Before I tell you the steps, please keep in mind that factory reset deletes all saved Wi-Fi passwords, paired Bluetooth devices, and all saved files on your TV.
Steps to factory reset Vizio TV:
Power on your Vizio TV.
Press the MENU button on your TV remote and select System.
Navigate to the Reset & Admin option and press the OK button.
Choose the Reset TV to Factory Settings options and press OK.
The factory resetting process should begin. Your Vizio TV will reboot automatically. Once the process is complete, you'll need to set up your TV again.
Exploring Accessibility Options on Vizio TV
TalkBack is not the only accessibility option for Vizio TVs. There are several more, that should know about to take full advantage of your Vizio TV. They can come in handy anytime, only if you have knowledge about them.
Voice Guidance
This is another name for the "TalkBack" feature that we've explored throughout this guide. It is a speech-to-text function that reads aloud all the text on the screen. So, you can easily navigate through different options on your TV without even looking at it.
Since we've already talked about it so much in this guide, I'll delve deeper into it. Rather, let's focus on other accessibility features.
Zoom Mode
As the name suggests, it enlarges the text displayed on your TV screen. The aspect ratio remains intact as it has nothing to do with that. It's an excellent accessibility feature for older people as they prefer reading large text.
Constantly reading small texts can sometimes cause headaches. If you feel the same, try the Zoom mode.
Sadly, Zoom mode won't work with streaming apps like Prime Video and Netflix. But, they have built-in accessibility features.
Speech Rate
If you wanted to disable the narrator (or TalkBack) feature just because you don't like the speech rate, you can adjust it via the accessibility options. Just go to the Accessibility options on Vizio Smart TV and set the speech rate that suits your ears.
You can choose from three speech rate options – slow, fast, and normal.
Closed Captioning
Only Vizio TVs with a built-in turner have the closed captioning accessibility feature. You can easily find it within the Accessibility options on your TV.
The majority of television shows transmitted through cable, airwaves, and satellite include an embedded closed captioning function within their code. Sadly, YouTube does not support Vizio closed captioning. But, there's nothing to worry as YouTube has its own version of subtitles.
Final Words
Although the narrator (or TalkBack) feature on Vizio Smart TV is helpful, not everyone likes it use it. Thankfully, disabling it only takes a couple of key presses on your TV remote. I have included all the steps in this article. Apply them on your TV and get rid of the annoying narrator.
If you are disabling the narrator just because the speech rate is either too fast or slow, hold on! Using the Speech Rate accessibility feature, you can customize it. Also, read about other accessibility features on your TV.