This time Apple has changes its camera department and some of the exclusive camera features to the latest iPhone 11 series devices. Most noticeably, the ultrawide-angle camera lens offers a pretty good portion to cover with quite detailed image quality. All three latest iPhone 11 lineup devices have a 120-degree field of view depth sensor with 5-element lens (f/2.4). If you don't know how to use the ultra-wide-angle camera on iPhone 11, 11 Pro, and 11 Pro Max, check out the guide below.
When you open the iPhone 11/11 Pro/11 Pro Max stock camera app, it uses the standard camera lens. Now, if in case, you want to take a group photo from a close distance or a large object that doesn't come within the frame, the ultrawide-angle lens will always come in handy. The landscape 120-degree field of view will offer a wider, crisp, detailed images on the daylight condition. But keep in mind that the iPhone 11 series doesn't have an OIS in the Ultra-Wide camera lens. So, don't shake your hands too much.
Meanwhile, the Night Mode of iPhone 11 series devices is one of the most appreciated and highlighted features. But if you want to capture night mode images via Ultra-Wide lens, then it's not possible. There is no Night Mode in the Ultra-Wide camera lens. You can just use it on the daylight conditions really well than other flagship ones. Now, let's jump into the steps below.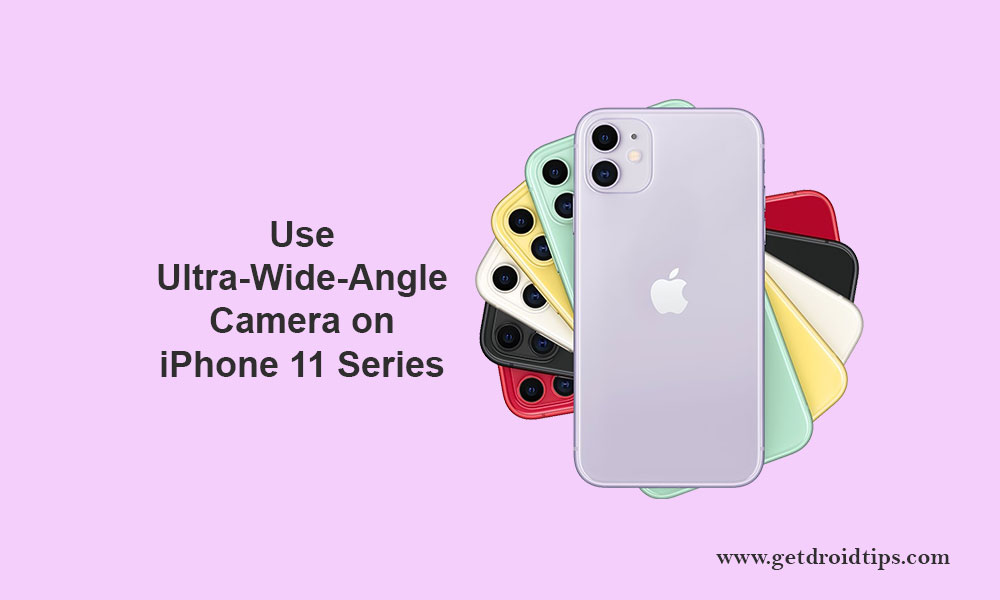 Steps to Use Ultra-Wide-Angle Camera on iPhone 11, 11 Pro, and 11 Pro Max
Launch the stock Camera app on your iPhone 11 series.
From the camera app interface, you will need to tap once on the 1x to switch to the Ultra-Wide camera lens mode [0.5x]. (Located above the shutter button)
Now, keep your iPhone steady enough, tap to focus, and tap on the shutter button to take a stunning image.
Tip:
You can also press and hold the zoom button to rotate the dial manually to zoom in or out within 0.5x to 5x maximum. The 0.5x is on 13mm and 1x is on 26mm length.
That's it, guys. We hope you've found this guide useful and now you can easily use the ultra-wide-angle lens on your iPhone 11, 11 Pro, or 11 Pro Max. For any queries, you can comment below.