This guide is to Unlock Bootloader on HTC 10 Smartphone. If you unlock bootloader you may void the warranty. By Unlocking Bootloader you can install TWRP, Flash Rooting Zip file, or custom ROM on your phone. Read more about What is unlocking below. Follow this guide on How to Unlock Bootloader on HTC 10. Try this only on HTC 10 smartphone. This method to unlock the bootloader on HTC 10 is simple to follow. But please do read the steps below carefully.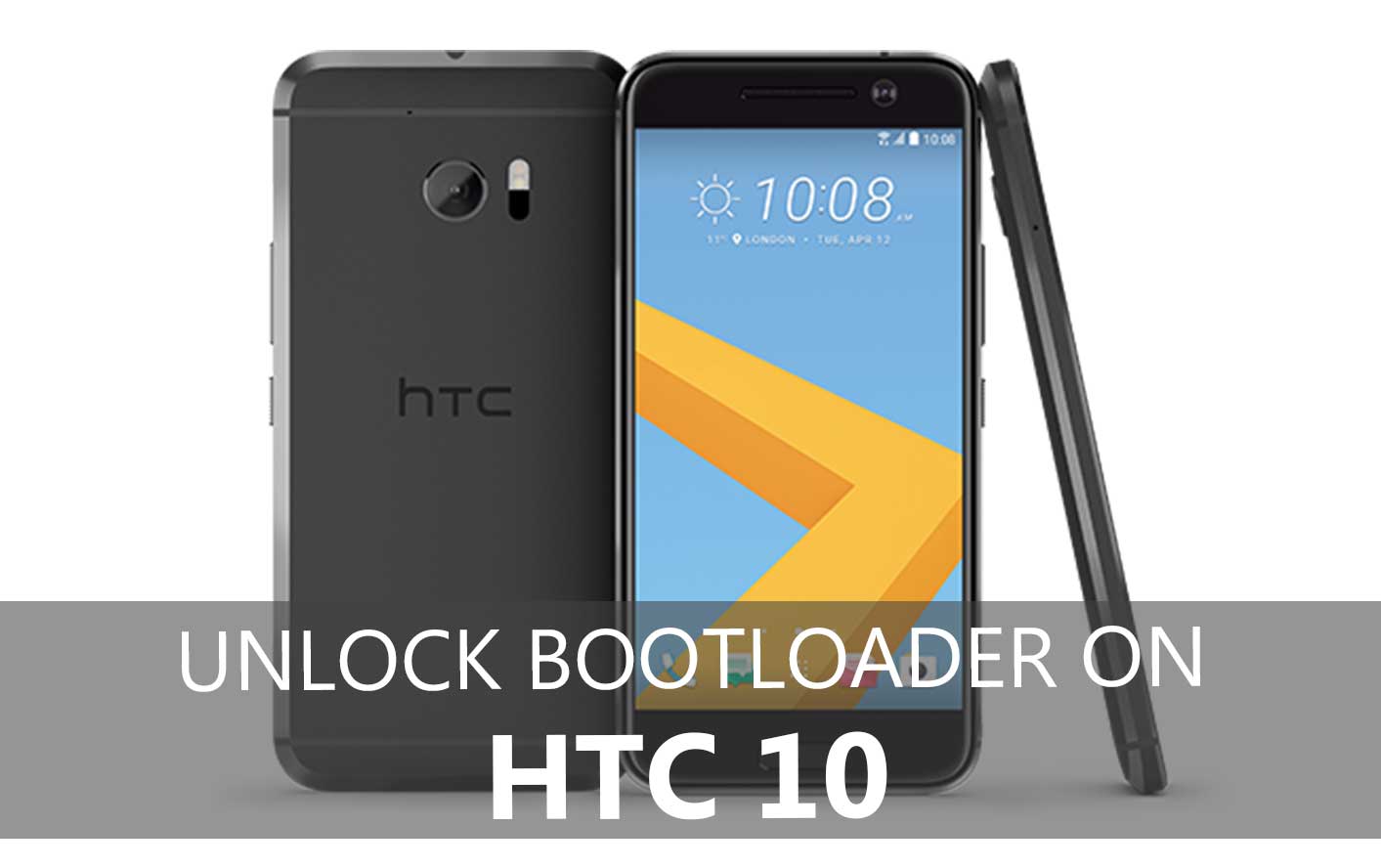 What is Unlock Bootloader ?
A Bootloader is a code that runs when we turn on our device. This code initializes some hardware and then loads the kernel and ramdisk, and gets the boot process going. So this process is known as Bootloader. The same concept applies to all the technical stuff such as Laptop, PC, Smartphones, and any such device. Every Android OEM manufacturers lock the bootloader even though it is Open Source. So if you want to try any CUSTOM ROM, it is impossible to load the CUSTOM ROM without the Unlock Bootloader. So Manufacturer made a policy of making the smartphone with an Unlocked Bootloader will void the warranty. They want you to stick with the Stock ROM. Unlock Bootloader allows you to Root your android smartphone, Flash TWRP, and Custom ROM in a simple easy method.
PRE-REQUISITE TO UNLOCK BOOTLOADER ON HTC 10
Charge your phone up to 80% or 70%
Go to htcdev.com and Sign up/Register. (You can log in if you already have a Username and Password)
You will Lose a warranty if you unlock the bootloader, So prepare for it.
Unlock Bootloader may wipe all your data, So make sure to Backup your Smartphone.
Make sure you have followed the steps properly. Don't Skip and Read! – We are not responsible for any damage that you make to your phone.
What Do You need ?
Download Minimal ADB Tool – CLICK HERE or Download the Full ADB setup for Windows / Mac here
Download HTC Drivers : Click Here
Download the following fastboot binary for your OS using the following links:

Platform

Download

Size (bytes)

Checksum

Fastboot binary, Linux
(Unzip the file before executing)
fastboot
61887
ffd3b02cdf9aa7609462e3957663d238
Fastboot binary, OS X
(Unzip the file before executing)
fastboot-mac
59071
0b3e2a8c5cfeb7c23b362483b93f7dd6
Fastboot binary, Windows
(Unzip the file before executing)
fastboot-win
83753
a90c25141e306b3062dc8e47e14a1005
STEPS TO UNLOCK BOOTLOADER ON HTC 10
First of all enable the Developer OptioTo Enable the Developer Option, Go to your Settings -> About -> Software Information -> More -> Now Tap on the Build Number 7-8 Times until you see a toast message "Developer option enabled"
Go back to settings -> Now you need to enable the OEM Unlock by going to Settings -> Developer Option and Enable OEM Unlock and USB Debugging

Now in your PC/Laptop, open the website called HTCDev.com and Put in your Username and Password to login. If you don't have login ID, you can register anytime.
Once you logged in. Click the option Unlock Bootloader and click on "Get Started".
Now Select your device – HTC 10 from the drop-down (See Screenshot)
Once you click on Unlock Bootloader button, you will get a pop to continue and agree on the legal terms before proceeding to unlock.
Download the ADB and Fastboot ZIP and Extract them on your computer
Also Download HTC Drive from above download link and install it on your PC/ Laptop
Download the Fastboot binary for your computer from HTC website or from above Download link of our website
Extract the Downloaded Fastboot Binary to your PC
Now connect your phone to Computer using USB Cable.
When you connect your Phone to Computer, please wait until all the drivers get installed.
Once your drivers are installed, make sure to move the adb fastboot (step 7) extracted files to the Downloaded Fastboot binary folder which you extracted in the step 9 and 10
In your fastboot binary folder open a command prompt window by pressing Shift Key + Right Mouse Click
Now type the command in your command window

adb devices

If you see a pop up to allow USB Debugging on your phone, Click OK

Now type the command below to reboot your phone to bootloader

adb reboot bootloader

Once your phone reboot into bootloader, make sure your phone shows the bootloader locked with security S-ON, if it shows then type the command below to make sure fastboot drivers are installed properly.

fastboot devices

This command will list the connected devices. If your phone's serial number shows up you are good to go and may continue. If the phone is NOT listed this indicates that your drivers are not installed correctly. In order for you to continue you must fix your drivers so that your phone is listed under fastboot devices.
If the phone has been recognized by the command above, proceed to boot into bootloader by tapping down the volume down button on your phone and select the BOOT TO DOWNLOAD MODE option with power key. Now you can unlock the bootloader with the following command: Remember that this step will wipe EVERYTHING off the phone

fastboot oem get_identifier_token

Now Copy the token from

<<<< Identifier Token Start >>>> with the line ended

<<<<< Identifier Token End >>>>>

(Note: Only copy the highlighted sections above. Do not copy the INFO or (bootloader) prefix)

Now Paste this string of text into the token field in HTCDev website and hit Submit in order to receive your unlock code binary file. You will receive this information in your email.
You will receive a email from HTCDev website. Download the attachment Unlock.bin from email and Click the link and proceed to unlock.
Now move the downloaded Unlock.bin to the fastboot binary folder from the step 14
In the Command window, type

fastboot flash unlocktoken Unlock_code.bin

Once you unlocked you will have a pop up screen on your phone
Click Yes abd Reboot.
Click Enter and That's it ! Voila.! You have unlocked bootloader !