WWE 2K23 is finally live as a professional wrestling sports video game by Visual Concepts and 2K Sports which is the 23rd installment of the title under the WWE 2K franchise. This game includes more than 100 Superstars, two dozen of arenas, around 14 championship belts, Legend, and more since its launch, and obviously, dozens more are imminent soon available on the disc at launch. Though you can unlock each item and achievement by completing objectives and tasks or can be purchased from the in-game store, players are asking Is There Unlock Everything Cheat for WWE 2K23?
For the WWE 2K fans who haven't been lucky enough to grab the Season Pass yet, the chances are high that some items won't be immediately available at the start of the game. In terms of the Superstars, Arenas, Legends, and Title Belts, there are a huge number of items that are locked and cheat codes are one of the feasible ways to access those items. With keeping all in mind, now let's take a quick look at all the possible and easiest ways to unlock everything in WWE 2K23.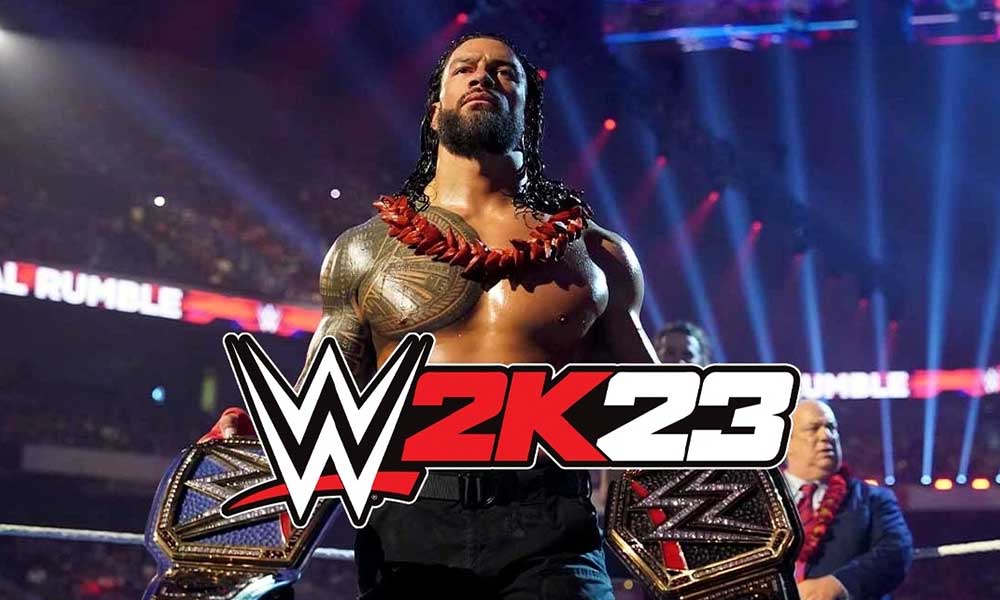 Is There Unlock Everything Cheat for WWE 2K23?
Well, cheat codes are always one of the interesting ways to unlock or achieve something in video games without wasting too much time or any kind of skill. Though some games don't allow cheats and some games don't have enough cheats, WWE 2K23 allows players to do the same which seems cool enough. Whether it's related to unlocking everything in the game or just enjoying the game possibly at the ultimate level, cheats can be too much fun for most players.
The WWE 2K23 title lets you unlock new characters, costumes, match types, etc by using cheat codes. Here we've provided a list of every WWE Superstar, Legend, Arena, and Championship that you can unlock in WWE 2K23. Do keep in mind that if you have the Supercharger add-on that comes with the Deluxe or Icon editions of WWE 2K23, all the unlockables from the in-game store will be unlocked instantly.
Easiest Ways to Unlock Everything
Plenty of unlockable items require VC/Tokens to access them in the WWE 2K23 game but some also require the actual gameplay of the Showcase and MyRISE modes to achieve new items or modes. If we talk about the quickest way to unlock all of these items in WWE 2K23, there is no better way to pre-order bonuses or purchase the Season Pass. In another way, you can just keep playing the game and complete the required tasks to unlock everything in multiple stages.
Whereas by using the purchased bonuses or Season Pass, you'll be able to get premium features without worrying about the VC. But one thing you should remember is that you can't unlock hidden items which are under specific modes like the John Cena Showcase Mode and parts of MyRISE. So, you'll have to play through the game to complete John Cena Showcase Mode and parts of MyRISE. Alternatively, you can try using the traditional method of farming VC to unlock all of the items in WWE 2K23 which might take some time.
Another quickest way to unlock VC in WWE 2K23 is by playing through matches and achieving a high star rating. Whereas Extreme Rules matches tend to appear to be another possible way to get high star ratings including memorable moments by improving the overall match rating for sure.
Please Note: Currently, there are no actual possible ways to unlock everything in WWE 2K23 using cheat codes. As time goes on, cheat codes will be available for sure.
WWE 2K23 Season Pass and Unlockables
The WWE 2K23 Season Pass will bring plenty of exciting features and content for you that might increase your interest in game modes. As this title includes the MyRISE Mega-Boost, 200 additional Attribute Points, Supercharger, etc that basically unlocks all base-game WWE Legends & features access to five DLC packs containing over 20 new superstars. With the DLC packs now confirmed, you know that you'll have access to superstars such as Bray Wyatt, Wade Barret, and Eve Torres, as well as gaining access to the biggest and best WWE legend available in the game.
You can get plenty of unlockables in WWE 2K23 from legendary Superstars to iconic Title Belts. Around more than 100 items it can be unlocked using VC in WWE 2K23. But some of them will also require to be unlocked through the completion of MyRISE modes or the John Cena Showcase.
2K SHOWCASE:
There are 16 matches to unlock most of them in 2K Showcase mode.
MATCH 1
Superstars: Rob Van Dam, John Cena '06
Arena: ECW One Night Stand '06
Championship: WWE Championship '05-'13
MATCH 2
Superstars: Kurt Angle, John Cena '02
Arena: Smackdown '02
MATCH 3
Superstar: Undertaker '03
Arena: Vengeance '03
(Additionally, Cena's U Can't See Me entrance is unlocked for use in Creation)
MATCH 4
Superstars: The Undertaker '18, John Cena '18
Arena: Wrestlemania 34
MATCH 5
Superstars: Triple H '08, John Cena '08
Arena: Night of Champions '08
MATCH 6
Superstars: AJ Styles '06, John Cena '16
Arena: SummerSlam '16
MATCH 7
Superstars: Edge '06, Lita '06, John Cena '06 (alternate attire)
Arena: SummerSlam '06
MATCH 8
Superstars: Edge '06 (alternate), Lita '06 (alternate), John Cena '06 (alternate)
Arena: New Year's Revolution '06
MATCH 9
Superstars: Roman Reigns '21, John Cena '21
Arena: Summerslam '21
MATCH 10
Superstars: The Rock '12, John Cena '12
Arena: Wrestlemania 28
MATCH 11
Superstars: Brock Lesnar '14, John Cena '14
Arena: SummerSlam '14
Championships: World Heavyweight Championship, WWE Championship '13-'14
MATCH 12
Superstars: Brock Lesnar '03, John Cena '03
Arena: Backlash '03
Championship: WWE Undisputed Championship
MATCH 13
Superstars: Batista '08, John Cena '08
Arena: SummerSlam '08
MATCH 14
Superstars: Randy Orton '09, John Cena '09
Arena: Hell in a Cell '09
MATCH 15
MATCH 16
Superstars: Hulk Hogan, Bruno Sammartino
MYRISE: THE LEGACY AND MYRISE: THE LOCK
SUPERSTARS:
Ezekiel: Complete the "Showcase of the Immortals" mission in MyRise: The Lock.
Jean-Paul Levesque: Complete "The Monarchy" chapter of MyRise: The Lock by beating Levesque with Tavish.
Mighty Molly, Molly Holly, and Molly Holly '02: Complete MyRise: The Legacy.
Additionally, you can unlock 10 arenas by completing MyRise, both The Legacy and The Lock:
Raw 2002
WWE Live Event Arena
BCW High School Gym
Motion Capture Studio
Club UK
Japan Dome
Japan Hall
Mexico Plaza
SummerSlam MyRise
WarGames MyRise
WWE 2K23 UNLOCKABLES AT THE IN-GAME STORE
SUPERSTARS
The mentioned Superstars are available in the WWE 2K23 game store for 1,000 VC individuals (You can buy a minimum of 15,000 VC for $4.99). These Superstars can be unlocked for the players who have the Supercharger DLC added in the Deluxe or Icon editions.
Andre the Giant
Batista
Beth Phoenix
Big Boss Man
Bobby "The Brain" Heenan (manager)
Boogeyman
Booker T
Bret "The Hitman" Hart
Brie Bella
British Bulldog
Cactus Jack
Chyna
Diesel
Doink the Clown
Eddie Guerrero
Eddie Guerrero '97
Eric Bischoff
Faarooq
Goldberg
Hollywood Hulk Hogan
Hulk Hogan '02
Jake "The Snake" Roberts
JBL
Jerry "The King" Lawler
Jim "The Anvil" Neidhart
Kane
Kane'08
Kevin Nash
Kevin Nash (NWO)
Macho Man Randy Savage
Maryse
Nikki Bella
Razor Ramon
Rey Mysterio, Jr.
Rikishi
Rowdy Roddy Piper
Scott Hall
Scott Hall (NWO)
Shane McMahon
Shawn Michaels
Shawn Michaels '05
Stacy Keibler
Stephanie McMahon
Stephanie McMahon (as manager)
Stone Cold Steve Austin
Syxx
The Million Dollar Man Ted DiBiase
The Hurricane
The Rock
Triple H
Triple H (as manager)
Trish Stratus
Ultimate Warrior
Umaga
Undertaker
Undertaker '98
Vader
X-Pac
Yokozuna
ARENAS
These Superstars are available in the WWE 2K23 game store for 500 VC each.
Raw — Thunderdome (2020)
Raw 2005
SmackDown — Thunderdome (2020)
SummerSlam '88
WCW Halloween Havoc 1997
WCW Monday Nitro '98
In-Game Store Championships
CHAMPIONSHIPS
The below championship belts are available from the WWE 2K23 game store for 100 VC each.
24/7 Championship
ECW Championship '08-'10
ECW World Championship '06-'08
ECW World Heavyweight Championship '94-'01
ECW World Tag Team Championship
ECW World Television Championship
Hardcore Championship
LeftRightLeftRight Championship
Million Dollar Championship
NXT Championship '12-'17
NXT Championship '17-'21
NXT Cruiserweight Championship
NXT Tag Team Championship '13-'17
NXT Tag Team Championship '13-'17 (Alt)
NXT UK Tag Team Championship
NXT UK Women's Championship
NXT United Kingdom Championship
NXT Women's Championship '13-'17
NXT Women's Championship '17-'21
Performance Center Championship
UpUpDownDown Championship
WCW Cruiserweight Championship
WCW Hardcore Championship
WCW United States Championship
WCW Women's Classic Championship
WCW World Heavyweight Championship '91-'93
WCW World Heavyweight Championship (nWo)
WCW World Heavyweight Championship (nWo Wolfpac)
WCW World Tag Team Championship
WCW World Tag Team Championship '91-'96
World Tag Team Championship '02-'10
World Tag Team Championship '97-'02
World Wide Wrestling Heavyweight Championship
WWE Championship '88-'98
WWE Championship '98-'02
WWE Championship (Brahma Bull)
WWE Heavyweight Championship (Smoking Skull)
WWE Cruiserweight Championship '01-'07
WWE Divas Championship
WWE European Championship
WWE Intercontinental Championship '11-'19
WWE Intercontinental Championship '90
WWE Intercontinental Championship '94
WWE Intercontinental Championship '98-'11
WWE Light Heavyweight Championship
WWE Tag Team Championship '02-'10
WWE Tag Team Championship '10-'16
WWE United Kingdom Championship
WWE United States Championship '03-'20
WWE United States Championship (Cena)
WWE Universal Championship (Raw)
WWE Women's Championship '98-'10
That's it, guys. We assume this article was helpful to you. Feel free to ask in the comment below for further queries.
Credit: Polygon