In this guide, we have shared 10 different fixes to rectify the Windows 10 update won't install issues. Microsoft usually releases a new update from time to time. While they might not always come with a plethora of features, yet they bring stability to the OS, patches a few bugs, and also fixes underlying issues. However, there is an instance or two where users aren't able to install these updates on their PC.
As for the reason for the aforementioned issues, it could be due to the network problem or issues with the SOFTWARE DISTRIBUTION folder. Along the same lines, if a few Windows Update services are not running or the system files are corrupt, then also you could get this error. With that said, this guide outlines ten different methods to fix these issues that will in turn fix the Windows 10 update won't install issues as well. Follow along for the instructions.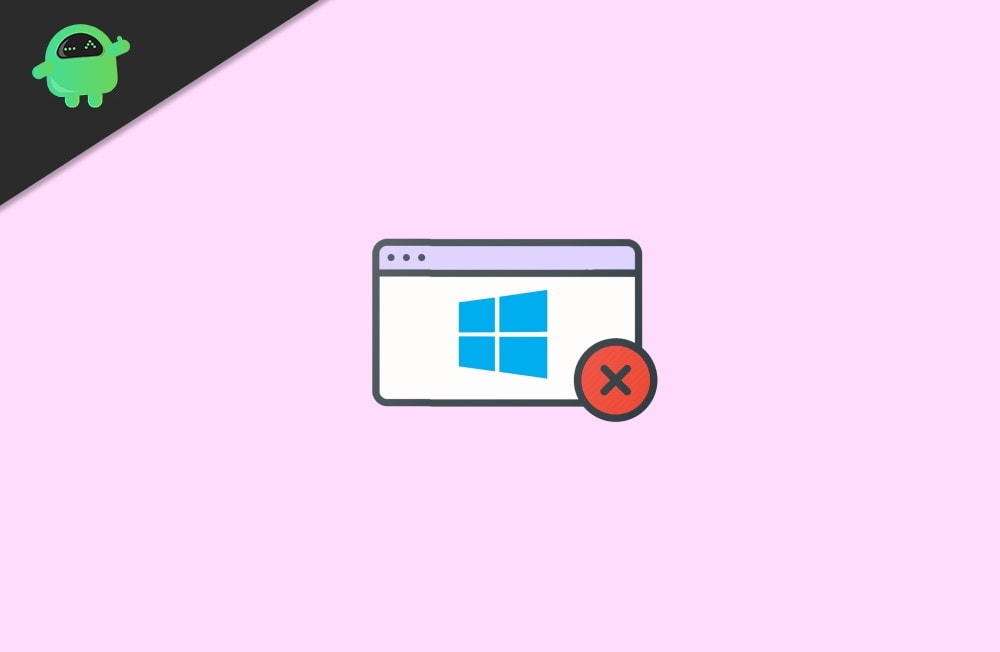 10 Fixes For When Windows 10 Updates Won't install
There isn't any universal fix for this issue. You might have to try out each of the below-mentioned workarounds until the issue stands rectified.
Fix 1: Check Internet Connection
More often than not, issued with your internet connection could be the single biggest reason for this issue. In that regard, try switching to a different connection (from wired to wireless or vice versa). Once you have made the change, it time to check that connection. The best way to do so is to ping Google and see if you are able to receive data packets.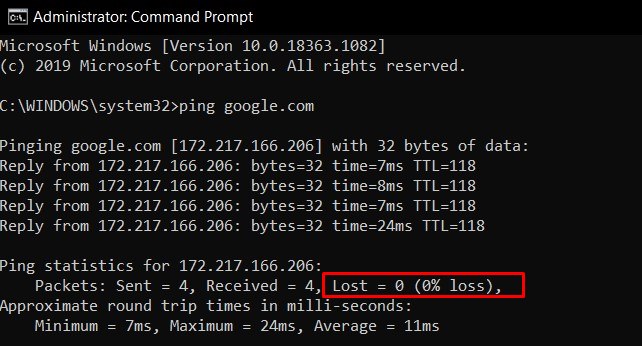 So launch Command prompt as an Admin, type in ping google.com, and hit Enter. If the packet loss is showing as 0%, well and good, otherwise switch to a different network. Settle with the one that doesn't result in any packet loss and try downloading and installing the update. Check if it fixes the Windows 10 update won't install issues.
Fix 2: Use Windows Update Troubleshooter
It would definitely be a tough job to manually search for issues related to updates. Fortunately, one section of Windows Troubleshooter is focused just on this purpose. Update Troubleshooter will scan for all possible issues and will present you with the associated fixes as well. Here are the required instructions that should help you out: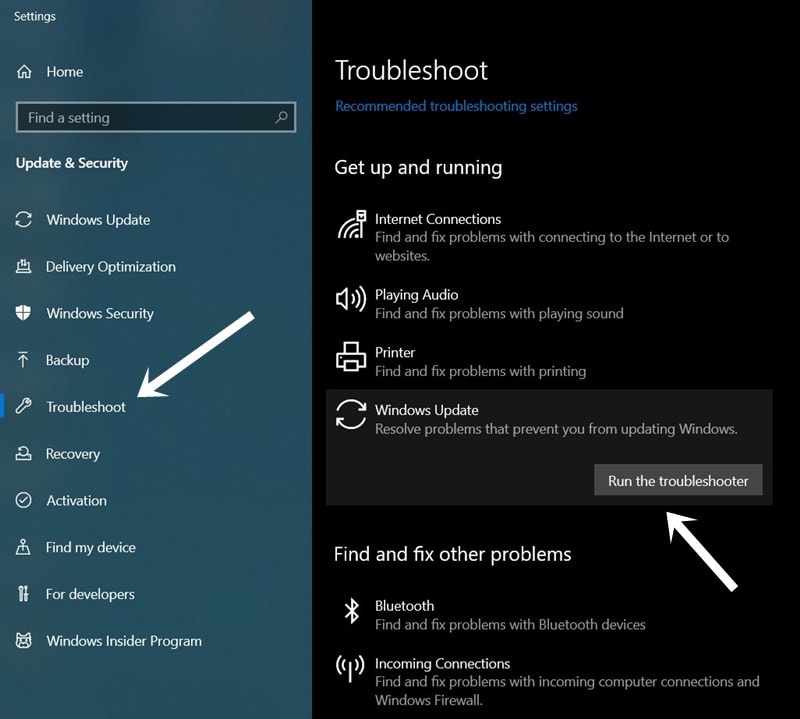 Search for Windows Troubleshooter from the Start menu.
Scroll to the Get up and running section and click on Windows Update
Then click on the Run the Troubleshooter button and wait for the process to finish.
Once the scanning is done, it will bring up the fix. Select it and let it apply.
Finally, reboot your PC and then see if it fixes the Windows 10 update won't install issues.
Fix 3: Check Windows Update Services
You should also make sure that all the Windows Update background Services are up and running normally. Issues with any one of them are bound to conflict with the proper installation of updates. Most importantly, you should check that Background Intelligent Transfer Service and Cryptographic Service are up and running. Here are the required instructions for the same:
Bring up the Run dialog box using Windows+R shortcut keys.
Type in services.msc and hit Enter. This will launch the Services page.
Scroll to the Windows Update, right-click on it, and select Properties.

Change the Startup type to Automatic. At the same time, if it is stopped, then click on the Start button. Hit Apply followed by OK.

Next up, scroll to the Background Intelligent Transfer Service (BITS), right-click on it, and select Properties.
Likewise, change its Startup type to Automatic and Start the process if it isn't running.
Finally, search for Cryptographic Service, head over to Properties, and change its Startup type to Automatic as well.
After enabling all the aforementioned services, give your PC a restart. Once it reboots, check whether the Windows 10 update won't install issues have been fixed or not.
Fix 4: Disable Metered Connections
Metered Connections are a great way of saving network bandwidth. However, it might lead to an issue or two when it comes to downloading important Windows updates. So if you have this feature enabled, then disable it for the time being, until the updates get downloaded and installed. Here are the instructions to carry out the said task: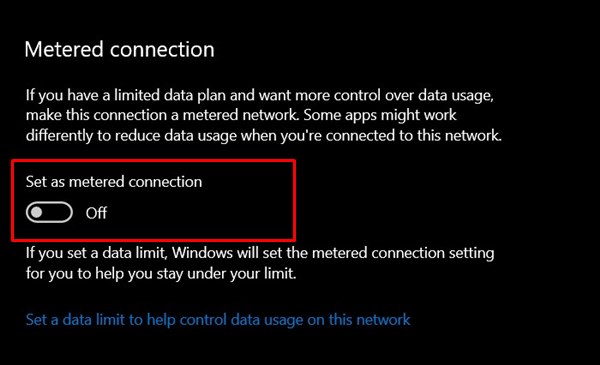 Bring up the Settings page through the WIndows+I shortcut key combinations.
Head over to the Network and Internet section.
Go to the WiFi option from the left menu bar and select Manage known Networks.
Scroll to your network and head over to its Properties. Finally, disable the Set as metered Connection toggle.
Reboot your PC to see if the Windows 10 update won't install issues have been rectified or not.
Fix 5: Delete SOFTWARE DISTRIBUTION Folder
The Software Distribution folder stored various Windows updates and configuration files. If the update gets stopped midway or your PC gets disconnected from the internet, then its associated files might get corrupted. The best bet in this regard is to download these half-baked files and then re-install the fresh copy of the same. Follow along for the instructions: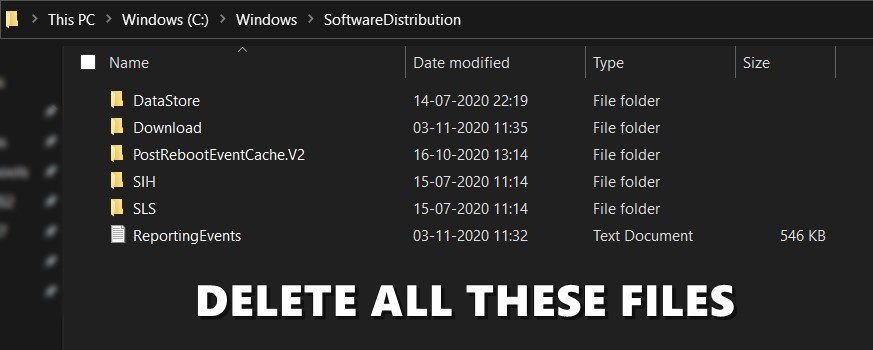 Open the File Explorer on your PC and copy-paste the below location in its address bar:

C:\Windows\SoftwareDistribution

Use Ctrl+A shortcut to select all the files inside that folder and then hit the Delete button.
With this, you have deleted all the Windows Update files. It's now time to download the latest one.
So go to the Settings page through the Windows+I shortcut key. Head over to Update and Security and download the latest available updates.
Once that is done, reboot your PC and see if the Windows 10 update won't install issues have been fixed or not.
Fix 6: Pause and Restart the Update
While it may sound counter-intuitive but pausing and then re-installing the update has managed to work out for some users.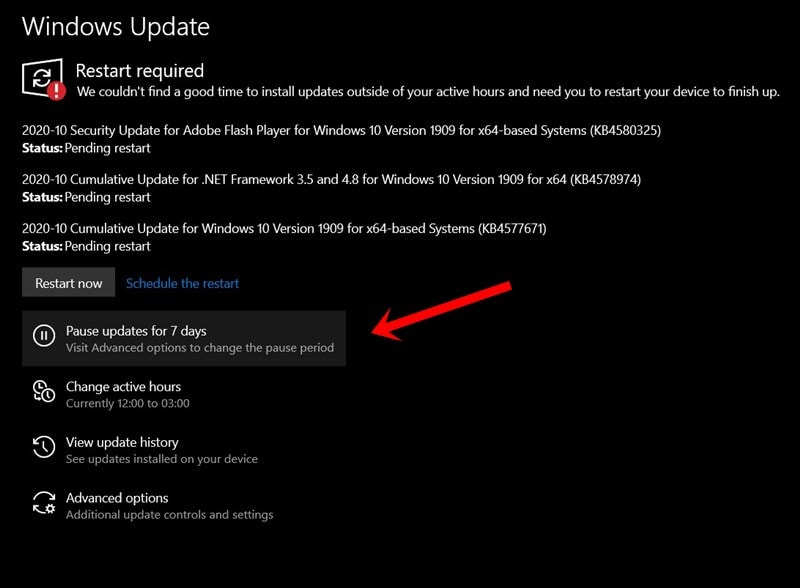 Hence launch the Settings page via Windows+I shortcut key combination.
Go to Update and Security > Windows Update.
Click on the Pause updates for 7 days option. Now restart your PC and again head over to the Windows Update page.
Click on the Resume updates button and see if is able to rectify the Windows 10 update won't install issues.
Fix 7: Restart Update Services via CMD
In this section, we would be stopping and then re-starting some important Update services directly via the Command Prompt. So head over to the Start menu and launch CMD as an administrator. Now execute the below commands in the Command window one by one. That is, type in the first command hit Enter, execute the second one, and so on.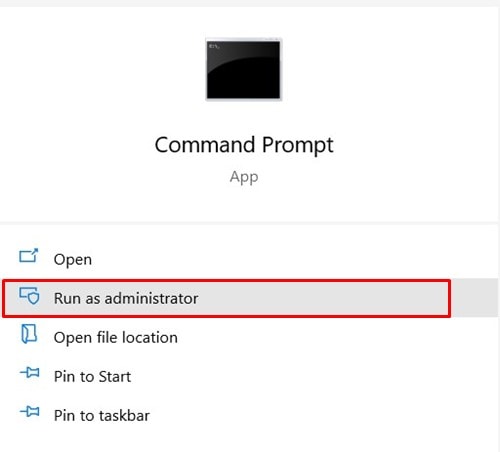 net stop wuauserv
net stop cryptSvc
net stop bits
net stop msiserver
ren C:\Windows\SoftwareDistribution SoftwareDistribution.old
ren C:\Windows\System32\catroot2 catroot2.old
net start wuauserv
net start cryptSvc
net start bits
net start msiserver
net localgroup administrators 
networkservice /add
net localgroup administrators localservice /add
Once the above commands have been executed, restart your PC to check if it fixes the Windows 10 update won't install issues.
Fix 8: Using Windows System File Checker

System File Checker is a command-line utility that checks for corrupt system files and replaces them with the correct ones by downloading them from the web. So launch the CMD window as an admin, type in sfc /scannow, and hit Enter. Wait for the process to finish. Once done, give your PC a reboot and check if the issue is still there or not.
Fix 9: Repair System Files

Along the same lines, you may also try restoring and repairing the system files from the Command Prompt window. For that, launch CMD as an admin from the Start menu, type in DISM.exe /Online /Cleanup-image /Restorehealth, and hit Enter. Wait till the command does its job of repairing the corrupt files. After the process is complete, restart your PC and see if the Windows 10 update won't install issues have been fixed or not.
Fix 10: Fresh Install of Windows 10
If none of the above methods managed to work out in your favor, then you might have to go for a fresh Windows install. For that, you would have to carry out a couple of tasks. Here is everything you need to be aware of in this regard: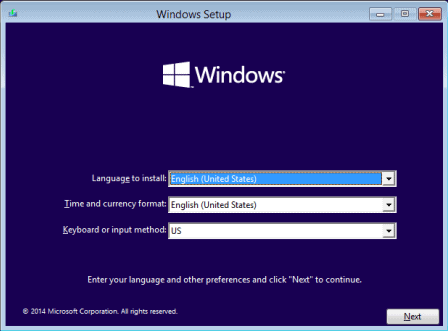 First and foremost, download the Windows 10 official ISO image.
Then create a Bootable USB drive and move the ISO file inside it.
Plugin the Pen Drive to your PC, and then turn it (PC) off.
Now power it on, and while it boots up, continuously press the F2 or F12 key until you are taken to the BIOS menu.
From there change the Boot sequence so that your PC boots up from USB Drive.
It will then load the Windows 10 installer, follow the on-screen instructions to complete the setup. When it's done, your issue would be fixed.
So with this, we conclude the guide on how to fix the Windows 10 update won't install issues. We have shared ten different fixes for the same, anyone or the combination of two or more might have worked out for you. Do let us know in the comments which of the aforementioned methods managed to spell out success in your case. Rounding off, here are some equally useful iPhone Tips and Tricks, PC tips and tricks, and Android Tips and Trick that you should check out.