Windows 11 introduces a plethora of exciting features and enhancements designed to improve the user experience. But there are things Windows has to improve to have equal competition with its counterpart. If you are using Windows 11, you must have faced a few issues where your PC goes to sleep after a few minutes of inactivity, and when you try to wake it up by moving your mouse or by pressing any key, it refuses to wake up, and you are confused on what to do. The issue of Windows 11 Won't Wake Up From Sleep With Keyboard or Mouse is quite common, and thankfully there are multiple methods to solve it easily.
Windows 11 Won't Wake Up From Sleep With Keyboard or Mouse can be a frustrating problem as it doesn't allow a user to log back in to the system and perform any productivity tasks. In some scenarios, users have to restart their PC just to get back access of their system. If you are also facing the same issue with your system and you are still looking for a solution, you are at the right place. There is always a solution to a software issue, which can be done by doing some workarounds. Please follow the below troubleshooting methods to fix your issue permanently.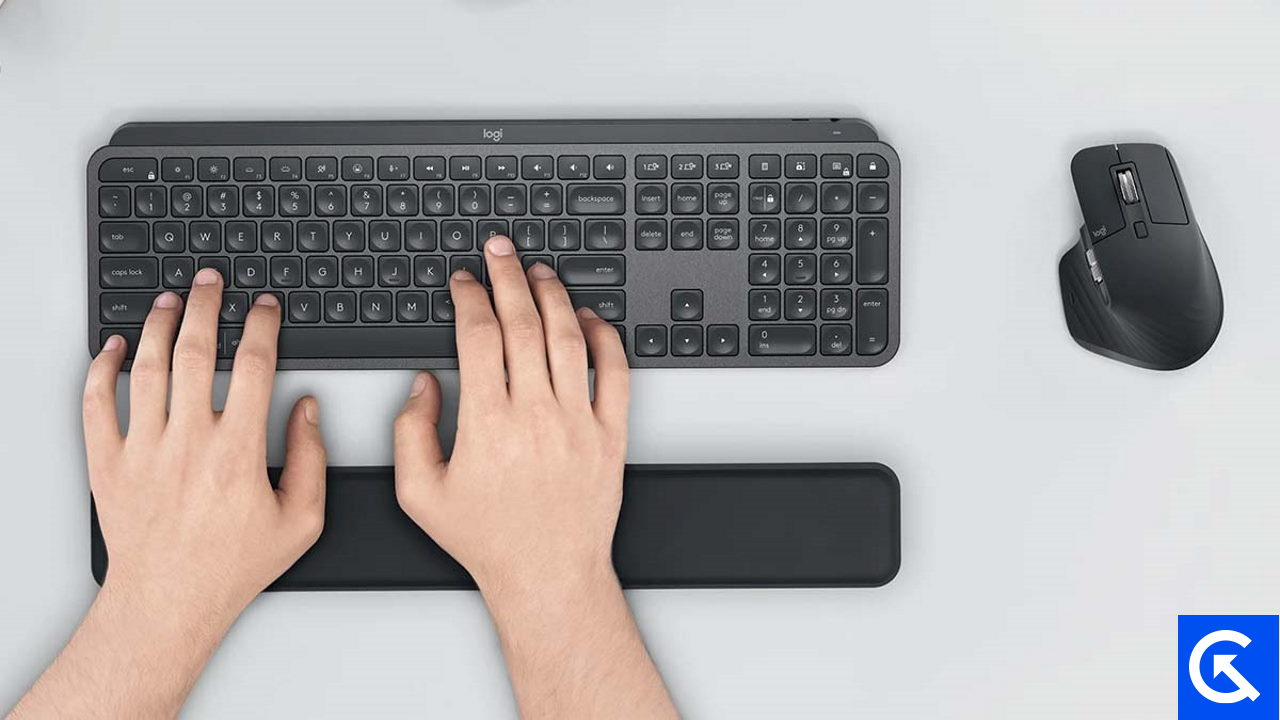 Fix: Windows 11 Won't Wake Up From Sleep With Keyboard or Mouse
Many users have complained about the inability to wake up their Windows 11 system from sleep using the keyboard or mouse. When a Windows 11 computer fails to wake up from sleep mode upon keyboard or mouse input, it often means any software or hardware fault. These could arise from various factors, including wrong settings, power management preferences, outdated drivers, or even hardware failure. Down below are some troubleshooting methods that shall help you to solve this issue locally.
Method 1: Reconnect Devices
This is the most common solution for any issues with the Keyboard and Mouse. Just remove the mouse and keyboard USB from your system and re-insert it again. This will reset the mouse and Keyboard drivers and can make your device function normally.
Method 2: Activate Mouse and Keyboard To Wake Up System
There is a specific feature that makes your Mouse and keyboard wake up your PC. If that feature is turned off in your device manager, you won't be able to wake up your PC from sleep using the Mouse and Keyboard. Please, follow the below steps to activate this feature.
Right Click on the start button.
You will see a bunch of options; choose Device Manager.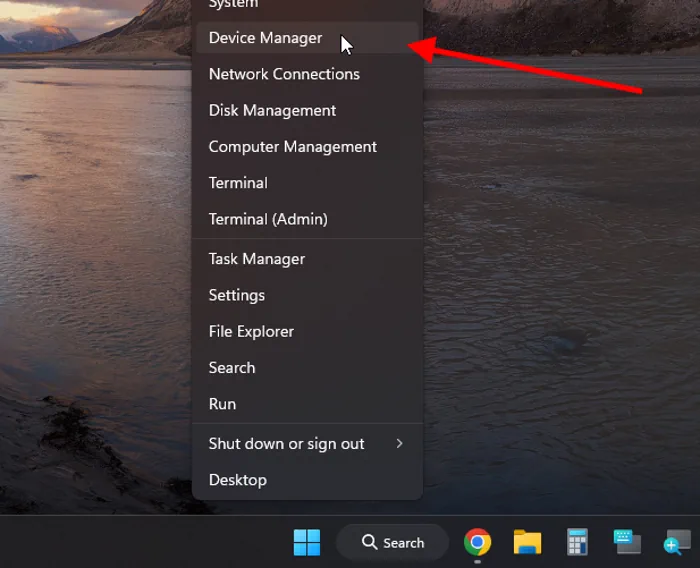 Now, choose the Keyboard option and click on it.
Now click on the first option in the dropdown menu of the keyboard.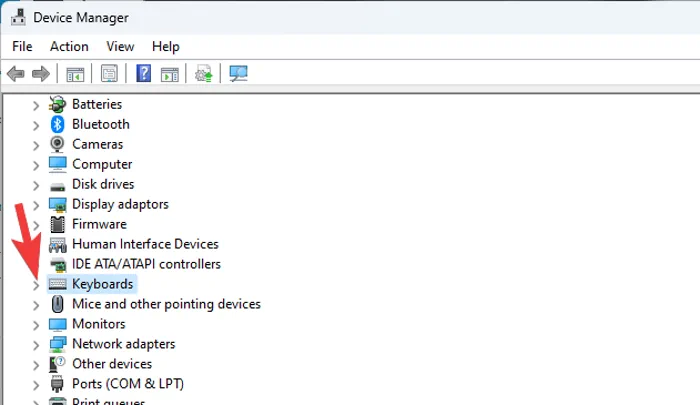 Now, choose the power management tab.
Check the box for the "Allow the device to wake up the computer" option.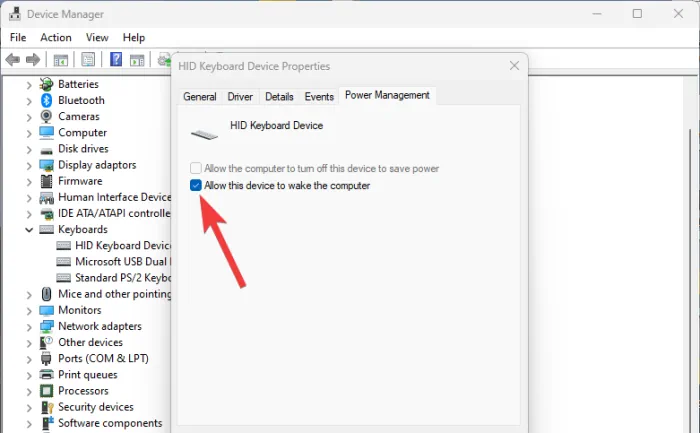 Now Follow the same methods for the Mouse.
If you follow this method with precision, you will ensure that by moving the mouse, you will be able to wake up your system. If you have already turned on this feature, you can follow the other methods given here.
Method 3: Update Keyboard & Mouse Drivers
Oftentimes, you will be using old Keyboard and mouse hardware which are not been updated for ages. And as Windows 11 is a completely new operating system, it's important that you update the Input/Output drivers to make sure they are compatible with all the features in Windows 11, including the wake up from sleep feature.
Press Wn+R and type devmgmt.msc and hit enter.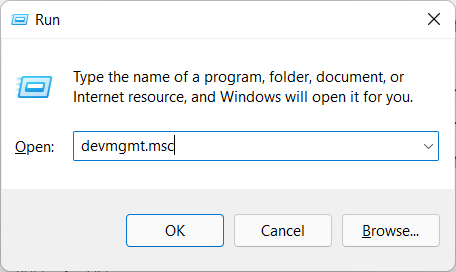 Your device manager will open up and scroll down and click on the Mice and other pointing device.
Right-click on the device that is causing the malfunctions. Click on Update Drivers.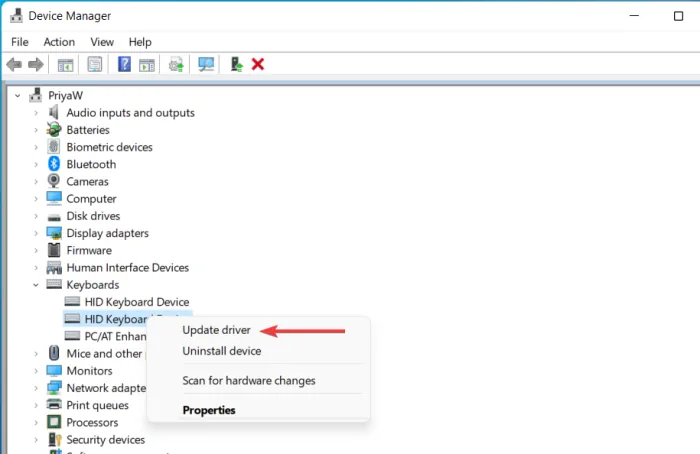 Now, choose Search automatically for drivers and click ok.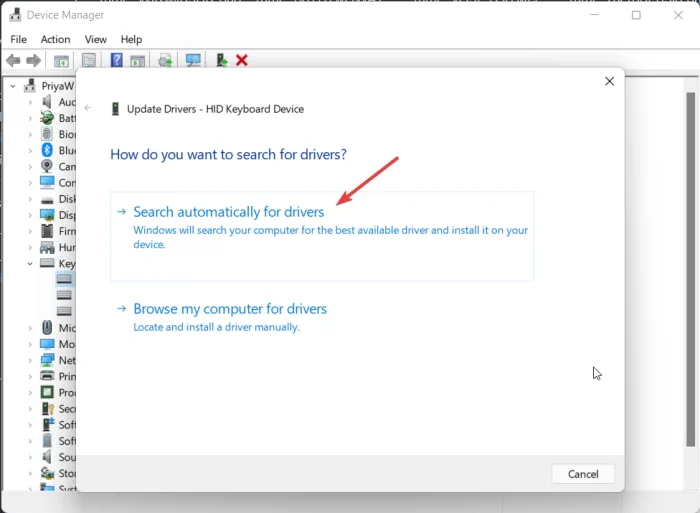 Wait for the drivers to get installed.
Click on the Keyboards and follow steps 4, 5, 6, and 7.
Once done. Restart your System and see if this helps.
Method 4: Avoid Shutting Off USB Ports
Sometimes to save power, Your PC can stop the power supply to the USB port. As a result, Windows won't recognize your Mouse and Keyboard. To fix this, you have to manually allow the power pc to supply the power to the USB ports.
Open the Device Manager by performing the same methods that methods 1 or 3.
In the Device Manager, Click on the Universal Serial Bus Controller.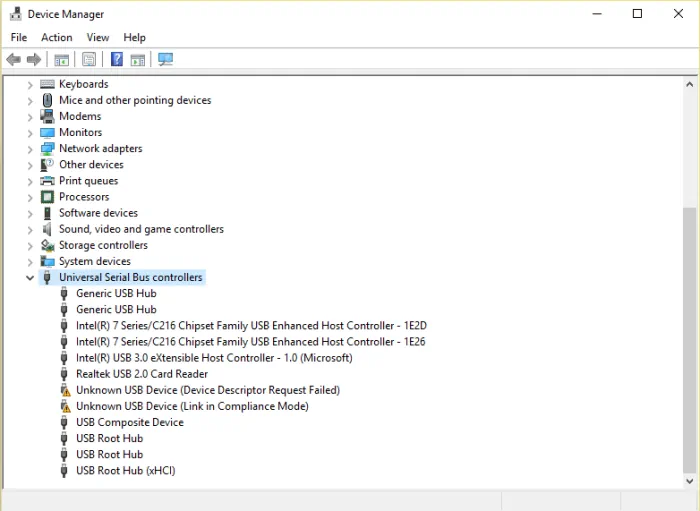 As you did earlier with Mouse and Keyboard, double-click on each entry and hit the power management tab.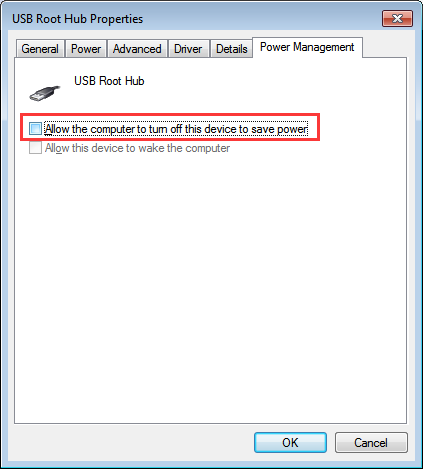 Disable the option that says, "Allow the computer to Turn off this device to save power" option.
Restart your PC and see if this helps.
Method 5: Change PC Power Plan
If your PC power plan is allowing Windows to turn off the USB ports while sleeping, then you won't be able to wake up your PC through your Keyboard and Mouse.
Type Control Panel in the start menu and hit enter.
Now, Select View by small icons and head over to the Power option. Click on Change Plan settings.
Choose Advanced power settings, and a new setting window will pop up.
Choose USB settings and then Choose USB Selective suspend settings.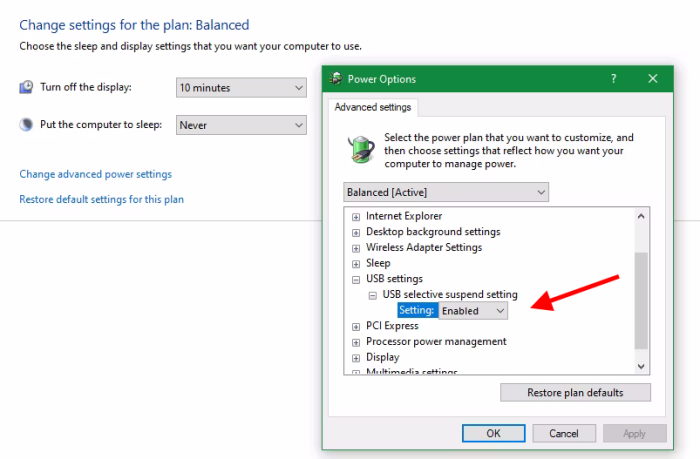 From the dropdown menu select disabled and click on Ok.
This will certainly fix your problems with the Mouse and Keyboard.
Method 6: Check Hardware Fault
If none of the above methods helps you much, then it might be the case of hardware failure. Please check your mouse or keyboard if all keys are working properly. Incase you find any hardware faults with the keys, please make sure to get them repaired. If repairing is not an option, then its best idea to purchase a new set of mouse and keyboard to solve the problem.
Conclusion
This brings us to the end of this guide for fixing Windows 11 Won't Wake Up From Sleep With Keyboard or Mouse problem. All the above troubleshooting methods are very useful and can be used by anyone of any age. The steps are very easy, and the only thing you have to keep in mind is to follow these steps very carefully and always go step by step. Hoping that this article was helpful and must have solved your Query.