I was too inspired by actors in a movie talking over their walkie-talkie. Although the walkie-talkie used in those days weren't cheap, I had that itch to use it and would seldom rely on cheaper alternatives that allow communication in a spectrum of a few feet or so. But walkie-talkies have faded from movies although they are still used in real-life security personnel, police officers, etc.
Walkie talkies use radio signals to communicate between two or more users and can have different channels as well. This is more reliable than cellular networks that could go haywire at times. Having a walkie talkie amidst any emergency could help save lives if not just use for fun. If you have an itch for walkie talkies, you can still buy one or use one of the many apps available on Play Store and iOS that would convert your phone into a two-way radio. We at GetDroidTips tried and tested a few apps available today and here are the top 10 apps that you must have a look at.
Top 10 Best Walkie Talkie Apps
Note that these aren't actual walkie talkies and thus, won't take the advantage of radio signals and would still require data connection to and fro. They can be used to talk over a certain distance even on 2G so you don't have to worry about slow internet as well so check these out.
Zello PTT Walkie Talkie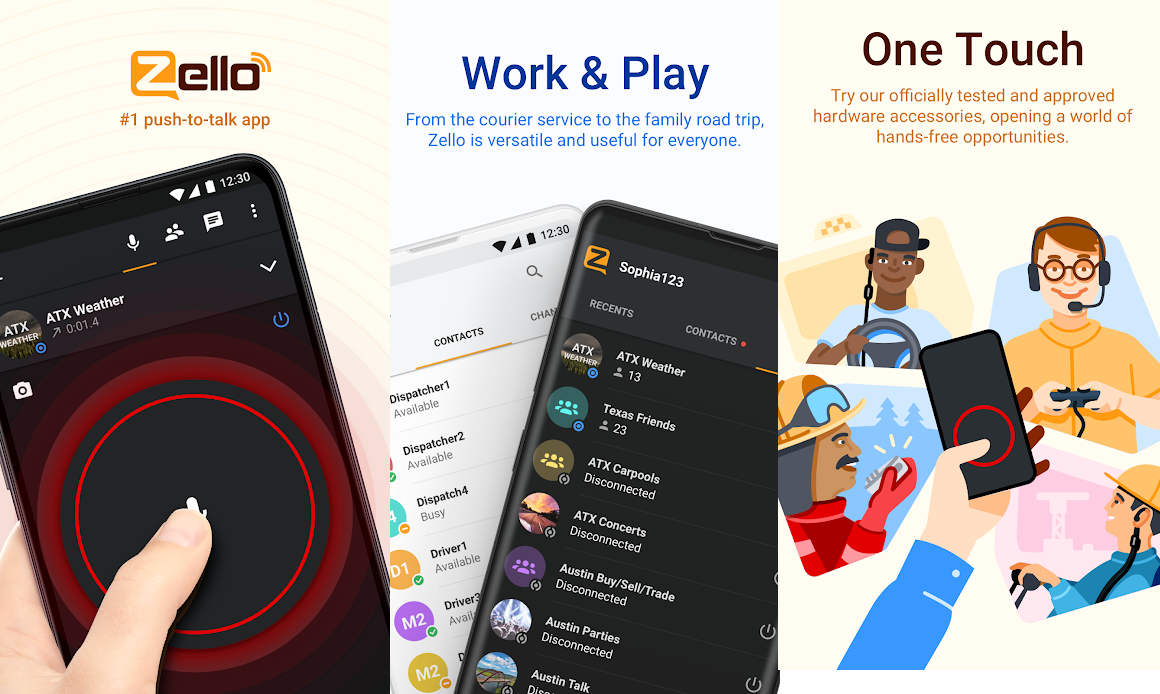 Zello has been rated as one of the best PTT Walkie Talkie apps available across Android and iOS among others. It lets you use the PTT service to talk to your friends either one-to-one or in a group (channel) both public and private with over 6,000 users with just a tap. The app produces high-quality audio that reaches the recipient faster although a bit of lag can be reported in some cases.
It has a standard push button to record and send the message over the internet and works with 2G, 3G, 4G, and Wi-Fi as well. You can also communicate via images, push notifications, have Bluetooth headset support and more on Zello as well. Most advertently, Zello is one of the apps that is used during emergencies such as Hurricane Harvey in certain regions as well.
Download it on Android | iOS
HeyTell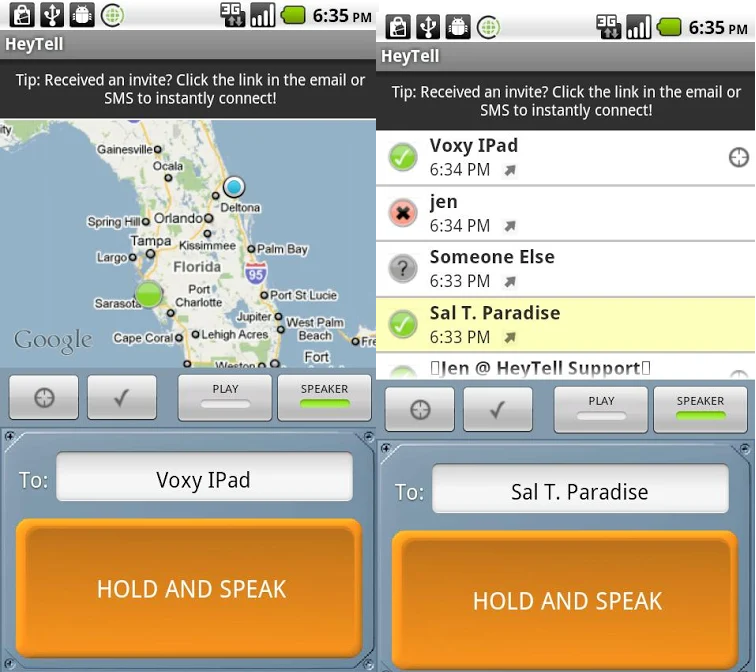 HeyTell gives you a near true walkie talkie experience. Instead of writing a text, you can use HeyTell and send voice notes after tapping on the huge 'Hold and Speak' button. The app requires internet connection and offers superior audio quality on the go and works with a low data usage so you can practically send out messages faster and free of cost. The app doesn't needs any account and you can simply plug it and go without any hassle.
Voxer Walkie Talkie Messenger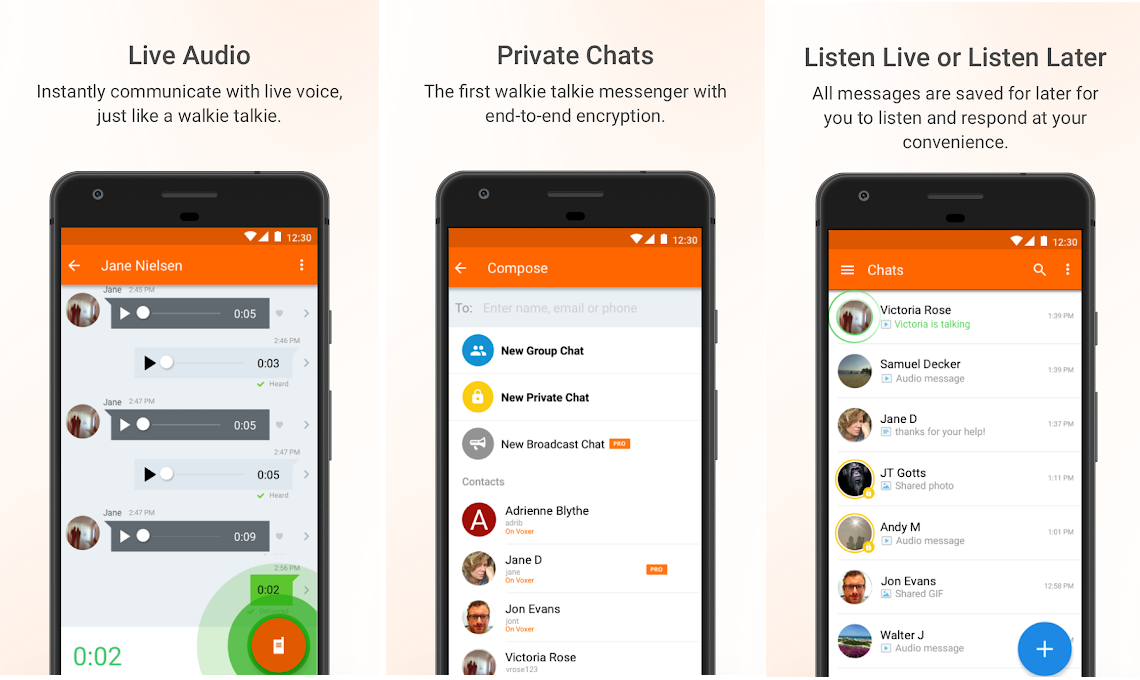 Voxer is not an ordinary push to talk app but rather an all-in-one app made around walkie talkie-type functionality. Basically, you can push and send audio across other users similar to any walkie talkie app on this list. Additionally, Voxer allows sending the text, photos, and even videos, making it a powerful all-arounder app that lets you do more than others.
It works on any type of network so no matter if it's slow 2G or faster Wi-Fi, you can enjoy it with crystal clear audio quality at all times. The app does have group functionality where you can add over 500 members and as it is cross-platform, it works on two of the major OSes i.e Android and iOS if not others. The app requires registration and allows for a private chat so you don't have to worry about anyone prying their eyes on it.
Download it on Android | iOS
ProPTT2 Video PTT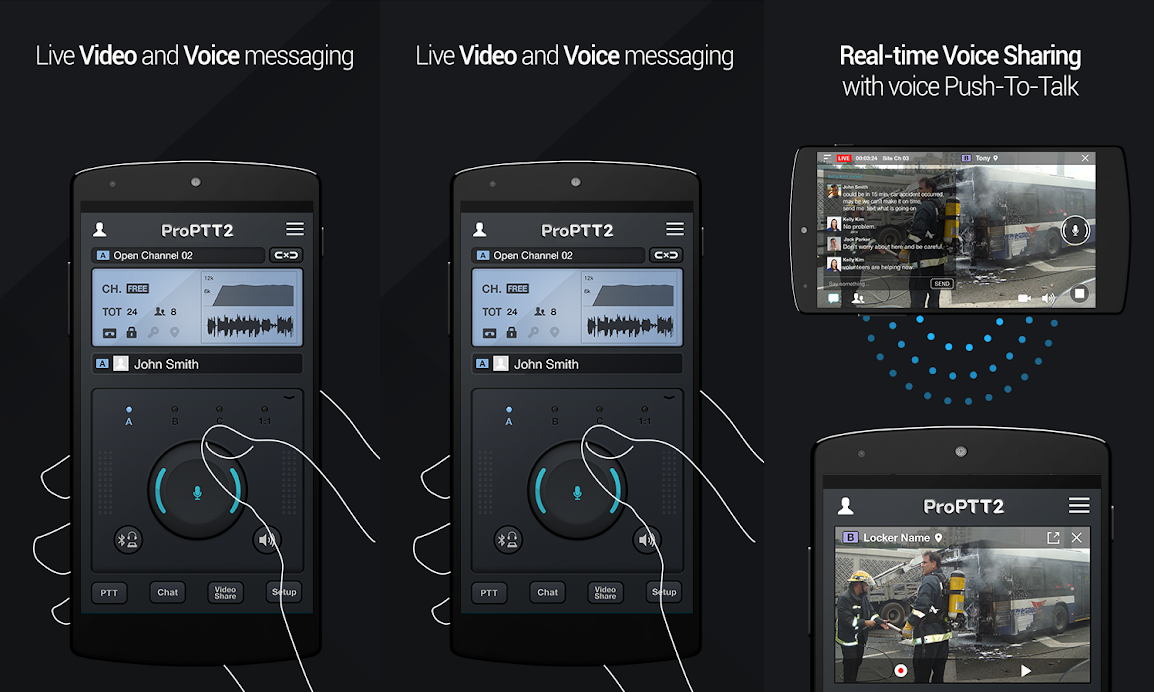 It's not just a Push-to-Talk audio service but it also employs Video Push-To-Talk allowing you to blast off video on a click. The app requires registration and offers a single channel creation as free and rest is something you will have to pay for. Once you are logged in, you can simply chat one-on-one via audio or video by pushing the button talk.
The app has a bunch of features that you would love like a real-time location sharing, support for various bluetooth devices, Apple Watch, Android Wear, and others. It also has a tonne of in-app purchases that you can transact to unleash various features it offers.
Download it on Android | iOS
TiKL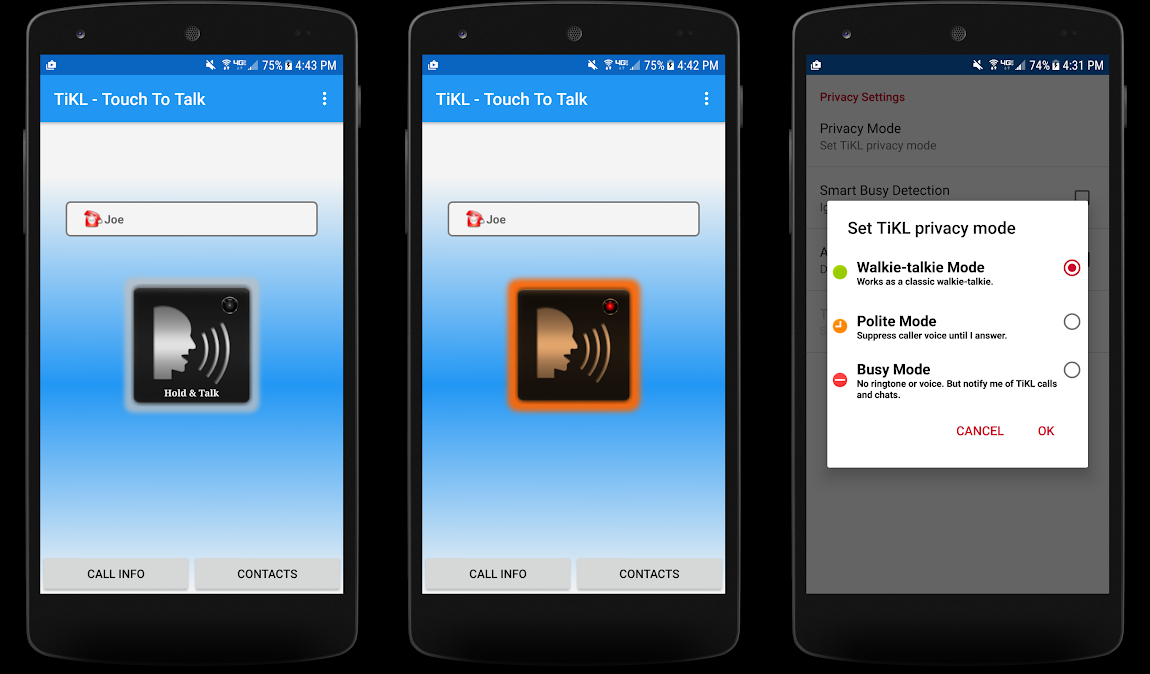 It is not an allrounder app but TiKL does get your job done. It is a fast and easy-to-use real-time walkie-talkie app that you can use on your phone. It has the push-to-talk feature that you can use to talk either one-on-one or within a group in real-time and that's all in a walkie-talkie style interface. The app works on even the slow GPRS, EDGE to faster 3G, 4G, and Wi-Fi across Android and iOS devices so compatibility won't be an issue with it.
Download it on Android
Two Way: Walkie Talkie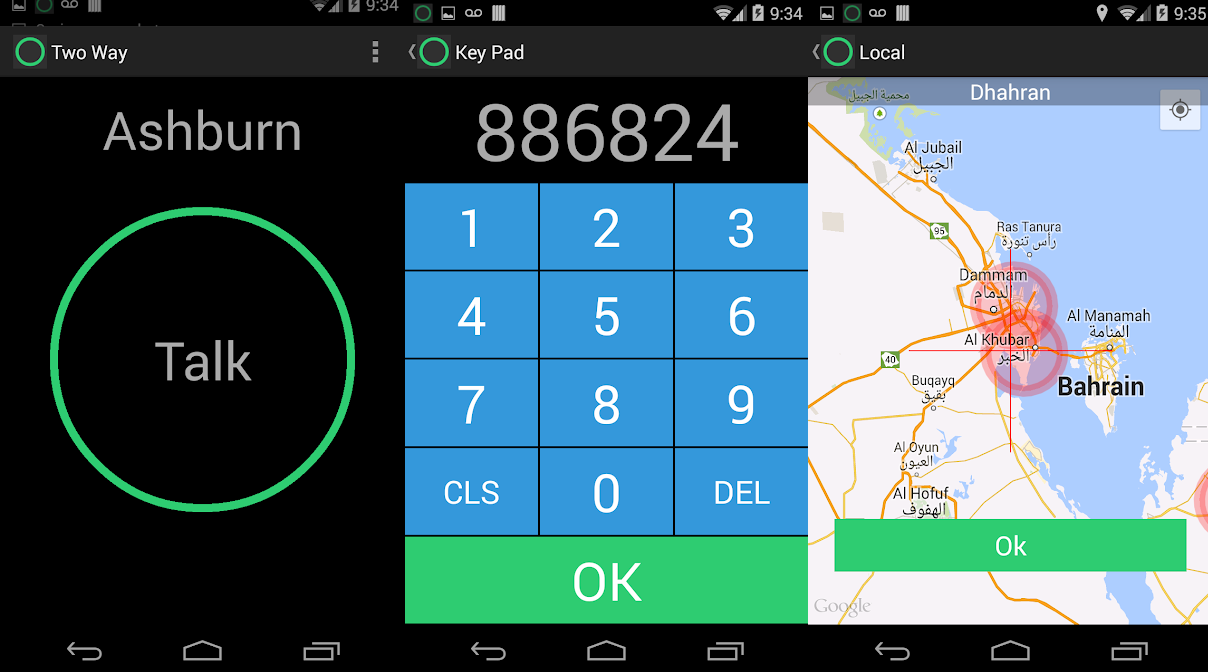 First up, it is a straight-up push-to-talk app that allows communication between two or more users over a public channel. Pick any channel you want like '545554', ask your friends or anyone anywhere in the world to dial into the same channel and you are on.
The app is fun to use and doesn't consume much of the battery while being active even in the background. It has a simple user interface and won't require any signup process so you are pretty much using the app without any login credentials. Note that anyone dialing your channel can overhear what you say and unlike Walkie Talkie (the app), there's no way to tell how many users are connected over a signal channel or frequency unless there's an update released after writing this piece.
Download it on Android | iOS
Walkie Talkie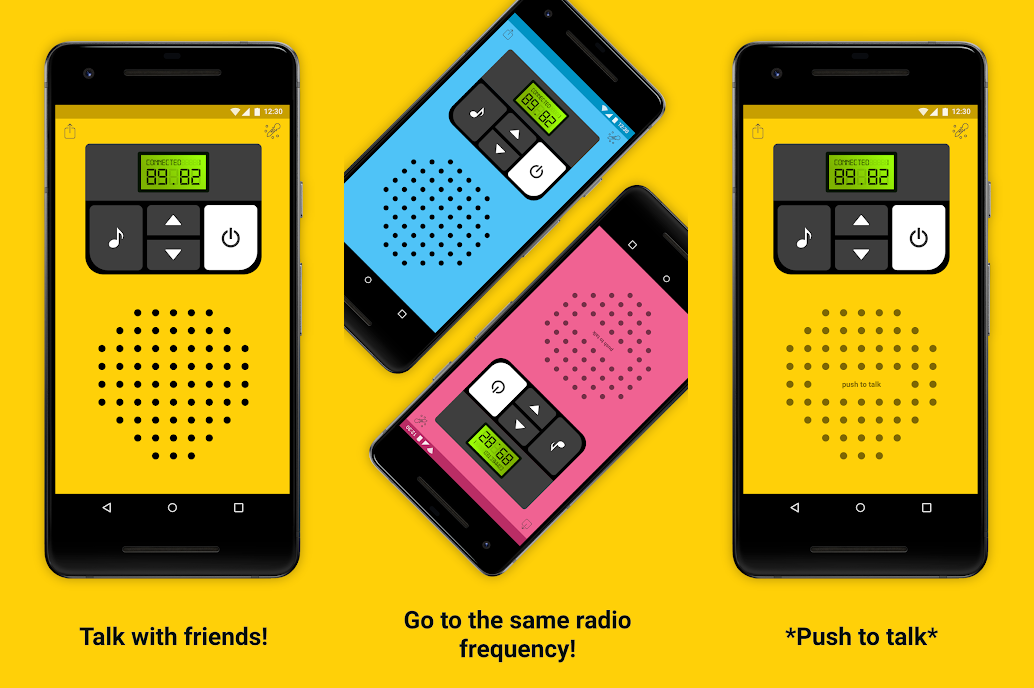 I tried this app and no doubt it works. It lets you set the frequency which of course isn't private. Once you have set up the frequency, push the button once and you are free to talk to anyone across the app who's connected to the same frequency. It is also cross-platform so you don't have to worry if someone using Windows PC or iPhone would be able to talk to you or not. The sound is clear and you can also use the icon sound which you may have heard when people talk over radio handsets in movies such as "kkrrrsshhtzz".
The app does have ads at the bottom of the screen and since it is not private, anyone can simply hear your conversations but hey, it is fun and it works.
Download it on Android | iOS
Walkie Talkie ODT Audio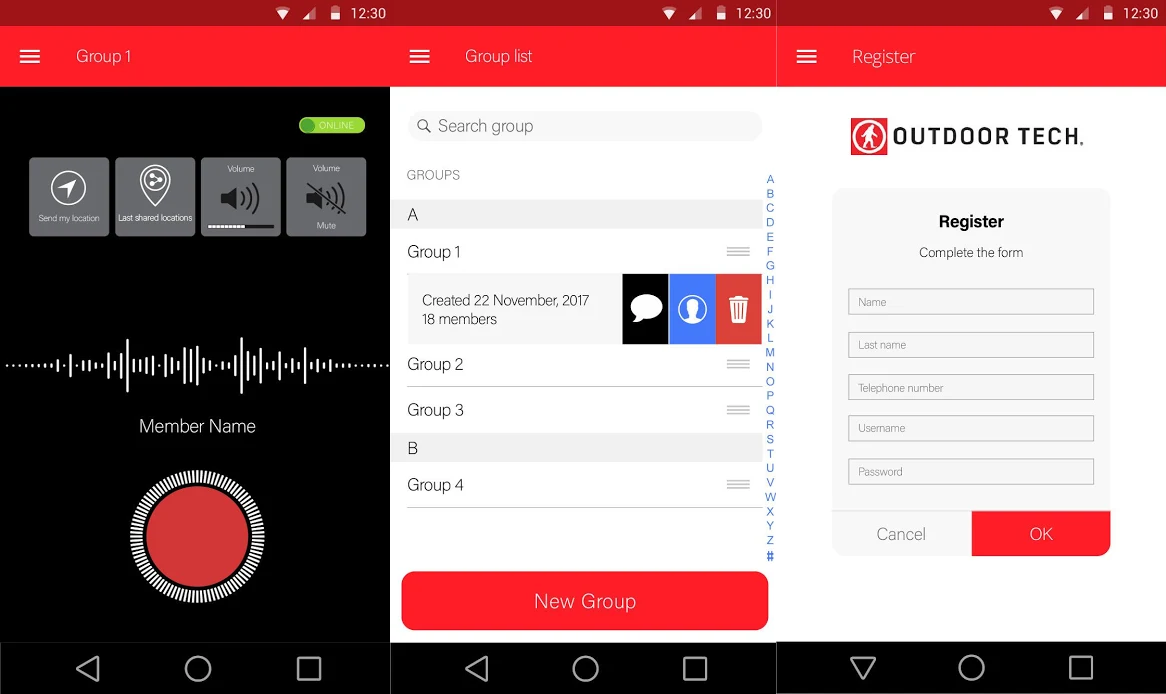 The app is basically feature-packed while stripping away of any unwanted or heavy features. It does let you talk using its Push to Talk (PTT) feature and what's impressive is that everything is private so you don't have to worry about anyone lurking in your channel. Simply create a channel, ask your friends to join and now, you can use either the phone or helmet or device powered by Chips 2.0 or Rhinos and the job will be done although totally hands-free experience may not be a reality in this case.
The app does require registration and after that, everything is kept secure. All your messages are sent outright using a compression algorithm that decreases data usage when on mobile data and so on.
Download it on Android | iOS
FireChat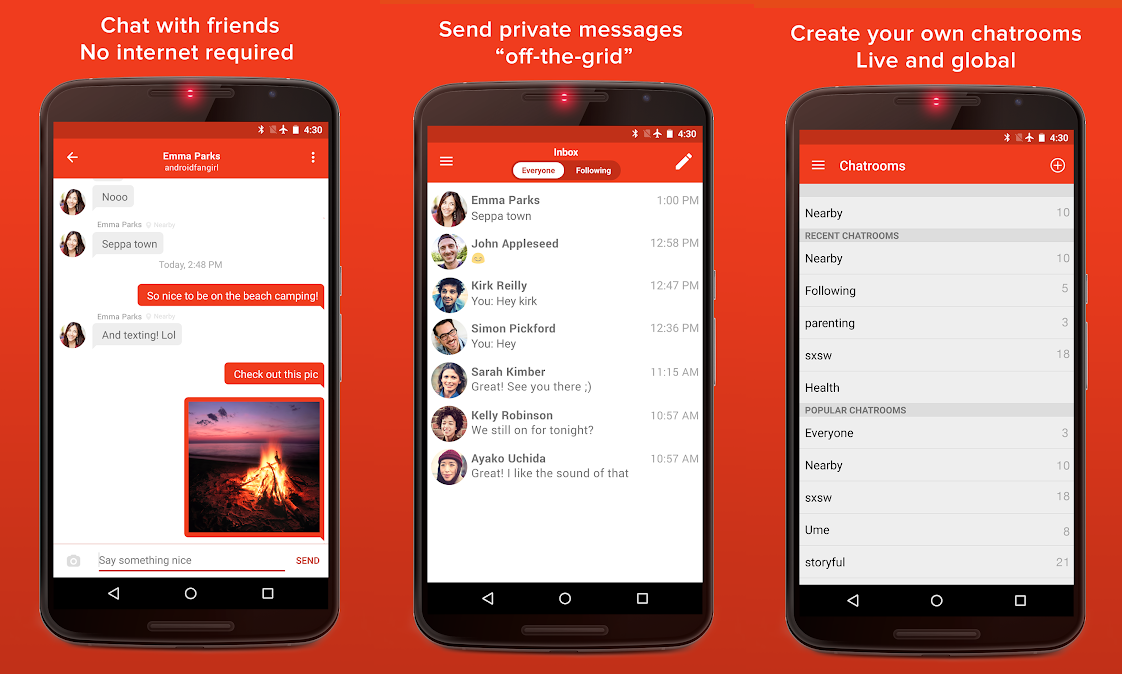 Suppose you are in a zombie apocalypse and want to talk to someone. Well, I don't think so cellular networks would be a thing but hey, FireChat can help. The app lets you talk to anyone within a distance of 200 feet where they can use peer-to-peer WiFi and Bluetooth to allow communication without any internet access. All your private messages will be encrypted. The more participating devices, the greater the network grows thanks to mesh networking which will be helpful in places like cruises, airplanes or during a zombie apocalypse (just joking).
Download it on Android | iOS
Modulo PTT Walkie Talkie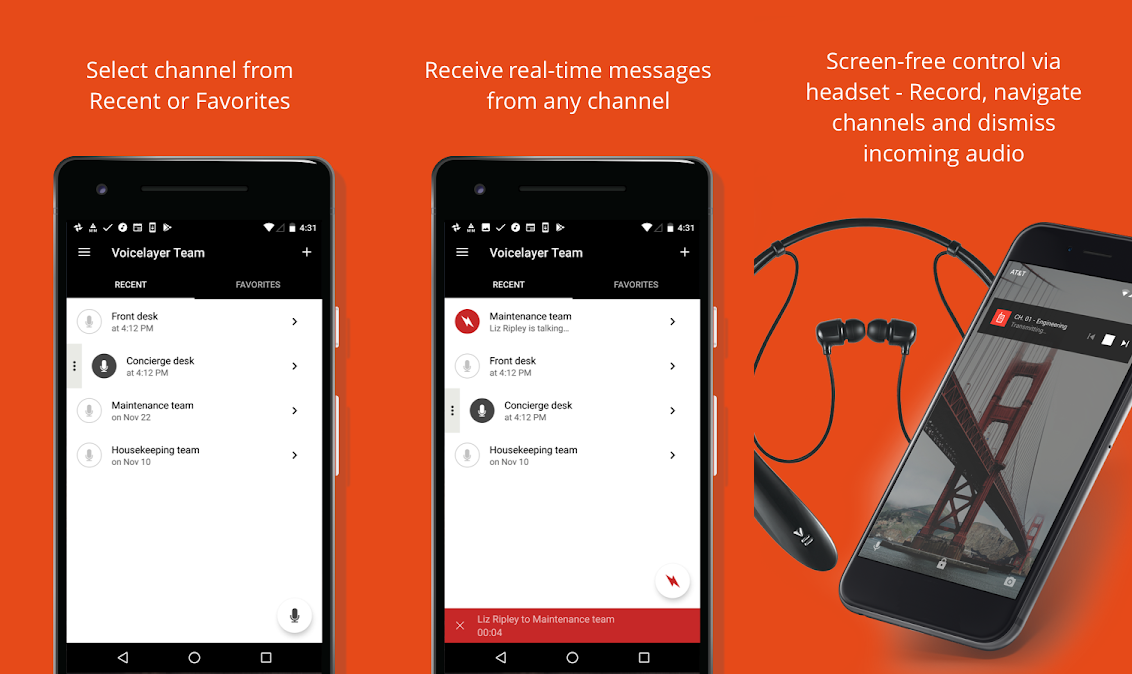 If you are looking for a walkie talkie app that looks a bit similar, try Modulo PTT Walkie Talkie. The app is a lot similar to the popular team messaging app Slack. It lets users create teams and talk over either with text or audio recordings or they can push to talk in real-time within the group.
To be honest, the app is a bit strenuous for the setup process but rest assured as once you are done setting it up, you can talk in real-time or send out voice messages for someone online. The app lets you share files as well and works in the background.
Download it on Android | iOS