Downloading a certain mobile app may not be the first idea that comes to your mind when you think of "changing the world for the better". After all, many mobile apps focus on entertainment and gaming rather than creating a positive social impact.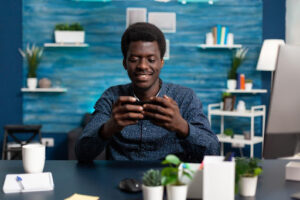 However, there are plenty of inspiring, ambitious apps out there that continue to affect its users and the causes they stand for positively. Make sure that you check out these apps whenever you're looking for some engaging, high-quality apps to download to your smartphone.
We often struggle with productivity, whether at work or home. This is why productivity mobile apps were invented and have become so prevalent today. Forest is a deceptively simple app with a single mission – to make your life more focused. It does this by allowing you to plant virtual trees in a simple grid-based map that resets each day. The longer you stay "focused" and do not use any of your other apps while working, the more greenery you'll plant.
What's cool about Forest is that it lets you plant actual trees in real life through donations and coin purchases. The app's developers have teamed up with Trees for the Future and have planted over 1 million real trees so far. This is a great example of an app that does a lot for you, and the world at large at the same time, making it a greener, healthier place.
Dating apps have become a great way for introverts and lonely people to meet someone they'd potentially like to date. However, with the unfortunate stigma surrounding the LGBTQ+ communities, people from these groups have had it tougher than most. Enter Taimi, an amazing dating platform created with the mission to make LGBTQ+ dating as safe and welcoming as possible.
The Taimi dating app sports a plethora of useful features such as live streaming, social media feeds, and video calls among others. It is also very private and secure, meaning that your chat logs and data will never find their way to someone's hands through malicious means. At its core, Taimi helps people connect without prejudice, malice, or ill intent – this is how it's changing the world for the better. Moreover, it's a solid mobile app in itself, so you should check it out if you want to start dating or chatting with people like yourself.
Donating money to charities is always a great way to make the world a better place. With Charity Miles, you can exercise and contribute to a worthy cause at the same time. The app is designed with the idea of tracking your movement and measuring how much you've exercised in any given session.
The app then calculates how much you've run or jogged and allows you to donate money to a charity of your choosing. It works on a system of playing ads while you run and don't look at your phone, generating the necessary revenue for you to allocate to a charity. In essence, it's a win-win situation for everyone, and especially you as the user. You'll have a great exercise app to rely on and be able to donate real money to a charity simply by jogging down your usual route.
Changing the World for the Better
Using these apps will not only entertain you but also allow you to contribute to worthy causes simply by having the apps downloaded. Most mobile apps rely on advertisement, donations, and freemium in-app purchases to sustain themselves – these are no different. This means that if you personally vibe with a particular app, you can also pitch in financially and support a cause you believe in.
There are many ways to change the world into a better place for everyone – using these apps is only one of them. They'll motivate you to stand for something you believe in and share it with your friends whenever they glance at your phone and ask what apps you're using.