A spy app can sound scandalous; however, there are numerous reasons why you might want to partner with one. Whether you need to track your child's phone activities, find your spouse's secret fling, or monitor employee activity during work hours, a spy app is your best option to stay completely invisible.
In this review, we will examine the 5 best Android spy apps that offer many perks for both individual and business use. Review their benefits, advantages, ways to use, and pricing details to choose your perfect option.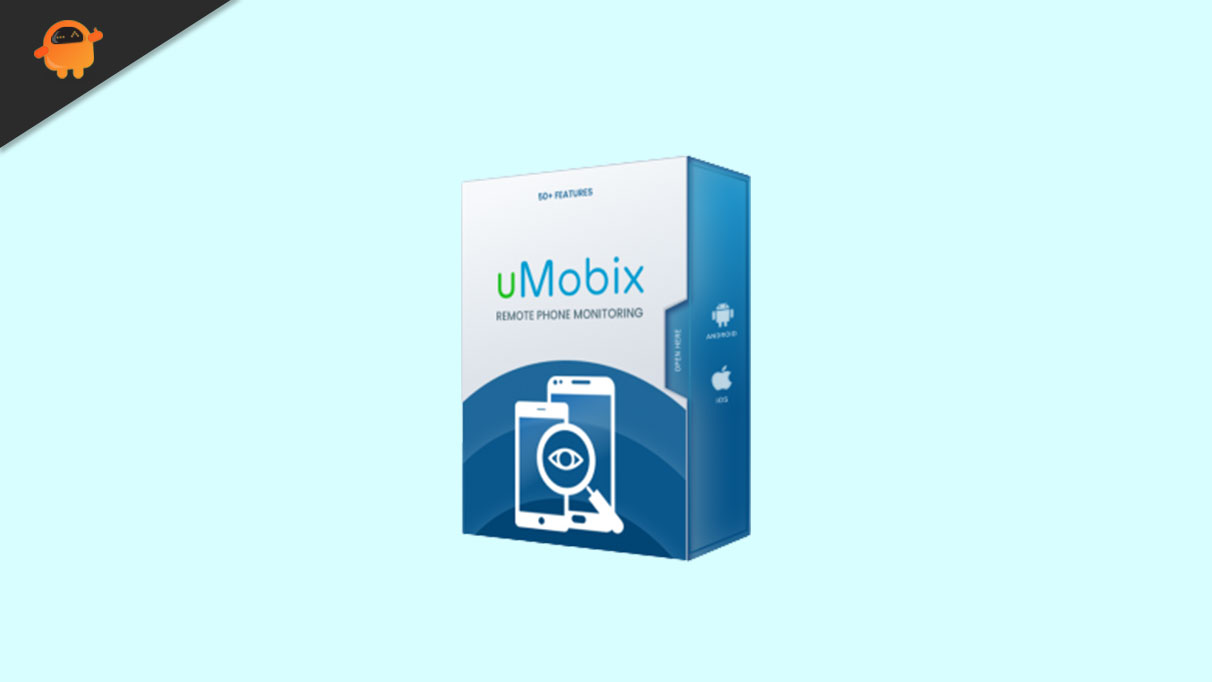 Hidden Spy Apps for Android: 5 Top Picks
With a market full of spyware on Android, it's easy to get lost and hard to choose the ultimate one. To keep you from the pressure, we have reviewed the following platforms from various aspects to help you spot the most fitting option.
uMobix

– a parental control app with a full suite of features.

Cocospy

– remotely monitors your children and employees while keeping you secure and undetectable.

Spyic

– gathers all sorts of target information and presents it on an easy-access control panel.

XNSPY

– a world-trusted cell phone spy app that works on Android stealthily.

Hoverwatch

– a unique parental control app that instantly delivers reports to the dashboard.
uMobix – a Parental Control App with a Full Suite of Features
uMobix is an Android monitoring app with a full suite of features, the most popular being call logs, GPS location, web messenger activity, social media, and many more features that have revolutionized the monitoring experience. One of its benefits is that it doesn't require rooting to spy on Android. Feel free to watch how to use uMobix spyware on Android here.
Key features include the following:
Calls & Messages. Monitor real-time calls, call logs, contact lists, text messages, deleted calls and texts, and restrict calls or contacts.

Social Media. uMobix is able to monitor Facebook, Instagram, Snapchat, TikTok, Whatsapp, Telegram, YouTube, and plenty of dating apps.

Location. GPS tracking and geo-finder (location tracking by phone number).

Web. Track browser usage, search history, bookmarks, and deleted history.

Additional. Gain application blocking rights, photo and video access, and SIM card replacement notifications, regulate data usage, and restrict Wi-Fi usage.
Advantages:
Instant tracking, access details immediately

Advanced browsing history monitoring

The keylogger shows all data copied to the clipboard

Free trial offered by support representatives

Easy to install
This Android monitoring app offers 3 subscription plans, depending on the period you want to use the app: 1 month, 3 months, and 12 months. A monthly subscription costs $49.99. The quarterly option is available for $29.99/month, and a yearly plan costs $12.49. All plans include full functionality, and the full payment is made upfront.
Cocospy – Remotely Monitors Your Children and Employees While Keeping You Secure and Undetectable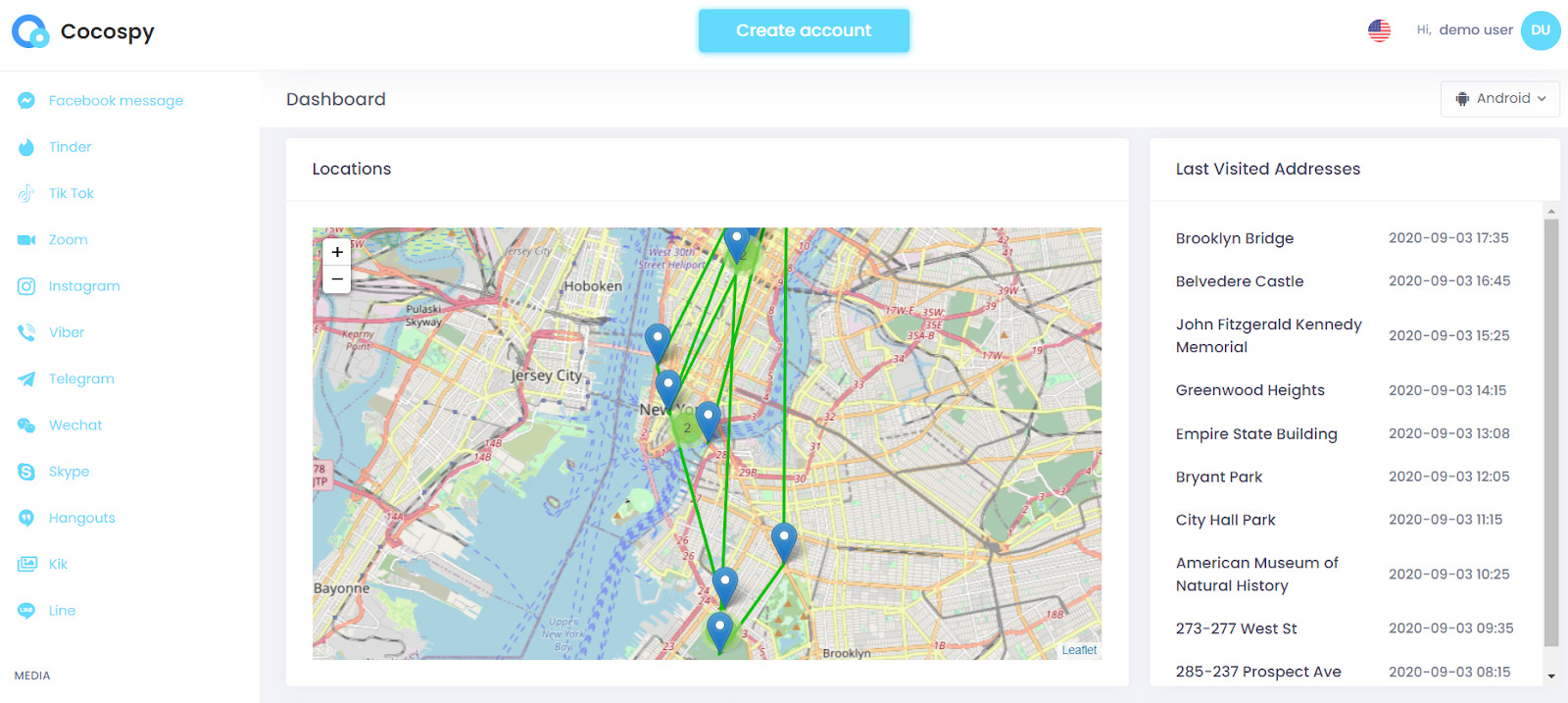 Another monitoring app for Android is Cocospy. It is known for its speed and easiness of installation and use. A powerful characteristic of this spy app is that it offers all of its features without rooting a device, meaning you can stay completely safe while surveilling your kids or spouse.
The features are the following:
Track incoming and outgoing calls and access all SMS, including iMessages.

Gain access to Facebook, Instagram, Whatsapp, Snapchat, Viber, and Messenger.

GPS tracking.

Access browser searches and history.

Instantly detect any SIM card changes.

Screen snaps.
Advantages:
Keylogger can alert when abusive words are used.

Preview videos to identify inappropriate content instantly.

Real-time location tracking.

24/7 customer support via live chat.
When it comes to prices, the monitoring app for Android has 3 subscription plans – $49.99/month, $29.99/month, and $12.49/month as part of a 1-month package, a 3-month package, and a 12-month package, respectively.
Spyic – Gathers All Sorts of Target Information and Presents It on an Easy-Access Control Panel
Spyic primarily sells itself as an app for parents to monitor their kid's phone activity both online and offline. Even though Spyic doesn't offer extraordinary features, it has a great package of the basics you'll need to keep a child safe.
The functionality includes:
Photo and video tracker.

Streaming. Camera snapshots, video stream, audio stream.

Tracking deleted info.

Social Media. Track online activity and social media presence.

Location tracking in real-time.

See browser history.

Full control over the tracked device.
Advantages:
Spying on Snapchat doesn't notify a target person.

Preview videos to identify inappropriate content instantly.

Demo version.

Stealth mode.
3 subscription plans are on offer if you want to start using Spyic software. The price per month is $49.99 or $12.49 if you buy a yearly package.
XNSPY – a World-Trusted Cell Phone Spy App That Works on Android Stealthily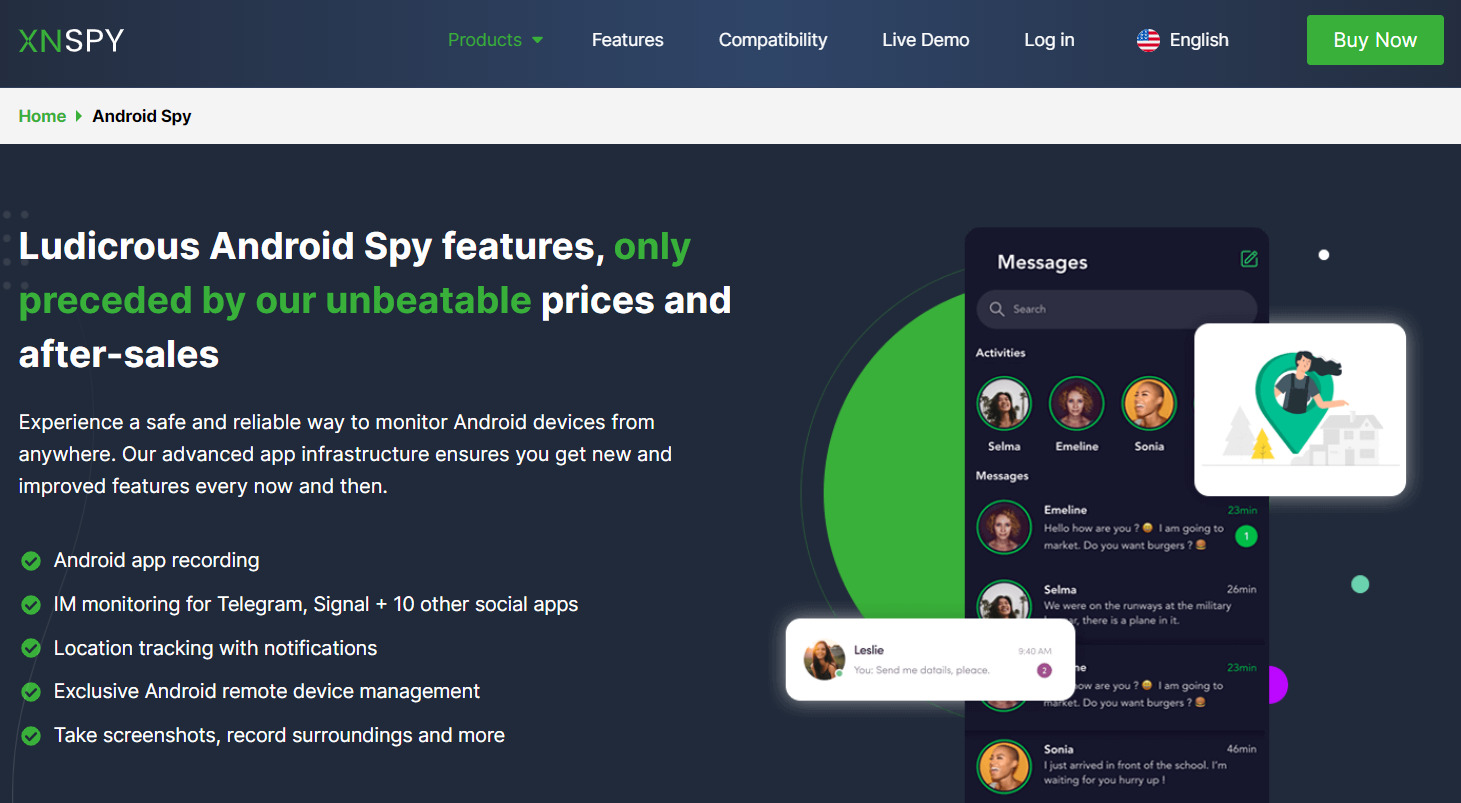 XNSPY is a popular spyware among users; therefore, it's on our list of the best Android spy apps. Not only is it great at monitoring the private information of your children and employees, but it will also keep outside tabs and allow you to delete dangerous content. It comes jam-packed with over 30 advanced features, which all come in handy.
Basic functionality includes the following:
Call recording and access to all messages, including deleted ones.

Monitor all sorts of social media, including Skype, WeChat, WhatsApp, Telegram, Kik, Instagram, and more.

GPS location tracking.

Track the internet activity and search history.

Access the target phones gallery and media files, track keystrokes with the logger, and set screen time limits.

Listening to surrounding sounds.
Advantages:
Positive reputation among users.

Encrypted site.

Stealth mode is supported.

Cryptocurrency is among the payment methods.
XNSPY presents 3 pricing packages, with the lowest one costing $12.49 per month as part of an annual subscription. It allows saving for longer periods.
Hoverwatch – a Unique Parental Control App That Instantly Delivers Reports to the Dashboard
If you are looking for an Android spy app that not only monitors the target device but also delivers instant reports, Hoverwatch is the option for you. You can monitor multiple devices from the same account, and you'll get instant updates on each device about what the user is doing and where they are going.
The features are the following:
Tracks incoming and outgoing calls and SMS, gives access to the phone book, and saves all logs.

Monitor WhatsApp, Facebook, Snapchat, Viber, Instagram, Tinder, Telegram, etc.

GPS tracking and SIM card location.

Monitor even incognito browser activity.

Social media online status.

Schedule of application use.
Advantages:
Live streaming is completely audible.

Convenient dashboard.

Taking screenshots allows keeping an eye on every activity.

No rooting is required for Android.
Hoverwatch offers flexible pricing in the form of 3 plans, where if you buy for a longer period, the price gets lower. The full-pack plan for 1 month costs $49.99, the 3 month-package costs $89.97, and the yearly one – $149.88.
Final Words
There are plenty of Android spy apps, but not all of them are worth your time. That is why we have reviewed the 5 best ones out there to help you choose a worthwhile application that will satisfy all your needs. Whether you will use the app to protect your children from inappropriate things on the internet or as a businessman looking to protect your interests, rely on these secure and undetectable apps mentioned.
FAQ
Why use an Android spy app?
Tracking apps are designed to monitor call logs, text messages, device activity, and much more. The reason to use a spy app varies by person, which could help determine if your partner is cheating, track your children's device activity and protect them from inappropriate content, or keep an eye on employee activity during work hours.
Is it legal to track someone with Android spy apps?
You can track someone with an Android spy app if you notify them. However, until the age of 18, parents can track their children's devices without them knowing.
Is physical access necessary to spy on the phone?
To be exact, physical access is needed to spy on an Android phone once to install the software on the phone, and the rest of the spying can happen remotely. Nevertheless, as we have seen, it is possible for someone to spy on your device remotely; all they need is to get you to download a compromised app yourself.
Can a person notice that they are spied on?
Even though tracking apps are undetectable on a device, a person can catch onto something due to other factors. Factors like unexpected battery drain, overheating, strange device behavior, random reboots, and settings changes.
Are there any free spy apps and how to find them?
Yes, there are some free spy apps that can be found on the internet. However, before using any of them, make sure they are safe and remember that free spy apps have limited features. FYI, by claiming to be free, a free trial might be meant by developers.
How much does it cost to use spy apps?
The cost can vary greatly. Their prices mainly rely on the features provided and the number of devices connected. Out of what we have seen, the estimated price of a popular spy app can vary from $10 to $50 per month.
How can I find out that the Android spy apps mentioned are legal in my country?
To find out what type of spyware and features are legal in your country, you will need to read your country's laws on spying.
What is rooting?
By rooting spyware software onto a device, it gains root privileges and can take full control over the device. A rooted device can run adware, delete or install applications, and copy confidential information.