Huawei P10 is probably a wonderful device that comes with a lot of features. You might have no idea but the device has got a lot of public attention recently and many smartphone users have already tagged it as one of the best devices made available this year in the smartphone market. Although it's best in every aspect, a lot of users have reported about the Bluetooth issues they have experienced. It cannot be perfectly said whether it's a software glitch or a technical issue. However, in this post, we have provided the best information on how to fix Huawei P10 Bluetooth issues simply. If you are also experiencing it, you can follow this guide.
This Bluetooth problem in the device has been reported all over the world by a lot of users. Actually, it even affects the normal functioning on the smartphone up to a great extent. Frequent connection dropping, unable to pairing the Huawei P10 with other devices are the common problems reported by most of the users. Well, the fact is it is possible to fix Huawei P10 Bluetooth issues without doing much if you follow this guide properly. Before we start fixing the problem, let us have a look at the possible causes.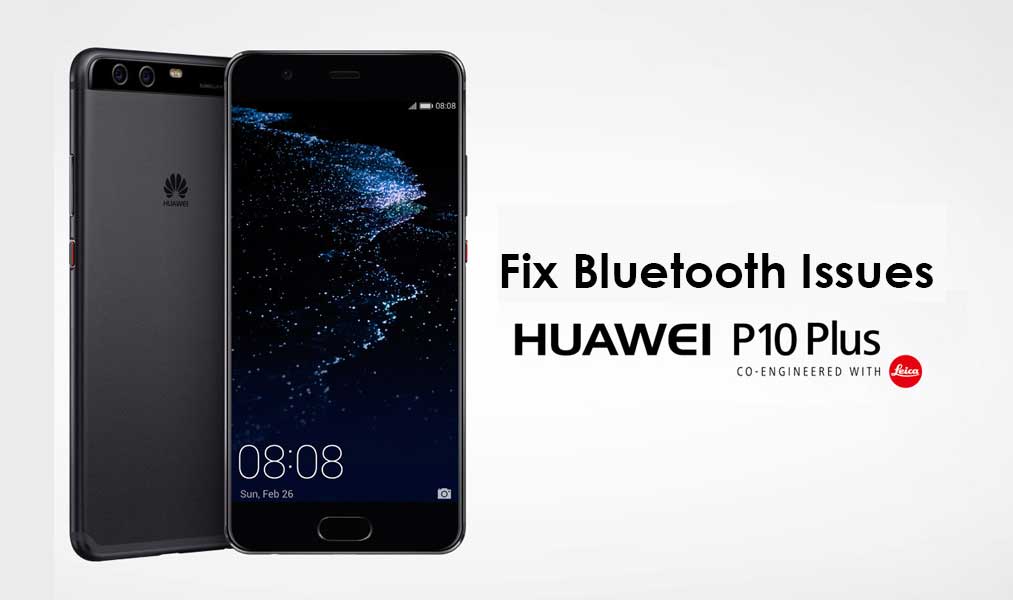 There are certain reasons why Huawei P10 experiences Bluetooth connectivity and other issues. To find a possible solution, finding the root cause of the problem is really helpful and even cut down complexity from the tasks up to a great extent. The problem is not just limited to one specific reason but it can be due to several. Some of the common reasons due to which your Huawei P10 might be experiencing this problem are the presence of malware and affected files that come when you install apps from other sources than Play Store, Operating System bugs, viruses, and physical damage to the duplexer, and so on. The good thing is a few simple solutions are there that have been discussed in this post to help you fix Huawei P10 Bluetooth issues.
Before you start troubleshooting your phone or taking it to a repair shop, follow what we are going to share with you. The very first thing is to pair your Huawei P10 with any other device. In case you are successful, wait to see if it drops the connection after sometimes or not. If it is doing so, you can follow the below-mentioned guide.
Find More Android Tips and Tricks Here
Want More Android Tips and Tricks? Then Click the link below to find more mods and customization on Android Phone.
[su_button url="https://www.getdroidtips.com/category/android-tips-tricks/" target="blank" style="flat" background="#3b4193" color="#ffffff" size="7" center="yes" icon="icon: check-square-o" text_shadow="0px 0px 0px #fa6512"]Find More Android Tricks Here[/su_button]
Steps to fix Huawei P10 Bluetooth issues
A series of some of the best solution is given below to help you keep up the pace in this matter. Go for them to avoid the problem.
Toggling the Bluetooth
It is regarded as one of the simplest and in fact the best methods available to help you simply. Simply turn off the Bluetooth of your Huawei P10 and then turn it again. Repeat this for at least 5 times. There are certain chances that the problem would be gone. To do this, simply follow below instructions.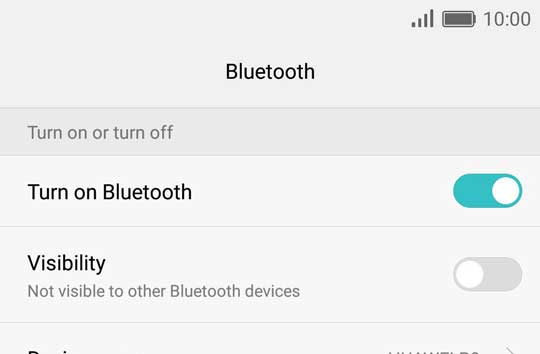 Launch the Quick Menu first
Tap on the Bluetooth icon to turn it ON
After 20 seconds, turn it OFF
Give time to your device to discover the other devices.
Repeat it for 5 to 6 times.
Restarting can fix Huawei P10 Bluetooth issues and there are certain chances of this. When the device is turned off, it also closes a lot of applications and files running parallel and that could be the reason of the Bluetooth issues.
Open Quick Settings menu on your device after swiping to the Home Screen. Look for the Bluetooth icon and turn it OFF.
Next is to press and hold the Power Button of your device and click on "Restart" icon.
When it restarts, again go to the Quick Settings and turn on the Bluetooth to see if it started working fine or not.
Show some patience and ensure you have given enough time to your Huawei P10 to pair with another device.
Remove all previous connections
Sometimes it's nothing but the glitches that declare their presence due to earlier Bluetooth connections doesn't enable the device to connect with other devices. Thus considering this method is a good option. Check the history and remove all the devices you have paired with your phone recently. The instructions for this are: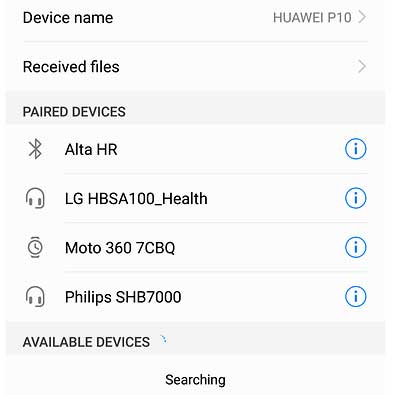 Open Phone "Settings" and look for the Bluetooth Icon
Hold every paired device and choose "Remove/Delete" it one after one.
Confirm the action and restart your device.
See if the device starts making connections with other devices.
Related post: Huawei P10 and P10 Plus Stock Firmware Collections
Clearing Bluetooth Cache
It is another useful trick that you can consider to fix Huawei P10 Bluetooth issues. There are certain chances that the Cache files are corrupt and could simply lead to Bluetooth issues. You need not to worry as the information or files stored in the cache are not important or useful to you. However, there are chances that you get rid of the problem after this. Therefore, you must try it. Here are the steps to do so:
Open Quick Settings menu and turn off the Bluetooth as mentioned previously.
Go to phone "Settings" now and select the App icon.
Next is to simply swipe left and click "All Apps tab". You will see the option "Bluetooth". Select it and tap "Empty Cache"
Wait for the time till your Huawei P10 perform this task. After it's over, see if things are back on track.
Factory Restore
In case nothing works for you, this is the method that you can consider. It must be noted that there are certain hidden files on the phone that make their entry without the knowledge of users. A factory restores erase everything on your phone and brings it to default settings. However, there are chances that you can fix Huawei P10 Bluetooth issues you are experiencing. It must be ensured that you have taken the backup of all the required data before you proceed. The instructions to do so are:
Open the device "Settings" and click on the option "Backup & Reset"
Next is to select the option "Reset to Factory Settings"
When the process goes on, don't press any button unless it is mentioned to do so. Once the device starts, check if it the Bluetooth starts working by connecting it to another device. All these tricks are simple and don't create any harm to your phone if you follow them wisely and in a proper manner. If the problem still exists, probably you need to visit a repair shop.