The Nitro 5 is a bulky 2.4kg gaming laptop, as is typical of most gaming laptops. There are a few spots on the notebook where red accents can be seen. With its angular pattern, the lid appears to borrow inspiration from stealth aircraft designs.
This is more subtle than Alienware or ROG (Republic of Gamers) line-ups, which are known for their bold aesthetics. RGB lights are only available on the keyboard, so if you're a fan, prepare to be disappointed. Also, another most disappointing this that we have also noticed is that the Acer Nitro 5 sound is not working, audio is crackling or low.
But fortunately, we have fixed this issue in our case using some easy tricks. However, if on your Acer Nitro 5 sound is not working or audio is crackling, then follow these steps.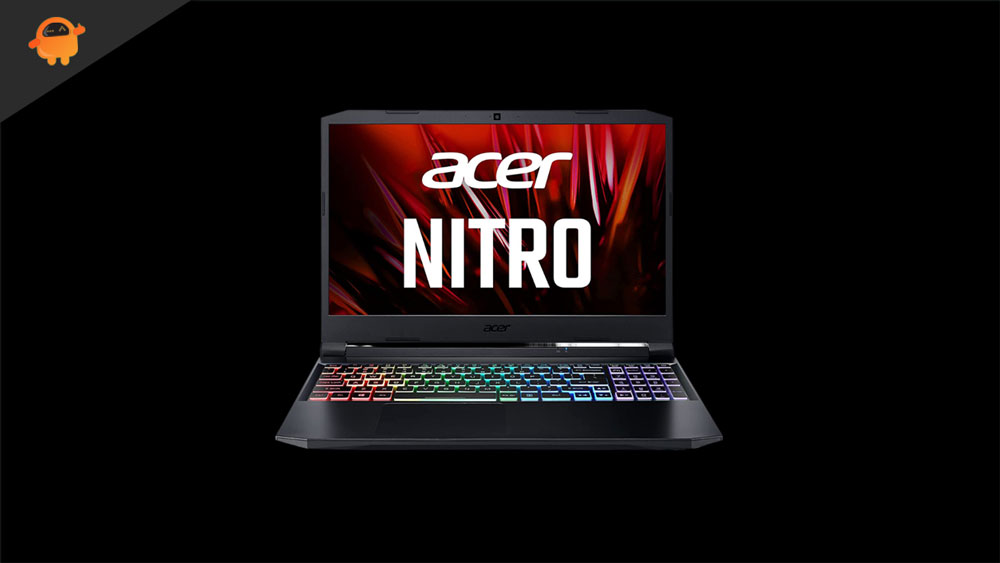 How To Fix Acer Nitro 5 Sound Not Working, Audio Crackling or Low
To fix the Acer Nitro 5 sound not working, audio crackling or low issue, the best thing is to check whether there is any sound card driver update available on your Nitro 5 or not. However, if that doesn't work for you, then make sure to check out other fixes mentioned further in this article:
Fix 1: Reboot Your Laptop
Ultimately, the answer is that restarting your Acer Nitro 5 Gaming laptop will not wipe away the current state of your System. Nevertheless, it will fix all issues and allow it to start over with a fresh start after fixing any problems that have arisen.
Before following any other method, we have mentioned here, starting from a clean state is better. You might be experiencing this problem because some temporary cache files are stored on your Acer laptop that may be damaged.
Therefore, rebooting your PC will fix the problem of sound not working, sound crackling, or low volume issues caused by temporary cache files. Consequently, if you have already tried this fix and you are still experiencing the same problem, we suggest you try the following methods.
Fix 2: Check And Replace The Power Supply
There is a possibility that the power source you are using to charge your laptop may not function properly, resulting in your Acer Nitro 5 being unable to connect with the hardware completely. This further leads to this type of issue.
Thus, it is recommended that you check whether your laptop is charging correctly. Moreover, there is a chance that your laptop's power cable may have some damage or cuts, so it cannot provide the proper current to recharge the battery. Thus, you should also examine your laptop's charging cable.
Fix 3: Control Overheating
Computers are prone to heat damage. In order to prevent overheating, computers are equipped with heat dispersal and ventilation systems. Your computer can be damaged by too much heat, as well as unstable or sudden shutdown due to too much heat.
Therefore, we recommend avoiding overheating your motherboard, damaging it, or shortening its lifespan. In this regard, checking if our Acer Nitro 5 gets overheated is vital, as overheating can also damage our computer hardware like audio devices, wifi, etc.
When a device is overheating, it might take up to an hour or more for the temperature to normalize, after which you can check whether the sound isn't working, the audio is crackling, or the low volume problem has been resolved.
Fix 4: Update Your OS
Hold on! Did you check your Acer Nitro 5 for OS updates recently? When you experience this issue with your device, it is possible that Windows is an older version. To ensure that your Acer Nitro 5 device has the latest OS version, we recommend checking the device's OS version. Here's how to do it:
To begin, type Windows Update into the Windows Search bar.
Afterward, click the Check for Updates button in the newly opened window.

You will now need to wait and see if your device has any updates available. Once you have installed them, check again if the issue has been resolved.
Fix 5: Update Your Audio Driver
To ensure that the Audio driver on your Windows device is working smoothly or to correct any audio issues, make sure you keep your audio driver updated. You should update your audio driver right now; otherwise, you might experience problems. We have outlined the steps below that you should follow in order to update your audio driver:
Right-click on Start and select Device Manager.
Select Audio inputs and outputs, and then expand it.
After that, right-click on your audio device name and click Update Driver.

You're done. Once the search has been completed, your audio driver will be updated. When you are done, make sure to check whether the sound issue on the Acer Nitro 5 gaming laptop has been resolved.
Fix 6: Check For External Damage
There are chances that your device may have any external damage due to which it fails to function properly. So, you must thoroughly check your laptop and make sure that there is no dent or damage occurs. If so, then hover over to the service center to repair it. Also, once you fix that, you will find that the Acer Nitro 5 sound not working, audio crackling, or low audio issue automatically gets resolved.
Fix 7: Use Windows Troubleshooter
You can use the Windows 10/11 in-built hardware troubleshooter to resolve the Acer Nitro 5 sound not working, audio crackling, or low audio issue. So, in case you don't know how to do this,
Open

Windows Settings

.

After that, go to

System

.

Then, tap on

Troubleshoot

.

Now, hit the

Other Troubleshoot

option.

Now, locate the

Playing Audio

option and hit the

Run

button next to it.
Fix 8: Contact the Support Team
You can also take help from the official support team by just contacting them on the Acer official website. After that, depending upon the situation, they will use either provide you with some troubleshooting guide or call you to their nearest service center to repair the Acer Nitro 5 sound not working, audio crackling, or low audio issue.
Also Read: Fix: Logitech H390 No Sound or Audio Cutting Out
So, that's how to fix Acer Nitro 5 sound not working, audio crackling, or low audio issue. We hope that you find this guide helpful. Meanwhile, if you want to share any valuable fix, we can add to this guide, comment below and let us know.