Do you have a Logitech H390 facing a no sound or audio cutting out issue with it? If so, then this guide is for you. I have explained how to fix it if your Logitech H390 shows this error. However, talking about the Logitech H390 is a pretty handy innovation for any office, especially one with a noise-canceling microphone. It is common to find headsets in a few offices, but an unfailing piece like the Logitech H390 would make a great addition to any standard workplace.
Furthermore, some offices rely heavily on headsets for customer service. There this headset will work flawlessly. There are issues like Logitech H390, no sound or audio cutting out while watching movies, web series, etc., but that's easily curable. So, in case you don't know how to do that, here are some fixes: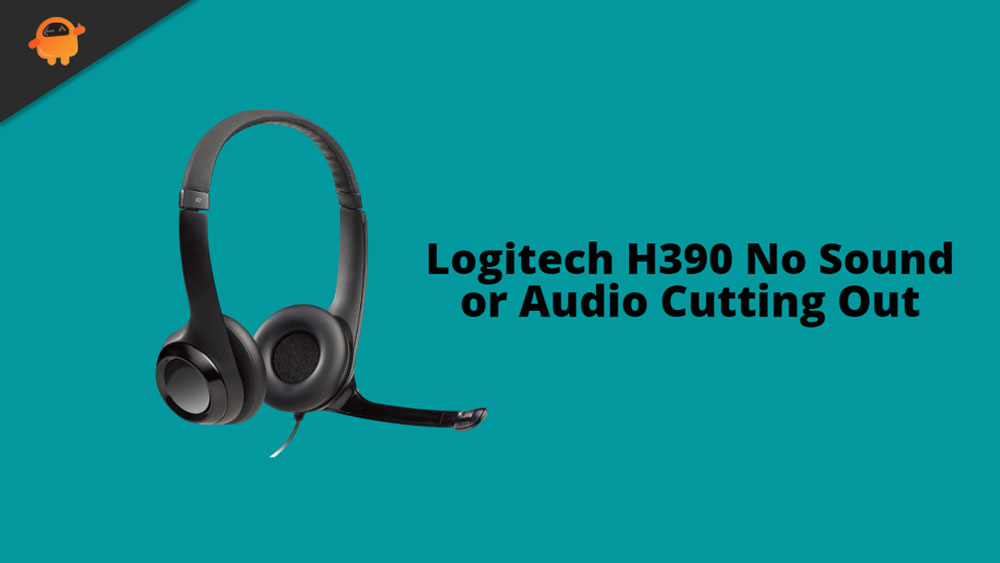 How To Fix Logitech H390 No Sound or Audio Cutting Out
So, here are the needy fixes that will help you resolve the Logitech H390 headset with no sound or audio cutting out error. Therefore, let's get started with the fixes:
Fix 1: Reboot Your Device
You may experience errors with your headphones when trying to fix them for a number of reasons. However, restarting can sometimes solve extensive hardware problems. Nevertheless, you should try this and see if your Logitech H390 starts working properly or not.
Fix 2: Reconnect You Headset
Trying reconnecting several times may resolve this problem if you have a Logitech H390 that does not play sound continuously. However, you must disconnect the H390 first by plugging out the cable and reconnecting it. You may have to do this several times.
Fix 3: Check Your Device Volume
This important troubleshooting tip might not occur if you are already frustrated that your Logitech H390 is not playing music when connected to your PC.
Our headphones may not be having problems, but the device they are connected to may be. So here are the steps to resolve this; you can easily check your Windows volume settings:
You will see the sound icon in the bottom-right corner of your screen. You can activate it by right-clicking.

Once the window has opened, click

Open Sound Settings

.

Select

Sound Control Panel

from the menu.

Open the Sound Control Panel and click the

Playback

tab.

Once that is done, right-click on the

Default Sound Device

and ensure it has a green checkmark.

After that, hit the audio test button.

A green bar will appear on your device when the sound starts working.

The default audio device should be right-clicked, and the properties option should be selected if it isn't working.

You can then unmute the tab by sliding it upward.
Fix 4: Change Your Audio Device (For PC)
A good rule-of-thumb for fixing any sound-related issue involves checking the device to which your headset has been connected since most sound issues are caused by your device, not your sound system. When your Logitech H390 doesn't play sound while connected to your PC, you should change the Audio device on your PC using these steps:
Make sure your computer is restarted. If this doesn't solve the problem, your audio device may need to be replaced.

You can do this by opening the Sound Control Panel and selecting the Playback tab.

Click on another audio source in the dropdown menu.

Set the default by clicking Set Default.
Fix 4: Update Your Audio Drivers
This type of problem can also be resolved by updating the audio drivers. You should therefore follow the below steps to check if the audio drivers for your Logitech H390 are up-to-date if you are using a Windows PC:
To begin, open the Device Manager.

On the next tab, click Audio inputs and outputs.

After right-clicking on your audio device manufacturer, select Update Driver.
Fix 5: Disable Audio Enhancements
Third-party headphones like Logitech often use these enhancements; however, they are often more concerned with quality than compatibility.
In some cases, however, the Windows audio enhancement feature may not work as expected for various reasons. To verify if it works, try disabling it first. Nevertheless, you can disable this feature using these steps:
To begin, open the Sound Control panel and click the Playback icon.

Using the right-click menu, select the Properties tab on the audio device.

Click on the

Enhancement

tab and deselect

Audio enhancements

.
Fix 6: Make Sure Your Device is Fully Charged
Your device may automatically go into battery saver mode when it detects a low battery, resulting in no audio or sound cutting. Whenever possible, make sure the battery is at least 20 percent charged. We suggest charging your device until it is completely charged this time.
Fix 7: Check For Damage
Because wired headphones can be easily damaged, you should take extra care with them. As a result, if your Logitech H390 is damaged, cracked, or dented, you should take it to your nearest service center for repair.
There have been many cases of the headphones becoming internally damaged, which is extremely frustrating. Unfortunately, headphones that have internal defects are rare to be repaired, even at Logitech's service centers.
Fix 8: Connect To Another Device
You might think that the Logitech H390 is not playing when connected to any particular device when you are experiencing no sound. You should then try connecting it to another device to see if the issue occurs.
Nevertheless, it might be a compatibility issue with your previous device if it works on other devices.
Fix 9: Try Playing Different Content
You may also receive a no sound error with your Logitech if you are watching or listening to any particular content that doesn't have sound. To test if your device's sound is working correctly, we suggest playing another content on your device.
Fix 10: Contact To Support Team
Depending on the reason behind the problem, the fixes mentioned above may not work for you. Hence, in this situation, it might be a good idea to contact Logitech's official support page and make sure to claim your headphone's warranty if they are still under warranty.
So, that's all on fixing the sound problem on your Logitech H390. We hope that this guide has helped you. But, in case you have any suggestions or queries for us, comment below and let us know.