When there are a lot of apps and services catering to the same needs, it may create confusion for the power users. Different applications have separate features and pricing. It is up to the users to decide what exact work they are going to do with the app.? Also, whether with their budget they can afford the app or not.? There are other factors such as platform dependency. So, based on all these, in this guide let us compare between UI design tools Adobe, Figma, and Adobe XD.
You may be a designer but not sure what exact tool can be easy on your pocket yet fulfill your design requirements. This guide will throw some light on helping you know the basic difference between Figma, Adobe XD and Sketch. Three of these tools are ace in the designing domain. Still, each has its own pros and cons that can be user-specific. By user, I mean those pro users who make a living out of creating designs, logos, UI/UX, etc. So, let's get into the guide and check out all the details.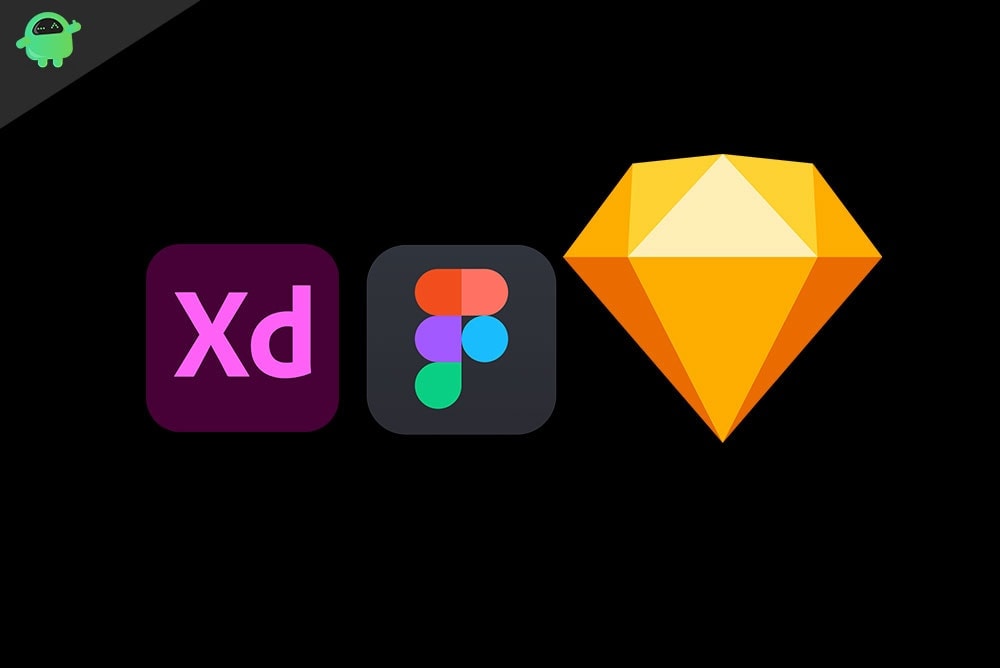 Adobe XD vs Figma vs Sketch: Which UI Design Tool is Better
Here are the various factors that will help your users to decide which UI design tool is better.
Platform Dependency
While Figma and Adobe XD is available on various platforms like Windows, Linux Sketch is only limited to Apple macOS. While a few people may see this as an advantage, I don't see anything wrong with this. Normally, in the Apple environment applications are made exclusively compatible with Apple products.
If you are not an Apple user Figma is the best solution for you. This tool is browser-dependent. All you need to use a web browser such as Chrome or Safari and you will be good to go. You do not have to install anything. One account signup and you're ready to roll with your first design.
Adobe XD on the other hand, traditionally supports Windows and Linux systems as I have specified. Out of the three Figma is apparently the one UI design tool that has a simple approach. Obviously, the cost factor is there in all the tools but in today's date, you may need to tweak your design on the go. So, a browser on any PC/laptop will come in handy.
With Sketch let's say you're traveling, and don't have your MacBook with you. In case, something is required to be done by your client, you can't do it as you don't have access to your Mac. So, Figma is better based on platform dependency.
Pricing of UI Design Tools: Adobe XD, Figma, and Sketch
Price is a primary deciding factor that helps a user to decide whether the app will be feasible in the long run. Here is a price listing of the three prime tools that we are discussing in this guide.
Figma
Adobe XD
Sketch
Free for single user up to 3 projects with unlimited cloud storage

For professional use and collaboration, you have to pay $12 per month

Free for the individual users

For team use, you have to pay $23 per month.

Buy at $99 (unlimited cloud storing)
Renew at $69/year
Yet again, Figma is pretty viable as it is initially free and later costs only $12 which is well affordable. If you are a strict Apple user, then maybe you can manage to pay and renew Sketch for your designs. Adobe XD can be a good choice for hardcore Windows and Linux users. Its monthly premium costs twice that of Figma but also if you are an individual user, the app is all yours for free.
What Makes Sketch Unique.?
According to the multitude of designers, Sketch's plugin support is next level. For various purposes like integrating multiple layers in one design or exporting a complete design from other sources, Sketch has enough plugins to support you.
Sketch regularly upgrades its interfaces with new features. One such update allows the designer to copy and paste an SVG code fragment into a design. Then the code will render into a new layer on its own.
If you intend to use Sketch and want to learn new design technologies, then there are a lot of resources that can help you out. Some designers may want to customize an already built project, then they may download such projects from open source sites. On those sites, other developers make their own design framework available for free download and use.
Figma: The Ultimate UI Design Tool
Figma is low-cost, platform-independent as it runs on the browser, and it has a great collection of templates that makes a designer's work easy and unique. It supports several plugins that can provide the user with dynamic and free images,
Following the footsteps of Sketch, Figma also offers a huge library of resources for the designers who want to make their mark in the world of UI designing.
One of the biggest advantage Figma hold over other counterparts is the cloud storage it provides. While using Sketch obviously all your designs and sample need to be stored on your Mac. You may even have to spend extra for Apple iCloud service. Adobe XD has a similar case where you may run out of storage on your PC and find more space in cloud storage. That will be too time taking and confusing when you have to deal with a dozen of design works.
If you are using Figma, then within the premium you pay, easily every design you create can be stored on Figma itself. All your work is conveniently present in one place and you don't have to spend even a few megabytes on your computer for storage.
Figma is true platform-independent as collaborators from various operating systems can easily work on the same design as long as they are on Figma. The scope of collaboration is far better than what Adobe XD or Sketch can provide.
Adobe XD: Freemium Yet Powerful UI Design Tool
Normally, as we know Adobe's products are not free. However, the company has made an exception with Adobe XD. If we look closely Adobe XD is kind of running parallel with Figma. The Adobe designing tool brings in support for a lot of plugins. It has an interactive user interface.
You may not know this but numerous plugins that you will find on Sketch have made their way to Adobe XD as well. That's freemium in the true-sense. When it comes to collaborative design, Adobe XD is not bad if we compare it as an alternative to Figma. You can share your design for further innovation, and get a review. You can even make videos of your design's current status to get more info for the next design steps.
My Opinion
If you ask my suggestion, you better go with Figma because it's scope of collaborative design, cost and platform independence. Otherwise, Adobe XD is pretty good as it is free and is available for Windows and Linux OS. It will consume storage space and can lead to low storage if you do a lot of designs regularly.
Now, coming to Sketch, it is a powerful app and is a better choice if you want to provide designs to enterprise sector clients. The point is, it will bring that sense of exclusivity to your designs and the platform of creation. Then the price will be worth it.
So, that's all about comparing which is the best UI design tool, Adobe XD, Figma, or Sketch. I hope this guide will help you decide what tool can bring out the best in your design. Do share with me in the comments, which one would you go for and why.