This post is being continuously updated to add details about Android 12…
Update as of July 29: Google is likely to kill the native internet-based SIP calling feature from Android 12 as its settings have been removed from the stock dialer app on Android 12 Beta 3.1. The SipManager class has been deprecated with API Level 31 although it doesn't mean the feature is all gone at least at the time of writing this. 
Update as of July 27: Google has released Android 12 Beta 3.1 for Pixel users now. This is the last major release before a stable release candidate is rolled out followed by the final stable update rollout. The incoming update carries version SPB3.210618.016 and offers some bug fixes. This includes bug fixes for those devices that were stuck in the boot loop after they restarted their phones. Further, an issue causing the System UI to crash has been cleared as well. Lastly, a bug triggering Android low memory killer daemon (lmkd) to kill processes excessively has been fixed as well. 

Update as of July 24: Google has removed UI customizations options with the Android 12 on Google Pixel devices. This takes away the ability to customize icons and fonts on Pixel devices as well as the ability to change the color scheme used by the system. Instead, Google will be implementing the Material You theme engine to get the best out of Android 12. The tech giant has maintained that it won't be bringing the feature back although if the user complaints are paramount, the customization options could arrive with future updates. 
---
Google has finally revealed their next version of Android called Android 12 to the public with beta update. At the Google I/O 2021 conference, they showcased the latest version with their new 'Material You' design which is highly customizable and brings a completely revamped UI. With this new version, Google has focused on privacy, design, widgets, and more.
With the Android 12 beta version, Google has partnered with Asus, OnePlus, Oppo, Realme, Tecno, Sharp, TCL, Xiaomi, Vivo, and ZTE to bring the beta build officially. Currently, the Android 12 beta update is available for Google's Pixel phones, starting from the Pixel 3 series through the Pixel 5.
If you don't have a Pixel phone, then you can try the same build on the latest smartphone from the partnered brand including OnePlus, Xiaomi, Realme, Oppo, Vivo, and Asus.
What's New In Android 12?
After the release of Android 12 beta 1, these are the confirmed features to get on the stable version according to Google.
Faster Autorotate
Google is progressively refining the autorotate feature on Android 12. With Beta 3, it now works with the front camera. It detects the face and orientation of the user before triggering to rotate when the auto-rotate feature is enabled. It will resolve infinite queries of users accidentally rotating their screens when they lie down or even turn the phone a bit where the accelerometer detects the motion and triggers autorotate. It now uses Private Compute Core to do all the images captured by the front camera to trigger autorotate on-device without any data leaving the device.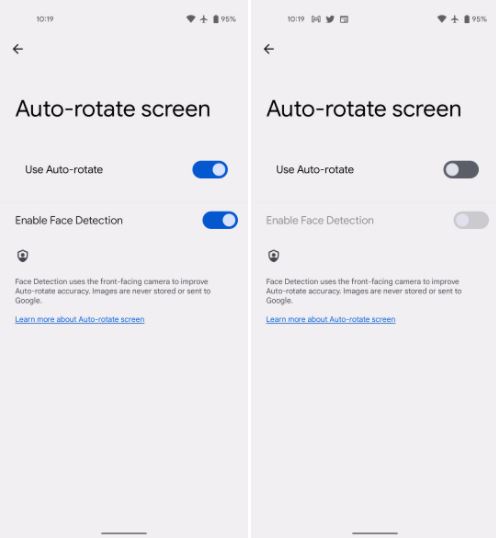 According to Google, the feature is available on Pixel 4 and above running Beta 3. It will further use the ML-aided gesture detection algorithm among others to bring down the latency by 25 percent. 
Games API
Android 12 Beta 3 brings upgrades to Game Mode APIs that allows users to create performance profiles. Here, the Game Mode will prioritize better battery life or high performance with peak frame rates accordingly. The concerning API will be joined with the Game Dashboard that will be available for selected devices later this year. 
As reported earlier, now Android 12 allows playing games when the game assets are being downloaded off the Google Play Store. This ensures that all the assets are downloaded and the user won't have to wait for the download to finish before playing it for the first time.
Improved Scrolling Screenshots
Okay, it's scrolling screenshots again. However, with Android 12 Beta 3, Google has improved it a step ahead. Now, scrolling screenshots will work on windows that are scrollable. Android 12 Beta 3 scrolling screenshots are based on views rather than taking a bunch of images and stitching them together. Google states that users can tap on "Capture more" which appears if the view is scrollable. Users are free to adjust the crop and more with this feature.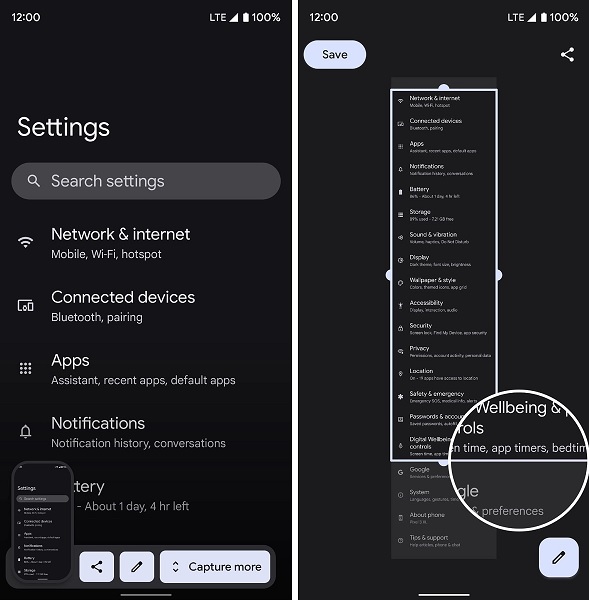 According to Google, scrolling screenshots on beta 3 will work out-of-the-box for all apps with standard View-based UI. It has rolled out the ScrollCapture API to instruct the app to take scrolling screenshots in case the app users customized UI or non-View-based UI.
On-device search
The Bera 3 brings On-device search onboard which uses the new AppSearch API. The AppSearch feature enables a high-performance on-device search engine where the API has two flavors i.e. a local index and a central index where the former deals with an app to use it with its backward compatibility while the latter deals with showcasing app data on System UI with permission.
Material YOU, Revamped UI:
After many years, Google has finally decided to change the visual overhaul of the Android OS. With the Android 12 version, Google has introduced the Material You which brings the color extraction from your installed wallpaper. This will automatically choose the color from your Wallpaper to the whole system such as the Calling menu, Settings, Notifications, Music, Google Apps, and many more.
New Android 12 Quick Tiles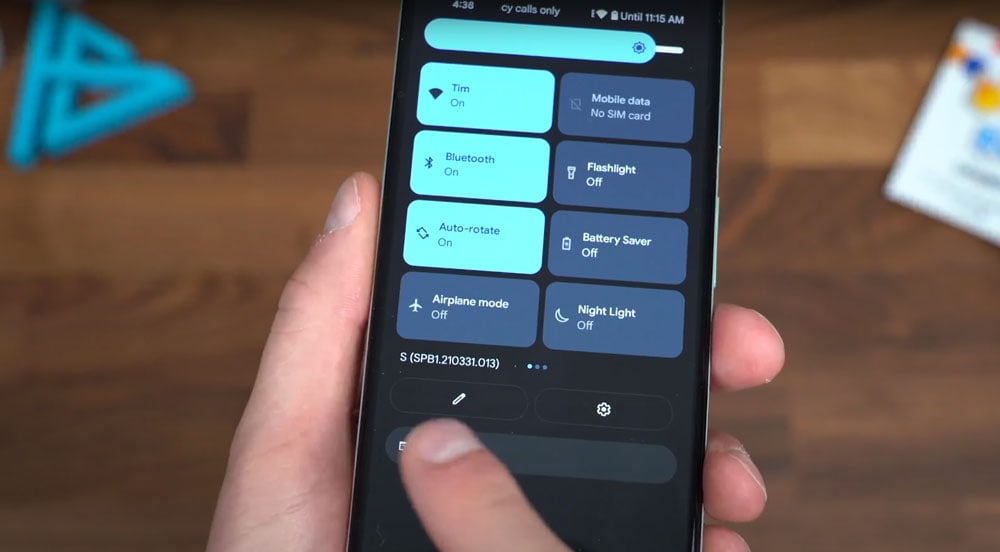 Just like every version, Google also redesigned the quick tiles in this Android 12 version too. Yes, Google has finally removed the round icons and redesigned them with large text tiles which look beautiful, elegant, and quickly accessible.
Fluid Motion and Animations

According to Google, this new version of Android 12 brings a completely new animation and smooth motion which brings a unique feeling to the device. This is achieved by some under-the-hood improvements including reducing the CPU time needed for core system services by up to 22% and reducing the use of big cores by the system server by up to 15%. For more
Notification improvements

With Android 12, Google has redesigned with notification layout to improve the usability, functionality, and animation.
The Quick Settings space doesn't just look and feel different. It's been rebuilt to include Google Pay and Home Controls, while still allowing for customization so you can have everything you need most in one easy-to-access place. To know more, click here
Privacy and security improvements

At Google I/O 2021, Google has announced their new privacy system for Android 12 which makes the Android system more secure and transparent. It gives you more transparency around which apps are accessing your data, and more controls so you can make informed choices about how much private information your apps can access.
One-Handed Mode:
When Google first rolled the preview build, we saw the Android system is shifting to the one-handed mode just like iOS. If you swipe down, you can activate the one-handed mode which makes it easy to access the device feature on a huge phone in size. By swiping it brings the top half of the display downwards which allows you to reach the buttons, icons, notification, and more.
How to Get Android 12 Beta Update?
For Pixel users starting from Pixel 3 to Pixel 5, you can simply download and flash the Android 12 beta flashable zip, or you can opt-in to get the Android 12 beta OTA on your device.
If you have any device which is partnered with Google for Android 12 beta such as Asus Zenfone 8, OnePlus 9 series, Oppo Find X3 Pro, Realme, Tecno Camon 17, Sharp, TCL, Xiaomi Mi 11 series, Vivo, and ZTE.
Android 12 Beta Supported Device:
Google Pixel: 
Google Pixel 3
Google Pixel 3a
Google Pixel 3 XL
Google Pixel 4
Google Pixel 4 XL
Google Pixel 4a
Google Pixel 4a 5G
Google Pixel 5
OnePlus:
Xiaomi:
Asus:
TCL:
Tecno:
Oppo:
Realme:
Vivo:
ZTE
Devices that will receive the Android 12 update
Most Android manufactures release at least two major Android updates for their smartphones. Thus, we can expect all devices that come with Android 10 pre-installed to receive the Android 12 update when it arrives. Of course, there can be a few exceptions or additions to the list. But we do expect the following devices to get Android 12 when it is available.
Huawei | Honor
Huawei P40 | P40 Pro | P40 Pro+ | P40 Lite
Huawei P Smart S
Huawei Nova 7i
LG
Update as of April 12: Despite the fact that LG is already exiting the smartphone market, it has maintained that it will continue to push out Android updates for both major OS and security patches. Turns out LG has published listings of devices that are eligible for Android 12. With that being said, here's the list of devices eligible for Android 12. Also, check out for the asterisk (*) sign for units that are eligible for Android 13 as well.
LG Wing*

LG Velvet 5G*

LG Velvet LTE*

LG V50S

LG G8

LG Q31

LG Q52

LG Q92 5G
Motorola
Motorola Moto G60
Motorola G40 Fusion
Motorola Moto G100
Motorola Moto G50
Motorola Moto G20
Motorola Moto G30
Motorola Moto G10 | G10 Power
Motorola Moto G9 Plus | G9 Play
Motorola Edge | Motorola Edge+ | Motorola Edge S
Motorola Razr 5G
Motorola G 5G | G 5G Plus
Motorola Moto G Power 2021
Motorola Moto G Stylus 2021
Motorola Moto One 5G | One 5G Ace
Motorola One Fusion | One Fusion+
Motorola One Hyper
Motorola Moto G8 | Moto G8 Power*
Motorola Moto G Power | G Fast
Motorola Moto E7 | E7 Plus | E7 Power*
Note: This isn't an official Android 12 supported Motorola smartphones list. There is a high probability that some of these devices may not get Android 12 and especially those marked with the asterisk "*" sign.
Nokia
Update as of March 30: Nokia has one of the most impressive lineup of devices thanks to their capability to get Android upgrades faster than many other smartphones. The Android 12 on Nokia devices is not yet confirmed since the latter hasn't confirmed a list of devices nor the schedule that it will follow in its rollout. Google has already released Android 12 Developer Preview v2.1 and will soon release DP3 in a few days time which  means the beta updates will commence soon which is when non-Google devices get their hands on the update. 
With that being said, here's a tentative list of Nokia smartphones that will get their hands on Android 12 although take it with a pinch of salt since the Finnish tech giant which is now operating under HMD Global hasn't confirmed the list yet.
Nokia 1.3

Nokia 2.4

Nokia 3.4

Nokia 5.3

Nokia 5.4

Nokia 8.3 5G

Nokia 8 V 5G UW

Nokia X20
OnePlus
Update as of February 20: For those who are excited for the Android 12 rollout on OnePlus devices (even before Android 11 is available), this is an updated list of devices that will get Android 12.
OnePlus Nord N200 5G
OnePlus 9
OnePlus 9 Pro
OnePlus 9R
OnePlus 8T
OnePlus Nord
OnePlus 8 | OnePlus 8 Pro
OnePlus 7T | OnePlus 7T Pro
OnePlus 7 | OnePlus 7 Pro
OnePlus 6* | OnePlus 6T
Note that both OnePlus Nord N100 and Nord N10 5G arrived with Android 10-based OxygenOS 10 out-of-the-box. This renders them unable to receive Android 12 update but take it with a pinch of salt. 
Note that last year, OnePlus rolled out Android 11 DP on OnePlus 8/8 Pro in June. This year, the OnePlus 9 series will be official in the coming weeks and thus, it will also get Android 12 DP version soon although we won't put any timeline just yet.
Oppo
Update as of March 27: Oppo is already among the first to roll out Android 11 beta before many smartphone brands. Now that it is rolling out official versions of Android 11 to its smartphones, we can concentrate on Android 12 which has already dropped its second developer preview and will soon swing into public beta testing. As per the schedule, Google will swing into beta testing Android 12 in May and that is around the same time when non-Google OEMs pick up beta versions to test on a few smartphones.
Last year it was Oppo Find X2 and FInd X2 Pro that was a part of Android 11 beta program. This year, Android 12 beta is expected to arrive with Find X3 and Find X3 Pro as well. It will arrive with ColorOS 12 on top of it.There are a tonne of smartphones that are eligible for Android 12 and here's a list of eligible devices. Note that it is not an official list and thus, it would still take some time to get the official list out there.
Oppo Find X3/ X3 Pro/ X3 Neo/ X3 Lite

Oppo Find X2/ X2 Neo/ X2 Lite/ X2 Pro

Oppo F19/ F19 Pro/ F19 Pro+ 5G

Oppo Reno5 4G/ 5G/ Pro/ Pro+ 5G/ Lite/ F

Oppo Reno3/ 5G/ Pro 4G/ Pro 5G/ Youth

Oppo Reno4 5G/ 4 Lite/ 4 Pro/ 4 F/ 4 Z 5G

Oppo A9 (2020)

Oppo A92s

Oppo A94

Oppo A72

Oppo A15/ A15s

Oppo A53

Oppo A93

Oppo F17/ F17 Pro

Oppo A72 5G

Oppo A55 5G

Oppo K7 5G/ K7x 

Oppo Reno R
Realme
Update as of February 24: After OnePlus and Samsung, we have come up with the tentative list of Realme devices that will get their hands on Realme UI 3.0 based on Android 12 once it arrives later this year. 
Realme X7 Max 5G
Realme 8

| 8 5G | 8 Pro

Realme Narzo 30

| Narzo 30

5G
Realme

GT

Neo Flash
Realme Q3 Pro Carnival

Realme X50 | X50 Pro 5G

Realme X50 Player Edition

Realme X50

Realme X7

Realme X7 Pro

Realme X3 SuperZoom

Realme 7i

Realme 7 Pro

Realme 7

Realme X3

Realme Narzo 10

Realme 6i

Realme 6 | 6 Pro

Realme C3

Realme Narzo 20

Realme Narzo 20A

Realme Narzo 20 Pro

Realme Narzo 30A

Realme Narzo 30 Pro 5G

Realme C25

Realme C12

Realme C15

Realme C17

Realme V11 5G

Realme V15 5G

Realme Q2 Pro

Realme GT 5G | GT Neo
Samsung
Update as of May 25th: Here's the list of Samsung devices that will get Android 12-powered OneUI 4.0 although it could change if not stay completely true.
Samsung Galaxy S21

| Galaxy S21+ | Galaxy S21 Ultra (LTE / 5G)

Samsung Galaxy S20 | Galaxy S20+ | Galaxy S20 Ultra (LTE / 5G)

Samsung Galaxy S20 FE (LTE / 5G)

Samsung Galaxy S10 | Galaxy S10+ | Galaxy S10e | Galaxy S10 Lite

Samsung Galaxy Note 20 | Note 20 Ultra

Samsung Galaxy Note 10 | Note 10+ | Note 10 Lite

Samsung Galaxy Z Fold2

Samsung Galaxy Z Flip (LTE / 5G)

Samsung Galaxy Fold

Samsung A90 5G

Samsung Galaxy A71 / A71 5G

Samsung Galaxy A51 / A51 5G

Samsung Galaxy A52 / A52 5G
Samsung Galaxy A72

Samsung Galaxy A31

Samsung Galaxy A41

Samsung Galaxy A11

Samsung Galaxy A21

Samsung Galaxy A21s

Samsung Galaxy A32 / A32 5G

Samsung Galaxy A02s

Samsung Galaxy A02

Samsung Galaxy A12

Samsung Galaxy A01

Samsung Galaxy A Quantum
Samsung Galaxy Quantum 2

Samsung Galaxy M01

Samsung Galaxy M02

Samsung Galaxy M02s

Samsung Galaxy M12

Samsung Galaxy M21

Samsung Galaxy M21s

Samsung Galaxy M31

Samsung Galaxy M31 Prime Edition
Samsung Galaxy M31s
Samsung Galaxy M42 5G
Samsung Galaxy M51
Samsung Galaxy M

62

Samsung Galaxy M51

Samsung Galaxy Tab S6 | Tab S6 5G | Tab S6 Lite

Samsung Galaxy Tab S7 | Tab S7+ (LTE / 5G)

Samsung Galaxy Tab A 8.4
Samsung Galaxy Tab Active 3
Samsung Galaxy Tab A7

Samsung Galaxy F41

Samsung Galaxy F62

Samsung Galaxy F02s
Samsung Galaxy F12
Samsung Galaxy Xcover Pro
Samsung Galaxy Xcover 5
[Source]
When it comes to Android 12 release, it is expected to arrive in August/September 2021 as a stable version. Once the first public arrives, Samsung could start rolling out beta builds on its top lineup followed by others. It is expected that Samsung could release Android 12 stable update on the 2021 flagship devices (S21 series and Note21 series) by December if not earlier. 
Xiaomi
Update as of July 5: As per the list of Xiaomi devices to get Android 12 posted by a popular Telegram channel, here's the list.
Xiaomi Mi 11 / Pro / Ultra*

Xiaomi Mi 11i / Mi 11X / Mi 11 Pro / Mi 11 Lite 5G*

Xiaomi Mi 10S*

Poco F3 / Redmi K40 / Redmi K40 Pro / Redmi K40 Pro+*

Xiaomi Mi 10/ 10 Pro/ Ultra

Xiaomi Mi 10 Lite 5G/ Zoom / Youth

Xiaomi Mi 10i / Mi 10T Lite

Xiaomi Mi 10T / 10T Pro

Mi MIX Fold

 Xiaomi Redmi 10X 5G / 10X Pro

Xiaomi Redmi Note 9 / Redmi Note 9 Pro / Redmi Note 9 Pro Max / Redmi Note 9S

Xiaomi Note 9 5G / Note 9T / Note 9 Pro 5G

Redmi Note 10 / 10S / 10T / 10 5G

Redmi Note 10 Pro / Pro Max

Redmi Note 10 Pro 5G (China)

REdmi Note 8 2021

Redmi K30 / K30 5G / K30 5G Racing / K30i 5G / K30 Pro/ K30 Zoom / Redmi K30 Ultra / K30S Ultra

Redmi K40 Gaming

Poco F2 Pro

Poco F3 GT

Poco X2 / X3 / X3 NFC / X3 Pro

Poco M3 / M3 Pro 5G

Poco M2 / M2 Reloaded / M2 Pro

Poco C3

Blackshark 4 / Blackshark 4 Pro / Blackshark 3s

Blackshark 3 | Blackshark 3 Pro

Redmi 9T / 9 Power #

Redmi Note 9 (Global) / Redmi 10X 4G #

Redmi Note 9 4G (China) #

Mi Note 10 Lite #
Note: Devices marked with asterisk (*) are already a part of Android 12 beta development; those marked with hashtag (#) are those that "may" get the update and finally, others are those that will get the update albeit unofficial.
Vivo
Update as of April 11: Vivo made quite a name for itself after rolling out Android 11 update to a handful of smartphones even before Android 11 was official. It has already rolled out across more devices so far and here's a list of devices that are slated to get Android 12-powered FuntouchOS 12. Take it with a pinch of salt since Vivo hasn't released the list officially.
Vivo X60 | X60 Pro | X60 Pro+ | X60t

Vivo X50 | X50 5G | X50 Pro | X50 Pro+ | X50e | X50 Lite

Vivo X51 5G

Vivo S9 | S9e

Vivo X51 5G

Vivo NEX 3S 5G

Vivo S7 | S7e | S7t

Vivo Y30 (China/ Standard)

Vivo Y31| Y31s

Vivo Y11

Vivo Y20 | Y20s | Y20G | Y20 2021 | Y20i

Vivo Y12s

Vivo Y51 (Dec 2020) | Y51s | Y51a

Vivo Y52s

Vivo Y70 | Y70s

Vivo Y73s

Vivo V19

Vivo V20 | V20 Pro | V20 SE

Vivo iQOO Z1/ Z1x

Vivo iQOO U1x | U2x | U3 

Vivo iQOO 7

Vivo iQOO Neo5 | Neo3 5G

Vivo iQOO 3 5G

Vivo iQOO 5 5G | 5 Pro 5G

Vivo iQOO Z3
Sony
Sony Xperia 1 II

Sony Xperia 1 III

Sony Xperia 5 II

Sony Xperia 5 III

Sony Xperia 10 III

Sony Xperia 10 II

Sony Xperia Pro

Sony Xperia 1*

Sony Xperia 5*
Note that devices that are marked with the asterisk "*" sign may or may not get the Android 12 due to xyz reasons.
Asus
Update as of April 19: Now smartphone manufacturer has officially released an Android 12 supported device and Asus isn't an exception. It has plenty of smartphones that are likely to get Android 12 although its update schedule takes a lot of heat for constant dealsy and whatnot. Well, we have a tentative list of Asus smartphones that are likely to make it to Android 12 although take it with a pinch of salt at the moment.
Asus ROG Phone 5

Asus ROG Phone 5 Pro

Asus ROG Phone 5 Ultimate

Asus ZenFone 7 

Asus ZenFone 7 Pro

Asus ROG Phone 3

Asus ROG Phone 3 Strix
As we mentioned earlier, the Android 12 supported device list is only as per our speculation at the moment. No device on the list is guaranteed to receive the Android 12 update.