The story is being continuously updated…
Update as of April 5: Finally, it is confirmed that LG is shutting down its smartphone business after the news broke out a while ago. Turns out LG has mentioned it in its press release that the LG smartphones will continue to be sold until the stock is available with each vendor. Also, LG smartphones will continue to get software updates as they usually would as per the mandate. LG started releasing Android 11 on some of its smartphones and has mentioned that some of the models are eligible for Android 12 as well while it will also continue to ship frequent software updates with locked and unlocked variants as usual. [Source]
#2: One of the features that was earlier available on vanilla Android search is now coming on third-party launchers as well. Now when users search for something on the search section, they get universal device search wherein the system will return search results not just with apps as said but if there's any sony or video or something, it will show it as well. For example, if you search for a song, the search results will have results from your local files as well as apps like YouTube Music and Spotify as well. [Source]
Android 11 Developer Preview 2
Update as of March 31: Google was testing out a translation feature back in July 2019 that was otherwise expected to arrive with Android 11 but it didn't make it through although it was announced to arrive with December 2019' Pixel Feature Drop. Anyways, the latest Android 12 Developer Preview 2.1 has gone with the new translation from recents screen feature. It works simply by going to a window that is in non-English.
When you go to the recents screen on your Pixel 3 device or higher, you get a small button that says "Translate" which gives a glimpse into the Google Lens feature active here. Apparently, it translates any language to English. We weren't able to reproduce the same either on Android 11 or Android 12 but it seems like the feature is limited on Pixel 3 running Android 12 (v2.1). It remains to be seen when it arrives on other Pixel devices and other OS versions. Also, it works only if the translated language is set to U.S. English.  [Source]
Update as of March 30: The Android 12 Developer Preview 2 arrived two weeks ago with plenty of changes including important bug fixes, visual changes, and new permissions on-board. Given the fact that it wasn't stable yet, Google has released a slightly upgraded version i.e. Developer Preview 12.1 today that now fixes the WebView crashing issues that were earlier detected. 
Apparently, there's no infinite reports about Google and Google apps going down due to some issues with the WebView since the former depends on WebView for its operations and thus, weren't able to work properly on Android 12 Developer Previews. The new DP 2.1 brings a few more bug fixes including issues to the NFC payments, back gestures and more.
To zero in the issues that were tackled with DP v2.1, it has now fixed issues related to the go back gesture not working properly in certain cases. Also, the NFC payments through Google Pay app wasn't working properly either and thus, it has been fixed now. Apart from that, issue that causes java.lang.deprecated on Android 12 system files has been fixed. Along with that, gone are the issues preventing apps on Android 12 from running using version 2.7.0-alpha01 of WorkManager. This also includes 2.7.0-alpha02.
Other sets of issues that were fixed with Android 12 Developer Preview 2.1 is the bug that shared videos from the camera app in wrong encoding, while others were facing issues that made it difficult to access their notification shade and so on. As usual, the Android 12 Developer Preview 2.1 is only available for Pixel devices from 3 to 5. It is only after the beta stage when Android 12 will be available for a handful of non-Google devices subjected that they have partnered with Google to bring Android 12 on their devices way before it arrives.[Source]
Update as of March 23: Just as users were making the most of their Android 12 Developer Preview 1/2, it introduces a string of reports. Apparently, countless reports about apps showing "keep closing" warning messages popped up on Twitter and Reddit among other forums. In fact, DownDetector posted an upsurge in the outage of apps like Amazon and Gmail. Apparently, the issue was on-boarding many Google apps and more although the Google Workspace services and Desktop Gmail Web Interface was unaffected. 
It was later that users found out that Android WebView was the root to the issue. Perhaps a new update caused the WebView to cause the blunder on a massive scale. For the uninitiated, the Android WebView is the component that allows app developers to display web pages in their apps. This is homologous to many apps including Amazon, Gmail, and others. Since Android WebView gets and updates itself automatically from the Google Play Store, the recent update might have upgraded the app causing the scare. Anyways, there were tonnes of reports of people suggesting ways to fix the issue. One of the user on Twitter stated that removing the updates from the Android WebView app on their devices fixes the problem since a recent update is the root cause of the issue. 
Cut to Google, it has finally acknowledged the issue and were quick to fix the issues in  just a little time. Google has asked users to update their Google Chrome app and Android System WebView that will resolve the issue on their devices. [Source]
Update as of March 18: Another day has passed and now, we have Android 12 Developer Preview 2 in our hands installed on our Pixel 5. With that being said, it does bring a string of features, API changes, platform behavior changes and more. Here's all the changes that we have come across w.r.t. Android 12 Developer Preview 2.
New Functions For Safety
The first is the HIDE_OVERLAY_WINDOWS permission wherein it hides the app's window when another app is overlayed on top of it. The API calls Windows#setHideOverlayWindows() function to do so. Another change is with the notification visibility controls wherein taking an action on any notifications on a lock screen will trigger an authentication. For instance, when performing any action on any message or notification when received on the lockscreen requires user authentication. 
Now, with Android 12 Developer Preview 2, developers get access to multiple checksum for an install app that they can choose installing Merkle Rot, SHA512, SHA256 among others. Developers are further working on making it backward compatible as well.
According to the changelog, Dp2 now offers a much better dark theme on-board that brings a lighter shade of dark theme that users can use.
As you know, the Android 12 brings one-handed mode on-board Android devices. With that being said, the new DP2 eases one-handed usage on exceptionally large screens since the manufacturers are working on taking the display sizes to the next level. Pixel users can launch one-handed mode using the Gestures settings. Simply swipe down from the bottom of the screen and it will trigger one-handed mode if it is enabled.
Plus, there's a timeout counter allowing users to choose between 4 seconds, 8 seconds, 12 seconds, and never to exit the one-handed mode. 
New Swipe-down Notifications gesture
This is the latest feature added on-board Android 12 Developer Preview 2. Unlike previously when users were able to pull down notification panels from the top of the display when in any app or on app drawer but they can simply flick their fingers at the bottom to call the notification panel when on the home screen. Apparently, the same feature has been added within the apps as well allowing users to call the notification panel swimply by flicking your fingers at the bottom of the display using a swipe-down gesture. [Source]
If you aren't yet satisfied with the features list presented by Android 12 DP2, there are plenty of more to cherish. One such feature is the new widget picker where the Pixel launcher has been added with the capability of the same. Smart forwarding calls, pick apps that the Notification Listener will be able to intercept on Wear OS app, Turn screen darker setting page and so on.
Other features include Game Dashboard, a Revamped PIN view, a new Toast Message UI, a taskbar for devices with large screen, face-based autorotation which is a great feature as well as enhanced Monet Theming System, a Conversation/People Space Widget Picker, and Quick Setting tile that shows Device Controls among others. [Source]
Android 12 DP2 API Changes
These particular API Changes are applicable for developers and not entirely users except those who have required expertise. 
Thanks to the RenderEffect class, Android 12 now allows developers to apply common graphics effects. They can use color filters and blurs as separate entities or use a chain of effects as needed. 
Android 12 offers much better PiP functionalities then the previous iteration. With DP2, apps can now resize in various dimensions seamlessly. It further allows auto-PIP mode that makes the system transition to app to PIP mode on an up-to-home gesture and doesn't require the animation to be complete. Also, stashing the PiP window to the left or right is now available.
Bandwidth estimation improvements
With Android 12, Google has worked upon bandwidth estimation APIs allowing developers to estimate the throughput per Wi-Fi SSID, carrier, signal level, network type and other verticals for all users on the device. 
Developers now have absolute control over rounded corners with Android 12 Developer Preview 2. Here, they will get details w.r.t. rounded corners of every device in relation with the app's bounds.
Updates to companion device app API
Usually, you need a dedicated app to manage any fitness and wearable devices such as GtBit or Samsung Galaxy GT and others. This includes updates to the companion device as well. Google has now improved upon the API with the new CompanionDeviceService API that greatly simplifies the process of companion device enrollment. 
As per the timeline for Android 12 rollout, it first released DP1 in February followed by DP2 in March and the third one in April. This will be followed by beta candidates in May, June, July and finally, stable update in August followed by final release later soon. Timeline could change slightly so do give it a few weeks to spare. [Source]
Update as of March 23: Well, we earlier knew that the Android 12 will bring privacy indicators as one of its major features. Cut to now, a developer has posted a screenshot of the Android 12 UI on Twitter teasing the redesigned privacy indicators on the top left corner of the status bar. The privacy indicators are enclosed in a green pill showing users if an app is using either of microphone, location, or camera or all at once. This is a redesigned version that the developer was able to enable with Android 12 probably Developer Preview 2. [Source]
Update as of March 8: Of all the myriad of features that Android 12 brings on-board, one is its new image compression format called AVIF or AV1 Image Format. Google is planning to phase out long-used JPGs for AV1. WIth Android 11, Google debuted the HEIF format for video recording as it consumes less space on the storage device and AV1 does the same with the photography scene.It can store both static and animation images like GIFs while consuming 50 percent less storage when compared to WebP image and thus, it helps save a huge chunk of storage that would otherwise go unusable due to the huge size of JPG images. Also, the AV1 offers some advanced features that the JPG image format doesn't support. [Source]
Update as of March 7: Android 11 is rolling out on more devices now but the Android 12 is already here albeit as a Developer Preview 1.1. So, talking about Android 12 and the devices that will be eligible to get their hands on the upcoming Android 12 (scheduled to release in August/September 2021), here's which Motorola devices are likely to get their hands on. Note that this is not an actual list since Motorola hasn't confirmed it yet but here's a tentative list of devices that could be eligible for the same.
Motorola Edge / Edge+ / Edge S

Motorola Razr 5G

Motorola G 5G / G 5G Plus

Motorola Moto G Power (2021) / Moto G Stylus (2021

Motorola One 5G / One 5G Ace

Motorola One Fusion / One Fusion+ / One Action / One Vision / One Hyper

Motorola Moto G Power / Moto G Fast
Note that this isn't an official list of Android 12 supported Motorola devices as neither of the parties involved have confirmed the list yet. Also, we aren't aware of when Android 12 will start arriving on Motorola devices. If the usual schedule is followed, we could see the first Motorola devices to get their hands on the update in January 2022 at the earliest. Note that the above mentioned devices arrived with Android 10 out-of-the-box and thus, are highly likely to get Android 12 although it is not carved out in stone so this might change.
Update as of March 04: After releasing Android 12 Developer Preview 1 a few days ago, Google has released the first incremental update i.e. Android 12 Developer Preview 1.1. This brings out a lot of fixes to issues that were originally discovered on Android 12 Developer Preview 1.
This includes fixing an issue causing the phone to intermittently disconnect from Wi-Fi abruptly when even the network is strong. Another fix that has been spotted is with the "System UI Keeps Stopping" message that pops up on the screen whenever the user is trying to take a screenshot using the Power + Volume Down button from the lockscreen. The incremental update brings a number of fixes for other issues such as excessive battery drain, unresponsive fingerprint reader, reboot after using PIn to unlock devices, system UI freeze after updating the device and so on. [Source]
---
Update as of March 11: Although not a massive change but a subtle altercation, the Android 12 DP1 and DP1.1 now shows "PIN required after devices restarts" warning message on the top of the screen in red. It was earlier clad in white every time you try to unlock the phone with its fingerprint scanner after restarting your device. Cut to now, you will get the warning in red so that you can have a look at it and not bypass it relentlessly using the FPS to unlock the phone again after a restart. [Source]
Android 12 Developer Preview 1
The Android 12 Developer Preview 1 is finally here. Codenamed as "Snow Cone". The DP1 gives a striking look into the Android 12 operating system well before its stable version arrives. We had a tonne of Android 12 leaks so the DP1 will actually help us put things in-line with the previous leaks and match what features arrived and what not. Next month, we will see another Developer Preview (DP2) that will have more features or some of the features available on DP1 will likely be pulled off or enabled again. This will be followed by a few DP versions plus Android beta builds followed by the final stable release this August/September.
Material NEXT Design
Android 12 DP1 embraces the new "Material NEXT design" where the user interface has been completely overhauled. The UI now focuses on functional improvements with a tonne of visual upgrades.
The UI background received a new Accent color which is now prominent system-wide. The UI now has a bluish tint visible on both dark and light themes. There's no custom color change mode for the UI as leaked earlier. The lock screen has received a makeover with a translucent layer with a newer and bouncier animation. The Notifications panel on-board Android 12 DP1 has made quite a significant improvement. The inactive tiles on the Quick Settings now have a light-blue color overlay while active tiles have dark blue colors. A "Reduce Bright Colors" tile on Quick Settings dims down the brightness beyond the standard brightness control.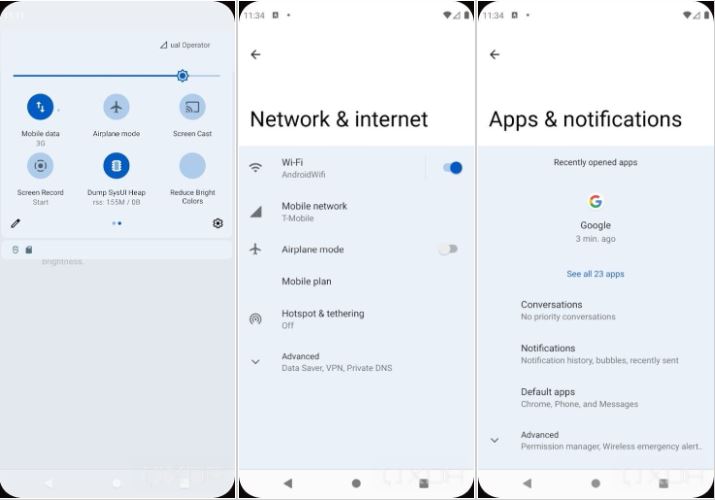 Performance & Enhancements
The toggles in the Settings app has become larger compared to the toggle options underneath emphasizing on its hierarchy. Android 12 DP1 brings One-Handed Mode closer to the Pixel users (at the moment) as the UI slides down for easier access using just one hand. Most of the options on Android 12 are now accessible with a single thumb. Google is calling it "Silky Home" that eases one handed operations on the device.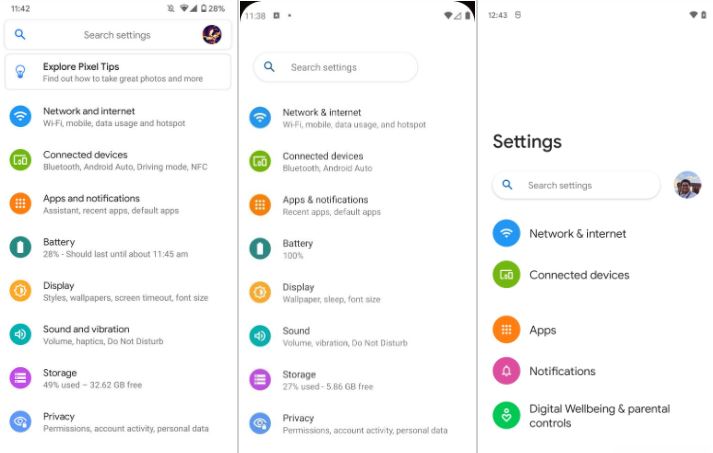 Next up, the Android 12 stock OS now offers Scrolling Screenshots that have been part of many custom UIs but not the stock Android OS. Android 11 DP arrived with Scrolling Screenshot but it was later pulled out. Moving further, there's a bit of change when it comes to the widgets on-board Android 12. There's a hidden feature that clubs like-minded widgets in a single stack although it is yet to be made available.
Android 12 brings a new snooze button for unimportant notifications on the Notifications Panel. You can set the duration of snooze from 15 minutes to 2 hours. Media Controls on-board Android 12 have been refined over Android 11. The UI for media controls is now bigger on-board Android 12 and the icon has received a huge screen real estate as well.
Android 12 does bring a lot of features on-board including a refined Picture-in-Picture mode that we hinted earlier. Android 12 takes Android 11's capability to resize PiP window (which was jarring) to the next level adding pinch-to zoom functionality to it. If that's not enough, Android 12 also gives you the ability to stash the PiP window to the side of the screen. The latter is not available on Android 12 fully so users will have to wait for the feature to be enabled in the future builds.
As said, the Nearby Share for Wi-Fi passwords sharing feature is here. It now enables users to simply share their passwords to the users via Nearby Share and connecting to the Wi-Fi hotspots is quick.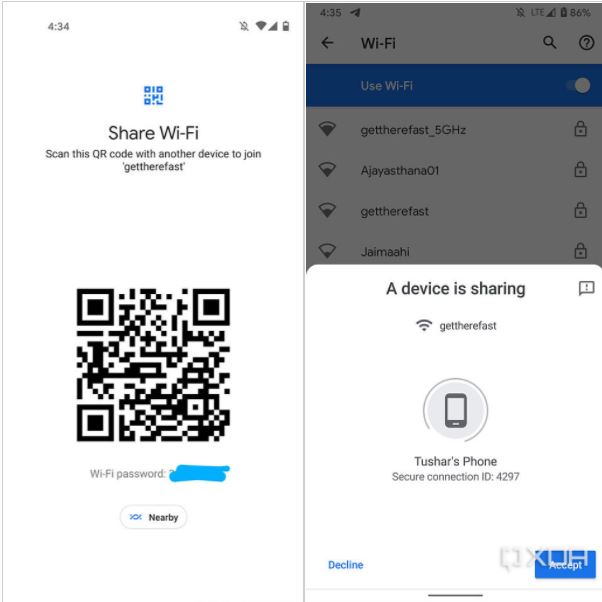 It was earlier expected that Android 12 will bring a native Game Mode with a tonne of features but to no avail. But hey, Android 12 does offer a few surprises for the gamers. There's a feature to direct the haptic feedback data that games produce from your smartphone to a game controller or a gamepad connected to your phone. The feature is likely to support physical controllers with vibration motors appended on it.
Android 12 brings on-board support for MPEG-H along with an audio mixer that now supports 24 channels.  
Privacy & Security
Moving on, Android 12 now brings Privacy Indicators as mentioned earlier. It now detects and informs users if an app is using the camera or the mic in any situation. Android 12 gives warnings if an app requires camera or mic permissions. As of now, the feature is still in its experimental stage and thus, it is still disabled. It could swing into action in future builds.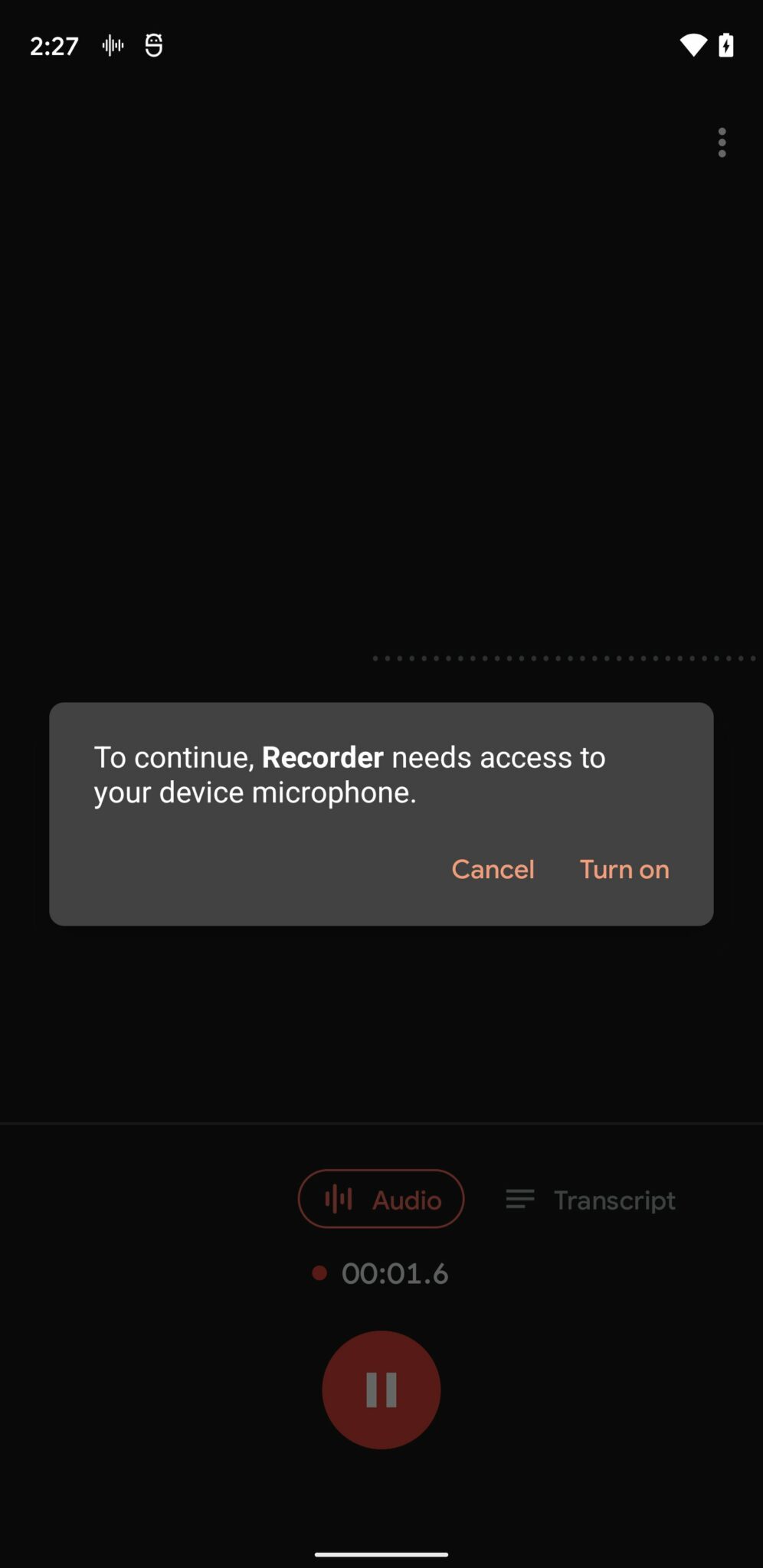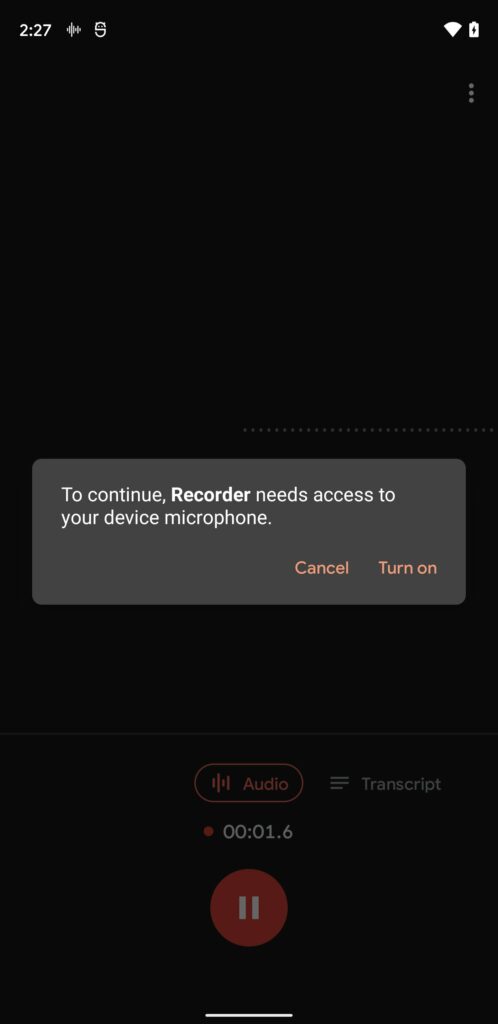 With Android 10, Google introduced a suggestive permissions management functionality that was carried onto Android 11. Cut to Android 12, it has been refined further allowing users access to certain features/hardware such as location or microphone. There's a hot switch or a shortcut for faster approval and so on.
Google is taking steps to improve its Android operating systems with each iteration. The Android 11 evolved with the Car Crash detection feature that was earlier available on Pixel 4 only. With Android 12, the feature that was formerly included in the Personal Safety app has now received a top-level listing. Instead of being summoned from the app, it is now available on the first page of the Settings app itself.
It swings into action whenever it detects a car crash situation and dials emergency services without any human intervention. However, it is limited to certain countries only. The new Emergency SOS option on-board Android 12 now dials emergency helpline simply by pressing the power button five times. Note that the feature is available with a three-tap SOS dialing in India. Users can also add custom helpline numbers such as 911, 112 or others depending upon their country of residence.
There's no doubt Android 12 Developer Preview 1 is available for Pixel usres at the moment. The build is still unstable which isn't surprising. It is available for Pixel 3/XL, Pixel 3a/XL, Pixel 4/XL, Pixel 4a/4a 5G, and Pixel 5.
Update as of February 25: Android 10 got the most of customizing themes on Pixel devices after Google introduced Pixel Themes app available from the "Styles & Wallpapers" Pixel Themes app. Cut to now, Android 12 is now taking it further after Google has updated new lock screen clocks. In 2019, we got to know that Google is working on 3 different lock screens presets with customizable bubble clock, text clock, stretch analog clock, among others. 
WIth Android 12 Developer Preview 1, Google is extending the capability of theming system. Here, Google updated the WallpaperPicker app for the new OS version where the folks at XDA Developers analyzed the code to find a few traits related to the new theming system for the lock screen. Here, the feature is still hidden/disabled and thus, not available for others. [Source]
Update as of February 23: As the days pass and we get our hands on the Android 12 Developer Preview 1, more features are being discovered. The latest to add in the whole features list is the Dual SIM Dual Standby (DSDS) on Pixel 5 and Pixel 4a 5G. Note that the feature is limited to 4G networks only and has arrived on the two aforementioned Pixel models at the moment. [Source]
#2: Another feature that was recently found out on using Android 12 Developer Preview 2 is the double tap on the back gesture. Unlike iPhones where you can simply take a screenshot, Android 12 has a back gesture supporting five actions of which one can be triggered.
Open Notifications

See Recent Apps

Play and Pause Media

Take Screenshot

Open Assistant [

Source

]
#3: There are a tonne of hidden features that have been spotted in varying degrees of development. The folks at XDA Developers dig into the App Pairs features as well. There's a hidden Gaming Toolbar that keeps floating on the screen although it is also in its early stage and thus, not available for all the users i.e. hidden. Another feature that XDA Developers found out is a Conversation widget on-board Android 12 that you can check out here. 
Finally, there's a new audio-coupled haptics that you can check out with Android 12 in action here. 
Update as of February 20: Android 12 Developer Preview 1 is here and it brings a tonne of new features. According to Android Police, a new feature has been discovered wherein users can hide their "punch hole cut-out". It shifts the status bar below the punch-hole cut-out making the status bar wider with a thick band that covers the entire diameter of the punch-hole cut-out from left to right edge of the display on top. Users can enable it via "Settings >> System >> Advanced >> Developer Options >> Display cutout". Note that users will have to enable Developer Options by tapping on the Settings >> About Phone >> Build Number seven times to enable it. [Source]
#2: A newly discovered feature on Android 12 gives the new OS a much-needed bump from its previous iteration. The latest update includes a new theming system wherein the system detects the dominant colors from the wallpaper and overlays it on the quick settings panel. 
If that's not enough, the One-Handed Mode on Android 12 is now active and shrinks the screen on the vertical axis. It essentially brings all the options, features, and interaction area close to the bottom half of the display. Here, a feature flag "Silky Home" will take up most of the space on top half of the screen real estate to push the interactive area to the bottom. It is more like Samsung's One-Handed Usage although it is limited to the vertical axis as mentioned before. [Source]
#3: If you know what back gesture is, you probably know how erroneous it could be when accessing apps like Google Maps where you need to swipe on the screen to load maps. Anyways, Google is bringing in the big guns with machine learning that will be used to predict if the user intends to use the back gesture or not and only after that, it will swing into action. This was discovered by the folks at XDA Developers. [Source]
Update as of February 20: There are a tonne of new features that Google will add on the upcoming builds of Android 12. One such feature is the addition of support to HEVC that enables users to shoot videos that are high-quality and often take large space. However, with HEVC enabled, they will take less storage space thanks to the video compression. 
Android 12 will support AVIF or AV1 Image File Format which has better quality than JPEG images. Thanks to the efficient compression under the hood, Android 12 will be storing quality images with AVIF format without compromising on the quality of the images. 
Google optimizes apps on its Android iterations and Android 12 will not be an exception. In fact, it will support processing heavy apps to run as smoothly as possible in the upcoming iteration. More gesture support is expected to unfold with Android 12 including the ones for reading a book, playing games, watching videos, and so on. 
With the upcoming Android 12 in place, Google will strengthen security of the users identifying any malware, tracking bits, and overall other security-related processes to safeguard its users. Android 12 is now well-optimized to run on large screens that includes foldable phones as well as tablets and TVs offering better navigation and features adding on previous iteration. [Source]
---
Update as of February 15: As the Android 12 DP1 release closes in, we have hands on some of the features that are being tested with Android 11 DP1. 
Reduce Brightness QS Tile
The Quick Settings on the Notification panel on Android 12 has already been tweaked. Apparently, a new Reduce Brightness tile is in the works too. It was originally named "Reduce Bright Colors" that will aid users with visual impairments. It appears to be classified as a default tile on Android 12. 
Android already has a GameManagerClient but Google is touted to be working on a new 'GameManager service' for the upcoming Android 12. Apparently, it will handle all gaming-related features including autorotation, Do Not Disturb mode, automatic brightness among others. Here, the mode will trigger these basic functions when the user swings into any game. Moreover, there's a new Bluetooth API that will take the physical game controller's battery status in mind. Here, it will indicate that the battery is about to die and not die abruptly giving users time to make arrangements. 
The first among the features is the Smart Autorotate feature. Android devices already have an auto-rotate screen feature which rotates itself automatically if set to enable. However, it is frustrating especially when you don't want to rotate the screen and it rotates anyway. Google appears to be working on an AI-backed Smart Autorotate feature which tends to rotate taking the user's head orientation in account. For that, the feature uses the front camera to do so. We don't have much information about it as of now but we will let you update this section once we have more information about it. 
[Source]
The Android 11 had a troubled Picture-in-Picture (PiP) mode. However, Google is sought to change it by improving the PiP feature by adding new methods to discover it and trigger it. The users can also use various methods like pinch-to-resize, stashing, and double tap with the upcoming Android 12. We will surely get to see out first glance at it once the first developer preview is available. [Source]
Google is looking after incorporating a new and enhanced Material Design for the upcoming Android 12. It is aptly called NEXT Material Design and it is expected to bring a lot of UI changes to the stock Android Os. This includes adjusting the layout of the Lock Screen and Always On Display features of Android 12. All the notifications will slide to the top (clock and smart space) while the bottom will have a logout button and owner information. Google is likely to pack in new lock screen clock options with Android 12 including a gradient TypeClock face. Apart from that, a new wallpaper-based theme system which is now codenamed as monet is in the works as well. The Quick Settings panel of the Notification UI is likely to see a huge change as well. [Source]
Update as of February 14: Every year, Google coins desert names for its upcoming Android versions. This year, the Android 12 that should have been named Android S (before its actual name was to be coined), is likely to be named as Snow Cone. Apparently, the folks at XDA Developer discovered the name of the upcoming Android version in Android 12's source code where it was referenced as "sc" which is an acronym for Snow Cone. For context, Android 11 was internally codenamed as "rvc" which stands for Red Velvet Cake.
Android 12 is likely to get a robust one-handed mode with gesture. Here, the downsizing will work only on the vertical axis that would allow users to reach icons and options at the top near the bottom. Also, Android 12's One-handed Mode will have a timeout period wherein it will automatically disable after the timer goes off. 
[Source]
Update as of February 13: The first Developer Preview for Android 12 is closing in now as it is expected to arrive on February 17th, 2021. With that being said, the Android 12 will bring an overhauled UI including a new take on the widgets being used and more. The Developer Preview versions will also help developers make their apps adaptable to Android 12 with many forthcoming changes that we don't even know yet. There are a lot of updates and changes the Android 12 OS will bring on-board including an UI refresh that was recently teased in an alleged screenshots leak.
Apart from that, the upcoming Android 12 will also bring features like hibernating unused apps, anti-tracking features, widget changes, privacy indicators and overhauled Privacy Settings, Ultra-Wideband API, Using Nearby Share to share Wi-Fi passwords and so on. 
According to the timeline, the first Developer Preview will arrive this month followed by a few others coming in next month. The first Android 12 Beta is expected to arrive in May or June 2021 which is usually two or three is nos. Finally, the stable Android 12 update will arrive sometime in August or September at the Shoreline Amphitheatre in California as usual. Here, Pixel 5, 4a 5G, 4a, 4, 4 XL, 3a, 3a XL, 3, and 3 XL will officially support Android 12 DP1 and so on. Here's more that you can read about. 
---
Android 11's first beta build is now available for Google Pixel models and a few other devices. This new Android version does not bring any major changes to the user interface. However, it does bring some much-needed improvements. Most of the updates tie in with enhancing user privacy and user experience.
Android 11 might be released towards the end of August and the beginning of September. And with the stable version of Android 11 out, Google can shift its focus to the development of Android 12. Of course, extremely early testing and development of the next Android version might be underway already.
Even though we're still far away from the expected release of Android 12. There are a few things that we know so far. In this post, we'll be talking about Android 12 and what to expect.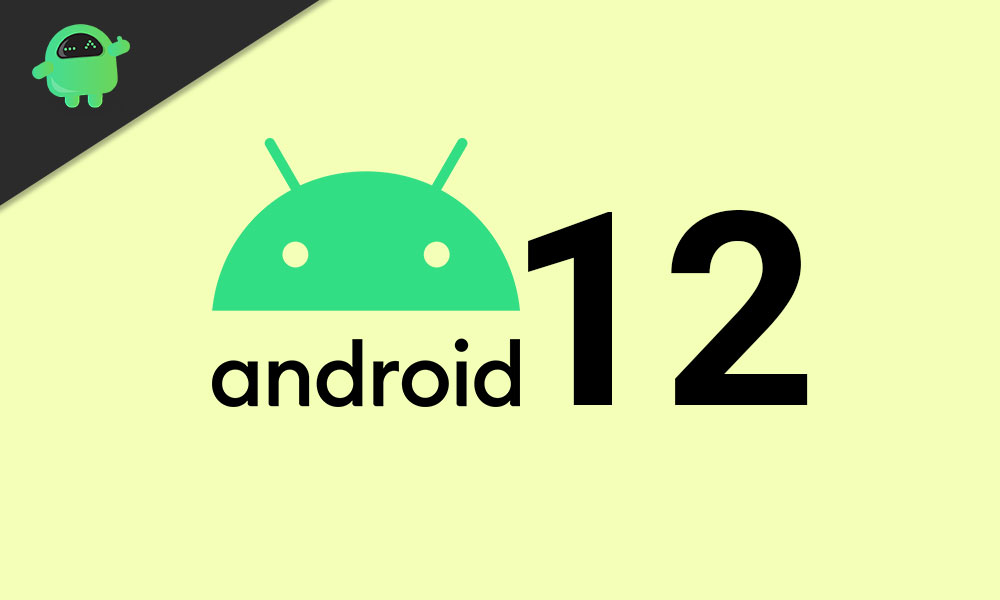 Android 12 Release Date Speculation
Since the official release of Android 12 is still pretty far off, we'd suggest taking this information with a grain of salt. However, if we go by the past few Android releases, then we can make a few speculations. Android 9 Pie was released in 2018 on August 6. Following that, Android 10 released in 2019 on September 3. And at present, Android 11 is still in its beta phase and is expected to release by the end of August or early September. Therefore, taking these release patterns into account, we can speculate that the stable Android 12 will release either in August 2021 or in September 2021.
Android 12: What we know so far?
Update as of February 10: The folks at XDA Developers got their hands on a set of alleged Android 12 screenshots as a part of an early draft of a document that Google prepared to summarize the changes it made with the upcoming Android 12. Apparently, there are a few major changes that Android 12 will bring on-board. One of the most noticeable changes to the user interface is with the new notifications panel UI that has transformed into opaque and it blends with the system color. Furthermore, the notifications panel now gives you 4 Quick Settings tile instead of * tiles. 
The Android 12 puts a lot of emphasis on widgets and especially on "Conversations" where users can interact with an app without opening it simply with the widgets. Although Android users have been using widgets for ages now, it is after iOS 14 picked it up that Android 12 will take it a step further. The widgets will have a new design as well with pill shape instead of a giant or tiny widget available on earlier Android operating systems. 
Another major change is the mic and camera indicators where users will get to know if any app is utilizing it or not on the top-right corner. This will stay put whenever an app is using either microphone or the camera or both. Furthermore, the new Privacy settings gives Android 12 access to toggle microphone, camera, and locations if needed. There's a "Sensors Off" Quick Setting tile that would require users to enable Developer Options before and once you do, all the sensors will turn off in just a click. [Source]
Updated on Nov 26, 2020: Now, the reports are coming out that Android 12 will offer a much easier process or method to deliver some of the OS updates. It seems that Google is making Android Runtime a module in the Project Mainline for Android 12. This means the Android 12 updates can be pushed via Google Play Store quite easily. Additionally, it will also ensure that the OS will run more consistently on various phones.
According to the XDA Developers, Google is turning Android Runtime (ART) into a Project Mainline module which is a great idea. So, the ART translates an Android app's bytecode into the native machine instructions that will offer a quicker security patch update as well as the bug fixes than the traditional updates.
XDA Developers has also mentioned that Google could deliver more stability to the apps by making ART behavior the same for all Android devices. Though the idea is really good, Google may not want to implement prevention for the OEMs which can reduce customizations on custom skin running Android devices. Now, if in case, Google streamlined the ART in that way, the performance and stability will be much improved unless users are happy without having many customizations.
Still, we have to wait further to know whether Google will gonna tweak the ART system or not. It's needless to say that these days Android users are far more concerned about their system updates on the given timeframe with consistent security patch updates. So, we're also expecting Google to implement the partly Android 12 update pushing process so that users can get faster software updates along with the lower compatibility issue.
---
If things follow the same path as the past few Android updates, we can expect Google to release the first Android 12 update as early as February 2021. This update will come in the form of the first Android 12 Developer Preview build. And as the name suggests, it will be intended towards developers.
Developer preview builds allow the developers to begin developing or updating their apps to support the upcoming Android version. Moreover, it also allows developers to take advantage of new features that come along with a major Android update. As for the naming of the next Android version, it will be named Android 12 without the alphabet or dessert name. Google dropped the naming scheme for its Android releases with Android 10. Thus, we expect Android 12 to be named just that.
At the time of writing this article, there's little to no information surrounding Android 12. This is to be expected since Android 11 is yet to be released as a stable update. Of course, we can expect to see a host of new enhancements to the Android OS. We might see further developments and support for foldable devices. And if the past trends are to be followed, we can also expect to see Google enhancing user privacy and security. If and when the Android 12 developer preview build arrives, we expect it to first become available to Google Pixel devices.
Nonetheless, we will be updating the post as and when new information pops-up regarding Android 12. Hence, we suggest you stay tuned to GetDroidTips for the latest information on the matter.
Devices which will receive the Android 12 update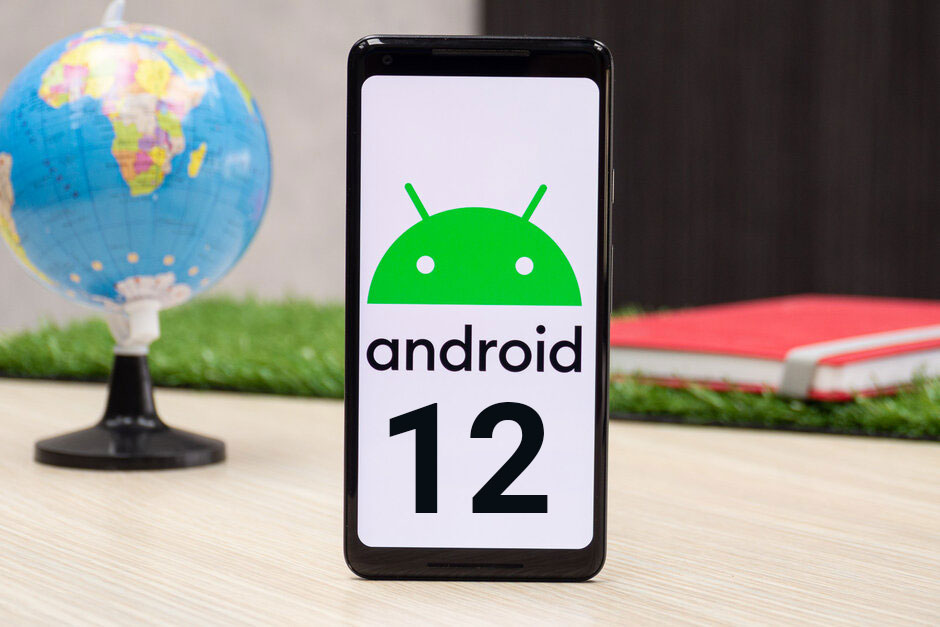 Most Android manufactures release at least two major Android updates for their smartphones. Thus, we can expect all devices that come with Android 10 pre-installed to receive the Android 12 update when it arrives. Of course, there can be a few exceptions or additions to the list. But we do expect the following devices to get Android 12 when it is available.
Google
Google Pixel 4 | Pixel 4 XL
Google Pixel 3 | Pixel 3 XL
Google Pixel 3a
Huawei | Honor
Huawei P40 | P40 Pro | P40 Pro+ | P40 Lite
Huawei P Smart S
Huawei Nova 7i
LG
LG Velvet
LG V60 ThinQ 5G
Motorola
Motorola Edge | Motorola Edge+
Motorola One Fusion+
Motorola One Hyper
Motorola Moto G8 | Moto G8 Power
Nokia
Update as of March 30: Nokia has one of the most impressive lineup of devices thanks to their capability to get Android upgrades faster than many other smartphones. The Android 12 on Nokia devices is not yet confirmed since the latter hasn't confirmed a list of devices nor the schedule that it will follow in its rollout. Google has already released Android 12 Developer Preview v2.1 and will soon release DP3 in a few days time which  means the beta updates will commence soon which is when non-Google devices get their hands on the update. 
With that being said, here's a tentative list of Nokia smartphones that will get their hands on Android 12 although take it with a pinch of salt since the Finnish tech giant which is now operating under HMD Global hasn't confirmed the list yet.
Nokia 1.3

Nokia 2.4

Nokia 3.4

Nokia 5.3

Nokia 5.4

Nokia 8.3 5G

Nokia 8 V 5G UW
OnePlus
Update as of February 20: For those who are excited for the Android 12 rollout on OnePlus devices (even before Android 11 is available), this is an updated list of devices that will get Android 12.
OnePlus 9 Series
OnePlus 8 | OnePlus 8 Pro
OnePlus 7T | OnePlus 7T Pro
OnePlus 7 | OnePlus 7 Pro
OnePlus 6 | OnePlus 6 T
Note that both OnePlus Nord N100 and Nord N10 5G arrived with Android 10-based OxygenOS 10 out-of-the-box. This renders them unable to receive Android 12 update but take it with a pinch of salt. 
Note that last year, OnePlus rolled out Android 11 DP on OnePlus 8/8 Pro in June. This year, the OnePlus 9 series will be official in the coming weeks and thus, it will also get Android 12 DP version soon although we won't put any timeline just yet.
Oppo
Update as of March 27: Oppo is already among the first to roll out Android 11 beta before many smartphone brands. Now that it is rolling out official versions of Android 11 to its smartphones, we can concentrate on Android 12 which has already dropped its second developer preview and will soon swing into public beta testing. As per the schedule, Google will swing into beta testing Android 12 in May and that is around the same time when non-Google OEMs pick up beta versions to test on a few smartphones.
Last year it was Oppo Find X2 and FInd X2 Pro that was a part of Android 11 beta program. This year, Android 12 beta is expected to arrive with Find X3 and Find X3 Pro as well. It will arrive with ColorOS 12 on top of it.There are a tonne of smartphones that are eligible for Android 12 and here's a list of eligible devices. Note that it is not an official list and thus, it would still take some time to get the official list out there.
Oppo FInd X3/ X3 Pro/ X3 Neo/ X3 Lite

Oppo Find X2/ X2 Neo/ X2 Lite/ X2 Pro

Oppo F19/ F19 Pro/ F19 Pro+ 5G

Oppo Reno5 4G/ 5G/ Pro/ Pro+ 5G/ Lite/ F

Oppo Reno3/ 5G/ Pro 4G/ Pro 5G/ Youth

Oppo Reno4 5G/ 4 Lite/ 4 Pro/ 4 F/ 4 Z 5G

Oppo A9 (2020)

Oppo A92s

Oppo A94

Oppo A72

Oppo A15/ A15s

Oppo A53

Oppo A93

Oppo F17/ F17 Pro

Oppo A72 5G

Oppo A55 5G

Oppo K7 5G/ K7x 

Oppo Reno R
Realme
Update as of February 24: After OnePlus and Samsung, we have come up with the tentative list of Realme devices that will get their hands on Realme UI 3.0 based on Android 12 once it arrives later this year. 
Realme X50 | X50 Pro 5G

Realme X50 Player Edition

Realme X50

Realme X7

Realme X7 Pro

Realme X3 SuperZoom

Realme 7i

Realme 7 Pro

Realme 7

Realme X3

Realme Narzo 10

Realme 6i

Realme 6 | 6 Pro

Realme C3

Realme Narzo 20

Realme Narzo 20A

Realme Narzo 20 Pro

Realme Narzo 30A

Realme Narzo 30 Pro 5G

Realme C12

Realme C15

Realme C17

Realme V11 5G

Realme V15 5G

Realme Q2 Pro

Realme GT
Samsung
Update as of February 22: Here's the list of Samsung devices that will get Android 12-powered OneUI 4.0 although it could change if not stay completely true.
Samsung Galaxy S21

| Galaxy S21+ | Galaxy S21 Ultra

Samsung Galaxy S20 | Galaxy S20+ | Galaxy S20 Ultra

Samsung Galaxy S20 FE

Samsung Galaxy S10 | Galaxy S10+ | Galaxy S10e | Galaxy S10 Lite

Samsung Galaxy Note 20 | Note 20 Ultra

Samsung Galaxy Note 10 | Note 10+ | Note 10 Lite

Samsung Galaxy Z Fold2

Samsung Galaxy Z Flip

Samsung Galaxy Fold

Samsung A90 5G

Samsung Galaxy A71

Samsung Galaxy A51

Samsung Galaxy A31

Samsung Galaxy A11

Samsung Galaxy A21

Samsung Galaxy A21s

Samsung Galaxy A32 5G

Samsung Galaxy A02s

Samsung Galaxy A02

Samsung Galaxy A12

Samsung Galaxy A01

Samsung Galaxy M01

Samsung Galaxy M02

Samsung Galaxy M02s

Samsung Galaxy M12

Samsung Galaxy M21

Samsung Galaxy M21s

Samsung Galaxy M31

Samsung Galaxy M51

Samsung Galaxy Tab S6 | Tab S6 Lite

Samsung Galaxy Tab S7 | Tab S7+

Samsung Galaxy F41

Samsung Galaxy F62
When it comes to Android 12 release, it is expected to arrive in August/September 2021 as a stable version. Once the first public arrives, Samsung could start rolling out beta builds on its top lineup followed by others. It is expected that Samsung could release Android 12 stable update on the 2021 flagship devices (S21 series and Note21 series) by December if not earlier. 
Xiaomi
Xiaomi Mi 10 5G
Xiaomi Mi 10 Pro 5G
Xiaomi Mi Note 10 Lite
Xiaomi Mite Note 10
Xiaomi Mi Note 10 Pro
Xiaomi Redmi 9
Xiaomi Redmi Note 9 | Redi Note 9 Pro | Redmi Note 9 Pro Max | Redmi Note 9S
Xiaomi Poco X2
Xiaomi Poco F2 Pro
Xiaomi Redmi 10X | Redmi 10X Pro
Blackshark 3 | Blackshark 3 Pro
Vivo
Vivo X50 | X50 Lite | X50 Pro | X50 Pro+
Vivo V19
Vivo Y15
As we mentioned earlier, the Android 12 supported device list is only as per our speculation at the moment. No device on the list is guaranteed to receive the Android 12 update.