Backup is indispensable. You love it or hate it; backup is highly needed. Sometimes, when we get updates, restore the device to factory settings, or even upgrade the device to a custom ROM, or the worst would be to lose the phone, backup comes as a savior in case something goes wrong. If you back up your data, you won't have to cry tomorrow. This is also true that backing up the data will not come with a mere click. You either have to say hello to your wallet or go confused about what to do. Read below to know the top 10 apps to backup your Android phone without root.
So, we have come up with a step-by-step guide to taking the backup of the data on your device. This is a one-stop guide for your maximum devices like any Android Phone or Tablet. With it, you don't need to go for the installation of a PC suite separately. Going with a dedicated app for the above-mentioned on Android would be a good idea. This guide will help you with the top 12 apps to backup your Android phone without root.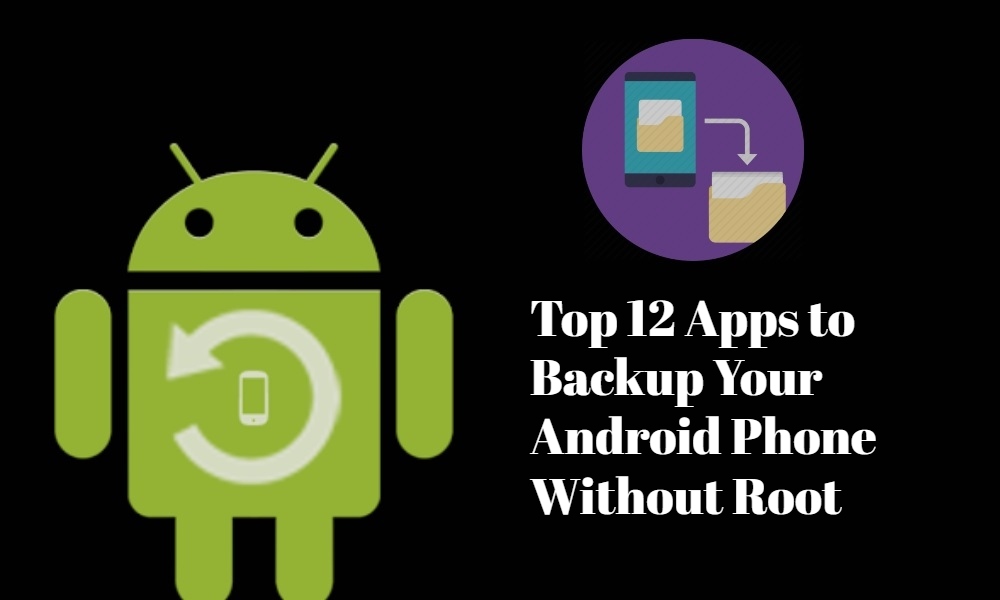 Top 10 Apps to Backup Your Android Phone Without Root
The App Backup & Share Pro application is a decent app for backing up the data of your Android device without needing to root your smartphone. This app offers you all the features like management/backup/restore/share software, etc. Moreover, this app lets you back up any data from SD Card or internal device memory. Besides, you can backup files from USB drives via OTG or any cloud storage as well. One of the best features of this app is that it lets you share any normal as well as system apps from your device via different sharing sources to other devices.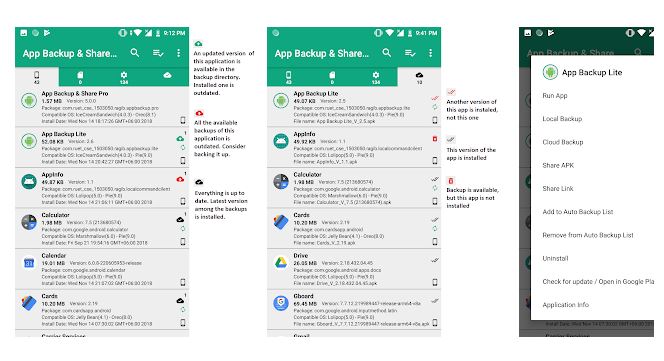 It also supports sharing apps across supported apps like Facebook Messenger, WhatsApp, etc. You can save your data to cloud storage like Google Drive, OneDrive, Dropbox, etc., seamlessly. Moreover, this application lets you save your data automatically, all or one by one. You can also uninstall the application on your device without going to the application manager, and it also lets you rate or write a review about any app directly on the Play Store. It has a clean user interface and has no ads, and also includes 2-3 themes for customization.
2. Backup Your Mobile
Another basic solution for backing up all the in device data is the Backup Your Mobile application. It is available for free, but it has ads, which is okay considering that you get its features for free. You can use this application to backup system settings, SMS, call logs, MMS, or any other data that you want to back up. Moreover, you can also save Wifi passwords, User dictionaries, APNs, Calendar events, User applications, Bookmarks, and browser history as well.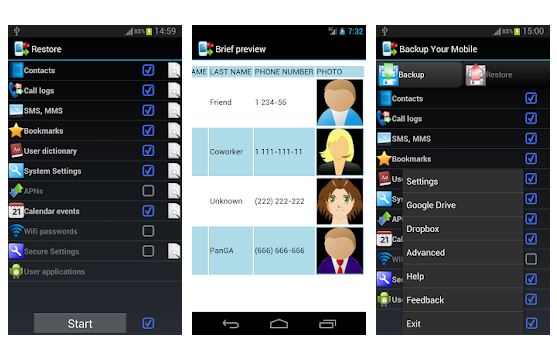 You can store all these data on either an SD card or ay cloud storage like Google Drive, OneDrive, Dropbox, etc. One piece of advice is that you must restore the system settings or other system settings on another device running on the same Android version to avoid any conflicts. The app has a nice user interface but does look old comparing to other applications. However, it gets the job done very smoothly and without any stutter.
3. Easy Backup – Contacts Export and Restore
Another application available for backing up your contacts is the Easy Backup – Contacts Export and Restore application. This app is specifically developed for backing up the contacts on your device and save them .vcf format. You can backup all the contacts with a single touch and email them to yourself for future restore purposes. The .vcf file is the most convenient backup and restores extension that all smartphones read.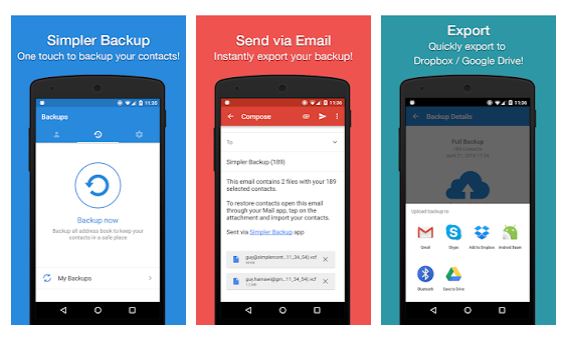 Moreover, you also support backing up your data on any cloud storage, namely Google Drive, OneDrive, Dropbox, etc. One of the app's best features is that you can make a backup of your contacts in offline mode as well and do not need an active internet connection. Besides, it also supports Google, Exchange, Yahoo, Facebook, LinkedIn, Gmail, iCloud, Outlook, or any kind of provider. The application is also available in 15 different languages and also offers a clean user interface.
4. App Backup & Restore
Probably the best application for making a backup of your data, and I personally use this application is the App Backup & Restore. You can extract, share, edit any APK file within the application. Moreover, it also offers to backup your application data either on your SD card or any cloud storage. One of the app's best features is that it lets you create a batch backup of your app data or APK.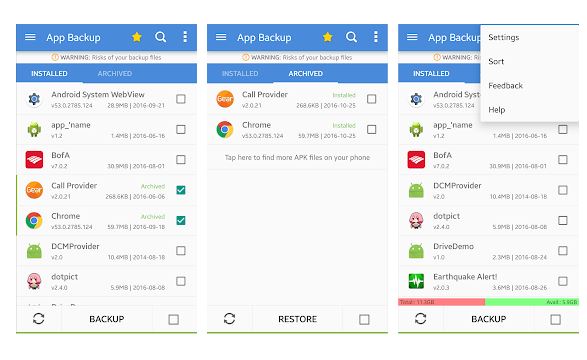 You can also create your own app store and share apps with others via different platforms. The application also lets you automatically backup your data with accurate notifications as well. Moreover, you can also schedule your backup for a timely save. With this app, you can also prevent anyone from deleting your backup file or accidental deletion. Other features include mobile security scanner, app refresher, cache cleaner, and more.
5. Helium – App Sync and Backup
The Helium – App Sync and Backup application also do not require rooting of your device to make a backup. You can make a backup of your app or data and sync them with your cloud storage or save them on an SD card. It also lets you sync app data from another device even if they are not on the same network. You can set up schedules to create a backup of your files and create a backup file to restore them in the future.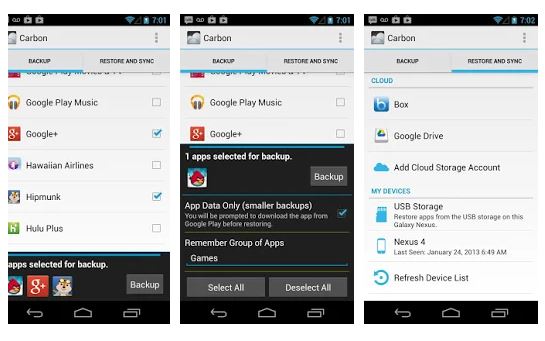 The application has a clean user interface, and you can easily use this app for creating backups. The application lets you enjoy its features without any of those annoying ads and lets you sync your files from Android to Android. It also offers you automatic synchronization. It supports cloud storage like Google Drive, Box, Dropbox as well.
6. G Cloud Backup
This one is specifically for device storage backup. You can either manually or automatically save your MS messages, contacts, photos, videos, music, documents, call logs, and other various files and create a backup on the G Cloud Backup app. Moreover, it also lets you back up some of the settings in many cases, which is nice. It backs up your data in an organized timeline view to switch back to the exact time and restore the backup of your data from then. Moreover, it supports seamless sharing with all the platforms via different sources.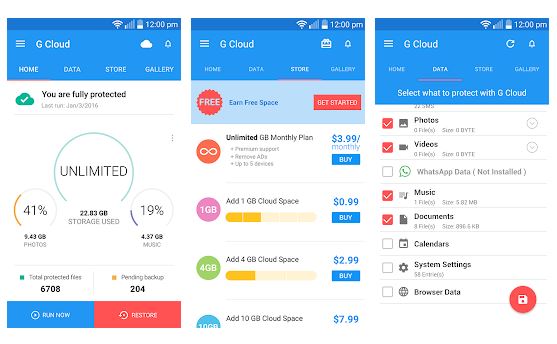 This gives you a storage space of 1 GB which can be extended up to 10 GB. Besides, you can also make a backup of Camera, Whatsapp, Viber photos, and videos. This app lets you protect your data via passcodes and allows secure data transfer. It also lets you switch to a new device with one tap and share your backup file with one tap button. This app does not require any special permission or rooting of your device.
7. Resilio Sync
A new modern design backup and restore application is the Resilio Sync. It is one of the best cloud storage applications, as reported by many users. One of the app's best features is that instead of creating a backup and saving it on any third-party cloud storage, you can save them right into your computer. This helps in advanced security as no one, but only you have access to your data. But, in order to set that up, you need to spend some time and follow the steps to work properly, but once done, you will enjoy this cloud storage application.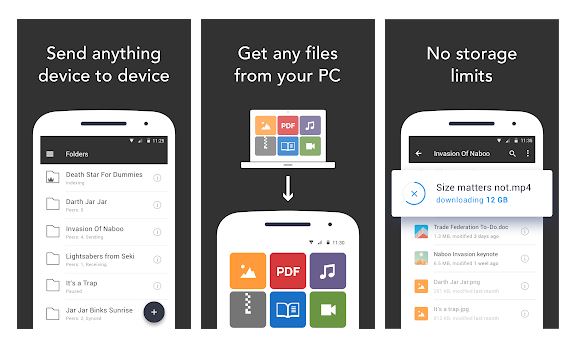 There are no storage limits as you can save as much as your hard drive lets you. The application also lets you create an automatic backup of all your photos and videos. It supports all types of devices ranging from a tablet, PC, Mac, NAS, and even server from anywhere. One of the better ways for sending and saving your personal data in your own cloud storage, i.e., your PC hard drive.
8. Dropbox
As you all know, Dropbox is a cloud storage application that lets you save all of your files and save them in your Dropbox cloud storage. You can access them from anywhere just by logging in to your Dropbox account. Moreover, you can send, share, save, collaborate on any project or work as a part of a team with this cloud storage application. You also get a real-time notification if someone changes or updates the files. You can also convert whiteboards or receipts into PDFs with the inbuilt document scanner feature.
This lets you store all your backups ranging from photos, video, files, data, contact, or almost anything to cloud storage and access them wherever you want. You can set manual as well as automatic backups of your files very smoothly. The app offers a clean UI, and you get what you want very easily.
9. Google Drive
One of the best cloud backup and storage options available for your device is the Google Drive app. You can save all your images, videos, documents, or files to your Google Drive cloud storage and access them from anywhere. It supports all your devices like phones, tablets, PC/Laptops, etc. You can easily share any file or folders with anyone, anywhere in the world. Moreover, you can also set the access permission to your shared folder or file, for example, who can view, comment, or edit.
You can use the in-built camera to scan paper documents easily and store them in your cloud storage. You can also view any of the files stored n your Google drive very easily and the best without any network connection, i.e., offline. Besides, you get storage up to 13GB of space which is sufficient for saving any type of files.
10. All Backup Restore
Last one on this list the All Backup Restore application for Android. This app lets you create a backup of Contact, Call Log, SMS, Applications, Browser History, or even Calendar and restore them whenever you want. This app stores all your data in Google Drive, making it easier for you to access them from anywhere in the world. You can create a backup of any apps and restore them with just one tap.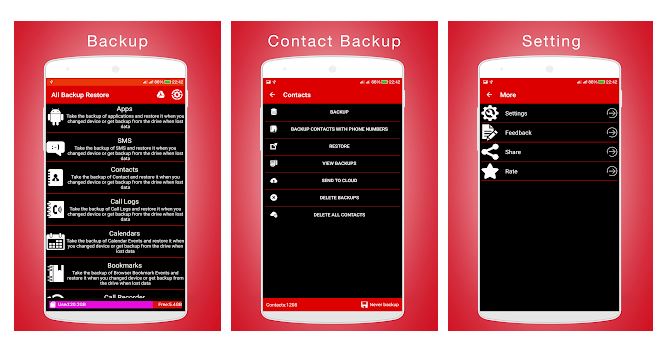 Moreover, this app also lets you take a backup of call logs and other data like calendars to perfectly synchronize your new device with all the memorable dates from your older device. It also features automatic backup of all your apps and other data, and you can also set it to manual. You will get timely notified for the backups that are done or that are in progress. Besides, you can also set schedule backups for your data and sync them up on your Google Drive account.
11. Super Backup and Restore
One of the best ad highly rated backup and restore applications available on the Google Play Store is the Super Backup and Restore app. With the help of this app, you can easily create backups of your applications, contacts, text messages, call history, bookmarks, calendars to your SD card, Gmail, or Google Drive. Moreover, this app lets you share any installation APK with your friend or family with one tap.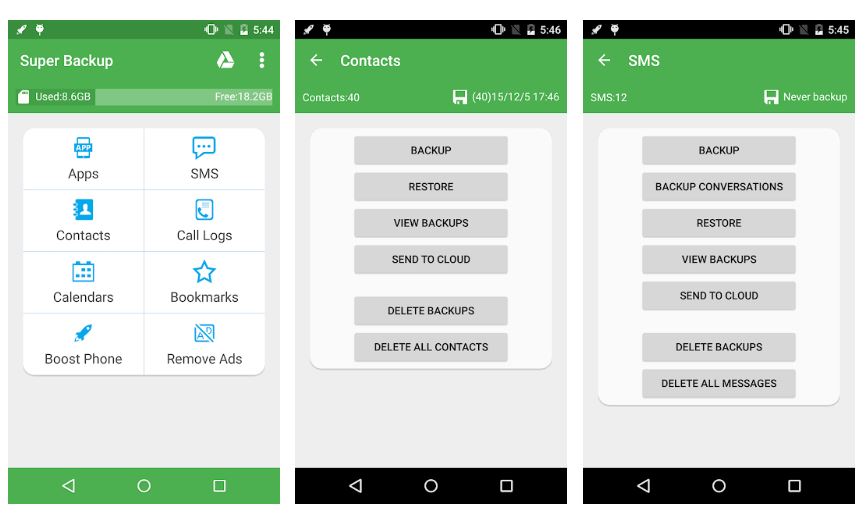 However, there are some advanced features that you would require root access on your phone, like to back up the app's data or batch restore apps from an SD card. But you can automatically schedule backup files to your Google Drive or Gmail, can download backup files from Google Drive, backup contact's picture or group image as well. All in all a well featureful application for creating backups.
12. Swift Backup
Another popular app that lets you create the backup, and restore any data on your Android device, is the Swift Backup. However, you would be required to provide Google sign-in in order to access this application as this runs on devices with Google Apps installed. You can take backups of any data, including apps, SMS (MMS/RCS messages not supported currently), call logs, applied wallpapers, and more.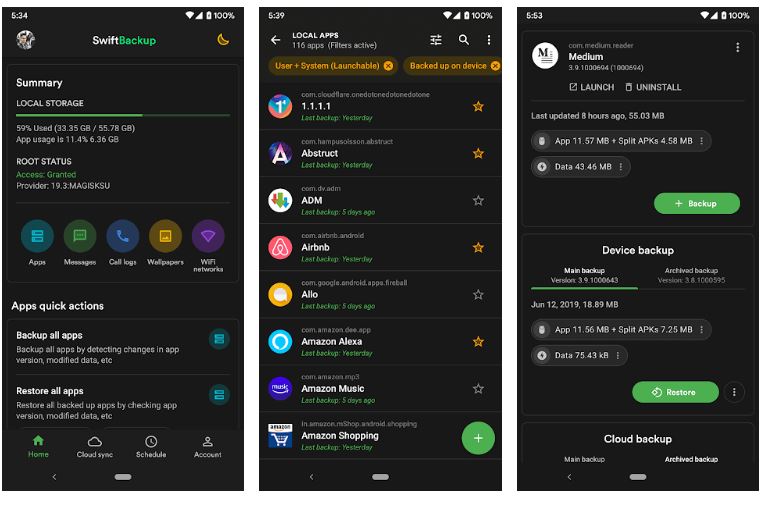 If you have root access on your phone then, you can also backup and restore any of your app's data and any saved WiFi networks. It supports a number of popular cloud storage like Google Drive, Dropbox, ownCloud, Nextcloud, etc. In-app purchases were a premium version of the app unlocks batch backup/restore options for apps, schedule backups for Apps, Call Logs & Messages, and create a launcher icon shortcut.
Conclusion
That's all from my side in this article. I hope you like this article on the top 10 apps to backup your Android phone without root. Please let us know in the comments which application from the above list you find more useful and also let us any other application if you know is worthy enough to be on this list.