After unveiling Android 8.0 Oreo today, Google started pushing the Android 8.0 Oreo Factory images to all the Supported Pixel and Nexus device today. Google will soon to release the OTA update for the supported Pixel and Nexus device to the latest Android 8.0 Oreo update very soon. The update will be sent via OTA (Over the Air) very soon. However, it does take some time before you receive the over the air notification.
Meanwhile, if you still have not received the OTA update and if you are not patience to wait. Then, you can manually upgrade to Android 8.0 Oreo using our below guide by just flashing the Android 8.0 Oreo Factory Images on your device. The supported device includes Pixel XL, Pixel, Nexus 5X, Nexus 6P and also Pixel C and Nexus Player.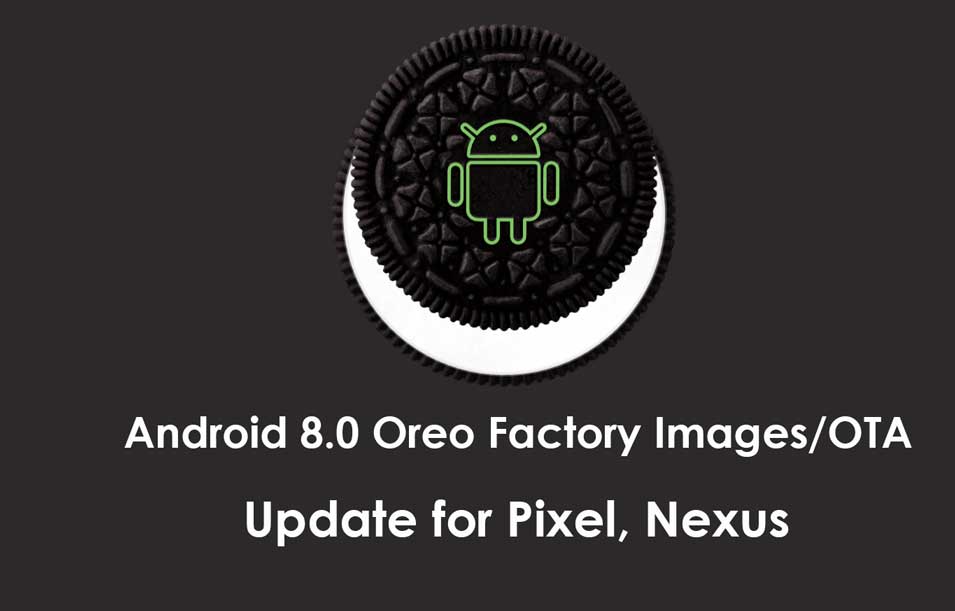 If you are about to flash the Android 8.0 Oreo Factory Images on Pixel and Nexus. Do remember that this will wipe all the data and apps on your device. So before flashing the Factory image on Nexus and Pixel device, Take a complete backup. Also charge your phone to 50% battery before flashing Android 8.0 Oreo.
Download Android 8.0 Oreo Factory images links:
As we know, those who are running Android O Developer Preview 4 is facing an issue when trying to download the update. Google has pulled the update this evening after this issue occurred. Until then if you want to try the official Android 8.0 Oreo, then you can manually follow this guide to flash the update using our guide.
Nexus 5X
Nexus 6P
Nexus Player
Pixel C
Pixel (Telstra, Rogers, TMO, Sprint, USCC, Project Fi)
Pixel (other carriers)
Pixel XL (Telstra, Rogers, TMO, Sprint, USCC, Project Fi)
Pixel XL (other carriers)
You can also go to Settings > About Phone > System updates to check for notification to update your device to Android 8.0 Oreo over the air.
In this tutorial, we will guide onto Download and install opr6.170623 Android Oreo 8.0 on your Pixel and Nexus device lineup. The guide is simple to follow, By following this guide, you can manually install the opr6.170623 Android Oreo 8.0 straight into your phone even if you are not signed up for Android O Developer Beta Programme. Before stepping into installation process of opr6.170623 Android Oreo 8.0. Let us first know What has changed in the latest opr6.170623 Android Oreo 8.0.
To Find out What's new in Android 8.0 Oreo, Check this Post.
Simple steps install OPR6.170623 Android 8.0 Oreo on Nexus and Pixel :
You are required to unlock the bootloader of your handset that remains in an activated mode before you can flash the system image of Android 8.0 Oreo on your phone. Having done that you can move ahead to the second step.
To run Android Debug Bridge commands on your Android device you first have to install the ABD and Fastboot drivers on your windows/MAC. After that the ADB folder icon will be instantly visible on either your desktop or C:/ADB i.e. Windows C drive.
Next step is to extract the files of Android O Developer by opening the ADB folder. It is the file that you downloaded in Step 2 which has been saved on your C drive.
As the next step long press and hold the 'Shift" key and right-click on Android Debug Bridge folder to select 'Open command window here.'
In the command prompt windows need to enter a command for which tour phone has to be connected to your computer system. The command is as follow:


adb devices

Using the following command boot your handset into bootloader mode.


adb reboot bootloader

Your phone will now automatically reboot itself into the bootloader mode
Finally, you can now begin the installation of Android Oreo 8.0 on your phone device. Firstly, open the Android O files that are present inside the folder of ADB and simultaneously locate the flash-all script. To run the files double click on it to begin the installing process on your phone.
You will be asked to press any key to exit as soon as you are through with flashing the Android 8.0 Oreo. Please do not exit from the terminal unless you are asked to do so.
Lastly, all you need to do is reboot your Android device and begin your experience of Android 8.0 Oreo.