Google, the owner of android technology is putting all their efforts into making the android the best and they also are releasing updates every year for the goodness of the user interaction. Android is not only limited to a smartphone but it is also being used for smart watches and latest television as their operating system. Android has dominated the worlds smartphone market with great lead and is currently far ahead of their competitors. Android Oreo is the latest version upgrade from Google for its popular product widely used by almost all of the mobile smartphone manufacturers as an Operating System on their products. Here I will share the Download link for Android Oreo 8.0 Theme supported for EMUI 4.0 and EMUI 5.0 above.
Android Oreo has beautiful and amazing themes that can make one fall in love with just a single look and also these themes have nice images that provides your smartphone a whole new different look and gives a premium feel of Android Oreo 8.0 and the themes are in great demand and in this particular article I am going to tell you the steps related to applying these themes on your device Huawei.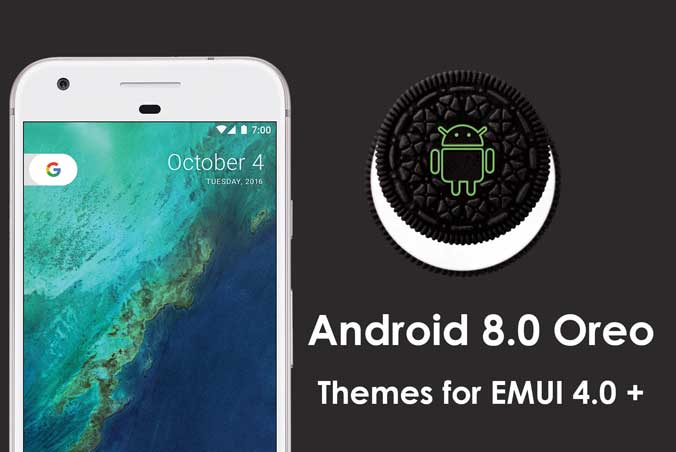 Download Android Oreo 8.0 Theme for EMUI 4.0 and EMUI 5.0 above
Huawei smartphones use their own interface not the Google's default interface and hence the Huawei users who wish for the latest themes from the android 8.0 Oreo need to install it manually the steps for downloading and installation are given below.
Follow the steps carefully and download the required theme file from the link:
First, you need to download the zip file mentioned below and locate them on your Huawei smartphone.
After that, it's time to unzip the file by using any app like WinRAR for Android or any other file manager.
Search for the hwt file from the unzipped folder and copy them to HWThemes folder.
Open the themes app and find the Android Oreo 8.0 theme and then apply it.
After successful application of the theme reboot the device.
After the successful reboot, you can see the Android Oreos theme on your device.
Download the Android 8.0 Oreo Theme according to your User interface EMUI from below mentioned links 
Android 8.0 Oreo Dark Themes