Google has finally unveiled the latest Android update, named Android Oreo. The update was previously in beta preview stage and available for a few supported Pixel and Nexus devices. After months of anticipation, Google has officially announced the release of Android Oreo.
The update has rolled out in a stable stage for all the supported Pixel and Nexus device. Earlier the update was in a beta stage with developer preview and now the company has rolled both the OTA and Factory images to the Pixel, Pixel XL, Nexus 5X, Nexus 6P and also includes Nexus Player and Pixel C.
According with Google, besides its own devices, the following manufacturers are scheduled to update or launch the Android Oreo OS:
Essential
General Mobile
HMD Global Home of Nokia Phones
Huawei
HTC
Kyocera
LG
Motorola
Samsung
Sharp
Sony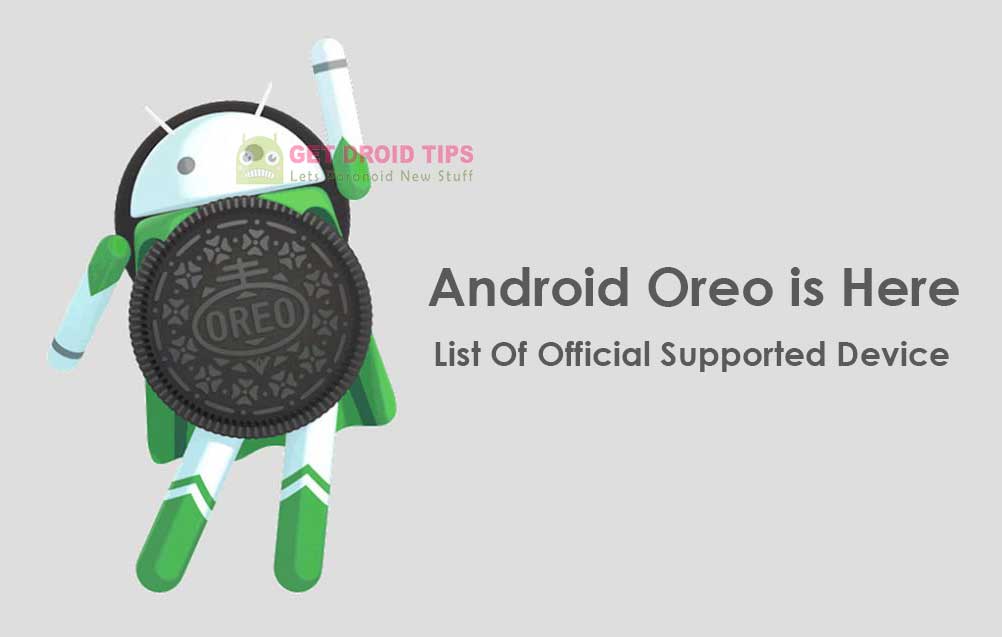 Android Oreo is Here: List Of Official Supported Device
Earlier this year, Google has promised to bring many new feature in the latest version of Android Oreo which includes, New app notifications, notification dots on app icons, picture-in-picture mode, Android Instant App compatibility,Auto-fill (like on Chrome), Better copy and paste, Faster Android behind the scenes, Better battery life with more advanced Doze mode, and more.
According to some report, Google will soon release the Android Oreo AOSP (Android Open Source Project) code to the public very soon. This means you can start seeing more Custom ROM based on Android Oreo very soon. We already shared officially Supported device list of Android Oreo and also Supported device list of LineageOS 15.0.
New features for Android Oreo:
Notifications Channels – This feature provides the ability to group notifications from numerous apps into one channel. This means you can group notifications for certain apps together and make it easier for the management of notifications. This is overall a nice addition to what Google started with Android Nougat.
Picture In A Picture – Videos will switch to smaller, minimized versions when you navigate to other apps. This feature is similar to what a YouTube video does in the YouTube mobile app when you drag it to the corner.
Multi-Display Support – This feature would provide you with the ability to launch an activity, say, Chrome, on a remote display like your HDTV or PC display. The potential applications for this feature are endless.
Keyboard Navigation – This feature would bring to you the ability to use keys to navigate apps.
Background Limits – This feature will let you set a limit to what an app can do while it's operating in the background. You can use this to conserve power and in turn get more battery life.
New Wi-Fi Features – This new Android version would Include more Wi-Fi features like Neighborhood Aware Networking (NAN), which makes it easy for devices to connect with one another without an internet access point or internet access at all.
Better Icons – Google has made icons in Android O to be adaptive. This means that they will take different shapes depending on the system they're used on. This is a cool feature, isn't it?
List Of Devices Getting Android Oreo (Android 8.0 Oreo)
List of Google Devices getting Android 8.0 Oreo:
List of Asus Devices getting Android 8.0 Oreo:
List of Samsung Devices getting Android 8.0 Oreo:
List of Motorola Devices getting Android 8.0 Oreo:
List of LG Devices getting Android 8.0 Oreo:
List of Huawei Devices getting Android 8.0 Oreo:
List of Lenovo Devices getting Android 8.0 Oreo:
List of Smartron Devices getting Android 8.0 Oreo:
| | |
| --- | --- |
| Device Name | Download Link |
| Smartron Srt.Phone | Download |
| Smartron tPhone | Download |
List of YU Devices getting Android 8.0 Oreo:
List of Sony Devices getting Android 8.0 Oreo:
List of HTC Devices getting Android 8.0 Oreo:
List of ZTE Devices getting Android 8.0 Oreo:
List of Nokia Devices getting Android 8.0 Oreo:
| | |
| --- | --- |
| Device Name | Download Link |
| Nokia 3 | Download |
| Nokia 5 | Download |
| Nokia 6 | Download |
| Nokia 8 | Download |
List of Vivo Devices getting Android 8.0 Oreo:
| | |
| --- | --- |
| Device Name | Download Link |
| Vivo X9 Plus | Download |
| Vivo X9 | Download |
| Vivo X9s Plus | Download |
| Vivo X9s | Download |
List of Oppo Devices getting Android 8.0 Oreo:
| | |
| --- | --- |
| Device Name | Download Link |
| Oppo F3 Plus | Download |
| Oppo R11 | Download |
| Oppo R11 Plus | Download |
| Oppo Find 9 | Download |
| Oppo A77 | Download |
List of Xiaomi Devices getting Android 8.0 Oreo:
List of OnePlus Devices getting Android 8.0 Oreo:
List of Acer Devices getting Android 8.0 Oreo:
| | |
| --- | --- |
| Device Name | Download Link |
| Acer Iconia Talk S | Download |
| Acer Liquid Z6 Plus | Download |
| Acer Liquid Z6 | Download |
| Acer Liquid X2 | Download |
| Acer Liquid Zest | Download |
| Acer Liquid Zest Plus | Download |
List of Essential Devices getting Android 8.0 Oreo:
| | |
| --- | --- |
| Device Name | Download Link |
| Essential PH-1 | Download |
List of Doogee Devices getting Android 8.0 Oreo:
| | |
| --- | --- |
| Device Name | Download Link |
| Doogee Mix | Download |
| Doogee Mix Silver | Download |
| Doogee Mix Plus | Download |
| Doogee BL5000 | Download |
| Doogee BL7000 | Download |
| Doogee X20 | Download |
| Doogee Y6 Max | Download |
List of Elephone Devices getting Android 8.0 Oreo:
| | |
| --- | --- |
| Device Name | Download Link |
| Elephone S7 | Download |
| Elephone S8 | Download |
| Elephone P8 | Download |
| Elephone P8 Mini | Download |
| Elephone P9000 | Download |
| Elephone A1 | Download |
| Elephone A8 | Download |
| Elephone C1 | Download |
| Elephone C1X | Download |