The biggest nightmare and headache for anyone who carries smartphones in this decade is the file transfer between them. We all knew that within a short span of time we witnessed a digital revolution across the globe, which is still moving on. Even though, file transferring between is a big issue. There are many so-called available apps or even software, which can sort this issue, but in fact, they all fail to get users a complete comfort. Well, but nothing to worry about. We have a solution for it. Complete software, which has all its features and it's a game-changer for sure. ANYTRANS is a complete manager to transfer files between iPhone, Android, and Cloud. It helps to transfer files between devices very easily via various methods. In this review, we will discuss all features.
AnyTrans, the best Android Manager
It is possible to transfer between files from Android to Computers, right? But using this complete Manager you can do all this in a very short period of time. The best part is, you don't have to wait to get connected or search for any USB cables to get it connected. This game-changer is completely wireless. You can download and follow up on the installation process to get it done. Apart from this, it is also possible to use the tool without installing, you can directly use the application for your requirement's.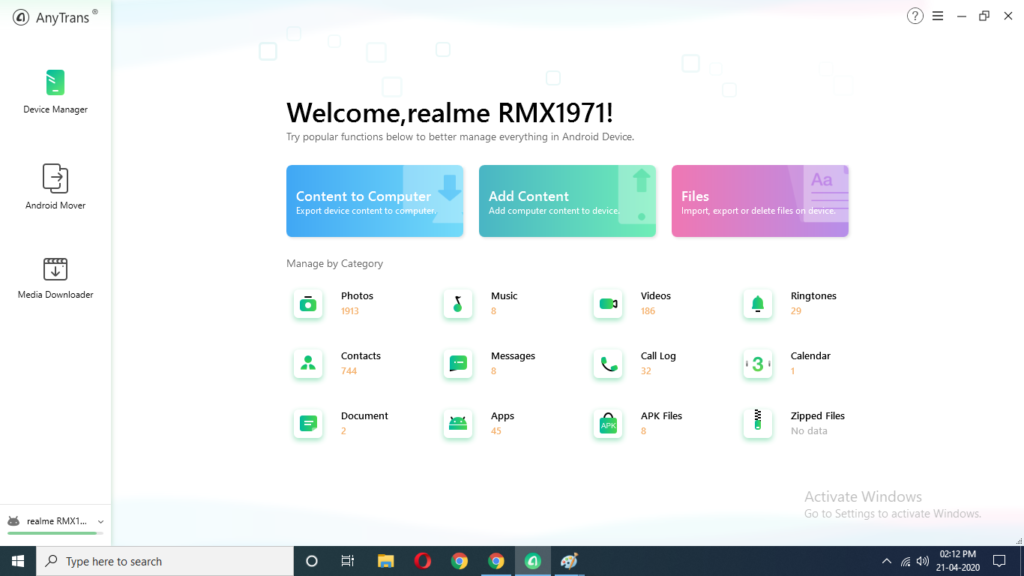 Transfer files between Android Wirelessly
The first impression is the best right? I was quite really impressed to see the wireless transfer option in this product. We tried ourselves in our office to check this out. For us, it all worked fine. We never had any issues when it comes to connection. If you like to make you want this feature to set it up for your application follow these steps.
Install AnyTrans apps on smartphones as well as in your PC at the office or home.
Make sure, once done with you need to connect both devices to the same network; You can use multiple devices at a time.
We also tried with our mobile hotspot, which is quite familiar to most of us that also works fine.
Now you just to open the AnyTrans in any of your devices and scan the QR code generated.
Once you scan the QR code using your mobile phone, you are now successfully completed between your android phones to the computer wirelessly and you are good to proceed further.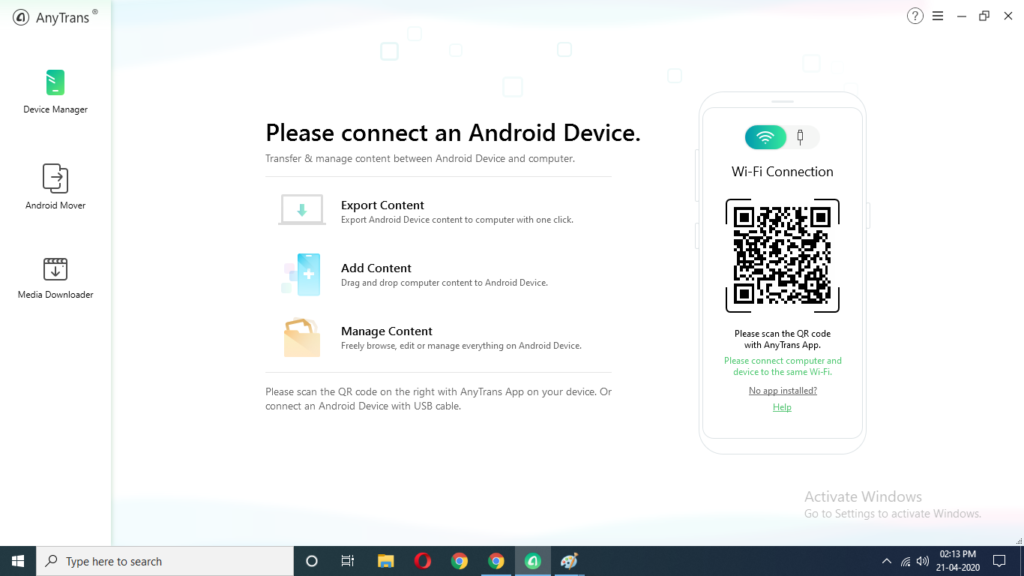 What to do if a wireless network is not available? We tried this also. If you don't have a wireless connection, you don't have to get panicked. You can connect the device between using a USB cable, which is just as usual. Keep in mind you need to enable USB debugging in your device for the successful connection, once done proceed further.
How to connect and start with the Device Manager tool?
After the successful, installation process and setting up you will be getting a welcome message in your system. In the display itself, you can have a complete look at the type of files you had in your device. From here, you can check out your photos, music collection, videos, and audio files, text messages, call logs, calendars, other documents, apps, files like APK and Zipped too.
It also helps us to check out all these files, can also have a preview look such a way that all these files were already there in your system. I really loved the user interface of this platform, it gives us good comfort and easy to navigate through if you wish to do anything.
Technically, speaking about transferring files in between you can directly copy all your files as bulk from your device to computer. You can also opt for individual transfer if you wish from your device to the computer too.
In the beginning, I said we were really impressed with all its features, right? Yes, we are. There are a few features that make me really impressed that I don't see any other platforms. They are such as can copy the entire message and call log you received in both HTML or text formats. Moving on, it is also possible to transfer Contacts and Calendars in either CSV or HTML formats. The entire set up is so good for me, it is also possible to do a little edit if you feel like to your contacts on any names or numbers of any individual.
Not only for transferring, but you can also upload files to your device too. All you need is just to select needed files and it will be automatically copied to its own categories on your devices.
Android Mover Tool
Just like the name indicates, it is used to transfer files between devices.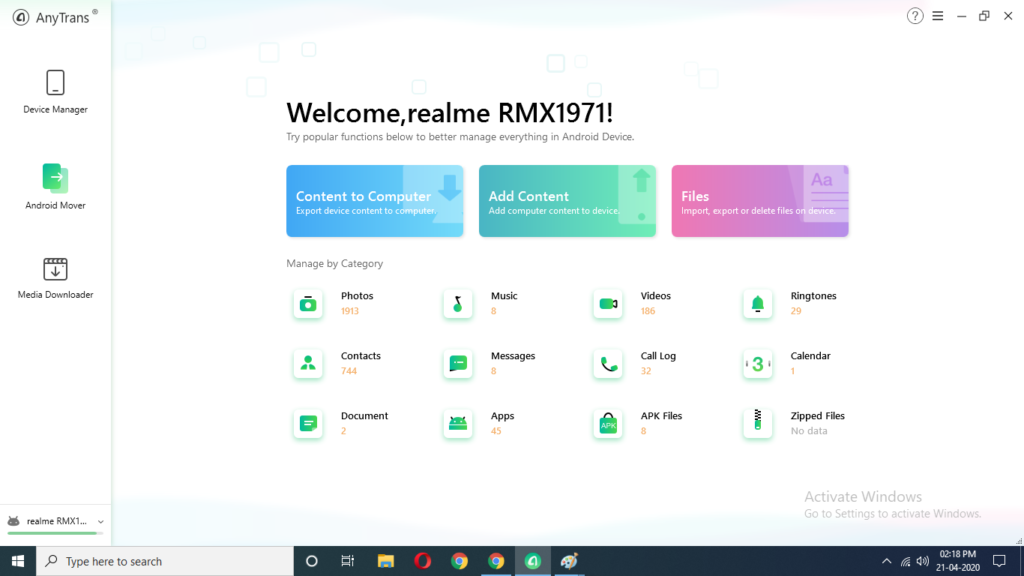 You can transfer between your old phone to new for both Android and iOS. It can be done in Bi mode, either from iOS to Android or Android to Android vice versa. There is also an option tow connect both phones at a time to your system and pick a needed way of mode for transferring to transfer entire data from one to another. The One-Click option is really helpful to users who can restore his entire iTunes and iCloud directly to get back up in your Android phone. It helps a lot if wish to transfer in between an old iPhone to your new Android phone.
Media Downloader Tool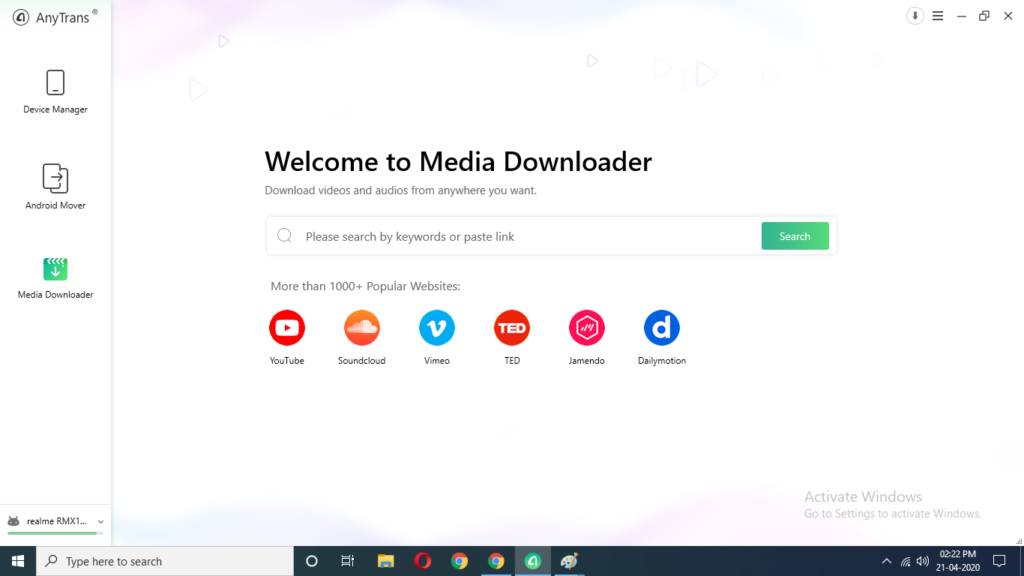 This tool helps to download videos from all kinds of media downloading platforms, such as YouTube, SoundCloud, Vimeo, Ted, Jamendo and so on. All you need is download anything if you wish from these and later you can transfer to your device form system. It also lets you pick like you can pick the audio file or video file to complete the transfer. Depends, on your need. You can also go for both the files too. If anything wrong with your previous downloads, this tool can help.
If you still have issues with file transfer, you can get complete support from the officials. Contact their Support Team to Get Quick Solution.
Packages and Pricing
If you are desperately looking for this Any Trans in your device, you must get a single license for $39.99. Keep in mind that this license is only for a single system. If you are looking for multiple devices, you just have to pay $59.99. You can download it from its official website and can be really surprised by yourself for this amazing tool.
If you are a person who transfers files between your phones to the system for any purpose, I think this tool is the best suitable option. Within a short period of time, you can get it done.