Republic of Gamers (ROG) has released its smallest laptop to date, the Asus ROG Flow X13 (GV302). Additionally, it offers powerful specifications that make it one of the most powerful compact ultrabooks available. In addition to its 360-degree screen, it's a one-in-one convertible laptop. As usual, Asus improved the ROG Flow X13 with a thicker chassis, a new AMD Ryzen & Nvidia RTX (which run at higher power than before), a new screen (though it's not OLED), a 75Wh battery and a refined IO port setting.
Although it is power packed with new specs, but still has some flaws. Yes, recently, many new buyers started complaining about the Asus laptops. Well, that's the main reason why we are here. In this article, we will tell you about how to fix the Asus ROG Flow X13 not charging issue. So, let's get started with the guide.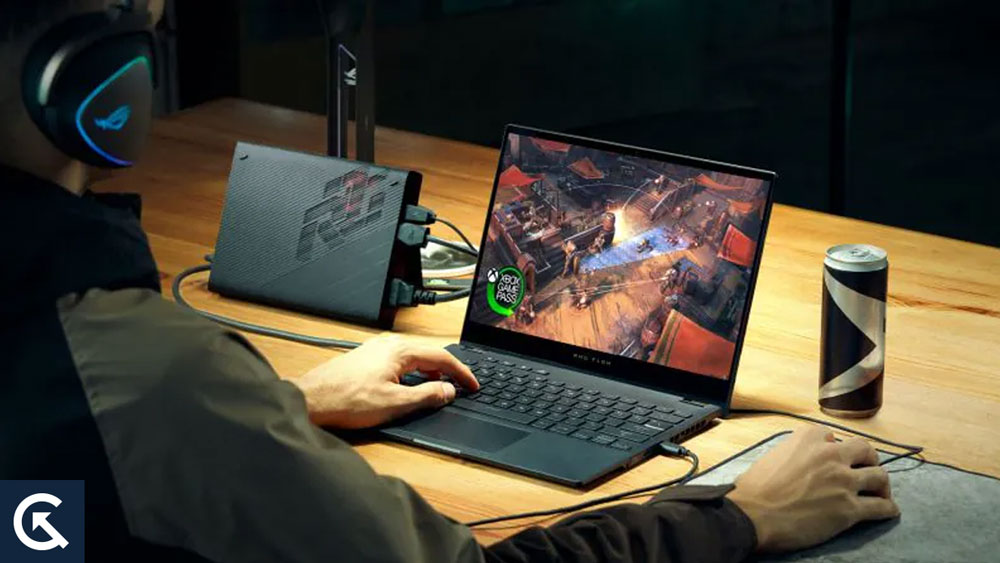 How to Fix Asus ROG Flow X13 Not Charging Issue
So, here are some fixes that will help you resolve the Asus ROG Flow X13 not charging issue:
Fix 1: Check For Hardware Issues
Look inside the laptop to see if the charging pin has been tilted or broken to rule out our hardware problems. Also, make sure the AC adapter cable isn't torn.
If you are experiencing hardware-related issues with your Asus laptop, you can check it with an application called MyAsus. On the Asus website, you can download the app if you don't see it on your laptop. Here's how you can diagnose battery hardware problems with the app.
Connect the charger to your laptop.
To open MyAsus, press Windows +S, search for it, and then press Enter.
Next, expand the sidebar (three lines button) and select Custom Support.
On the Customized Diagnosis page, check the Battery box.
Then, click Checkup.
There is a high probability that any issue found by the application is a hardware issue. However, if this isn't the case, then you can proceed with the fixes below.
Fix 2: Check The AC Adapter
Sometimes the charger is the one that causes a charging problem. It is, therefore, important to check the power rating of your AC adapter against that of your laptop. In this case, your battery won't charge at all.
Generally, you can find out the power rating and voltage of an adapter on the charger. You can also check the power rating of your laptop or battery by checking the bottom of it. It may be time to replace the charger or AC adapter if they don't match.
With a multimeter, you can also verify the voltage output of your charger. Make sure the laptop's connector, as well as the main adapter outlet, is in good condition.
Fix 3: Update The Device Driver
It is possible to experience charging issues if your battery device driver is outdated or has issues. It is, therefore, necessary to update the device driver to fix your problem. Here are some steps you need to follow:
To access Device Manager, press Windows +X.
To expand the Battery dropdown, double-click on it.
Simply right-click on each option and select the Update Driver.
Next, click on Select Automatically Fro Drivers.
Thereafter, on the screen, follow the instructions to install the latest software updates.
Alternatively, right-click and select Uninstall device from the menu.
Click Uninstall to confirm.
Afterward, go to the Action menu and choose Scan for hardware changes.
Check to see if you've solved your charging issue.
Fix 4: Check The Battery
Your Asus laptop may not be charging if the battery is loose if your laptop has a removable battery. It is, therefore, necessary to remove the battery and reinstall it properly. Here's how you can do it:
Turn off the laptop and unplug the charger.
You should turn your laptop over to the backside and slide the latches to expose the battery.
After that, reseat the battery in the laptop until it fits perfectly.
Ensure that the latches are locked and that the battery is inserted properly.
Check to see if your Asus ROG Flow X13 not charging issue gets resolved or not after connecting the charger.
Also, ensure that the charger adapter is not loose and that it is connected properly.
Fix 5: Power Cycle Your Asus Laptop
Using the laptop while it's being charged can lead to the AC adapter capacitors bloating due to excess heat. As a result, charging the battery becomes problematic. In order to solve the charging issue, you must drain the excess charge and discharge the proper voltage through a power cycle. In order to perform a power cycle on your laptop, follow these steps:
Firstly, shut down your computer.
Make sure all external devices are ejected from your laptop. Make sure that the AC adapter and the battery are also removed.
Now, press the Power button and release it after a few minutes.
Once the battery is plugged in, turn on the laptop.
Now check to see if the battery is charging.
Fix 6: Run The Power Troubleshooter
Using the power troubleshooter, you can diagnose and correct incorrect power settings if your Windows system says plugged in not charging. So, here are the steps you need to perform:
Go to the Settings app.
On the right side of the System tab, select Troubleshoot.
Click Other Troubleshooters.
Next to Power, click Run.
Fix 7: Run SFC Scan
Windows includes a handy tool for scanning your system files and fixing broken or corrupted files (including those that caused BSODs). The system file checker (SFC) scans your system files and repairs them if necessary. In order to run the SFC scan, follow these steps:
Initially, click the Windows logo on your keyboard and type cmd.
Afterward, click Command Prompt, then select Run as Administrator.
When prompted, click yes.
Lastly, type SFC/Scannow in the command prompt window.
Fix 8: Charging Asus Battery Health in Full Capacity Mode
You can also check your battery health mode and choose Full Capacity Mode to resolve the Asus laptop plugged-in not charging issue. Asus Battery Health Charging is an automatic feature of Asus laptops following the installation of your operating system. There are three options for battery health that you can choose from:
Full Capacity Mode: This mode charges your battery to its maximum.
Balanced Mode: When the battery power reaches 80%, it stops charging and then re-charges.
Maximum Lifespan Mode: When your battery reaches 60% power and below 58% power, it stops charging and recharges.
Fix 9: Reset The BIOS
It could be that your BIOS is causing a problem if you can't charge your laptop battery or the system won't start with a battery. It is possible that the BIOS settings are incorrect or outdated. To restore default settings, you must reset the BIOS.
As the Asus ROG Flow X13 not charging, restart it holding the F2 key.
To reset the BIOS, press F9.
To confirm, click OK.
If the charging problem has been resolved, check to see if it has been resolved.
How to Know if My Battery is Failing
To find out if your battery is failing and if it's time for a new one, you can generate a battery report on Windows. Here's what you need to do:
To access Powershell (admin), press Windows + X. If you are using Windows 11, select Windows Terminal (admin).
Then, enter the following command: powercfg/battery report.
Go to the mentioned file path and open it.
Afterward, go to the Battery Capacity History section.
You should be able to tell if the full charge capacity is much less than the design capacity. If that is the case, your battery is failing, and you must replace it.
Also Read: Fix: HP Envy X360 Sound Not Working, Too Low or Audio Crackling
So, that's how to fix the Asus ROG Flow X13 not charging issue. Thank you for reading this article. We hope that this guide has helped you. But, in case you still face issues while fixing the not charging issue, make sure to use the comment box down below.